Welcome to season 6! Things are slowly turning for Norwich, after a few seasons of treading water we enjoyed a run to the Champions League semi-finals and an FA Cup win. Although there'll be no Champions League football this term, we now have top class Youth Facilities and the board have agreed to expand the stadium. I've also purchased Robbie Keane.
On the negative side, the board pretty much want success on all fronts. So it's probably just as well we get off to a good start by snatching the Charity Shield in injury time.
Substitute Zlatan makes an early claim for a starting position. A negative is that Moukoko, who I fell out with a few years ago, has left. His contract became unprotected and as he still holds a grudge against me and Gazza he decided he wasn't willing to renew. Arsenal took him for a mere £4.8m and I can do nothing about it.
The league season gets off to a solid start.

Bigger tests to come I fear. Like Arsenal.
Kind of surprised Ray Parlour is still there given he is 33 going on 34 but he is still nimble enough to score past these idiots.
It's a repeat of the cup final next as newly promoted QPR visit Carrow Road. Robbie Keane, playing behind the strikers, is paying back his fee on a weekly basis.

The International break seems to not only confuse us, but also deeply anger Zlatan, as we rather implode at home to Chelsea. Zlatan two foots Hreidarsson after the goal, a series of events I can't even begin to imagine.

What worries me is that the strikers Keane is playing behind have yet to score. Fortunately, Robbie has no such problems, climbing off the bench in Denmark to get our UEFA Cup campaign off to a good start.

I finally have a squad large enough to rotate the entire team for the UEFA Cup but it still requires Robbie's appearance from the bench to get us over the line. The second leg follows a similar pattern but Aaron Hughes scores, the death knell for any side.
Back to the league though and a filthy game against Wolves could go either way before Alex Manninger does a whoops and the referee wears a yellow shirt. We got there in the end.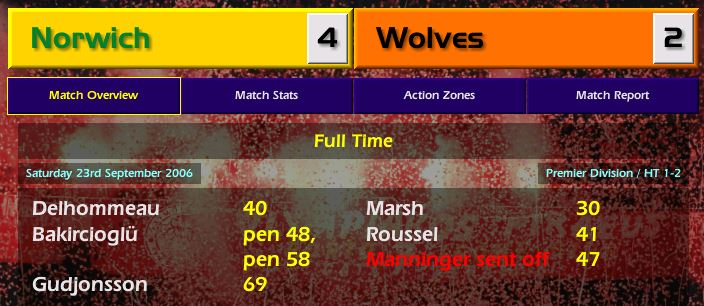 We even manage a draw at Leeds, a match we usually lose. Still no goals for the strikers…

…and still.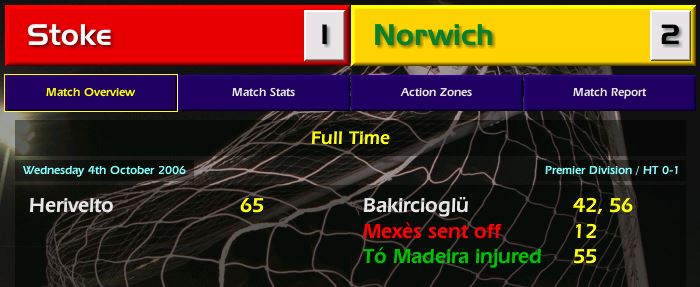 Mexes lays a headbutt on somebody early doors, honestly I think this team are only happy when they are causing me problems.
This is one of the worst performances of my time in charge.

We can barely get near Millwall, which is normally a good thing, but in this context, it's an abysmal result. We head off to Austria licking our wounds.

The rare sight of Said missing a pen nearly derails us but young Harbuzi nets twice including a last-minute winner to crown a good night for us. He's playing his way towards a league start.
Sadly for him, Robbie Keane is in his position and he's rather good at it.

Anything you can do…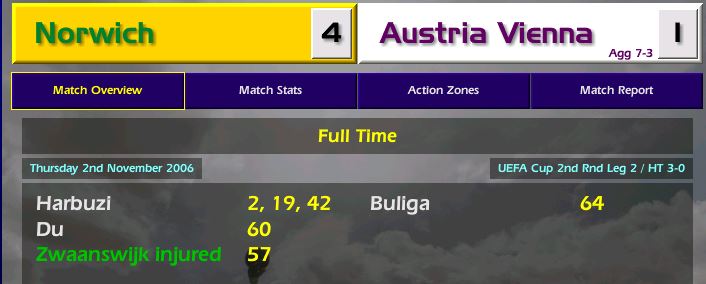 Still, the only goal scored by any striker of mine is Zlatan in the Charity Shield. I could try Keane up front but he's been so good in the AMC role, I'm not sure.
Defeat against Man Utd is not a shock.
John Welsh's transfer fee very much is though!

We finish with a home clash against Middlesbrough. Keane is moved up front to make space for Harbuzi, who rewards me with two goals. How do you solve this conundrum though?!
With that, we sit 8th after 12 games and still in the hunt for a Champions League place. Look at Fulham go!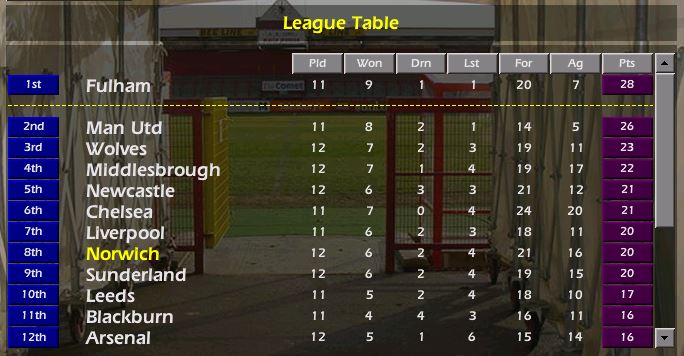 We're still on for the old "success on all fronts" as we're in the League Cup quarter-finals, opponents to be confirmed, but our UEFA Cup run is in danger of being ended as we've got a two-legged tie with Inter Milan to contend with. They've got Beckham now, and a 35-year-old Henrik Larsson. Send help.
What to do about the striker situation? Bent, Ibrahimovic, Shearer, Dunwell, To Madeira all have one goal between them. I could recall John Hartson from the reserves. Would that help?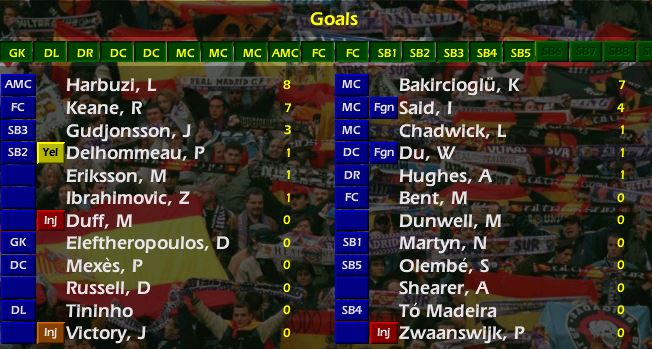 Join me next time as I try to find a way to solve this puzzle. Toodles!