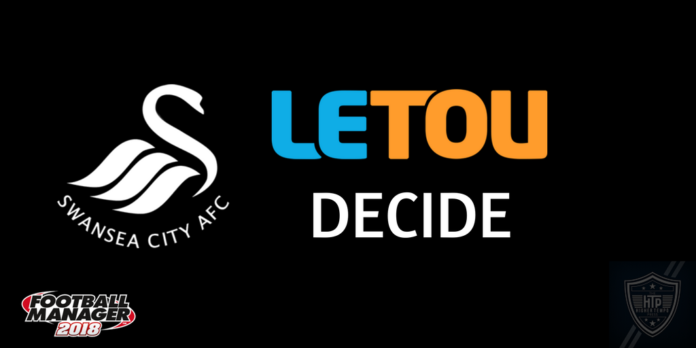 The FA Cup draw was made last night on @TheHigherTempo and it did not disappoint!
First, let's take a look at the four teams who have made it this far.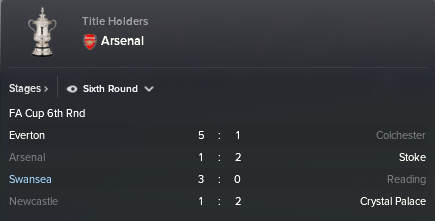 Gerardo Martino's Everton were the first to qualify, surprising nobody as they defeated Colchester United of League Two by five goals to one. The game was over after 12 minutes as Sandro netted a very early hat-trick. They were then joined by Swansea City, who overcame Championship opposition at the Liberty Stadium in Reading. The upset of the round undoubtedly went to Stoke City, who defeated Premier League leaders Arsenal at the Emirates. Everything seemed to happen at once over there with Michael Lang's opener cancelled out by Lacazette's penalty before Kevin Wimmer earned the win on 86 minutes. The match between Newcastle United and Crystal Palace could have gone either way but it was the Eagles who made it to the final four.
The draw was made with romantic novelist Chris Darwen adjudicating Atlanta United's Josh Challies and MSV Duisburg boss Damon McKnight drawing out the teams. Between them, they produced a mouth-watering semi-final lineup.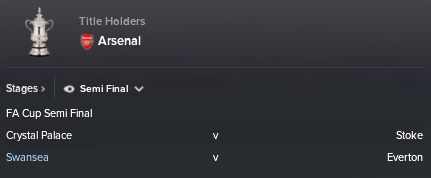 Swansea will face Everton, we're designated as the 'home' team but that means the square root of bugger all when the game will be played at Wembley. We're lucky Tottenham didn't make it or it would have been a home game for somebody.
I'm feeling good about our chances, of all the teams left in the competition Stoke are top ranked in the Premier League in 8th but they've only won three in their last ten if you take out the FA Cup wins. We've beaten Crystal Palace under my watch and Stoke but we do play Everton next in the Premier League so that'll be a good opportunity to scout what will come.
We don't play again until Monday 2nd April, so what are we going to do in the meantime? Come back tomorrow and find out. Until then, I'm going to kick back and look forward to pitting my wits against the former Barcelona and Argentina manager.