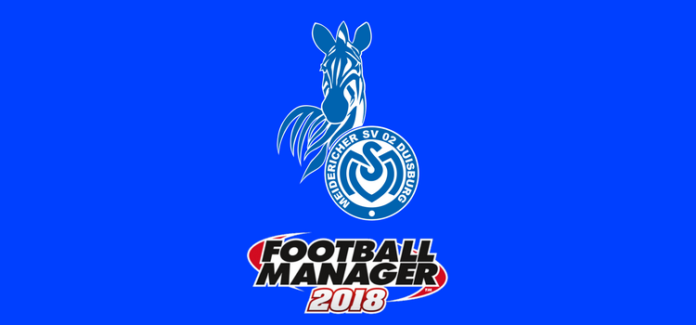 Guten tag! Welcome back to Dirk van Oortveld's quest to take MSV Duisburg into the Bundesliga and get into the upper echelons of European football teams! If you want to catch up on what's happened previously, check out this link here.
If you speak German, you're already aware of what this update is about. We're taking a look at the youngsters in MSV Duisburg's first youth intake since van Oortveld's arrival.
Since this is about the youngsters and a youth intake, I want to take a quick moment to plug Chris Samson's March 8 article on Five Things to Do When Your Youth Intake Isn't Great. It's a brilliant read if you're like me and your youth intake isn't great, or you just want a different perspective on how to look at your youth.
We got in our youth intake in late February, and according to Uwe, this is a golden generation for the club. We'll see about that. To be fair, my youth intake brought in 14 to 15-year-old kids, and I can't field U17s in senior matches, so there will be plenty of time to give them development, but the youth intake could certainly be better. Take into account that my goal is to hit the Bundesliga by the end of next season, and they may not see game time with the club, but let's take a quick look!

Again, bear in mind that the age of all of these youths is 14, with the odd 15-year-old in there, so they are nowhere near first-team capable, but we've got an average youth intake. We have a couple of players who could be the best in the club if they reach their fullest potential, but the quality quickly tapers off.
One of the better prospects is Tonci Simurina, a 14-year-old German kid. I've got him training with Borys Tashchy right now to see if we can get him to see where we can get him in the next couple of years as he grows as a footballer, but right now there's nothing to look at. He's special in that he's got some excellent pace and acceleration, and he's got leadership potential and determination right out of the gate. If he can prosper with another fairly professional and determined mentor guiding him, I'd like to think he could someday develop into a good player in the lower levels of the Bundesliga or in 2. Bundesliga.We'll have to give him some training and see where he goes.

Central defender Fabian Apel received a special note in our news piece, so I want to take a special look at him. He's got 1 full star for Current Ability relative to the squad, and he can almost max out at 4.5 stars for PA relative to the current squad. He needs a lot of technical development, but he's ambitious and mentally he's almost there right now. He's being a bit on the stubborn side for choosing a good player to be a mentor to him, but I'm optimistic that in the coming years we can find someone who he will gel with and be able to receive training from.
Goalkeeper Jans Benzel is another promising youth player. He's brave, aggressive, and in excellent physical shape, though he is lacking in some areas, with some glaringly visible low points in his ability. He's also unambitious, which I hope won't be a problem down the road. If I am able to do so, I'm going to try and get him training on his game skills with Daniel Davaris, and I'm going to hope that the experience has an impact on his personality later on down the road.
Laurenz Korb is another high-potential player, who's going to be more comfortable on the left wing as a winger. I've opted out of wingers and am relying on wingbacks to charge down the flank, so I'm going to start early and see if he'll take to receiving wingback training. He's physically in great shape, except for his strength and balance, and he's not quite as good mentally or technically as someone I'd want to play in the role, and he's also unambitious, but we've got time to develop him with the right tutor, if one comes up in the next few seasons.
Again, these kids are all 14-years-old, so I'm not surprised to see that none of them are near ready for competitive football. We're going to give them an honest amount of attention with the MSV Duisburg youth camp to see what comes of them in the coming seasons, and we'll evaluate them from there. Right now, the potential is there to be great players relative to the current strength of the squad, but this is a team that just promoted from 3. Bundesliga and that is pushing as hard as it can to make it to the Bundesliga, so they may not be what I need a few years from now. We'll see…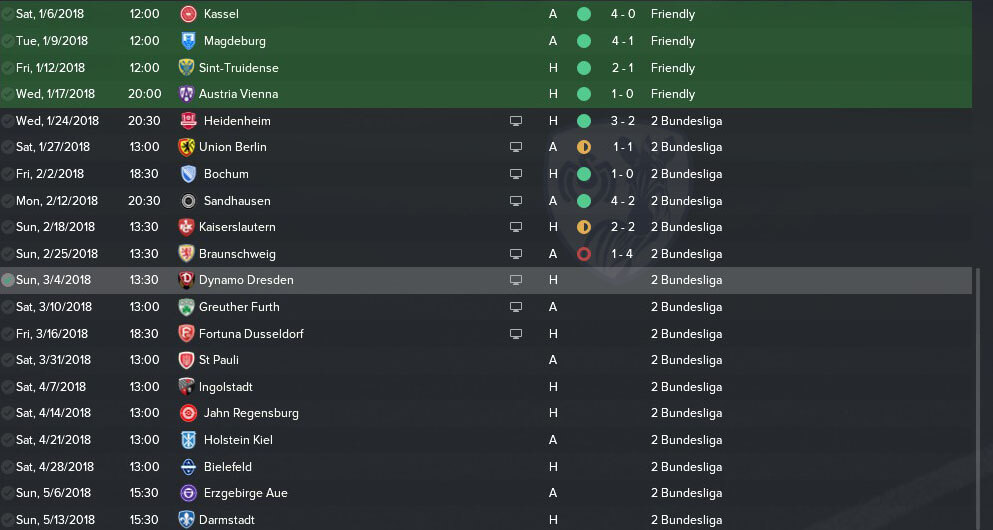 This is what our schedule has looked like since January, and these are the remainder of our competitive matches. All-in-all, there's nothing to complain about. The recent loss was an embarrassing blemish to a good run of form thanks to the manner in which it happened, but we're doing well to sit in the top half of the table right now, so there's nothing to be concerned about for the long-term.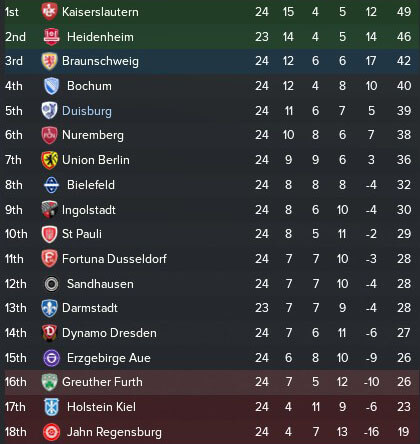 After 24 games, MSV Duisburg sits in 5th place in the table. Kaiserslautern and Heidenheim are pulling away from the pack right now, and with the remaining fixtures, we can still step into an automatic promotion spot, but right now we've only been able to hold consistently 4th to 7th place in the league. While promotion would be fantastic, my goal is to secure this top 5 spot and gather our strength in the off-season to make that final push to promote into the Bundesliga in 2019.
In the next update, we'll have the 2017/18 season wrapped up, and we'll review our final league position and go over our objectives for the team in the off-season.