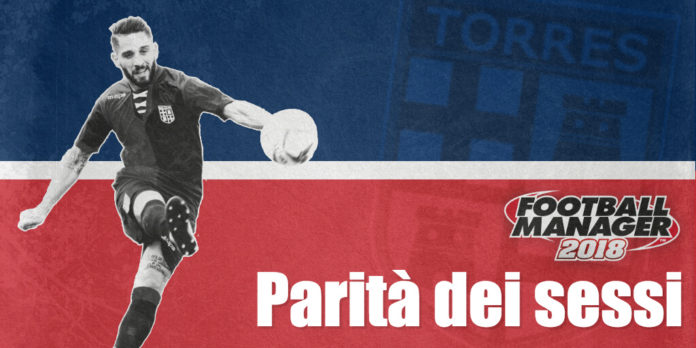 If I have one rule in life, it's that I refuse to lose a derby match against a club called Sweet Milk. That's right, it turns out we're not the only team in Sassari. But I'll get to that in a moment.
There were heated discussions about our chances this year. Of course there were. There always are. We had just been promoted after completely rebuilding the squad from last year. And we're amateurs in a semi-professional league. What chances could we possibly have?
Well. We're not going down. Hell, we might even go up again.
New to the series? Click here for the prologue and index of chapters
It's an incredibly close race at the top of Serie D group G this year. Probably the closest I've ever seen any league. With four games left to play, the bookmakers are working overtime to set the odds as seven clubs are within range of finishing first. And even more incredibly: we're right up there with them.
Last year Latina already had the title in the bag by this point. As do a handful of clubs in the other Serie D groups this year. But not in ours. Serie D, Girone G is home of the most inconsistent top teams of the tier. No team has managed to break away from the rest and Nuorese lead the league with the lowest amount of points in any Serie D group.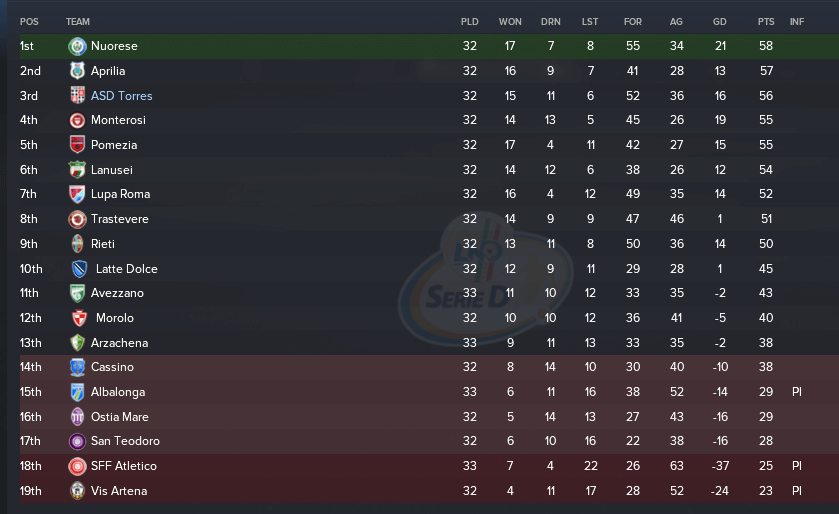 As you may remember, we've been playing a 4-3-1-2 formation this season due to… less than great managing in the preseason. Long story short, I failed to notice that we had to field four U20 players in each game and thus we had no decent ones. Also, our wingers quit.
But it's worked way better than expected, though for the life of me, I couldn't explain to you why. I'm not a fan of narrow tactics. But the strik partnership between big guy Gianfranco Botrini and pacey-dribbler Vincenzo Campagnaro has worked wonders. 24 goals between them.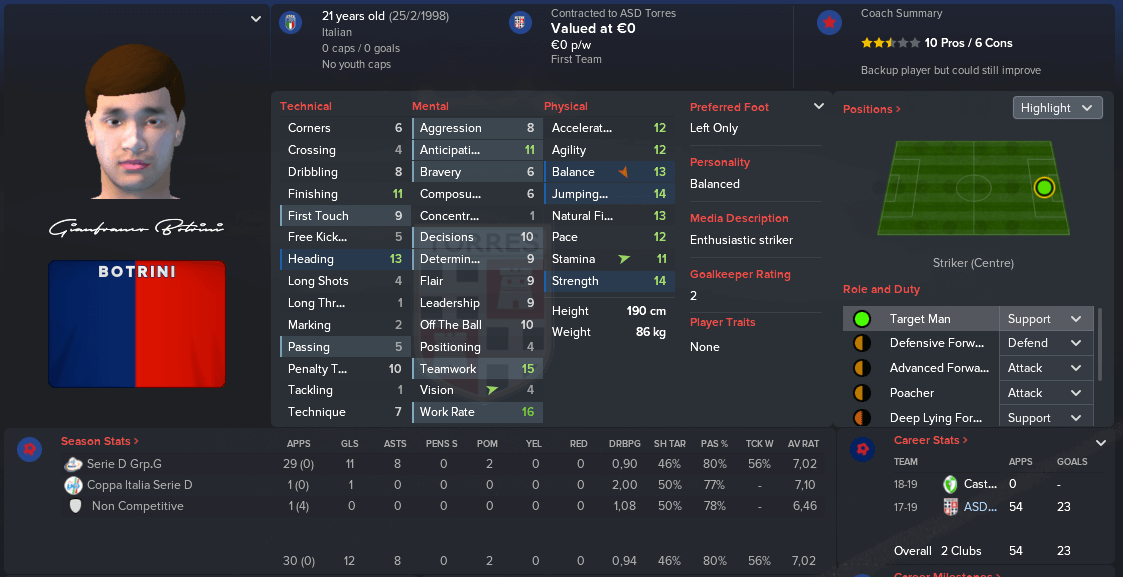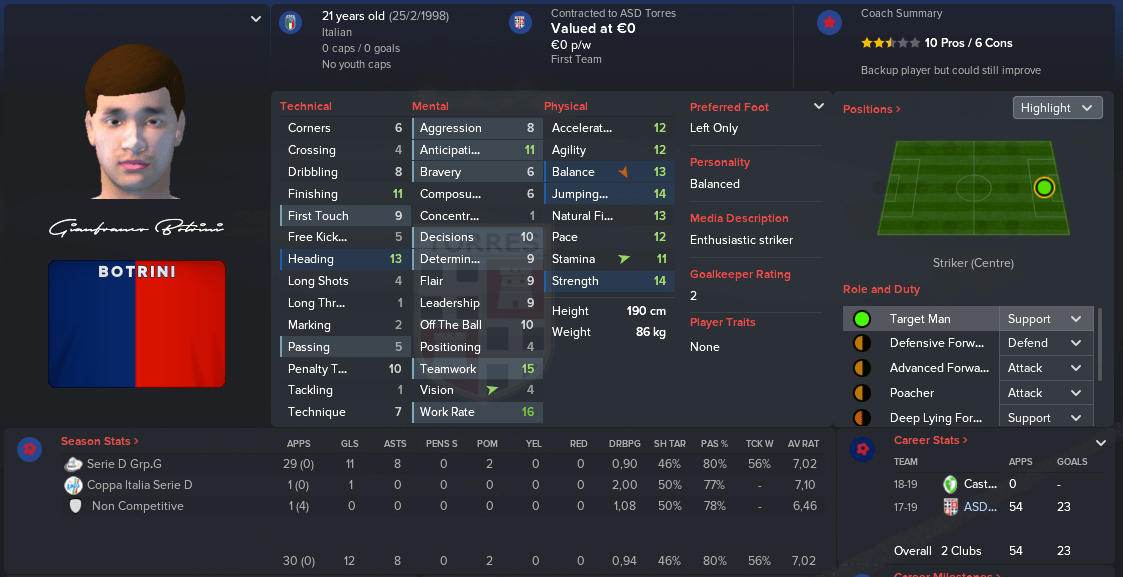 With four games left to play, the atmosphere in the club is electric. It goes without saying everyone is extremely proud of how we're doing. Yet if you see me yelling perhaps a bit too harshly at the players for not giving it all at training, let me tell you why.
We've massively over-performed this season. We're in third place, but we haven't played well. We had a good October and November, sure. But other than that we've failed to get any form of consistency in our results. So I'm keen on not letting the players rest on the laurels.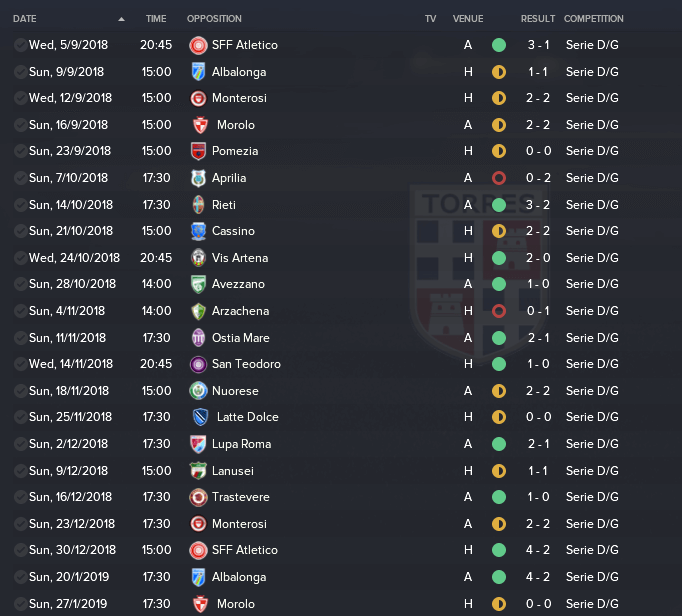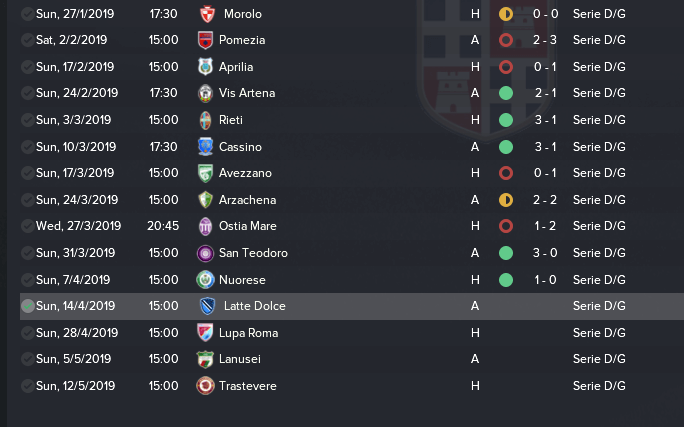 We're heading into the final four games on the back of a two-game win streak. That's about as good as it's been this season. But the last win was against Nuorese, the current no. 1 team in our league. We have a fighting chance, and I keep telling the players, unlike Steven Gerrard we will not let it slip.
But to be honest, the fear of falling short of back-to-back promotions is not the only thing getting on my nerves. Our next game is away against Latte Dolce. They're in 10th, but we should do alright.
But that's when I noticed this.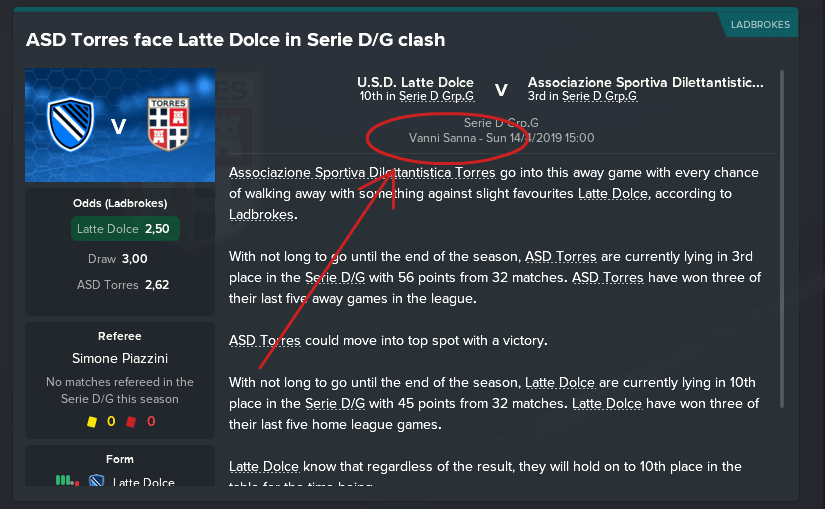 Vanni Sanna is OUR stadium. After all it was named after legendary Torres player Giovanni Sanna. There's no other stadium with that name. Could it be…

It could. So it turns out we have a crosstown rival from the Sassari borough of Latte Dolce. Which translates to Sweet Milk. And they play at the Vanni Sanna. OUR VANNI SANNA!! Or at least I think it's ours. I don't actually know.
Anyway. As I said in the beginning, if I have one rule in life, it's that I refuse to lose a derby match against a club called Sweet Milk.
Stay tuned for the final four games
Latte Dolce   2 – 3   Torres
A hard fought victory in the Sassari Derby. I sent the players out with a "get stuck in" instruction. Of course I did, they're called Sweet Milk for God's sake. How could I not? We went two goals up before the milkmen pulled one back after a poor defensive mistake. Botrini took us to 1-3 before Latte Dolce scored again in overtime.
On a side note we only had 977 "away" fans at the Vanni Sanna. Which is a few hundred less than what we have when we play our home games at the same stadium. I'm guessing the ultras at the curva nord simply refuse to acknowledge Latte Dolce's right to play on our pitch and boycott the game.
League leaders Nuorese won against second-placed Aprillia. We move up to 2nd place.
Torres  0 – 0  Lupa Roma
A new league record of 1,920 frustrated fans in attendance in a dull game where we just couldn't find the net. Found plenty of yellow cards, though. Danilo Angelini even found a second and was sent off in the 79th minute. The day turned especially bad for the two lonely spectators in the away-section when Lupa Roma missed a penalty in the 89th minute.
Incredibly Nuorese lost against already relegated Vis Atena. We're still in second, but only a point behind Nuorese.
Lanusei  1 – 2  Torres
Pandemonium in the away section in the 49th minute as Javier Martinez scores on direct free kick just outside the penalty box. Top right corner. Goalkeeper never had a chance. Obviously by then the Torres faithful already knew that Nuorese were trailing 0-2 at home against 8th placed Rieti.
Botrini placed a brilliant header in the same top right corner in the 71st minute to take us to 2-0, before Lanusei scored in overtime.
No more goals at Stadio Franco Frogheri in Nuoro meant we advance to the first place.
Torres  2 – 0  Trastevere
A record 3,714 in attendance as we have the possibility to do the unthinkable and get a second promotion in as many years.
A long ball over the top from our left back Baldassini found Campagnaro with plenty of space. He cooly placed it around the keeper. 1-0 Torres.
Ten minutes later a clearance from the Torres defence finds Campagnaro on the wing. He runs half the length of the pitch before getting knocked over in the penaly area. Javier Martinez converts the penalty as the curva nord explodes.
Trastevere misses a penalty in overtime, but it wouldn't have made any difference anyway. We did it.
 Looking ahead
There are a lot of decisions ahead. I was determined to continue in Serie D as amateurs for another season. But we're playing Serie C next year. That's a full-time professional league. Do we risk it and continue as amateurs? Or do we go semi or full-time pro?
Also, I'm determined not to botch the preseason again. This time, I'm reading the rulebook on Serie C before the season starts.
We'll need to strengthen the team, no doubt about it. But there's at least a handful of the current players that should be able to compete in Serie C. Amateurs or not. I'm hoping to get a couple of wingers, so I can get back to playing a wide tactic again.
Oh, I almost forgot. This happened:

Thanks for reading. I'd love to get feedback from you, so please reach out with questions, comments, suggestions or whatever else you feel like. You can reach me on Twitter at @FM_Ponzie or in my Slack channel #Torres.