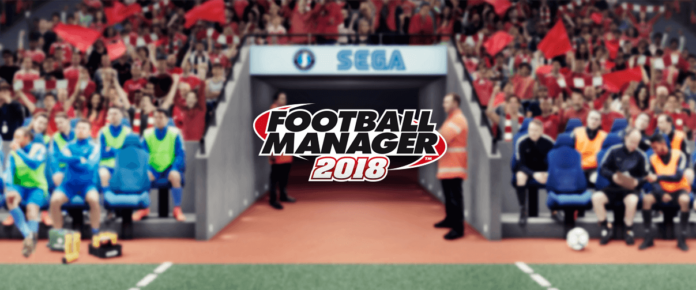 Here we are again, the playoff stage of MLS and my Atlanta United side is aiming to lift the MLS Cup for the third year in a row. However, what they don't know is that I'm set to quit in the close-season.
I'm bringing the series to an end by leading the United States at the 2022 World Cup and took that position earlier this term, taking charge of the final four qualifiers (more on that in the next episode).
So, it's very much the twilight of my exceptional time in MLS. I want to win everything I possibly can and, having already lifted the Supporter's Shield and the US Cup, we're in a good position- with Orlando City the first side in our way.
We're exceptionally crap in the first-leg away from home, trailing to a goal from Daniel Solloi after just nine minutes and doing nothing for the next our or so. Thankfully Joshua Perez, a mid-season capture from Fiorentina, pulls us level.
To the left is the side I choose for the second-leg and it's the man on the right who is again our star, netting a first-half brace to put us on our way to a 3-2 victory on the night.
We did lead 3-0 heading into the final 20 minutes, so clearly there's a lot we need to work on after (another) international break.
Our opponents in the Eastern Conference Final are DC United, who have exceeded media expectations this season by finishing third- having been predicted to finish 18th. So, we're Goliath against David. I plan to rewrite the tale in that aspect.
We're blessed with a fully fit squad for the first-leg away from home and Joshua Perez is in the form of his life, continuing his fine displays on international duty with my USMNT. It doesn't stop us from falling behind though, as Lynden Gooch opens the scoring after half an hour.
Ever the heroes, Robert levels the scoring, fresh from signing a new four-year deal, and Josef Martinez gives us the lead before the break. Swiftly after the restart, Alan Cardoso extends our lead from the penalty spot. It's at this point I pop to the toilet. Oh boy, I missed a lot.

Martinez hat-trick and Perez extends his scoring run before Gooch gets his brace. We still have the second-leg at home to play but we've already got one foot in the MLS Cup final. Now to finish the job. Martinez's MLS record, by the way, stands at a sensational 131 goals in 132 games.
Back on home soil, it doesn't take us too long to put the game beyond any doubt as Robert and Martinez both net before the half-hour mark. Our Venezuelan sensation strikes again before the break and we go on to win 3-1, sensationally 9-3 on aggregate.
Onward we go then and the finale is against the newest MLS franchise, LAFC, who joined the year after us. As part of my database sweep, we now have a small rivalry- so it could be very interesting indeed.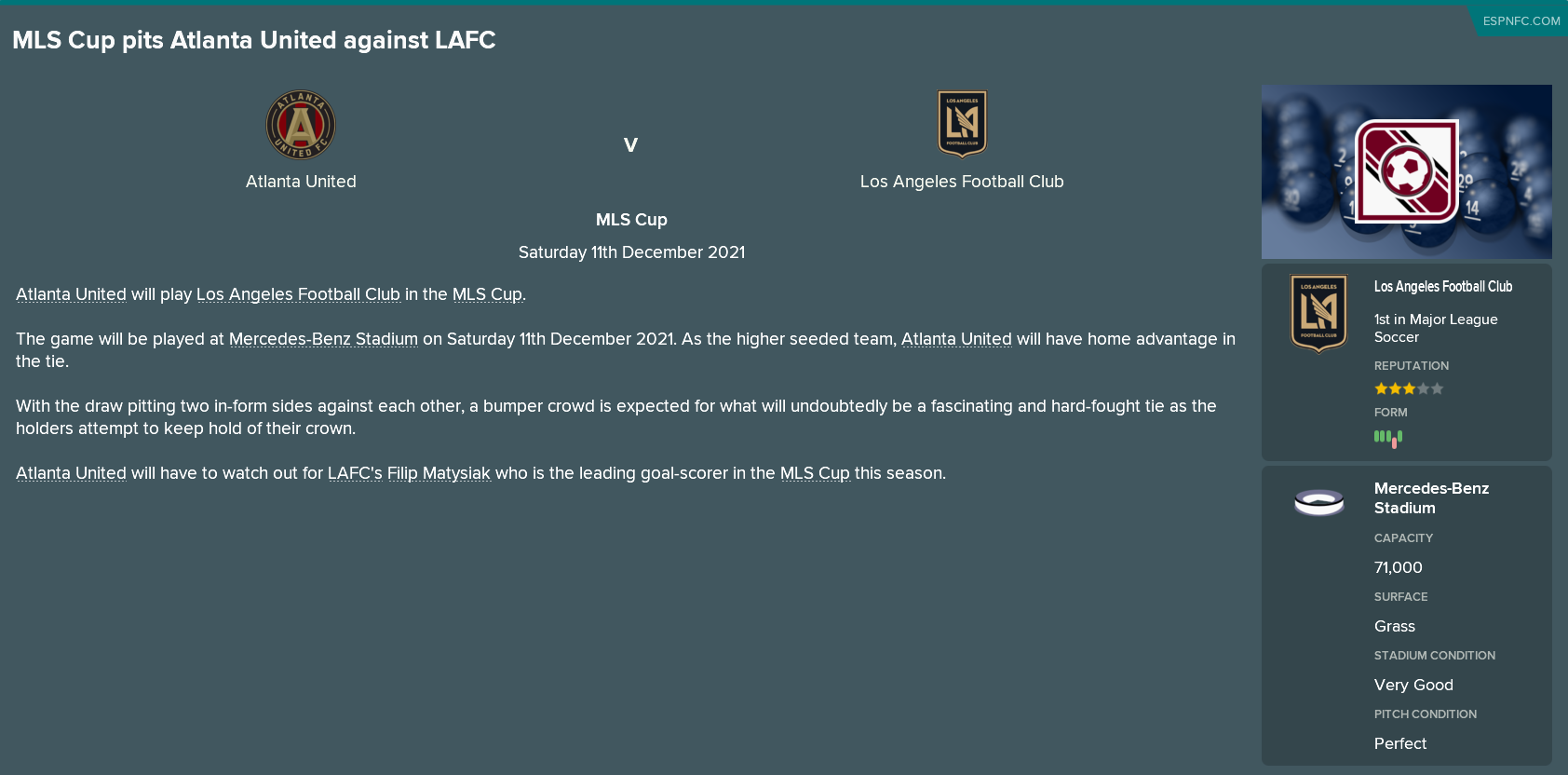 In our only game against them this season, the penultimate game of the regular campaign, we lost 4-3 at home. So, it's not going to be easy at all and I'm expecting much better things from my team this time around.
This is it then, the final 90 minutes of my Atlanta United career. I'd be emotional if I wasn't so excited for my save and, to be honest, there is no doubt that this is the right decision. I could move across MLS but I do feel like I've cracked the code. I need a new challenge – but first I want to go out on a high.
The opening goal comes from an unlikely source, as Erik Palmer-Brown heads home ten minutes before the interval. Our lead lasts just five minutes into the second-half though, with a counter attack finding holes in our defensive line. It's end-to-end and, for the first time in my tenure, we're taken to extra time.
On the 100th minute, Alan Cardoso sees a penalty saved and it's all to play for as we enter the final 15 minutes of my time in Atlanta. I need a hero. Especially when it goes to penalties. Cardoso scores, Marian Sarr scores, Tsosie saves but Andrew Carleton has his effort saved too. Tsosie saves again, De Col fires over, Young scores for LAFC. It's all down to Robert, who I'd have down as our player of the year. It's saved. We lose. You can feel the winds of change.

I say my piece then break the news. I have no idea what will happen to this squad, especially as Atlanta are poised for a takeover. I'll remember them all, I'll keep track of their travels and I will of course meet up with a number of them again with the USMNT.
In terms of awards, we dominate again. Robert wins Comeback Player of the Year and Josef Martinez pips the Brazilian and Juan Pablo Torres to the league's MVP. Matko Milijevic wins Goal of the Season, Robin Tsosie wins Goalkeeper of the Year and Alan Cardoso is defender of the year- a stellar achievement after he stepped back into the side following the loss of Scott Hansen.
So long Atlanta, it's been a blast.