It's youth intake day, and it hasn't lived up to your expectations. You're disappointed. You start having a little panic. Never mind not getting a 16-year-old wonderkid from just down the road who you can fire straight into your starting 11, there isn't even anyone in your eyes that looks good enough to develop and be good enough to be a first team option a few years down the line. [Calm] Stop hyperventilating. Here's my thoughts on what your next step could be…
1. Look For A Diamond
It's so rare to have a player come through in your youth intake with attributes that are 10 and above across the board. It's certainly never happened to me anyway. Judging young players is a completely different skill altogether than judging older ones. Course it is, that's why there's different attributes in the game for backroom staff to judge player ability and potential, and it's judging potential that's key here. Put your initial disappointment at not getting a wonderkid through in your intake to one side. I find that all it takes is for one or two attributes, their personality or even their physical presence for me to think "there might be something we can do here".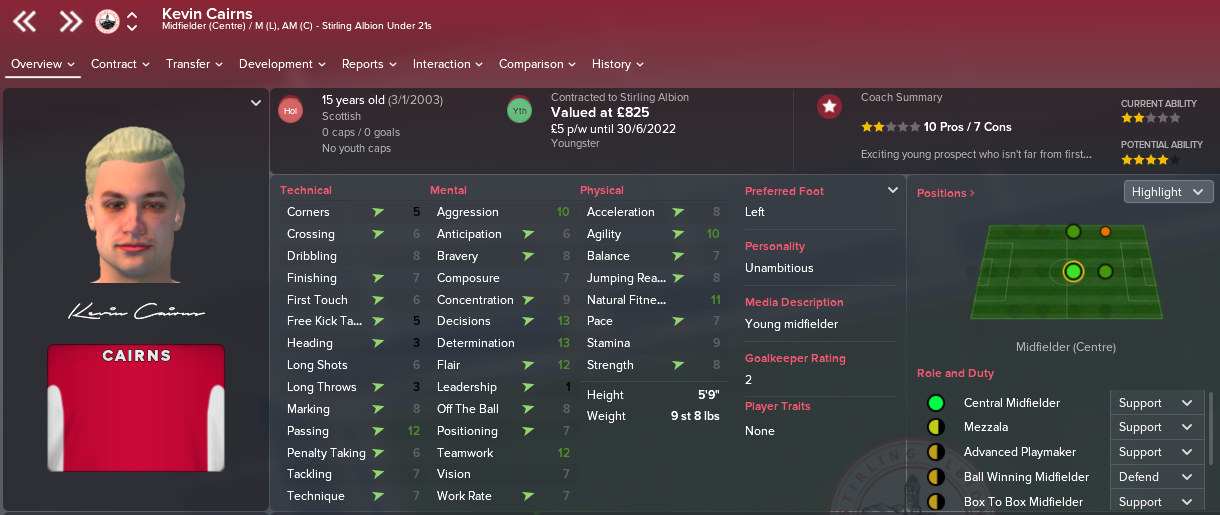 Whether it's a professional fast winger with a relatively decent crossing attribute, or a 6'3″ 17-year-old central defender with 12 tackling, something has to stand out for me to offer them a deal and give them a chance at my club. In Cairns, it was his decent attributes for passing, decisions and determination. Oh, and also that my backroom staff rated him very highly…
2. Trust Your Backroom Staff
For most FM players, the first top level look at the quality of your youth intake is done via your assistant managers opinion of that player on the squad view. My tip is to pay attention to those star ratings. Trust your assistant, especially if you don't feel as strong about your own ability to and he's got a good attribute for judging players. The key thing to remember too is that those star ratings are relative to your current squad. A one and a half star young player coming through at Man Utd would be highly likely to be a five star rated star for a National League side. Your backroom staff can give you a broader insight into that player as well, listing more of what they perceive to be his pros and cons (giving an insight into the players hidden attributes too).
3. Development
After catching up with your backroom staff, you've offered out some contracts to the players you reckon might have a chance of making it, what's your plan to enable them to? Your initial negative judgement of a newgen youth player could be completely 360'd a few years down the line thanks to a combination or all of these development approaches to try out.
First up, training. In my eyes, there's two main options open to you here. You can give your youth prospect a more general role to train, to try and cover a breadth of attributes. Examples of this could be a complete forward, a roaming playmaker or a complete wingback. Alternatively, you could choose roles such as a poacher, central midfielder or full back, covering a smaller number of attributes and focus on making your prospect good at their base expected job on the pitch. It's up to you to decide which path you want to take here.
Have you got any players in your first team squad with a positive personality? Think model citizen, model professional, perfectionist or resolute. They'll be the perfect tutors for your young player as you aim to do all you can to improve him. Selecting the bottom option during the tutoring conversation enables the tutee to be influenced by the tutors personality and determination. Improving their personality to a more professional one will see the player putting in more effort in training thus improving his attributes. The determination attribute is vital if you want your players to give their all in difficult in-match circumstances.
Minutes on the pitch can't be understated either. If training, retraining or tutoring hasn't changed your mind about that young player, how about throwing him in for some first team action? A cup match against lower league opposition or a dead rubber league match could be the perfect opportunity to see whether your young player has what it takes to potentially make it in future.
What about retraining. It's a method that isn't all that popular in the community, but one that could be really beneficial. That professional pacy winger that came through in your intake might look good, but what if you don't play with wingers? Deciding to turn him into a wing back at a young age is going to be more positive than deciding to do it later down the line in his career.
Cairns has had a combination of all of these things happen to him across the space of four years.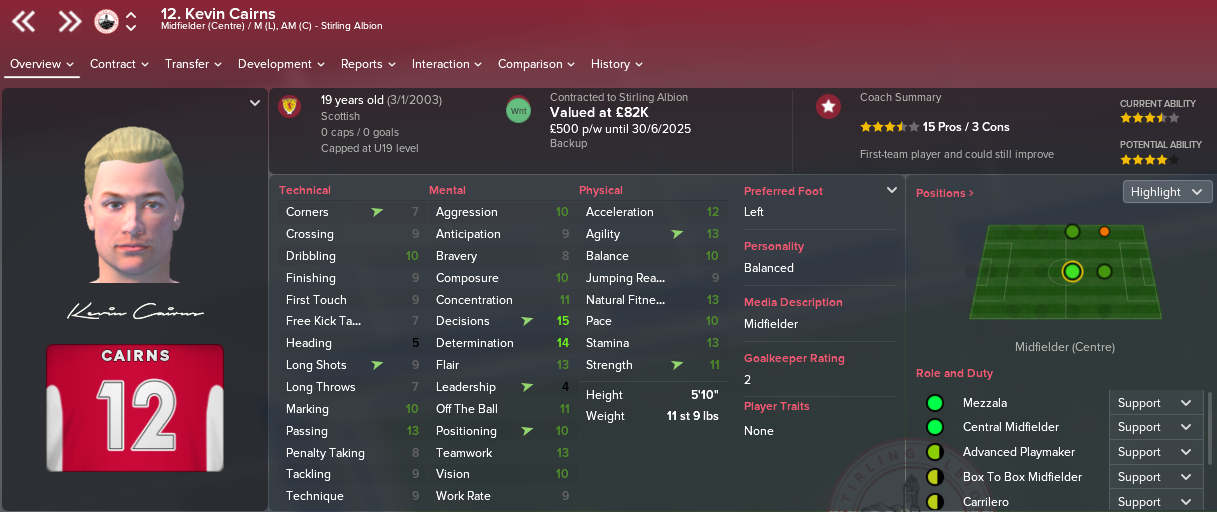 He was in the right place at the right time. At a time when we struggled with injuries he was thrown out onto the left hand side of midfield, as my only midfielder that was left footed. He's taken his chance and run with it and has certainly come on leaps and bounds and is now my first choice left midfielder.
4. Cut Your Losses
You can't find any stand out attributes, all of their personalities are terrible and you don't have many decent tutors at your club at the moment. The time might have come to cut your losses. Cancelling the trials of your entire youth intake is a difficult decision, but one that might need to be made.
If you set out your idea behind your save to focus on bringing through your own homegrown youth prospects, it might be time for a rethink and sending the scouts out to earn their wage.
5. Improvements
Getting a disappointing youth intake is very common, and while a certain level of randomness always goes into it (plus the youth rating of the country you're playing in!), there are some things you can do to increase your chances of getting a more positive intake.
Remember, there's only a small chance your Head of Youth Development will influence the attribute quality of your intake. It's mainly his personality that could influence your newgens personality, and the positions of your newgens are related to your HoYD's favourite formation. Does your current HoYD have a negative personality or like a completely different formation to you? Time for a change.
Improving your facilities are so important to doing all you can to improve your chances of getting a promising player through your intake. Time to knock on the door of the boardroom and request some money be spent on the following:
Youth recruitment – influences the ability of your youth intake players as well as where they come from
Junior coaching – influences the ability of your youth intake players. The quality and quantity of training they receive while "juniors", i.e. invisible pre-newgen aged players
Youth facilities – influences the ability of your youth intake players
Training facilities – influences how well all players at the club, senior and youth, improve
The initial disappointment at staring at a raft of poor 16 and 17-year-olds is something that can take some time to get over. If you want to listen to a bit of a chat around this topic while you're going through each of the steps with your club, AccordingtoFM and I spoke youth intakes on a recent Tempo10 episode.