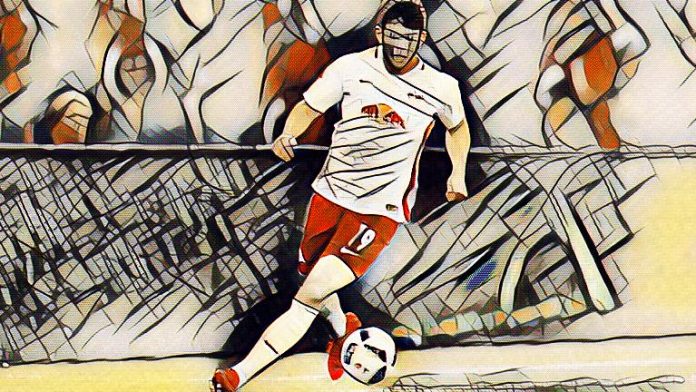 If you haven't read my previous Ode to Oliver Burke, or followed along with my save on my own site, then I'd thoroughly recommend you check them (clang) out as context to reading today's piece. I'll pick up where I left off last time.
My time at RB Leipzig on FM17 served as a huge what could have been for Oliver Burke. An alternate reality, as SI have advertised it previously. He had a huge opportunity to upskill his football schooling, to "upgrade his hard-drive" as Ralph Hasenhüttl often put it. Without knowing the full details of his departure, to me it looks as though he's given up and gone back to English home comforts. It might be harsh, but I had, and still do have, high hopes he'll be Scottish football's saviour. Burkey plying his trade his Germany, while not getting many minutes on the pitch, was sure to stand him in good stead as his career progressed. Will the same be said for him while at West Brom? It remains to be seen.
Anyway, to Football Manager! Here's a recap of what Oli looked like, attributes-wise, when I took over at Leipzig.
A young £3.8m valued wide player. The raw potential was there. His performances over the first period of my save led him to being named European Golden Boy in 2018. Six months later, he was missing a vital one-on-one that would have seen us win RB Leipzig's first Bundesliga. A tactical shift and a season later, he hit 11 goals on the way to us eventually clinching that inaugural league title for the club in my fourth season. And that was where we left the story last time out…
Season five is where Burkey really began to ramp it up and stake his claim for a statue outside of Samo Towers. 11 goals and 10 assists was his most productive season yet, as we retained the Bundesliga. It was, however, that eleventh and final goal of season five that catapulted Oli into RB Leipzig folklore.
In a tense Champions League final, the score remained 0-0 going into the final twenty minutes. A tactical decision to set my AMC to get further forward and break through a tough to break down Spurs side paid dividends. Who should be playing AMC? You guessed it. Oliver Burke had delivered RB Leipzig, and the Red Bull brand, it's first ever Champions League trophy.
I feel since he scored this goal, it must have improved his hidden attribute for playing in important matches (if that's even able to be developed). He followed up his season five heroics with more in season six. We won a quintuple and he fired in 12 goals across the season, including five in the Champions League, and a second consecutive Champions League final goal on his way to a Man of the Match performance against Manchester United. Securing our second successive CL crown.

Season seven might not have brought more Champions League success, but Burkey had his best season yet. His progression into a "world-class winger", and his performances making that right-hand side of my narrow three behind the striker his own, were incredible to watch. His game went up another notch this season, scoring 15 goals and laying on 12 assists for his teammates. His value has sky-rocketed again, and still just 26 years old too. Frightening.
Heading into season eight, I knew it'd be my final season in charge of RB Leipzig, and on FM17. He'd been newly appointed as my new vice-captain but as the season progressed, Oli didn't shine. He scored 10 goals in total, but four of them came in the last few matches of the season. The way this game we all love throws up its own natural narratives sometimes, I swear it's like as the save progresses it just knows. Burkey scored a hat-trick at home against Mainz in a 4-2 win in my final ever Bundesliga match, to complete my second ever unbeaten league season with the club. That in itself would be a good enough end to our story together. But no. We had another Champions League final to win…
We were up against PSG, Jose's PSG. The side that ensured that we wouldn't win the Champions League three times in a row last season. But now, we had the chance to avenge that defeat and win it for a third time in four seasons.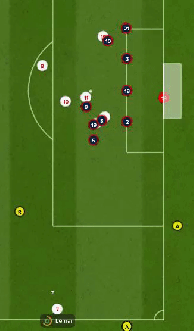 Not just that though. It was to be my final match of this incredible FM17 save I've had. The whole of FMSlack was behind me and following along.
Fast forward to the 76th minute of the final in Dortmund, we were 2-0 up and looking comfortable. The next goal would be crucial though, and PSG are always dangerous. Burkey had set up both of Timo Werner's goals to make it 2-0, and he met a Timo knock on to calmly and coolly fire it past Donnarumma in the PSG goal to seal our third Champions League win, and score his third goal in three final appearances. The final RBL goal under my management.
What a save. What a player.

The final screenshot I took of him has him valued at £50m. Absolutely astonishing for a Scottish player and an increase of 1215% since I joined the club. The funny thing is, physical attributes aside, if you were managing a top side a few years into your own FM save, you might glance at Burkey and pass up the opportunity to sign him. His quality as a whole on first glance isn't that great. He's only got 13 for finishing. His decisions is a poor 12. Only 11 for teamwork, 12 for work rate. His passing could be better at 13. What's contributed to Oliver Burke doing the business for me time and time again on FM17? Is it just down to blind loyalty towards my fellow countryman? I'm not sure, but it's been one hell of a ride and just showed what could have been.