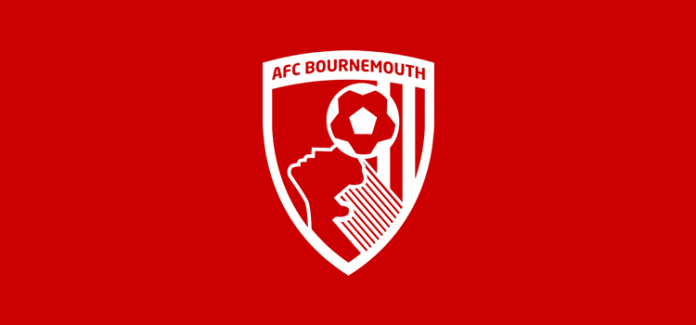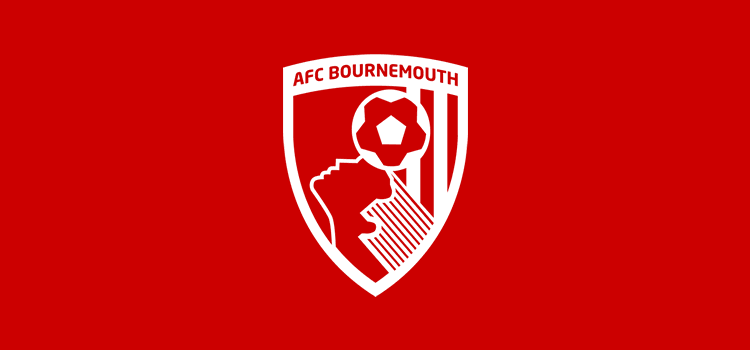 There's a few points of interest to take care of before we get down to the analysis and transfer portions of the summer of 2020.
The first thing of note is that Steve Cook is the only one of my players to make it into the Premier League Team of the Year. Seems a little unfair to me. Charlie Taylor, meanwhile, picks up the Fan's Player of the Year with 34% of the vote.
It's also worth mentioning that Real Madrid who were favourites with the UK top Bookmakers went on to win the Champions League final 1-0 against Bayern, which makes me feel a bit better about our performances against the eventual winners. Our odds were at 8/1 to win the trophy while the champions Real Madrid were as low as 3/1.
This summer brings about the city-hopping version of the European Championships and Laudrup's announcement of his preliminary England squad for the tournament is an absolute joy to behold: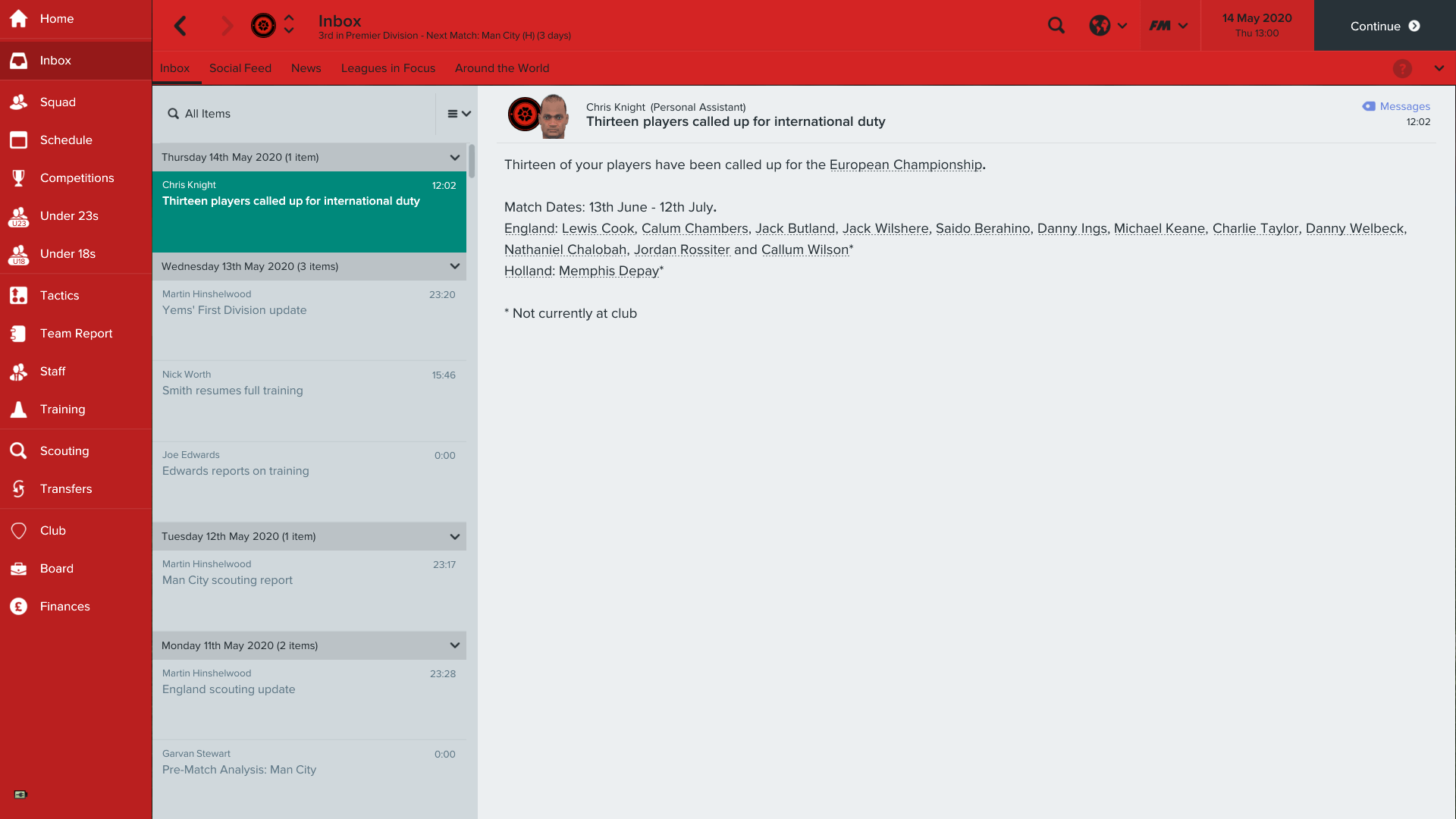 Over a third of that provisional squad play for Bournemouth; an astonishing feat. Ultimately only eight of those twelve would make the final squad (with Ings, Wilson, Rossiter and Chambers comprising those who failed to make the cut), but those eight would go on to have a serious impact on England's performances at the tournament:
Each of our representatives played some role throughout the competition, but just look at that team for the final: four Cherries players and a hat-trick from Saido Berahino to seal victory over Italy.
But onto more prosaic matters – did I do what I said I was going to do? Am I a man of my word?
1. Only scout, sign and use players and staff from the United Kingdom and Ireland, with a bias towards Englishmen wherever possible.
Success: This is the only one I can consistently stick to because it's the only one where there is no possibility for compromise. That said, if you want to count Coulibaly, Cazares and Depay against me, you could call this a failure.
2. Sign players aged 19-24 on permanent transfers, with loan signings only being used in exceptional circumstances.
Failure: Only 24-year olds Jordan Pickford and Calum Chambers count as a win on this front. Bentley is 26 and Ings is 27, while Hayden and Edwards are both in the age bracket but were only loan signings. Although I'd suggest my board being tight-fisted bastards counts as exceptional circumstances.
3. Invest in the club's training facilities and youth academy to develop players for the first team, with the eventual aim of having a fully home-grown squad.
Failure: This is a total write-off I'm afraid. The board won't invest in our facilities any further and we've just not had the luck with the regens. I did give a 15-year old academy player his debut this season, but that was a token gesture.
4. Be profitable.
Success: Champions League footie, plus limited transfer outlay, meant we stacked the cash higher and higher in 2019/20. The club made a profit of  £38 million+ and we climbed up to 15th in the world rich list: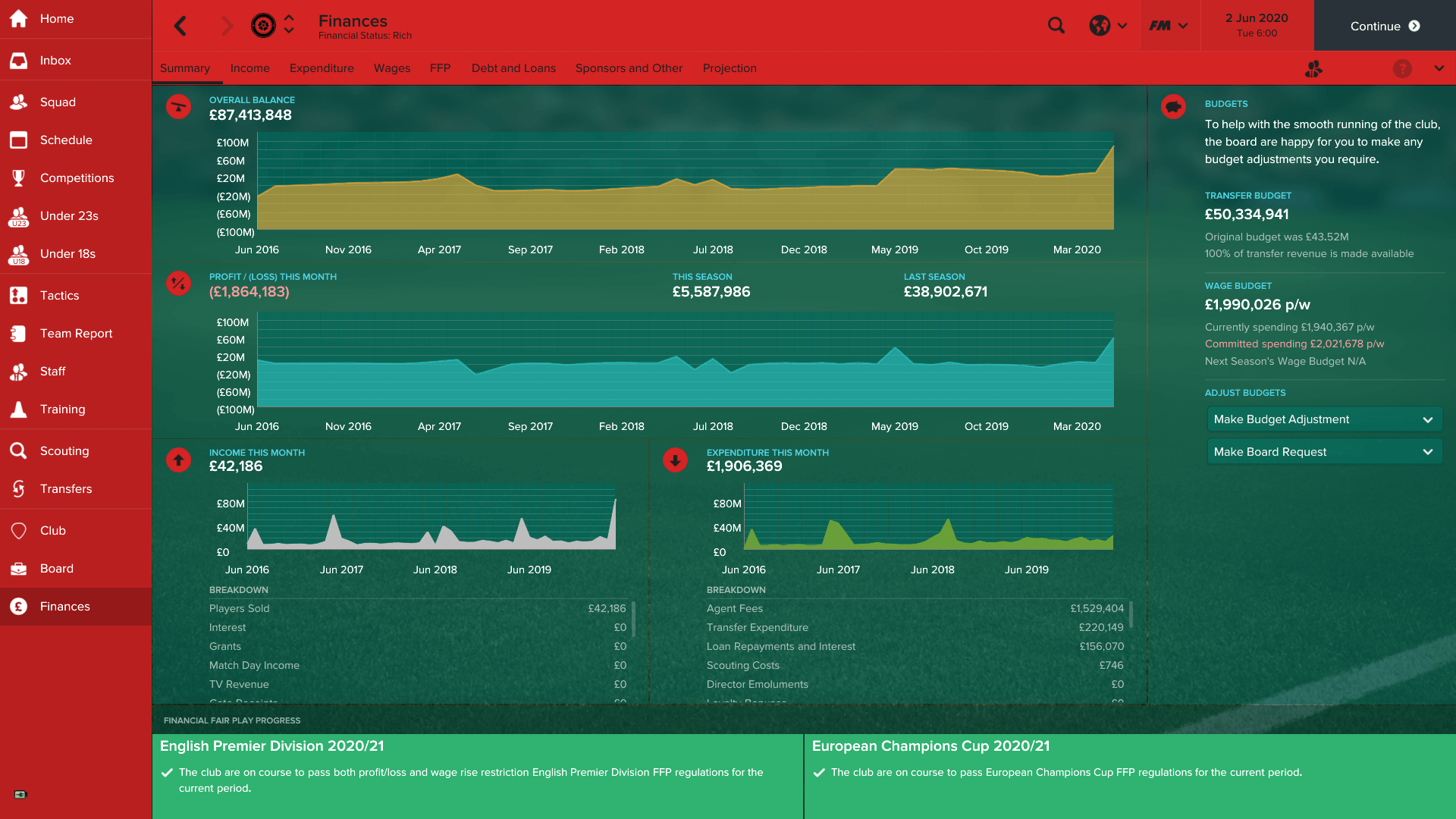 5. When recruiting players, show a preference for those with strong Bravery, Decisions and First Touch attributes.
Success: good stuff on all fronts apart from 'Bravery' where only Pickford and Bentley had anything to show for it. I'll do my utmost to address that in the off season.
We also comfortably achieved our aims for the season:
Season Four: Champions League football, cup win, 5+ England players
As I begin to flex my fingers and crack my knuckles in preparation to delve deep into the darkest recesses of the transfer market, I receive some slightly disconcerting news: chairman Maxime Demin announces that he is withdrawing his financial support from the club. I'm not sure exactly what this entails, but it doesn't sound good. There's no immediate effect to my budgets, but I imagine it means that in the future the board won't be supplying me with cash to spend. I decide that I better make the most of the ~£50 million I currently have at my disposal as it might be the last time I have that kinda sum to play with.
Just one problem though – even with the increase, I'm close to exceeding to my overall wage budget. With a number of my most important players just over 12 months left on their contracts, I'm going to be unable to tie them down for longer unless I free up some money. That means making some tough decisions.
Let's assess the squad and see what needs to be done: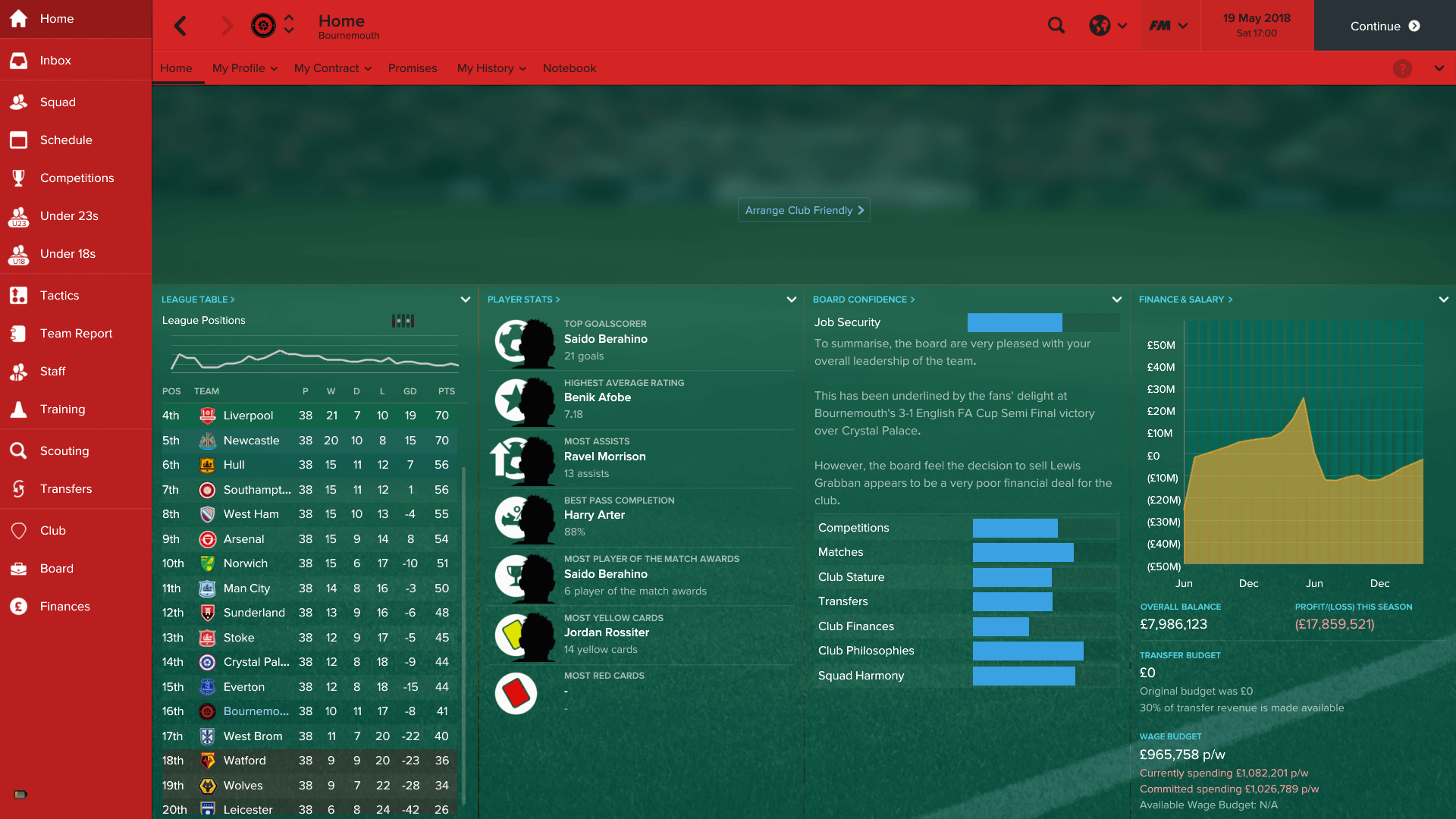 Saido is again our outstanding player, registering slightly fewer goals than last season but creating far more goals for his team-mates. Taylor chalks up another impressive average rating but his disciplinary problems are a potential issue, as are Rossiter's – but we knew that anyway. Shout out to Ravel for an amazing 9 MOTM awards.
Speaking of Ravel…
Have a look at that. 18 goals. 14 assists. 7.38 average rating. And he still can't get a look in with England. He's certainly made the most of us implementing an attacking midfielder into our formation. Other than that, it's a pretty familiar story: our defenders are our generally our most impressive performers, with the full backs in particular excelling. Wilshere and Lewis Cook have both improved on last season significantly, which is pleasing.
On the more negative front, Chalobah's rating has dipped a bit, while Butland and Welbeck both put in underwhelming performances across the whole season. Most concerning of all is Daniel Sturridge, whose rating and output has completely fallen off the cliff face – he's gone from being one of our best players to one of our worst. That's partially  down to injury – he missed nine weeks of the season with various injuries – but it's still disappointing.
Based on this there are some easy conclusions to be drawn: we could do with some fresh faces upfront and, while Rossiter and Chalobah both did pretty well, some extra depth in midfield certainly wouldn't go amiss.
As an aside here's a comparison of our squad with the rest of the league which illustrates the point I made last time about being just over the average for wages: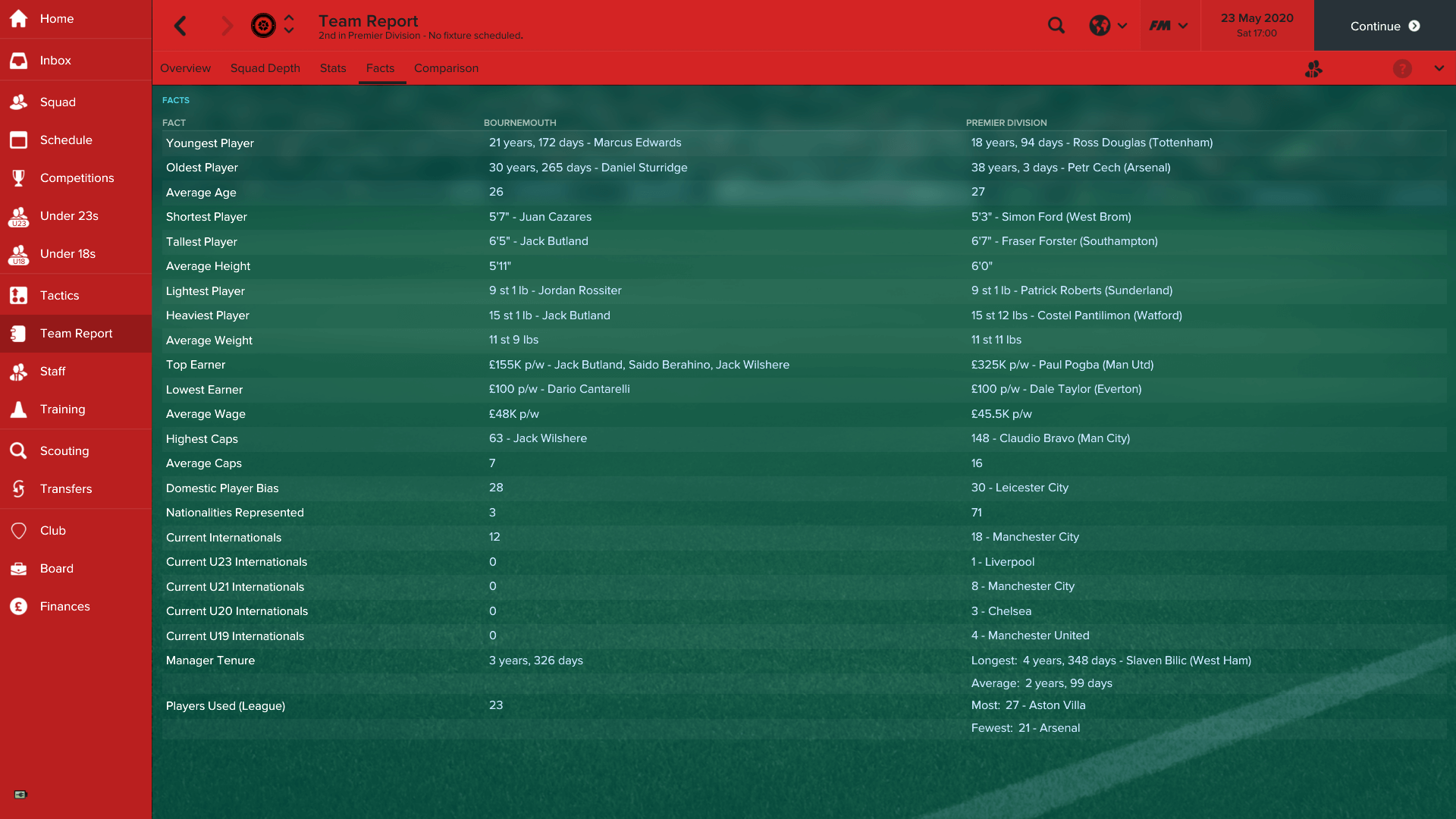 Leicester have usurped our position as the leader in Domestic Player Bias which must be addressed.
An urgent need to trim our wage budget coupled to his plummeting performances, means Daniel Sturridge is the first out of the door. Fulham pay £9.5mil for the 30-year old and we get rid of over £100k p/w of wages. We got one exceptional season out of him and received almost as much as we spent on him despite the fact he is clearly on the decline.
I also elect to sell Welbeck, although much more reluctantly. I always felt he played well, but looking at it objectively, it's a good decision to sell him. He scored fourteen goals last season, but only four of them came in the league. He scored against Real, in the EFL Cup final against Spurs and in the FA semi-final against Stoke, but the majority of his goals came against lower league opposition. Plus he is 29. So, when Sunderland come back with an £18mil bid, I accept. It's a superb fee, especially considering we paid around £9mil for him two years ago, and cuts another £100k or so off the weekly wage bill.
There are a few other departures: Corey Jordan goes to Cardiff for £375k + 30% of any profit on the next sale; Dan Gosling is released on a free and frees up £18k p/w of wages and Tyrone Mings, who is straight out of the door after he decides to play his international football for Barbados, also goes to Fulham, this time for £875k.
Before I get tucked into my monster transfer budget, I decide to do the responsible thing and consolidate what we've already got. Berahino, Wilshere, Keane, Wilson, Lewis and Steve Cook all sign five-year contracts, which is essentially the spine of my team tied down long term. I also chuck a new contract at Jack Stephens; despite being an average-looking player, he is a reliable, competent back up who always rates well when he's called upon and has never once complained about his playing time.
So, with that taken care of, it's time to get to work on the incomings. I addressed my lack of cover at the back by bringing in Brendan Galloway from Everton for £13.5mil (rising to £17.5mil) and £54k p/w:
I'll primarily be using him as a centre back but, like Calum Chambers, he's a brilliant operator at full back which gives me plenty of versatility and depth.
I also raid Everton for Ross Barkley. He costs me £19.5mil (rising to £22mil) and £66k p/w: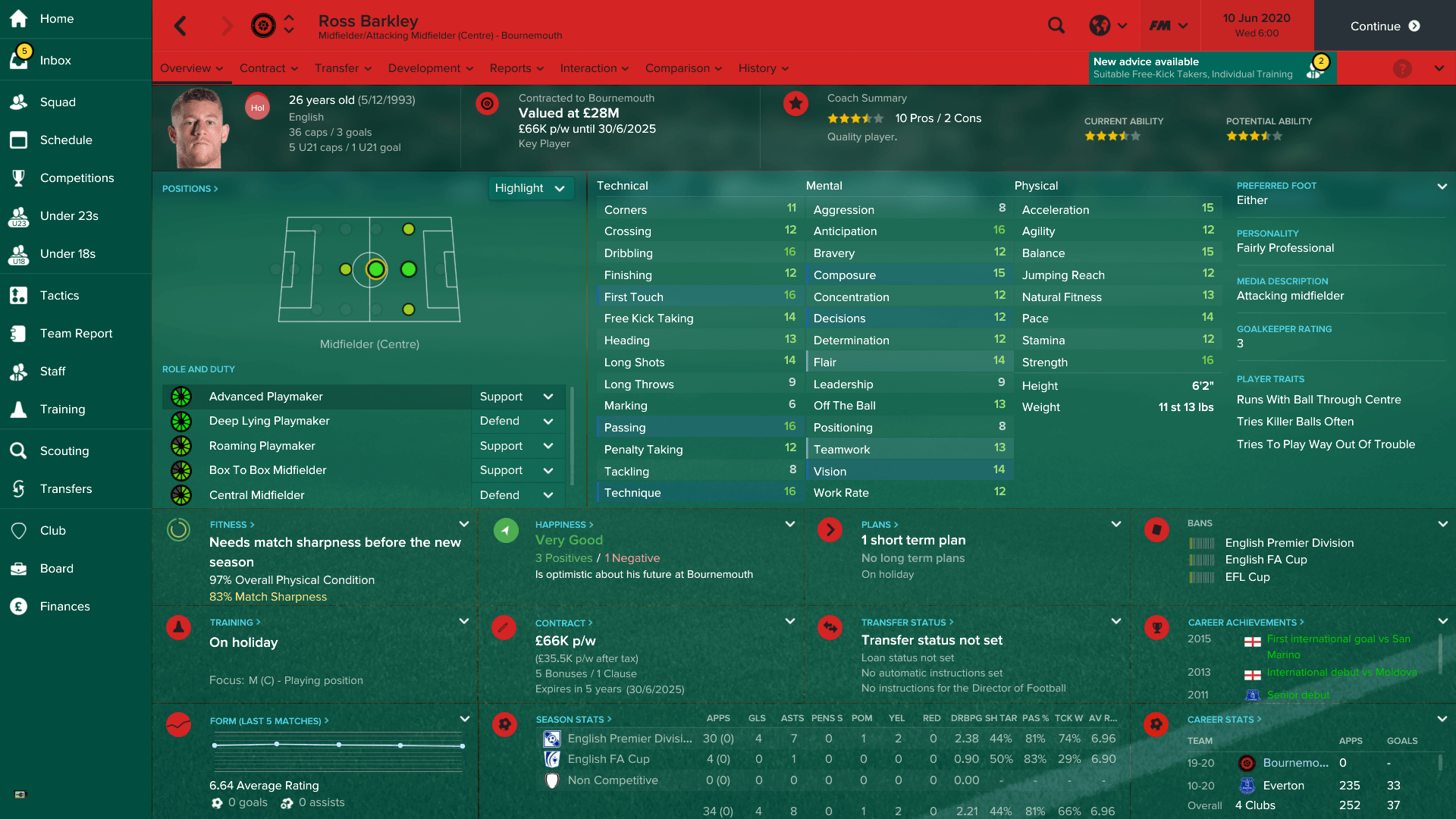 Then I finally follow through on a season and a half of foreplay by bringing in James Ward-Prowse from Leicester for £22.5mil upfront, £2.5mil over 48 months and around another £8mil if he scores loads of goal and plays loads of games. I manage to talk him down to £95k p/w in terms of wages, which is a lot but he originally was asking for £150k.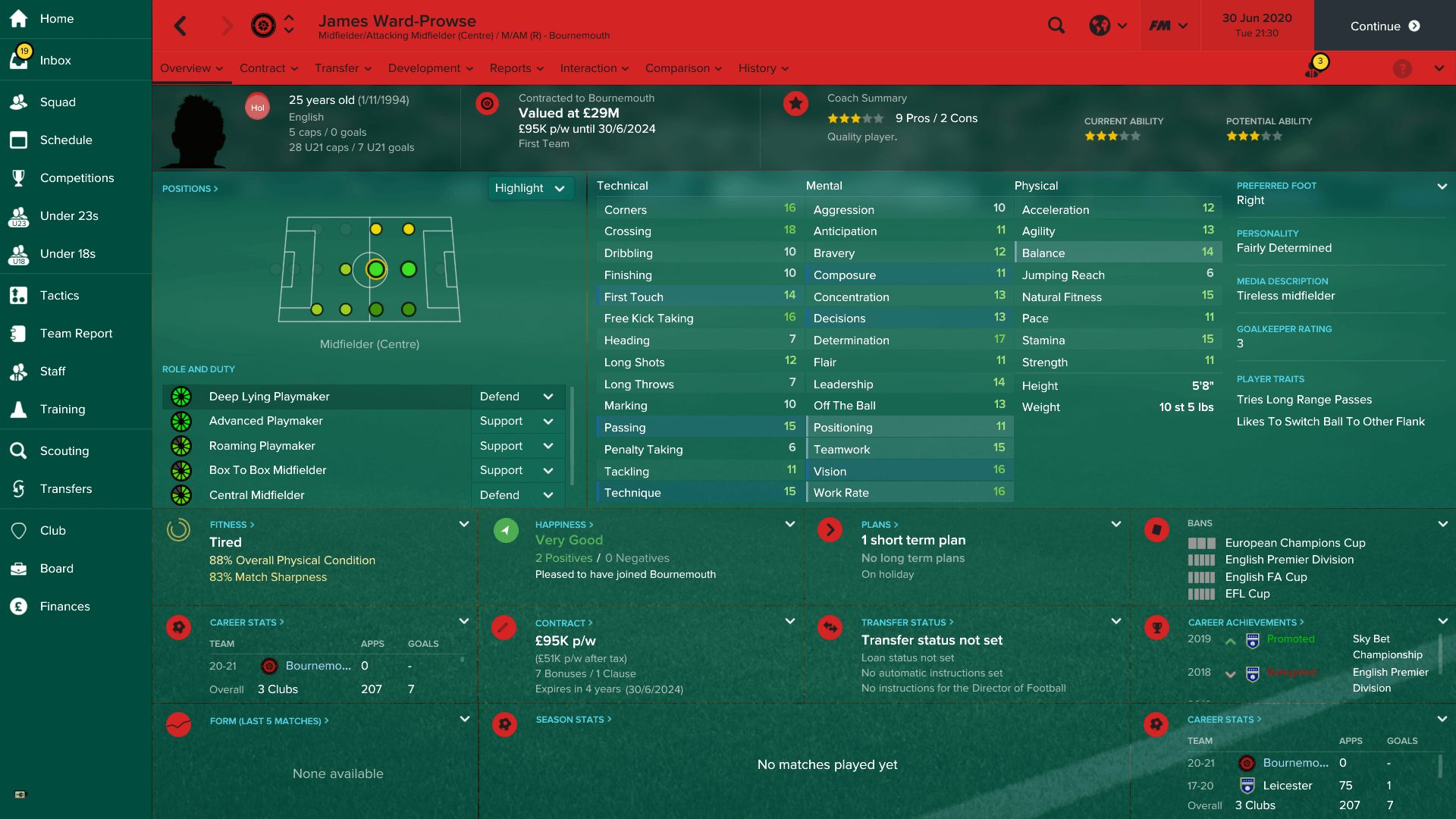 That's my midfield sorted then. I'm quite content with my business but feel like I should probably add a fourth striker to the squad just to be sure. I'm going to persist with two upfront, so it's probably a sensible move. At the minute I have Berahino, who is obviously our number one, Callum Wilson, who returns from a decent spell with Lorient and will be back in the mix next year, and Danny Ings, who I like a lot but there is a slight question mark against his fitness.
So, I eventually plump for Tammy Abraham: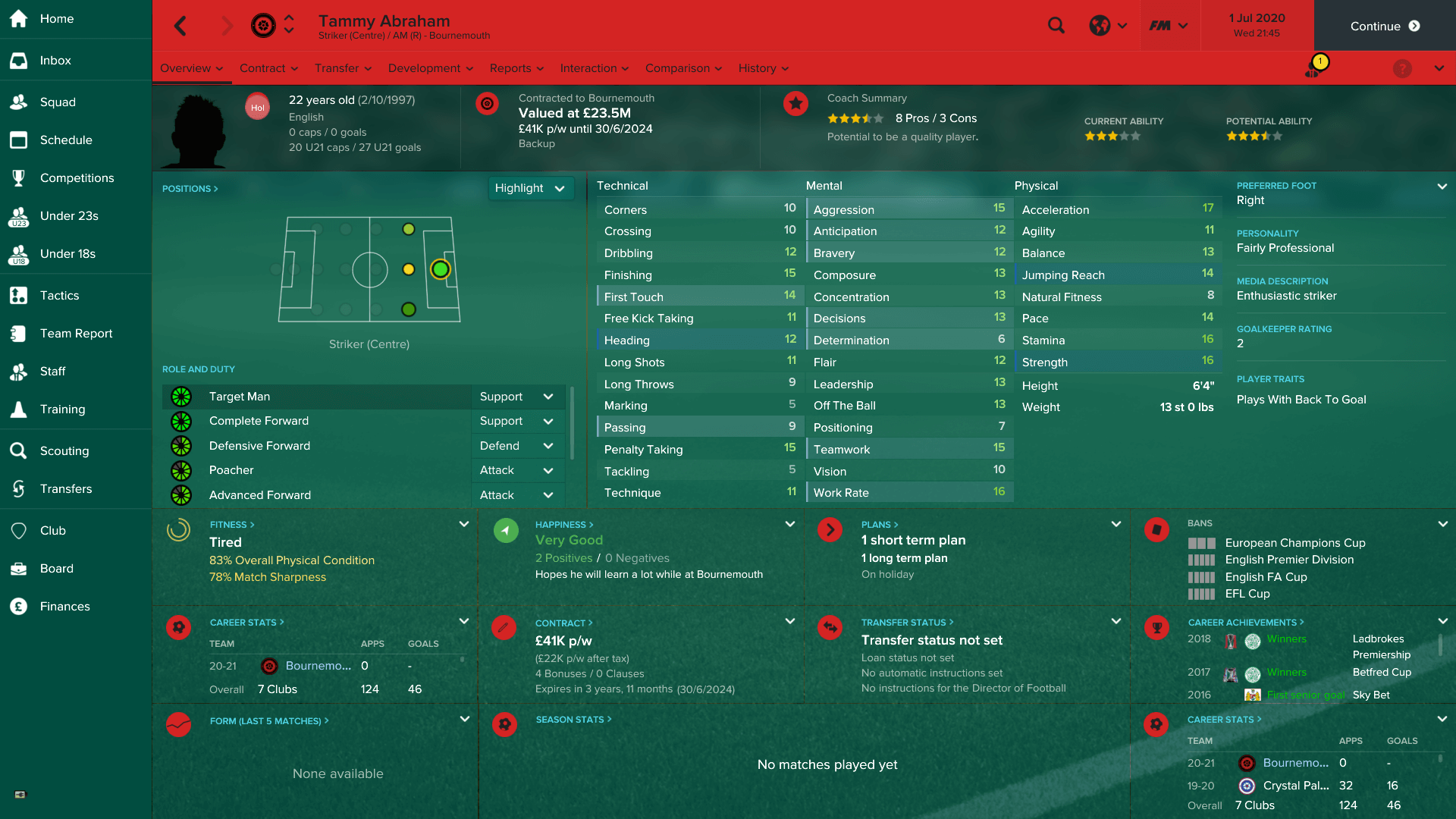 He doesn't come cheap: £20 million upfront, another £12 million over 48 months, and an extra £3 million for goals+appearances. It's an eye-watering sum but a) he's 22, so he fits our recruitment policy and we've got him locked down for what should be his prime years b) he's a different profile to the strikers we've currently got on the books; big and strong and comfortable playing with his back to goal and c) there really are very few alternatives at this point.
The board are disappointed with me for failing to fulfil the club philosophy of signing young players for the first team (a philosophy I insisted on, making this a noose I tied for my own neck), so I sign Marcus Edwards. He was on the transfer list at Spurs and he impressed during his spell with us last year. I pay them £1mil upfront, which could eventually rise to £3.5mil all things told.
Just before the season starts, Adam Smith comes to me and asks for a new contract. He's been a loyal servant and has been quality going forward for us, so I decide to reward him with one last contract. He's 29 and will be 30 at the end of the year, so I bump up his wages to inflate his market value with the intention of selling him at the end of the season so we get a decent fee for him, rather than letting him age and then leave for a pittance like Daniels and Francis.
So, having made up my mind on that front, I decide to sign Trent Alexander-Arnold from Liverpool as he's 21, comfortable playing either RB or RWB, and very dangerous going forward. I pay Liverpool £10mil upfront, with another £5mil in instalments and an additional £5mil if he scores 50 goals for us. However, by the time I get round to signing him, he's joined Sunderland on loan. Therefore, rather than getting him on board immediately and letting him compete with Smith and Chambers, I change the transfer date to the end of the season. That way he'll have the benefit of another year's worth of first team experience and I don't have the burden of another player's wages yet. Wins all round.
With those deals done and dusted, that's my transfer business done for the year and, honestly, I don't really think there's any other players I can bring in. Other than perhaps picking up Joe Hart, the only other signings we could make who would actually improve our squad would cost an amount of money that is most likely unfeasible: Harry Kane, Eric Dier and Dele Alli would all be prohibitively expensive and unlikely to want to move anyway.
So, other than perhaps filling out the squad a bit more, I can't see us bringing in too many more players in the future.
Except to make us some cash. And on that front, there is some news. I've made a bit of progress with my export activity. I sell Juan Cazares to Valencia for £8mil and 15% of next sale. Similarly, I shift on Siriki Coulibaly to Lyon for a disappointing £10.75mil, but we're entitled to 25% of his next transfer. A good season in Ligue 1 could well entice on of the big boys to splash out on him.
These aren't the sort of fees I was hoping for, but it's difficult to earn the maximum amount without giving players a platform to showcase their talents. With that in mind, and no takers on a permanent basis, Sassuolo take Memphis Depay off my hands for the year, paying us 100% of his wages and £220k p/m – around £3.2mil for the whole season.
I bring in Alen Halilovic on a free transfer…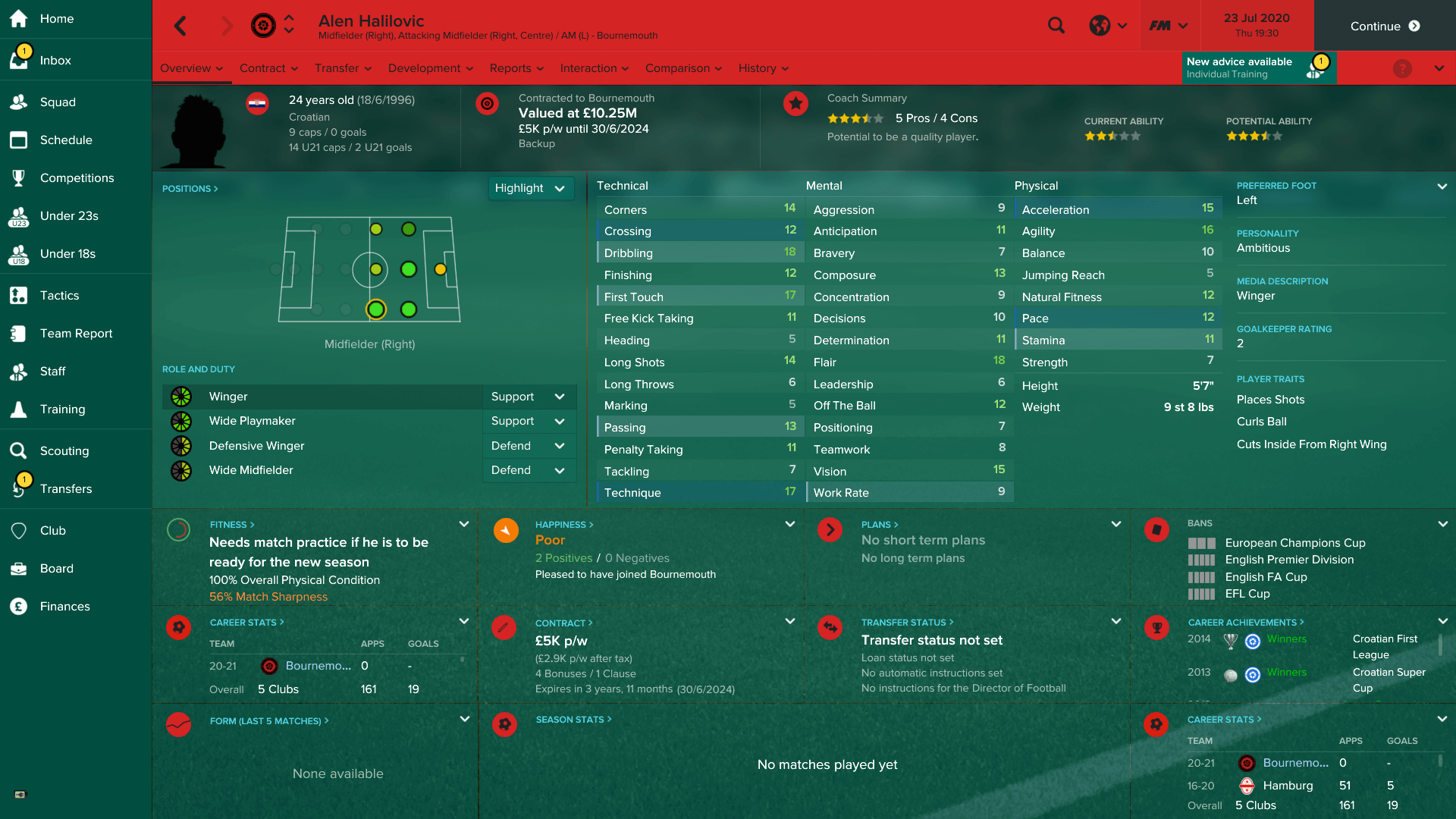 …and immediately send him out on loan to Sampdoria for all of his wages and a £200k p/m fee. I also pick up Giorgian De Arrascaeta:
and Alessandro Schöpf for nothing:
And I manage to shift them both on before the end of August: Schöpf goes to Leicester for £14 million and Giorgian De Arrascaeta leaves for Juventus for £16.5mil, plus an additional £2.5mil if they win the Champions League. Again, not a ludicrous pair of fees, but that's a tidy £30mil of almost pure profit from two free transfers.
Man City make a bid of £29mil or so for Lewis Cook, whose agent tells me he wants to discuss terms with them. I then demand so much for him in the negotiation that City back out altogether, which suits me just fine. Brighton come in with a slightly less lucrative offer for Pickford which I reject outright.
There is a little bit of add-on business as well – £110k in from a Brad Smith sell on, £3.6mil out to Arsenal for Wilshere and I buy out Ings' appearance fee clause for £900k (should have been £1.2mil so I save £300k) – and I also announce a new affiliation with Shanghai Shenhua to add an extra revenue stream but that's about it.
A surprising and slightly unexpected amount of overhaul over the course of this summer then. The door at the Bournemouth Stadium has barely stopped swinging since June – it's a miracle it's still attached to the hinges.
I'm happy with the squad overall though – we've added some much needed depth and quality in vital positions; we've acquired some promising young players who are capable of contributing immediately if called upon; we've revitalised the squad and the club's finances by moving on some of the ageing high-earners, and we've tied our best players to reasonable contracts for the foreseeable future.
Things are looking bright and the club has never been in a better position to mount a serious title challenge.