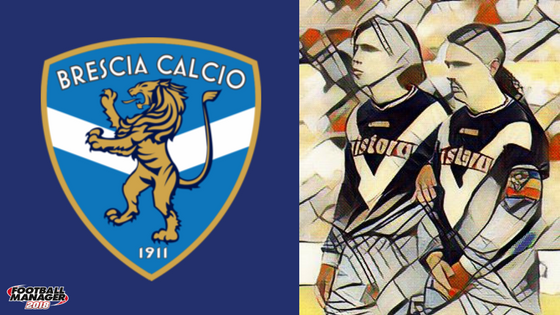 Ciao.
Preseason feels like it has lasted an age. Well, I s'pose it has lasted a whole week in the real world. I'd go as far as saying it has been my least enjoyable week in FM land. Not because I have anything against FM18 in any big way at all, hell I've barely even scratched the surface of most of the new features, but because I've not really felt comfortable at Brescia just yet.
Read Parte I, Parte II and Parte III
Some of that, actually all of that is down to my inability tactically. What I mean by that is that if my initial scribblings down don't come to instant fruition then that tactic is doomed to failure. I've only really had three successful FM tactics in my life, maybe four at a push.
– The Jena Press: Back on FM15 when I was Carl Zeiss Jena and I was racing Magdeburg to the Bundesliga. It was a high-octane 4-3-3 and we went from the 4th tier to BuLi in straight seasons. That was nice.
– My CM92/92 retro: I had vague memories of winning everything on the original Champ Man playing a narrow 3-3-1-3 shape, so thought I'd give that a whirl on FM15. It was fun, it kinda worked.
– The 4141 that took Japan and Cameroon by storm: FM17 and my trips to Asia and Africa spawned the 4141 that was lovely.
– The Argentine Strikerless: Probably my signature tactic, my first true love. Scribbled down on a napkin in a cafe by the Med, put into action first time that night at Boca Juniors and the start of a tempestuous love affair that I am still not over. Again, it was FM15 and there was unfinished business as I only got to spend three months with the original tactic before 16 came out. 16 was never quite as good, a bit like a summer romance gone stale. But on 17? Boom, the old feelings came flooding back and Bilbao were crazy for it. My heart still belongs to this shape.
So what do you do when preseason has not been what you hoped for and you've been dumped out of the Coppa Italia by Lecce?
You go back to what you know, that's what.
And then you wonder why didn't bloody well start there in the first place.
I never stopped the Argentine Strikerless really, it's just getting a rebrand. What it shall be called going forwards I do not know, but it is exactly the same as it was – nothing has changed.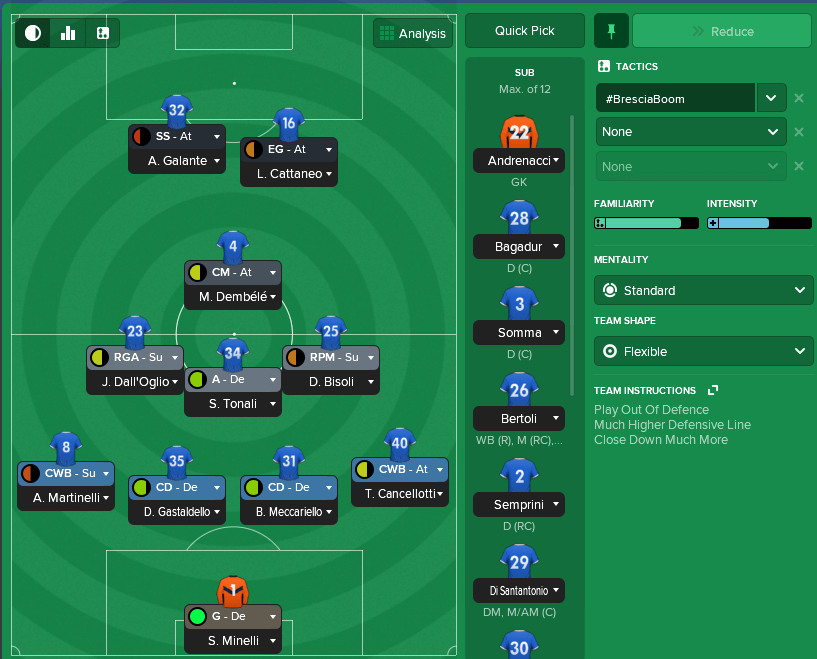 A quick explainer over the minimal TIs. Something Cleon wrote in a recent post about a 4231 made sense to me. He wanted his team to be aggressive in winning the ball back but not too aggressive, which sums up the ArgSt at its best so I have blatantly nicked the same TIs. They seem to be working to a point.
So why do I love this shape so much? Well, it's pretty much how I would set a team up in the real world now.
The key is the three defensive midfielders. People might be screaming "use a segundo volante" at me right now as this seems to be where the cool kids are at, but I know and trust the benefits of a regista and a roaming playmaker flanking an anchorman. Firstly, why three? Well, lots of clubs play two deep midfielders now and I thought it would be fun to try a third having seen how Argentina lined up for an international match a few years ago. The "theory" behind it (and I am using theory in the least literal sense you can imagine) is that the DM3 should draw opposition players out of position by forcing them to come to us, leaving us space to play in behind their midfield and their back line – presuming their back line don't want to come and engage with us too far up the pitch.
The regista is there to provide lateral movement and pick out the passes into those areas – think Pirlo, obviously. The roaming playmaker is there to drive forward a bit more, be a bit more vertical in their movement. If Gazza were still playing now, this would be his position for me – playing from deep and running at players with the ball. The anchor is there to protect, get it back and give it simple.
Defensively this gives us a very solid base to build from as well with, in an ideal situation, seven outfield players behind the ball a lot of the time. At its best, I have had unbeaten seasons with this shape. Not because of it's attacking prowess, more to do with the fact we become difficult to break down.
The biggest key to this working is the CM/A. He is set up with the PI of move into the channels. Those of you old enough to remember David Platt, this is his position. He does absolutely nothing during a game other than find the right moment to be in the box and score. I'd say Frank Lampard too, but Lamps did have the ability to hit a screamer from the edge of the box. The CM/A gets a lot of success at the near and back post, but also creates havoc with the third man running. The opposition defence is normally marking space as opposed to a player, meaning overloading that space can create chances.
Another key to the attacking shape of all this is our right back, playing as a CWB/A. In the past, he has been set on support and I have tinkered with it a bit but only on one side. Hopefully he will be in the game enough and see a lot of our attacks come down this side as a result. I've opted for the right hand side as opposed to the left as I want the crosses to be looking for the shadow striker, as opposed to the enganche who is supposed to be sitting just a little deeper.
Which brings me on two the false-front-two. I go with an enganche with "get further forward" and a shadow striker. Why? Absolutely no bloody idea. I think the enganche came from the fact this started as an Argentine thing and it clicked. The shadow striker is there to get in behind.
Now look, this is far from a finished article. We've scored five goals in the four preseason games since the Lecce disaster and I flipped this into action. It could well die on its arse. But if I go down, I go down my way. Plus, of all the tinkering I have been doing, this is the one that gets me excited yet again. I love the movement, I absolutely love the runs.
Anyway, enough of tactical rubbish as half the time I am talking crap.
I nearly dabbled in the transfer market. Nearly.
Julio Baptiste and Alessandro Diamanti nearly became my first two FM18 signings. They came in on trial. I was really excited about Diamanti, 17 caps for Italy don't forget. He stank the place out. Maybe I should have signed him anyway, as his experience might have helped but he was that bad that I couldn't bring myself to chuck away €4k a week on him. The Beast wasn't that good in his prime, so I wasn't that shocked to see he wasn't much cop as a 35-year-old.
I didn't sign them.
I might move for this Russian U21 international attacking midfielder who is on a free though, that's more my style. Got to balance those books.
Speaking of scouting – what the hell has happened there then? I am looking forward to reading a piece on explaining the new setup. All I can see right now is my scouts sending me 50 players that I don't really want to look at. And assignments? I am very confused.
That said, I've really not done too much digging around anything other than getting something that vaguely looks like something I might want to watch on the pitch.
That is, of course, once I find a sodding camera angle that I like. I mean seriously, who took away behind the corner? Fire them. Fire them now.
So we start the season away at Novara. I'll be back tomorrow, possibly in tears.
Ciao.