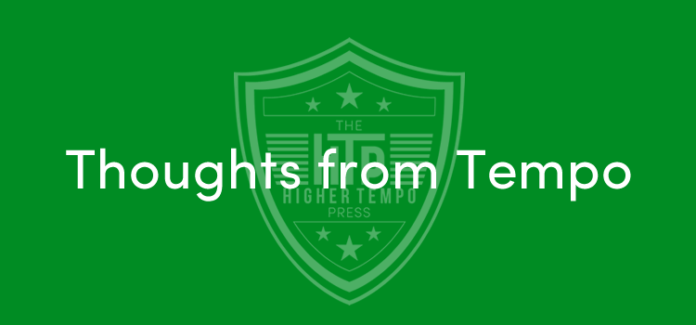 Hello folks, how's the British bank holiday treating you? Ironically, it is cloudy in Spain today as if it knew what weather I am supposed to get on a Bank Holiday Monday. And, it's not even a bank holiday here. Typical.
Anyway, I thought I'd get into the habit of writing a weekly post about everything and nothing to do with FM – it's that funny time of year where we know FM18 is coming, we are all starting to look forward to it, quite a few people are ready with their brickbats to slate SI for almost anything and everything to do with the levels of information being released, some of us are starting to think about content for the new game and all that good stuff.
I've really enjoyed FM17, it's been a good FM year for me as we've seen Tempo grow massively since the redesign. We've gone from a small handful of writers to nearly 100 different people submitting content since FM17 launched. Within that, we have a small core of regulars that I hope you've enjoyed reading so far. We've done some cool stuff with uMAXit too, which was great fun to do and we've strengthened a relationship with SI which has helped us massively.
But what are the main things I've enjoyed about FM17? @fm_samo informed me that any list I do had to be an odd number, so here are 7 (seven) things I have really liked about FM17.
#1 Having a crack at B team management
Do you remember when Miles said it wasn't possible to manage reserve teams? Well, it turns out you can. My original plan was to manage Bilbao B team and end up taking over the first team one day. I made the mistake of leaving the club with a view to coming back one day as it was clear to me that the Bilbao board were not going to give me the keys to the first team office anytime soon. That killed the save, but hey. I tried again! Borussia Dortmund was the scene for the second attempt, and I led BVB II to a promotion and three straight 3.Liga titles I seem to recall. Oh yeah, one of them was an unbeaten season as well. However, having seen my team pillaged we started a season badly and I was fired. Thanks for that. I still believe it must be possible to be promoted from B team manager to first team manager though, so watch this space!
#2 Managing in Cameroon
It's always good to go and manage somewhere different. I'm not one of those guys that gets a bit stressed if someone else is doing a save at exactly the same club as me, but it is fun to go somewhere that doesn't get covered too often. Tonnerre KC have a place in my FM heart, even if we did end up winning everything a bit too quickly.
#3 Writing a piece for "The Men who Stare at Goals"
Alex Stewart put together a brilliant anthology of FM writing from people from all walks of life. It was quite cathartic to write something serious for once, and open up a little bit about my past and how have I got to where I am today. The quality of writing in the book was superb, so to be involved in it was a great feeling.
#4 The advent of FM Slack
Top work by FM Samo for setting up FM Slack. It was a shame that Tifo came and went without ever really being adopted, but Slack has done really well giving a place for people to chat about FM, share their stuff and basically pass the time. I'm sure there are other things similar out there, Facebook groups, Discord servers, Whatsapp groups etc but I can only speak from my experience of Slack and it has been, on the whole, great.
#5 The DLP knocking up 100
Hats off to Ed and George for getting up to the magic 100 number for podcasts. Every single week there is a new YouTube channel, or new blog or someone quitting content creation forever, or coming back, or leaving Twitter, or this or that or the other. But for the DLP to quietly and consistently just get on with putting something out there with minimal fuss, faux controversy or drama every week for many, many weeks is a top job. It just goes to show that if you do something a bit different and do it well over and over again then it does pick up a following.
#6 The WM/A
I love this role. I'm a 4-3-3 guy at heart, but my 4-1-4-1 pretty much plays as a 4-3-3 but with a bit more defensive stability. I'm not an FM tactics guy, I know very little about it other than what I can suss out with the naked eye the WM/A provides as many goals as an IF/A for me and protects the full back way better. Now, if I could just settle on the ideal role for the striker and I will be laughing.
#7 The Tempo Skin
All praise to Keysie Rensie for this – it was his idea to do something simple but effective and he did it brilliantly. It's been downloaded well over 10,000 times which is really cool and hopefully I can talk him into doing another one for FM18! It's been the one I've used all the way through, and it does the job for me.
It's that funny time of year, as I say. I'm at a bit of a crossroads currently where I feel like I am pretty much done with FM17 saves and will start planning some stuff for FM18 – though that always sounds like a weird phrase. I mean, how much planning really needs to go into loading up the game and writing/recording about it? But yeah, we have a couple of good ideas for FM18 that, with any luck, will still feel like good ideas come November!