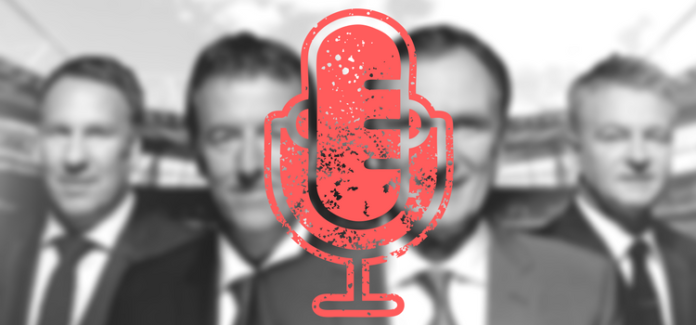 There was quite a fun chat going on in #fmslack last night over in the #fmadventure channel.
In fact, it was about the only decent thing to have happened in that channel for months so it must have been mere coincidence.
Following Matt having, shall we say, a tricky spell in FM management it was suggested that maybe he should do a Glenn Hoddle (no, not get duped in a newspaper interview and lose the England job) and go into punditry instead.
And the idea of the FM content pundit was born.
Don't panic folks, nobody is actually getting criticised.
But between myself, @accordingtofm, @fm_grasshopper, @fm_samo and @fm_adventure we wasted at least 20 minutes coming up with the FM content versions of some well-known punditry cliches.
Enjoy!
*
"He's got to do better here"
"If anything he's written that a bit TOO well"
"He hasn't had to write much, but what he has written he has written well"
"He's not that kind of writer to be fair to the lad"
"That's a top, top, top piece of writing"
"When I look at his writing, I look back to his writing of when he was one of the best writers – where is his passion? where are the big strong words? where is the leadership?"
"This piece isn't quite up there with your FMAnalysis', your Shrewnaldo's, your Cleon's"
"This is what I like to call, 'a blog post'"
"Writing like that is why we need to bring in video assistants"
"Nobody likes to see that in the writing, he's let his readers down there"
"Clear for everyone that he's lost the readership here"
"The thing is, can you honestly say he is a better writer than any of the British writers out there?"
"Great font for a big lad"
"If that video had been made by Benjy, everyone would be talking about it"
"Some people have clicked 'done' they think it's all over… but it goes on for another 2000 words"
"But could he write that on a cold, wet, windy Tuesday night in Stoke?"
"He's a proper FM writer him"
"What you get when you pay £20m for him is words, guaranteed words. Wherever he was written he has delivered words"
"He's what you need. A 20 posts a season man"
"If he keeps writing like that, he could write himself into Gareth Southgate's plans for the summer"
"It was a blog of two halves"
"He's given 110 words there"
"Thing is, he has potential but there is no end consistent product in his writing"
"That blog on paper should be winning, I'm sorry. Just not good enough there"
"He has the look of blogger that's writing without any confidence at the moment"
"The readers expect entertainment, they pay their hard earned cash to be entertained on this blog"
"Oof, that's a contender for blog of the season right there"
"When I look around, I struggle to find three worse blogs than them – I think they are in trouble this season"
"Why have the employed a writer from Spain? What does he know about the English language?"
"Time and time again, he's ignored the paragraph space and he's written himself into trouble"
Just a bit of fun folks…