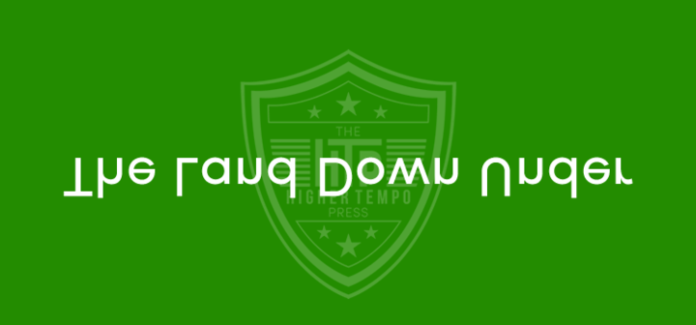 G'day! The celebrations are still ongoing in Gosford as I write this end-of-season update.
You will recall from the previous update that we capped off the 2020 calendar year by winning the Club World Cup in our competition debut! I've since run through the remainder of the season, and I'm here to provide an update on the new Champions League group, the foregone conclusion that we'd win the domestic league, and we're going to cover end-of-season awards.
Our draw sees us face off once more with Shanghai Shanggang, Hiroshima, and Ulsan Hyundai from the K-League.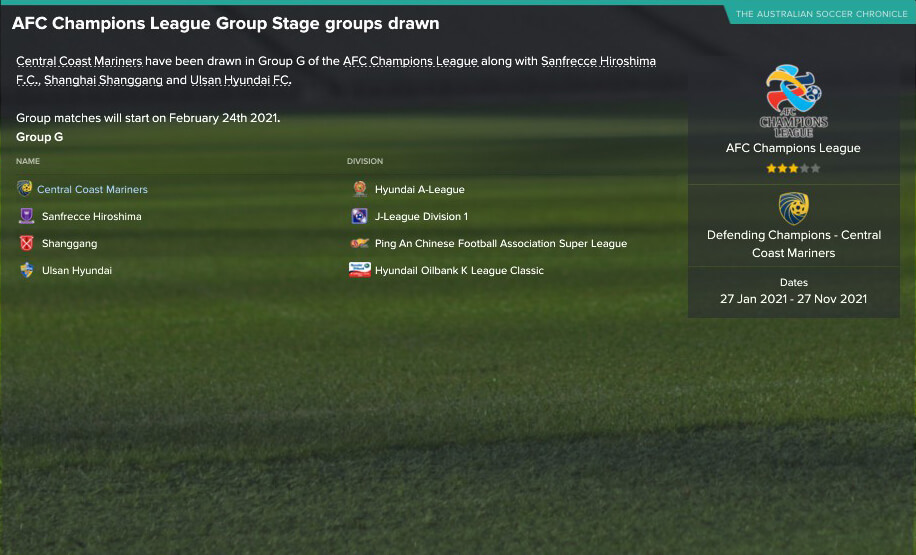 I won't go over each individual match. I am comfortable enough with my quality against Japanese and Korean sides that, pardon my arrogance, I don't feel like it's worth providing updates on guaranteed wins. We did, however, get some wins over Shanghai, which was fantastic! We've fine-tuned this team to the point where we, at last, are able to challenge the quality of Shanghai, if not their money.
We ultimately ended the group round undefeated, with our one draw being against Hiroshima. We are through to the second round!

The second round saw us face off against Jeju United from South Korea. That team that low-balled me on Ivica Buric last year, if you remember.
We won that on aggregate with Ivica Buric providing most of the four goals.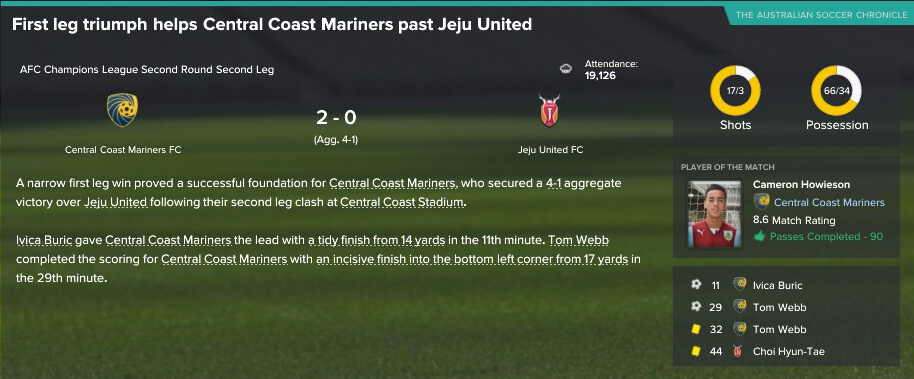 On the domestic front, we celebrated a historic quadruple. We secured the regular season trophy with four games remaining, and we made it all the way to a Grand Final meet-up against our fierce rivals, the Newcastle Jets! In a sold-out Grand Final F3 Derby, we took the match with an Ivica Buric extra time goal.

Here are our fixtures from just after the new year. We saw one loss at home against the Western Sydney Wanderers, but it was otherwise a half-year of wins that were so convincing that it was hard to not be bored winning! I was so used to struggling with injuries and working to find fixes that I was almost wishing someone would break a leg or a cruciate ligament and sit out for months at a time to break the monotony of winning! I believe I said this earlier, but I am not a dynasty maker. I am not happy in Football Manager if I am in charge of a team for 25 years and always winning.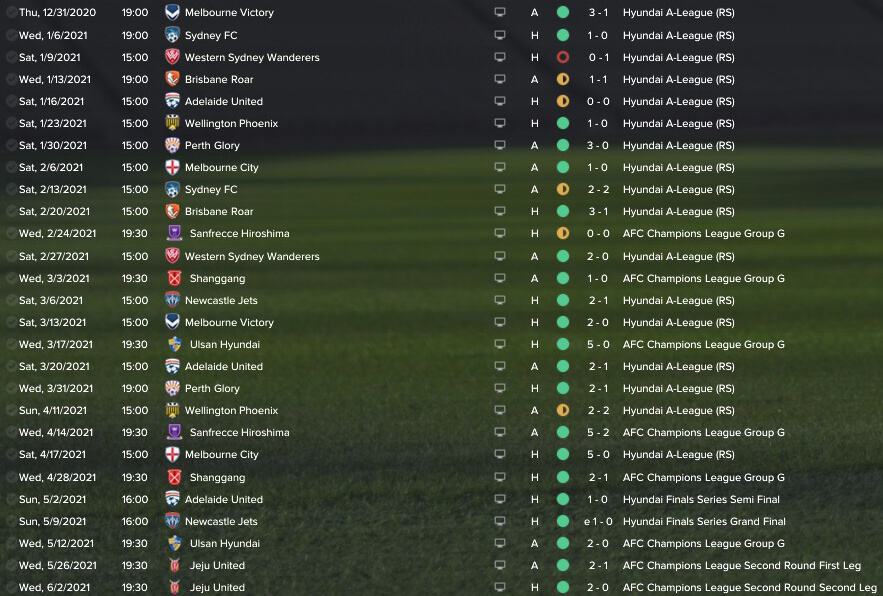 Let's move on to the end of season awards, shall we?
The Hyundai A-League Player of the Year award goes to Cameron Howieson, who has 9 goals and 9 assists in 25 league appearances, with an overall average rating of 7.56

The A-League Golden Boot award goes to Ivica Buric, who scored 14 goals across the A-League campaign.
With 14 goals and 4 assists in 26 appearances, Buric also secured the Young Player of the Year award.

Paul Izzo is once again the Goalkeeper of the Year, with 13 clean sheets in 26 appearances, with an average rating of 7.12. It's almost a shame that he won't be with us after this season. He's a great goalkeeper in his own right, but he is at the limit of his potential. I've got a young Federico Filiosi ready to take the starting spot. He's already better than or matching Izzo in most key areas of performance, but unlike the senior goalkeeper, he still has room to grow.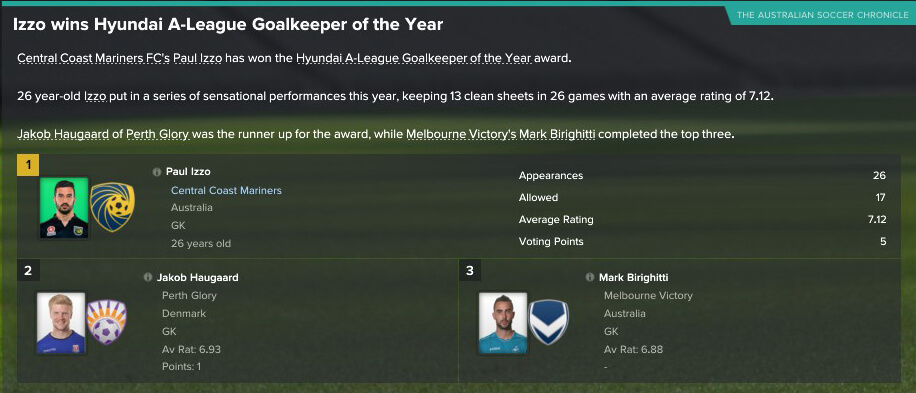 In addition, a record number of Central Coast Mariners players were named to the All-Star XI. We have eight players on the All-Star team.
GK: Paul Izzo
Def: Michael Neill, Jacob Eliopolous, Murray Wallace, Storm Roux
Mid: Julius Thompson, Liam Rose, Cameron Howieson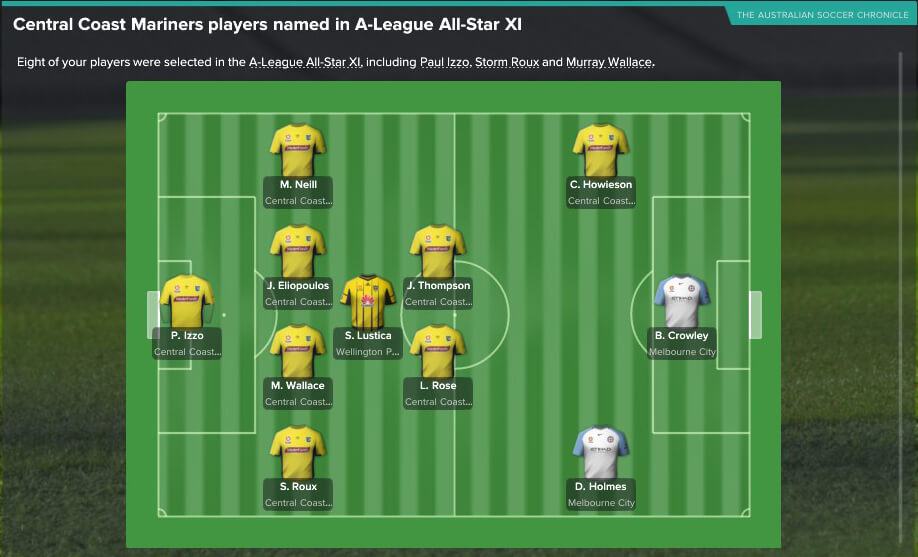 I've also secured the Head Coach of the Year award, but I don't show off my own awards because they don't mean as much to me as my team's awards.
In a move that I'm still surprised was in the works, teams from the Netherlands are finally making bids on Liam Rose. The 24-year-old has been in superb form his entire career with me, but I have just never seen him as Europe material.
The $2m minimum release clause has taken all negotiation out of my hands, but in all honesty, I don't care. He can do a job with me when he's supported by my other players, but I don't know if he will ever be a big name in Europe. If Ajax want to spend $2m on him, they are being conned, even if that's what the game thinks he's worth.

This is Liam Rose's profile. He has been developing with the Central Coast Mariners for years, and while the 24-year-old is solid, he doesn't have a lot of room left for potential growth, and I anticipate him being a rotation at best for Ajax, but not a regular starter in that league. He is not technically gifted enough compared to other elite European nations. Still, it's a solid sale, since it's a goal of mine to see reputable teams going after youngsters developed out of my own academy.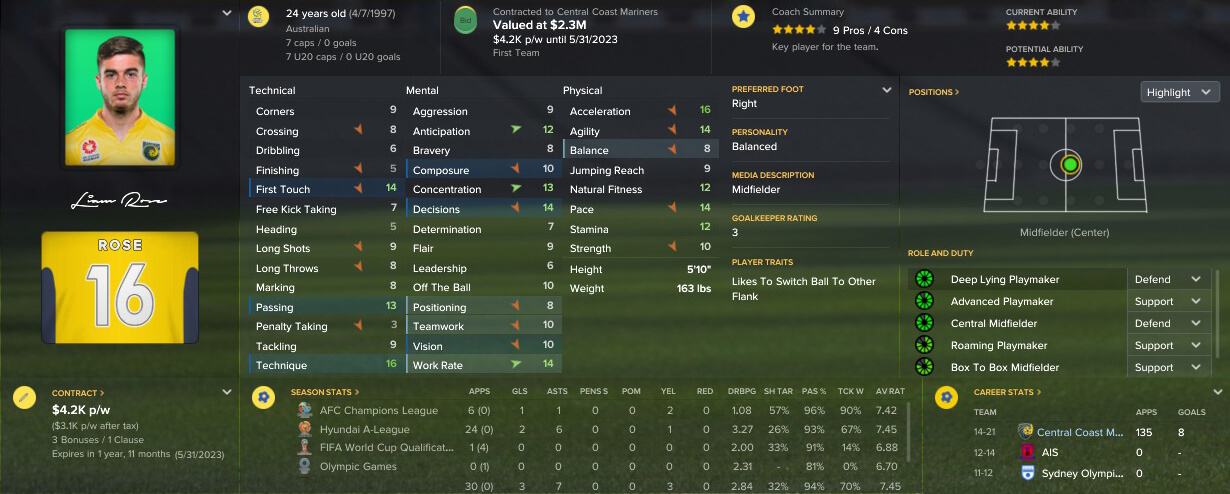 I owe all of this success to the amazing backroom team I've spent years building. We have a large coaching staff, a large scouting team, and some of the best doctors we could get into our club, thanks to the financial security that our performances provided to us.
It's been a long journey for me these last couple of months doing this save. I took over a team in a league that I grew to love, and I saw my personal first Champions League win, a Club World Cup win, I'm doing a good job with the national team, and my extended tenure at the club means I've been developing some of the best regens I've developed in-game.
I wanted to see the World Cup with the Australian national team be the end of this series, but I think that this perfect season with the Mariners is the ideal ending point. The Australian national team has a lot of Mariners players in it, but the team is still being carried by foreign talent, and I don't see a 2022 World Cup win with players I didn't develop as being as prestigious or important to me as winning a Club World Cup with my own Australians.
It's time to close off The Land Down Under as a written series. The FFA Cup somehow didn't land in my trophy cabinet, but there is virtually no prize money to winning it, and the trophy carries no special prestige of its own. I don't see the value in sticking around just to win that one silly cup.