One of the most exciting aspects of Football Manager is the part when you can finally spend the money you saved up to bring in your next stars. The thrill of signing a fantastic player is something only a true football fanatic can experience! Everyone tries to exploit the market in their own way. Some teams use a bunch of scouts to monitor thousands of talents, others rely on their instincts, the skill numbers or something they know. In this series we try to exploit the market with my one and only power in FM: the knowledge of the Hungarian players! Today we are looking through the available fullbacks!
Before we get into this I should mention that these are NOT players who can be your stars, but very reliable choices and decent signings for even the top leagues. In this case these players has the potential of 3 stars in the top leagues – probably worse in the top teams of the top leagues. Sadly fullbacks are not our strong point in football at the moment…
Tamás Kádár (left)
The 27 year old could be familiar to you if 1) you are a Newcastle fan or 2) you watched Hungary's matches at the EURO 2016. Kádár started his career at Zalaegerszeg and had his debute at the age of 16. Newcastle signed him when two years later, but he barely got any playtime at the geordies within 4 years, plus he didn't really impress when he was ont he pitch, so it wasn't a big surprise that he left United and England.
The dutch adventure at Roda was even worse, so it was not a big surprise when he came back to Hungary to Diósgyőr. He rebuilt himself and his entire career, moved to Lech Poznan, where he became a key player in the Polish side's defense as a left back – no wonder why Dynamo Kyiv bought him this winter.
Kádár became the most reliable fullback for the national team and he truly showed class in the European Championship. His attributes are decent but due to his age it's unlikely that he will be your star player, but he is a reliable and versatile defender with good experience.
He is valued at 475K pounds.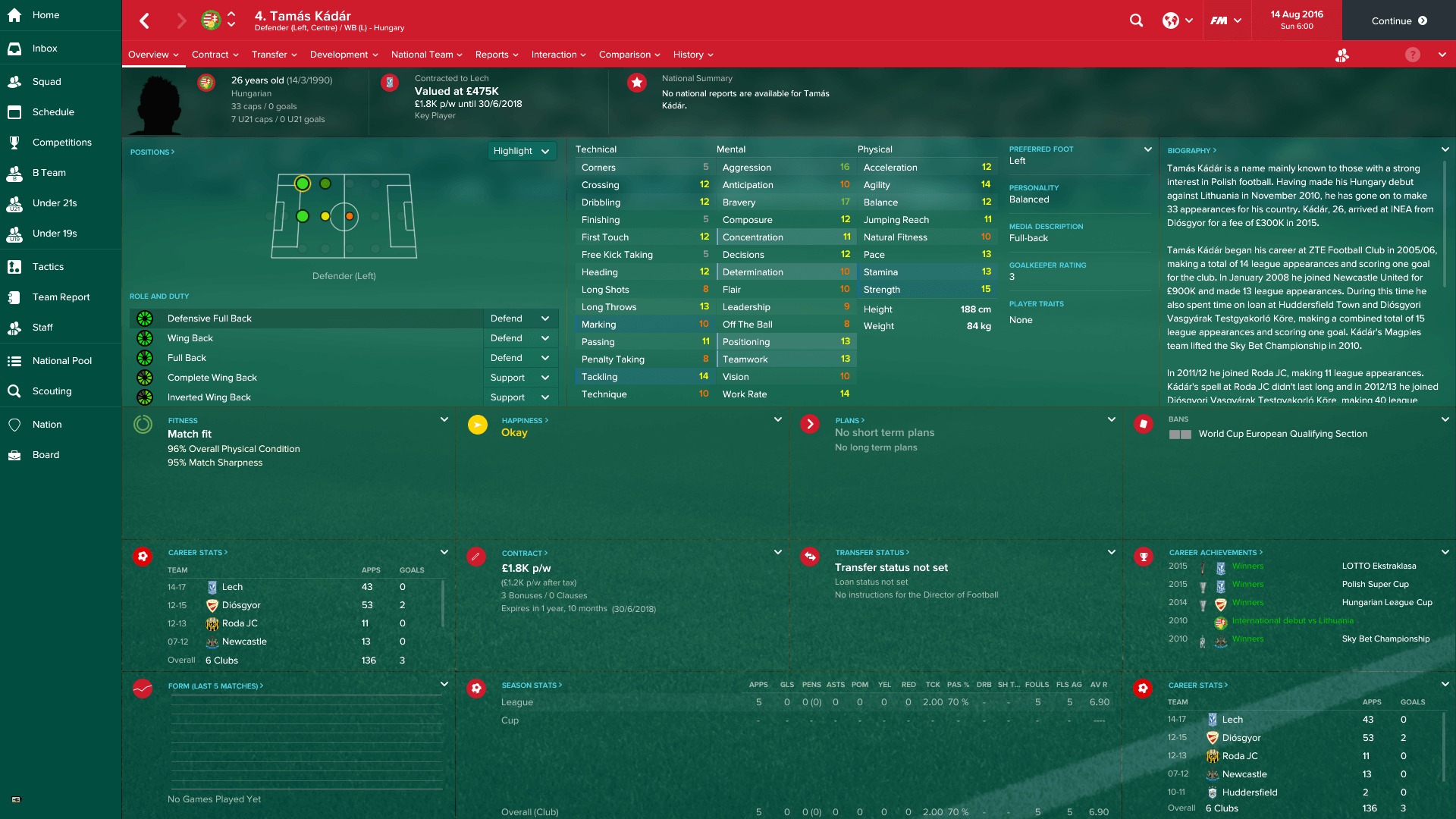 Pál Lázár (right)
An interesting figure in Hungary, but a dropped national team member for a reason. Lázár looked like a potential star for Hungary, but a right back who burnt out very quickly.
His career started to kick in in his early twenties at Videoton. The team started to get stronger and stronger at that time and Lázár's perfomance was influential to the team's success. He became part of the Hungarian squad member in 2010 and the future looked bright for him. Unfortunately shortly after signing for Turkish side Samsunspor Lázár's performances went downhill drastically and wherever he signed in Hungary, it just became a giant disappointment.
He is an alright defender at Football Manager though, and he is only valued at 130K and with a little bit of luck he can reach the ability of Kádár.
Mihály Korhut (left)
An interesting figure, since Korhut didn't really impressed me at all in Debrecen, nor in the National Team, but ever since he joined Hapoel Beer-Sheva his performances improved significantly!
The 28 year old spent 8 years at Debrecen and was developed at DVSC too. He has Champions League experience and he is gaining Europa League experience right now.
His attributes are solid in the game, but he is valued at 775K pounds, I would go for Kádár as a left back for that amount of money…
Endre Botka (right)
A young star in the domestic league, but a noone in international football – for now. Botka is just 21 years old but he has been rock solid for Budapest Honvéd in recent years. No wonders why Ferencváros wanted him, a much better question is why Honvéd sold him to their rival? But let's not get into this here…
Botka is one for the future, to put in perspective, if Kádár is valued at 3 stars, he is only a two, but has the potential of 3 and a half. What's the catch you ask? His attributes sucks. He needs a good coach, a lot of improvements and probably a lot of playtime.
He is valued at a laughable 74K but Botka is only a good buy if you have the patience to develop him.
József Varga (right)
Funny story with that one, Varga is originally a defensive midfielder in the centre, but it was desperate times at the National Team. The coach needed a right back, but the acceptable players weren't available, so he put Varga there and it worked out just fine.
Football Manager remembers this for some reason and funny enough he is the best Hungarian fullback in the game from the start. The 28 year old started from Debrecen and even though his future looked bright, his adventures abroad took a toll on his performances. Nowadays he is a rotation option for Videoton, but he just can't get to the level he was before.
He is probably has the best skills from this list and he is very versatile, the 600K valuation seems alright to me.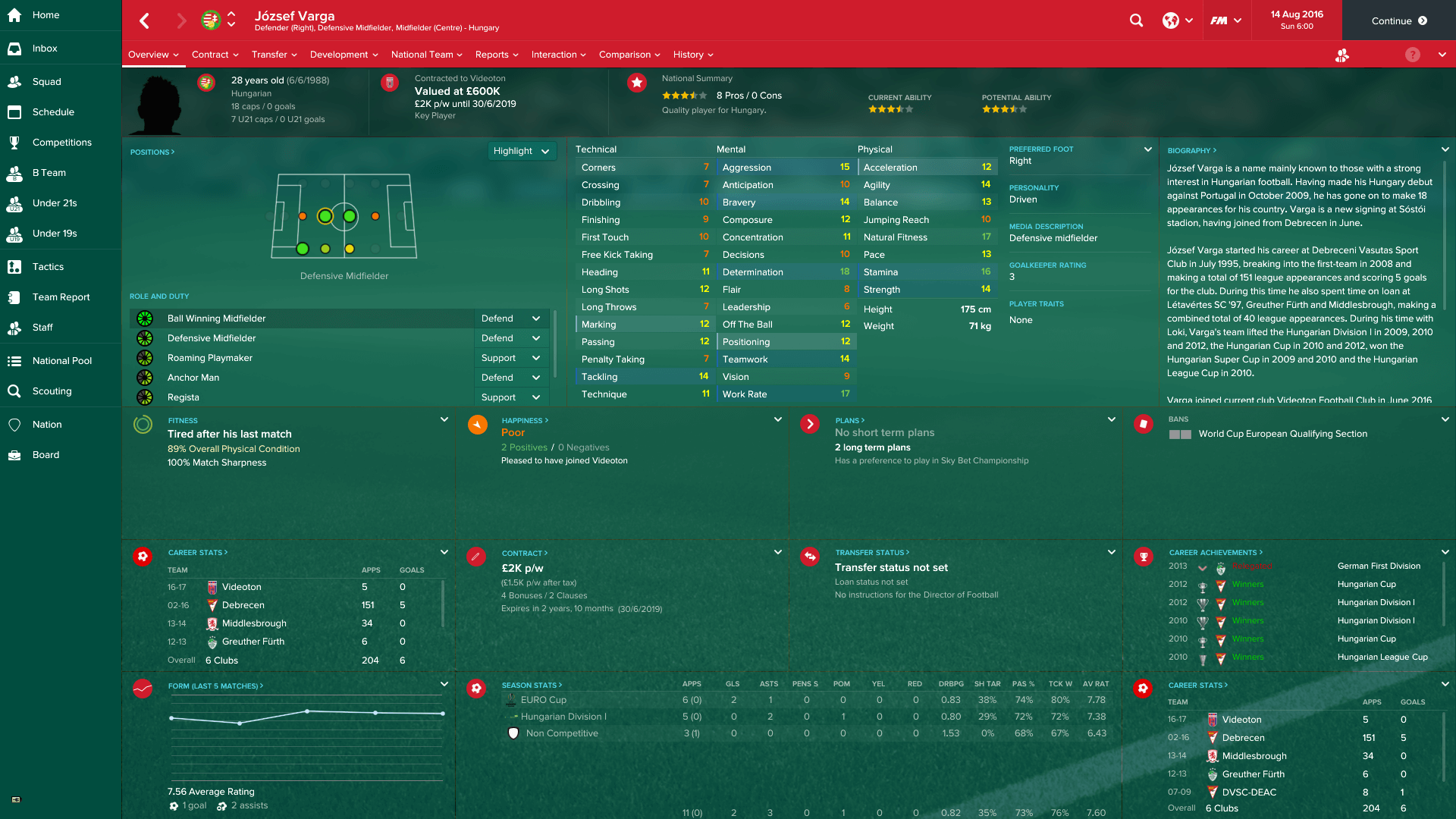 Now honestly these boys are kind of "meh" I will put a few others here just as the last time:
Attila Fiola (Videoton) – the 26 years old is massively underrated in my opinion, he was surprisingly good in the National Team whenever someone called him. The game doesn't do him justice, yet he is valued at 375K pounds.
Zsolt Laczkó (Paks) – Good attributes and experience for a value of 104K pounds. Not sure why the 29 years old is only rated as a two star player.
János Szabó (Paks) – 27 years of being avarage, that's the story of Szabó in a nutshell. The left back has been solid for Paks though and he could do the job for mediocre teams.
Zoltán Nagy (Debrecen) – He is 30 years old, sure, but he is decent at this level that we covered. He was always a backup/rotation option for DVSC, but when a rightback was needed, he was always there.
Barnabás Bese (Le Havre) – The 22 years old just signed for HAC and he can be of use ont he right side of the pitch at pretty much any position, but he needs a lot of development.
I hope you will find your luck with some of the Hungarian boys. Who have you already have and how did they do for you? Feel free to let me know on Twitter and don't forget to sign up to The Higher Tempo's Newsletter to get notifications of the latest articles!