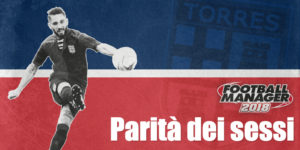 It's an exciting time during those all-or-nothing matches leading up to securing promotion. When that final whistle blows and the pandemonium brakes lose in the stands, it tempting to lean back, kick your feet up and enjoy a cool drink and break after a long campaign. After all, nobody was counting on you to do so well. That might do for fans and players, but as a manager now's time to get busy.
I'm going to give you an insight into how I deal with the situation. I'm playing as Torres, a small club from northern Sardinia. And this is our second promotion in as many seasons. We heading into the third season in the game and we'll be in Serie C in the upcoming season. That's Italy's third tier, for those not familiar with the league.
To complicate things further, we're making the switch from an amateur side to at fully professional club at the same time.
So anyway, there's a big task ahead of us in the preseason. Not only do we have to get ready for the new league. We also have to figure out how much to spend on wages and who to sign on contracts. I don't trust the budgets set by the board, so I'll be calculating my own. You should as well, if you're in this for the long run.
Stay tuned for lots of spreadsheet action. I'll provide link to download at the bottom.
These tasks should be done before any season, but they're even more needed after a promotion. It's a big task getting ready, and I break it into these main categories:
1) Analysing the new division
    How many points do we need?
    Who to beat?
2) Analysing the finances
    Working out a wage cap
    How much to spend on each player?
3) Tactics and transfers
    What tactic to use?
    How to improve the squad
But before you do anything else!
Backup your save game file. We're going to be diving into statistics that will disappear once the season updates, so it's good to be able to go back and look into the data again. Also, ask your board for a senior affiliate club to get free players on loan. We'll get back to this later but do it now.
Analysing the new division
How many points do we need?
The first thing to do is to figure out the expectations for the upcoming season. When we were promoted from Eccellenza Sardegna to Serie D last season, I had a feeling that we'd do alright by comparing the standard of players in our squad to the ones in Serie D. So even though my board was happy just avoiding relegation, I had higher ambitions.
But after back-to-back promotions, the goal is simply to avoid relegation. I hope we'll do better, but that's the starting point of my analysis.
First thing is to see how many points we should aim for to avoid the drop zone. Luckily, Serie C has three groups and with two seasons played, that's six league tables to calculate from.
In each Serie C group, the bottom team gets an automatic relegation, while the next four from the bottom goes in a play-out round to find the other two relegated teams. Our aim is to not be a part of that. Let's see how many points we'll need to stay clear.



Last season the bottom teams did a bit better. I'm guessing 43 points should see us clear of the relegation playoff.
On a side note, this being the lower leagues of Italy where the league rules are a bit odd, if we manage to get into the top 10, we qualify for the promotion playoff. Yes, you read that correctly. We could end up promoted after finishing 10th in a league of 19 teams. A total of 28 teams from the Serie C groups compete for a single promotion spot. But I'm not focussing on that now.
Conclusion: 43 points should see us clear of the relegation playoffs.
Who to beat?
We're playing in the Serie C/C in the upcoming season. Below is the league table before season kickoff. If you want to get the table in your spreadsheet, use the "Print screen" option and copy the content into Google Sheets or Excel or whatever you're using.
I've sorted the teams the way they finished last season. I've marked the other newly promoted teams green along with the bottom teams from last season. Midtable finish gets a yellow and last season's top teams are red. Lecce was relegated from Serie B and get red as well.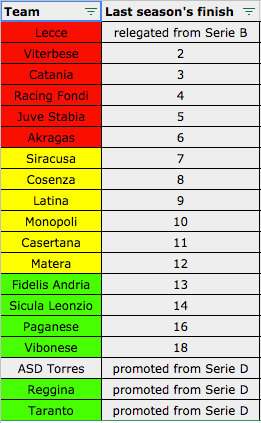 This tells me who I should be aiming to beat and against which teams we'll most likely struggle to get a result. If we exclude the teams marked red, we need an average of 1,79 points in each match against the rest to reach the target of minimum 43 points.
Now I export the match schedule. By colouring in the matches and can get a feeling of when we're going to face a tough period.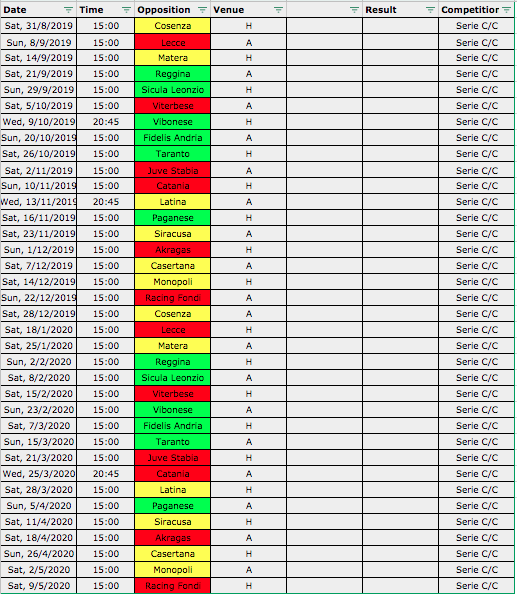 This being Italy, I'm fine playing defensively and sit back against the top teams looking for a draw or a lucky counter-attack. I might even rest players against those teams. No point in wasting fitness in games we're expected to lose and not be ready for the ones we have to win.
For instance, I now realise we're playing an away game against Viterbese, last season's runner-up, on October 5th – just four days before facing Vibonese at home. Vibonese at home is a must-win game. Viterbese away is certainly not. So I'll probably rest my best players in that game.
This whole calculation bit is a bit tricky, as many teams at this level rely on loan players from the big clubs. That means a few good or bad loan signings last season might distort the view of who's good and who's not. But for now, this is what we're going with. I'll keep a running score in a spreadsheet to see how we're doing against the bottom and top teams and if we're on track to reach our target number of points.
Conclusion: Must get an average of 1,79 points in each game against the green and yellow teams, unless I can get some from the read ones.
Analysing the finances
We're starting the new season in a financially good state. The biggest benefit from being an amateur team for two seasons is that the cash pile has been growing steadily. But now it's a whole different ballgame after going pro.

We're working with a blank canvas here as we currently have no one on paid contracts. Obviously, we'll have to be careful that the ones we do sign on contracts are worth the outlay. But before that, I'll need to figure out how much to spend on wages in total and how much to spend on each player. Our transfer budget is zero, so that one's easy.
The board have given us a wage budget of 29,000 euros per week. Compared to the total salary per annum statistics in the rest of Serie C last season, that's a pretty good wage budget somewhere around the median. But we'd be absolutely mad to do it.
A quick tour of the league reveals that more than half of the clubs are financially insecure. And most of them have average home attendances above what we expect to see at the Vanni Sanna (our home stadium).
Over a season, 29k a week is almost 1.5 million euros on wage costs alone. Last year our total income was just under 800,000 euros. So there's just no way that's a sustainable wage budget.
Working out my own wage cap
So how much should we spend on wages? Well, I look at the income the club generates to figure out, how much I can spend on wages without going broke. Then I make my own wage cap well below the wage budget set by the board.
With the aim of establishing Torres as one of the best clubs in the country, we'll need money to invest in youth development, training facilities and transfers in the future. That's why our wage cap will have to be limited to an amount that will still leave us with a profit by the end of the season.
To do this, the wages will have to be covered by what we can bring in from home games and sponsorships only.
After being promoted from Eccellenza Sardegna to Serie D our income from gate receipts rose by 22 percent. Our season ticket sales rose by 37 percent. And our match day income rose by 12.5 percent. I'm guessing the increases will be even bigger this time, but we'll go with that. (remember I told you to backup the save game before season update?)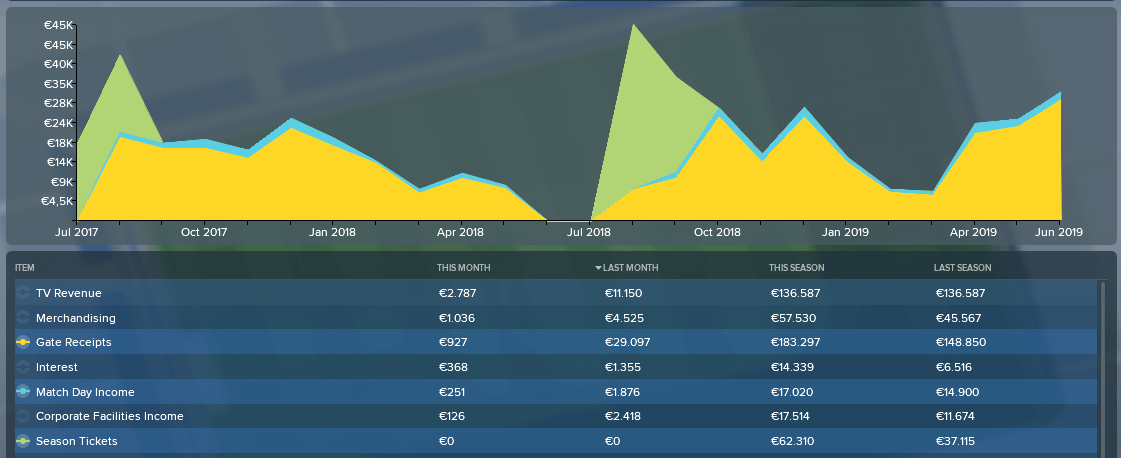 That leaves us with 85,000 euros from season tickets, 222,000 euros from gate receipts and 19,000 euros from match day income. Our board have been working hard to get new sponsors, so we're looking to rake in 260,000 euros from them in the upcoming season.
Add those figures, divide by 52 and our weekly wage cap comes to just over 11,000 euros. Like I said, well below the budget of 29,000 euros set by the board.
Throughout the season I'll be keeping an eye on the income statement to see if the estimates look right. I have my spreadsheet set up to keep everything in order.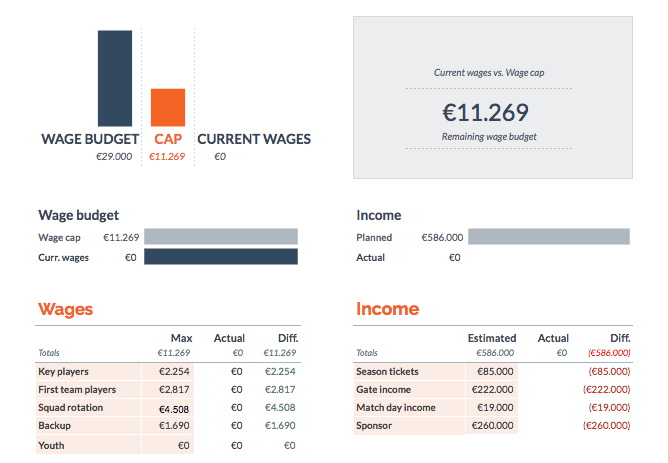 Conclusion: Our weekly wage cap is 11,000 euros.
How much to spend on each player?
So now we know how much to spend on wages in total, we now have to figure out how much to spend on each player.
I try to always work with a 25 man squad. That leaves me with enough players to see us through the season. On top of that I always try to get a good youth setup going to provide extra backup to the first team, but at Torres that's just not an option yet.
When signing players it's easy to be tempted to promise them a big role in the team. However, that raises their expectations in contract negotiations and in how many games they're going to play. I find it's better squad management-wise to set their first team status according to the actual role in the team.
This has the added benefit of giving me a clearer look at how we're spending the wage budget. Are the players no longer worth their wage? Or can we justify improving a certain player's contract to keep him longer at the club because he's developed into a key player?
This is how I build my team.
Key players: 3. These are my best players that will be playing in every game possible. We'll build the team around them.
First team players: 5. These are the people who should be in the starting lineup in most matches.
Squad rotation: 10. These should not expect to play every week but will alternate and provide cover and rotation for the rest of the team.
Backup: 7. These are the backups that will most likely only pick up a few games during the season.
I then look at how much to spend on each player category. I like to have an idea as to how we spend the cash. This can obviously be set to whatever you like depending on how you want to run your club. For instance, I set aside 20 percent of the wage budget for my key players and 25 percent for the first team players. But since I have less key players, their average salary will be higher. Normally I set aside 15 percent of the wage budget for youth players, but at Torres, there's no point in this yet.
Here's how it looks when we factor in the wage cap set earlier.

Obviously these are guidelines to average weekly wages, not strict rules. I add all players to my spreadsheet and that way keep an eye on how much we're spending on each player category.
Conclusion: We now have a good idea of how much to spend on each squad status category as well as an average wage to aim for. Using the spreadsheet will allow us to keep an eye on the spending while building the squad.
Tactics and transfers
If your team is strong and you think you have a fighting chance in the new league, you might consider just proceeding with the same tactics as before.
But at Torres we're looking at a Serie C campaign after two consecutive promotions. Furthermore, we're now in a fully professional league with a standard of players way above what we've been facing so far. So realistically, I'll have to lower my ambitions. Unless we can manage to strengthen the team in a lot of places, we're likely to struggle in most matches.
So here's the plan:
We'll need a set of tactics to use against the different opposition. My aim is one to use in home games or against weak opposition. A counter-attacking one to use in away games or against fairly good opponents. And a pretty defensive one to use against strong opposition where we're likely to lose. Obviously, they'll all have to match the players we have available.

Assessing the players. Where are the weak spots in our team? What are the first priorities in strengthening the team?

Transfers. Who do we sign? The need-to-haves and the nice-to-haves.
Tactics
We might be a professional side now, but we're still playing a pretty low league and while we've done exceptionally well the last two seasons, our players are not exactly geniuses on the pitch. So we'll keep it simple. There are plenty of good guides out there that will explain how and why the tactics work like they do, so I won't go into too much detail here. However, note that all three tactics work with the same players.
At home, we're playing a pretty straightforward 4-4-2 keeping it relatively disciplined and structured at the back. This is how it looks.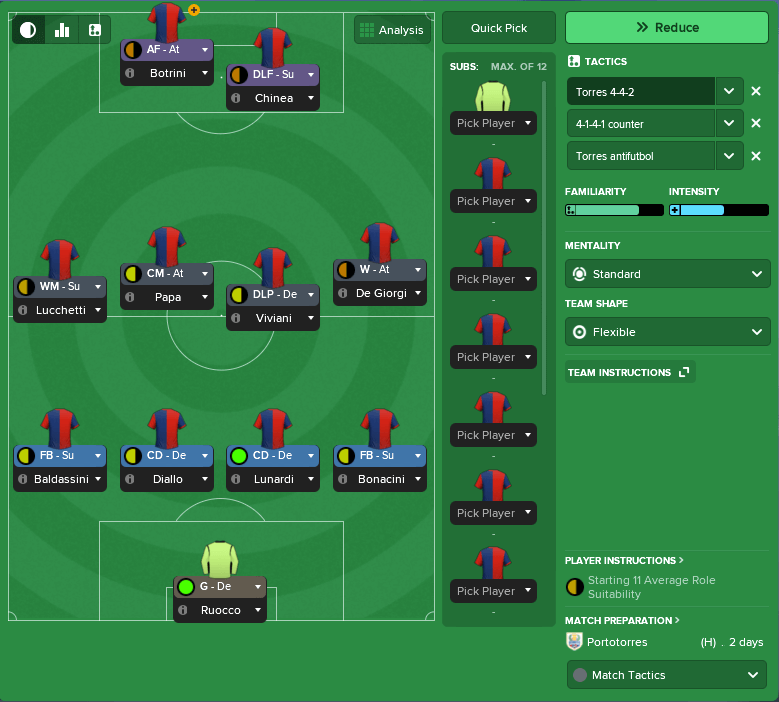 For our counter-attacking tactic, we'll be sacrificing a striker for a defensive midfielder.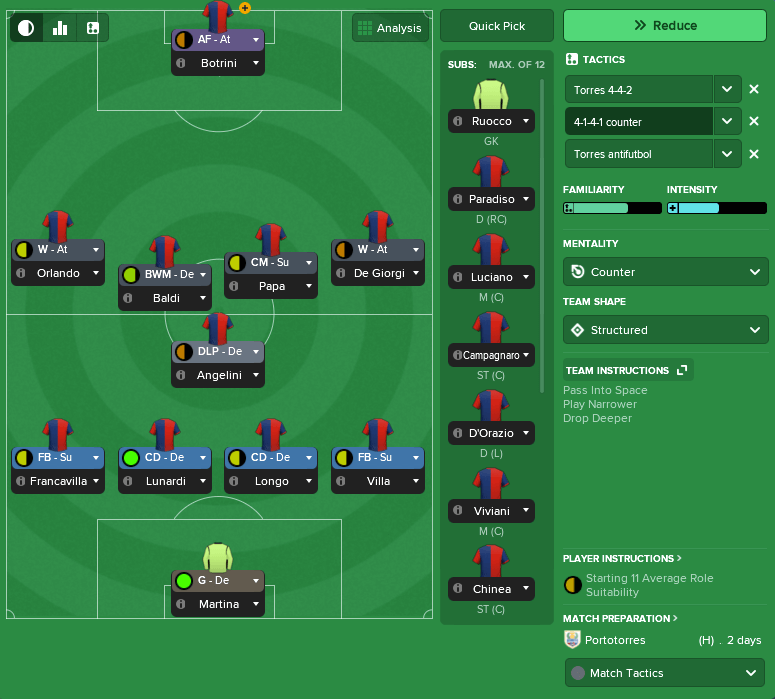 And then we'll go totally anti-football with our defensive tactic against the top teams. This one will also be employed to waste time if we're and want to park the bus and waste time.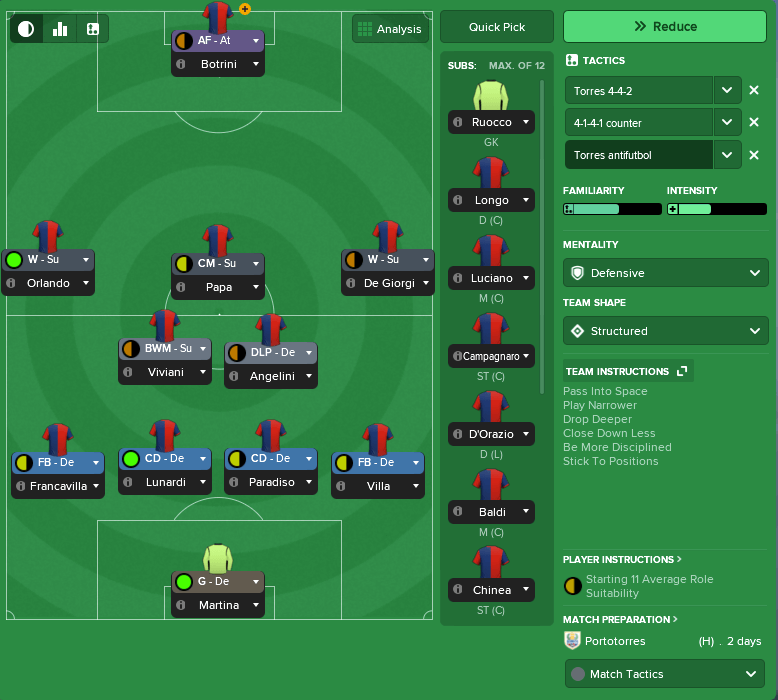 Conclusion: We have the tactics sorted and ready for each type of opposition
Assessing the current squad
So, first thing first. Who do we have in the team already? Are they good enough? Could someone be retrained to cover a different position? What areas need to be strengthened?
To find out, I'm using a combination of looking at the attributes and diving into the statistics (really, with all the spreadsheets so far, you can't be surprised). The reason for this is, that a player might look good but not really perform well. On the other hand, as Mark Twain said, there are lies, damn lies and statistics. So look at the attributes as well. Especially when looking to sign a player.
To do this I've set up custom views in the squad screen to show me the statistics I'll be judging them on. To cover this in depth would be too long for this post. And others have done it very well already. I suggest googling "Chris Darwen searching the stats". That'll sort you out.
Here's what I'm looking at for GKs and fullbacks for instance.


But before you do anything, read the rules for the new division. Do not make the mistake I did after being promoted to Serie D. A league in which you have to field four U20 players in the starting lineup. Which would have been good to know before the league started.
I'm not going to bore you with a run-down of my current squad. Let's just say that our GK is great, our strikers should be ok for Serie C and I have one good CM, a promising young right winger and a decent centreback and right back. All other positions should be reinforced.
At Torres, we're working a blank canvas. That means I can skip the part where I identify and try to get rid of the deadwood players I know not to be good enough. But if I was doing that, I'd be giving them away for free. At this level, there are usually plenty of decent players on free. So better to free up space in the wage budget than to hope for a transfer fee that'll most likely be minuscule anyway.
Conclusion: We have our shopping list: CD, FB/L, DM, W/L and whatever else we can get, that is better than what we have.
Heading to the transfer market
This is when things start to get really exciting. Look at it this way, all the work so far have been all about laying the groundwork for what's going to happen now.
You know what to aim for in the upcoming season. You know which clubs to beat. You know how you're going to play. You know where you need to reinforce the team. And you know how much you're willing to pay your players.
Now's the time to assemble the team.
I might have a few transfer targets in mind, but I do nothing before the transfer window starts. Why? Because that's when the loan players return to their clubs and out-of-contract players are released. It'd be a shame to have used part of the wage budget on a decent player in June if a great one becomes available in July.
Loans above all else
Keeping in mind that we're working on a very limited budget and our goal is to just avoid relegation, I'll be heading to the loan market first.
You did remember to ask for a senior affiliate club, right? Now's the time to head to their youth team and apply for the best ones. Usually, they're happy to loan you players without costs.
Hopefully we'll be able to cover as many reinforcements as possible with cheap loan signings. This will keep costs down and keep us from being stranded with a bunch of lousy players we can't get rid of, when we are promoted again hopefully sooner rather than later.
Transfers
I managed to get a left-back, two very good CBs and a brilliant young CM on loan. All without paying a cent. Hopefully I can add a left winger too. But let's go on to proper transfers.
When managing a small club, there are roughly three types of players I will sign. And only one that I'd be willing to pay for.
1) Promising youngsters. Usually hot prospects released by bigger clubs that can still turn out great for a small club like mine. The only type of player that I'd be willing to pay for at the moment.
2) Older players with good personalities. Invaluable in the dressing room dynamics, adds experience and great for tutoring the youngsters to make them develop better.
3) Free players that match my need for reinforcement
Conclusion: Try getting players on free loans to reinforce the team. Add released youngsters and experienced players on top of that.
So there you have it. That's how I prepare for the season following an unexpected promotion. If you managed to make it this far, thanks a million!
As promised, here's the link to the spreadsheet I use. Try it, change it, do whatever you like.
I find that a good spreadsheet does a world of difference when playing @FootballManager. So I made this one to calculate how much to spend on wages and figure out who to beat after being promoted. You're more than welcome to use it #fm18 #wearethecommunity https://t.co/trfWAHdpbC

— Ponzie (@FM_Ponzie) April 9, 2018
I'd love to get feedback from you, so please reach out with questions, comments, suggestions or whatever else you feel like. You can reach me on Twitter at @FM_Ponzie or in my Slack channel #Torres