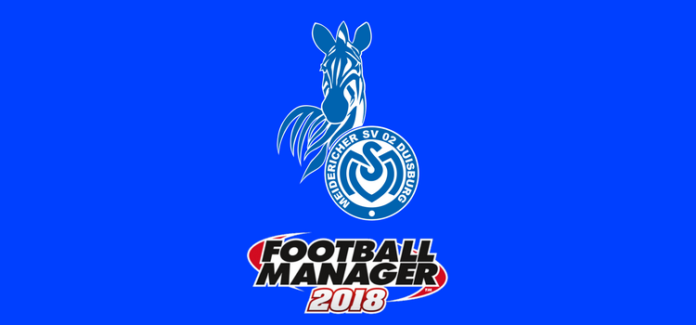 Guten tag! Welcome back to Dirk van Oortveld's quest to take MSV Duisburg into the Bundesliga and get into the upper echelons of European football teams! If you want to catch up on what's happened previously, check out this link here.
In the previous update, we witnessed MSV Duisburg's successful push through the promotion playoffs to make it into the Bundesliga for the first time since the 2007/08 season. Our focus now is to avoid a regression in form and avoid falling back to 2. Bundesliga.
To meet those goals, as I said we'd be focusing on signing some quality defenders to strengthen what was a weak defense in the previous season. We pushed to the result we got by relying on the fact that our three strikers could outscore the 2. Bundesliga opposition, but now that we're facing off against some of Europe's finest, we need to make sure our defense is up to the task.
As I write this, our pre-season is coming to an end and we've got a two-week rest before we meet our first opponent in the 2018/19 Bundesliga season, and we're going to cover the signings we made and go over our preseason results.
Around mid-June, President Ingo Wald called me into a meeting to ask me if I wanted the assistant manager's wage to be increased for the upcoming season, and with €21.4m in our coffers following the success of the past season, I requested instead – and received – an upgrade to our senior training facilities, which is projected to be finished on December 6, so that's the start of the good news.

These are our ins and outs for the transfer window. I have successfully trimmed the squad down from 34 players to 25. I allowed over a dozen contracts to expire at the end of the season for surplus players, I made these five signings, and I pulled up two promising youngsters from the U19s to give them a chance in the German Cup to impress me. I've also made some business selling players, and Andrea Wiegel, Lukas Frode, and Moritz Stoppelkamp are not going to be joining us in the Bundesliga.
I'll start with the players coming in first…

Thomas Lam is joining us from Nottingham Forest from the English Championship. He came off a very successful loan spell with FC Twente and Nottingham Forest were looking to sell him. I had to pay out a little more than I initially wanted and the final price came up to a cool €2.9m, but if he can perform as his stats and his Eredivisie performances suggest, he could be a good option for the next couple of seasons.
I'm going to employ him as a ball-playing defender, and he's got just about everything he needs. I'd like his First Touch to be improved a bit, as well as a few other lower-rated, but less important, technicals, but I reckon he's overall a good signing for a team at the lower end of the top flight.

Next up we have Mario Sampirisi coming in for €900k from Serie A's FC Crotone. He's primarily going to be used as right-wingback alongside Tugrul Erat, and he's got excellent ratings for each relevant stat. He's in physically amazing shape, and while his decision-making is a weaker point, he's an excellent crosser, and he can mark, pass, and tackle with no problem, so he should have no problem moving up and down the right-flank on both attack and defensive play. He's also accomplished at center-back and can be an option there if I need him to be.

Coming in from Burton Albion for €150k is Tom Flanagan. He was disgruntled over there in England following the team's relegation from the Championship, and Burton was willing to part with him for cheap so he could meet his ambitions playing for a stronger side.
Just the same as Sampirisi, he's in outstanding physical shape, mentally he's in a very strong position, and he's got some excellent attributes for a ball-playing defender. Because I like versatile players, he's also comfortable defending on either flank, in the center, or when moving forward as a wingback, but I had signed him with being a ball-playing in my mind.
Personally, I see this as a good piece of business. He's not that much different than Sampirisi, but by comparison, he's tremendously undervalued for what he's worth at only €250k, so while I want to hold him for a couple of seasons, if he plays well turning him over for profit isn't out of the question either.

Coming in on loan from Manchester City is Chidiebere Nwakali, a player who looks like he could be a jack of all trades. Apparently, he can play to some degree of proficiency anywhere on the pitch, so I'm hoping to use him as someone to plug into any spot where there are holes to fill, though he might end up being another wingback option because wingback was one position where there just wasn't quality depth in place. At 21-years-old, he's a bit on the rough side still, but he should hopefully get a job done when it's needed.
Our last incoming player for the summer window is striker Guido Marilungo. He was a last-minute signing for the club because I had to part ways with Moritz Stoppelkamp and I wanted a good regularly playing striker in our lineup. I went a little older with Marilungo than I normally would with players, but I feel like the top-flight experience he has is something that we'll really need as we push for survival, and this Italian is in his prime right now. He's on a contract until the end of the 2020/21 season, and I'm hoping he can come good on it.
Now, looking at our outgoing players, we've only had three sales over the summer…

The first sale of the summer saw Andrea Wiegel move to Lotte, who successfully made it to 2. Bundesliga for this upcoming season. Wiegel was a good player for us when he played, but I don't see him making the step up to the Bundesliga while still being a regular rotation option, so when Lotte made an offer for him, I decided it was time to cash out, though the €46k fee could have been better and I would have waited longer for a sale if he'd let me do it.

Our next sale saw Lukas Frode move to Union Berlin for €600k, with another €100k in possible incentives to hit. The 23-year-old wasn't a bad player for us, and he had room to improve, but he wanted significantly more than what I was willing to pay him when we got ready to enter into this off-season, so I opted to transfer-list him when he got angry with me over my contract offer. He's now playing with another Bundesliga team who could give him regular time on the field, but interestingly he's taken a pay cut of almost €750 p/w to make it happen. But, he's happy now and he's not complaining in my ear, so whatever!

The last sale was one I didn't want to make, but we ended up selling Moritz Stoppelkamp to Werder Bremen for €2m. They have been looking at the 31-year-old on and off, and while I spoke to him privately many times to try and retain him, we ended up reaching the point where I agreed to sell him if Bremen were willing to give me €2m, a €500k markup on what his value at the time of the sale was. This summer they finally hit it, and I let him go, which lead to the acquisition of Marilungo as a replacement striker.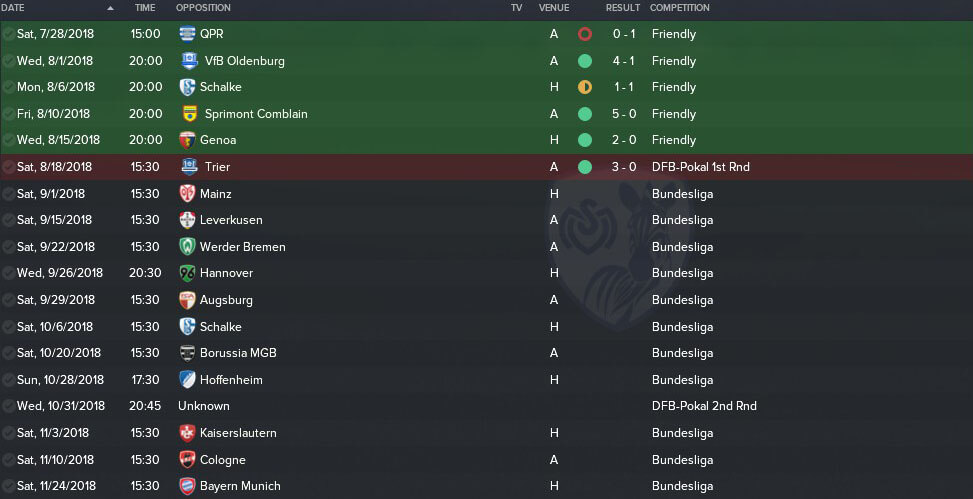 With the transfer business out of our way, this is the schedule from the preseason up to our last match in November against Bayern Munich.
We only had one pre-season loss against England's QPR, but the break was against weaker opposition with the goal of getting everyone fit and in a good mood on my mind.
Our first competitive match was against the semi-pro Trier in the German Cup, with we predictably took in a 3-0 win. Our first Bundesliga match will be against Mainz 05. It's a team that's generally near the mid-table, so while I'm not guaranteeing a win, it's not out of the realm of possibility if we play our cards right in this match, so I'm hoping we can get our Bundesliga campaign started with 3 points on the board.
It's been a wordy update, but I hope it was worth it. In the next update, we're going to be well underway in the Bundesliga, and I'll be back to provide an update on how things are going, as well as my impressions on being in Germany's top-flight for the first time ever.
Guten Tag meine Freunde. Ich hoffe wir sehen uns bald.