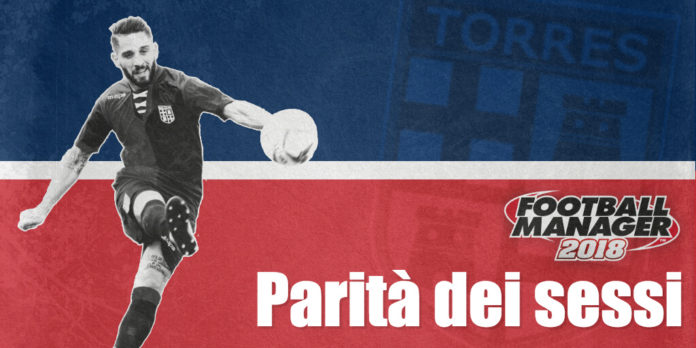 There's a fist-sized hole in the door to the Torres dressing room. Inside, goalkeeping coach Virgilio Cottu (personality: temperamental) was fuming. Nine goals conceded in three games. Not counting that crazy 4-3 loss against Matara, that's as much as the rest of the season combined.
New to the series? Click here for the prologue and index of chapters
For a team that has based its plans on survival after an unexpected promotion to Serie C on a solid defence, this was simply humiliating. Sure, conceding two against Juve Stabia was to be expected. After all, they're among the favourites to get promoted this year. But losing 4-1 to Taranto? A team that was just promoted? That was simply not good enough and Virgilio Cottu was going to let the goalkeepers know exactly how he felt about it.
The last three games aside, however, there's much to be pleased with so far this season. If you've followed along you will know that we've taken a deep dive into the spreadsheets to analyse our way to surviving in Serie C.
Click here to read it otherwise
.
Long story short, we need 43 points to stay clear of the relegation playoffs. At the halfway mark, we're in 10th place with 27 points.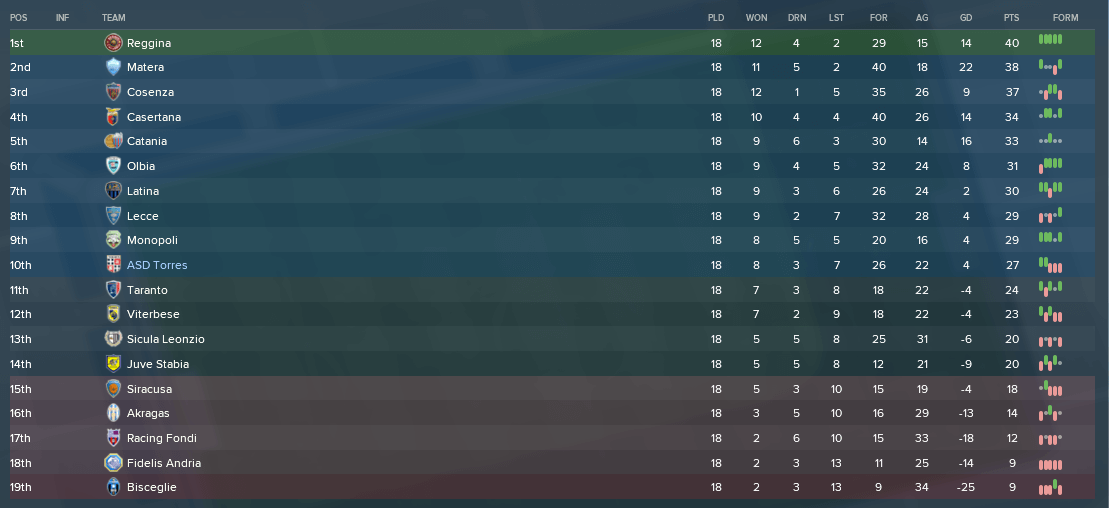 With a team mostly made up of academy rejects and loan signings from bigger clubs, we're not expecting any points against top teams. If there's a midweek fixture, we'll rest the players against top teams to be ready in the matches that matter to us.
But you know kids, they never listen. So far we've raked in 10 points against the top teams.
You won't need a maths degree to figure out that also means we've done worse than we should against the rest. There is a silver lining here, though. So far most of our home fixtures have been against the tough teams, while the away games have been against the weaker sides. That means in the rest of the season, we'll play the weakest teams at home while playing away in games where we expect to get no points. Also, with 12 new players in rotation team cohesion has been at rock bottom so far. But now the team is properly gelled and should be improving in the coming months.
So while I'm certainly not happy about the last three games and the nine goals conceded, I'm not punching holes in anything. In fact, I'm pretty pleased with the way everything has worked out so far.
So is the board. And so apparently are the 7 clubs that have offered me job interviews so far. Mostly Serie C clubs. And then Brazil national team must apparently have lost all confidence after losing the World Cup final and the Coppa Sudamerica final to Argentina.


I'm not saying I'm not flattered. But mostly I'm a bit surprised that this was to be the first job offer I received after joining Torres. Since then, I've been approached by all three teams relegated from Serie B as well as a bunch of Serie C clubs. I'm staying with Torres, though.
Let's rewind
After we sealed promotion from Serie D on the last day of the season, my first reaction was to ask the chairman to turn the club into a semi-professional side. Sure, we'd just beaten everyone to the promotion spot as amateurs in a semi-professional league. But all the Serie C teams are full time professionals and we were already struggling to get anyone interested in playing for us, due to our amateur status and low reputation.
The chairman, however, felt differently.

Only then a week later, he changed his mind.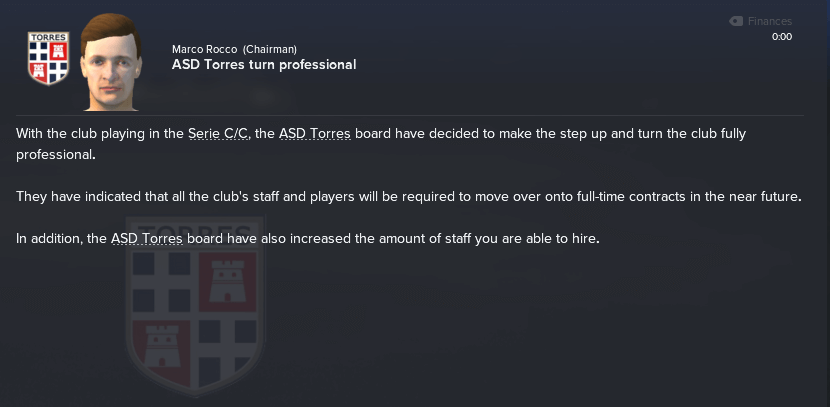 I don't know what happened. Maybe the ultras from the Curva Nord paid him a visit? I had preferred a semi-professional solution. I feared the chairman's first conclusion was right. We didn't really have the money to go pro.
Looking at the clubs in Serie C, half of them were financially insecure. And most of them had a lot bigger home crowds than we would expect to see at the Vanni Sanna. So I took yet another nosedive into my spreadsheets to calculate a wage cap, well below the budget set by the board.
After that, we had what felt like 200 players on trial to find the gems that would see us stay above the relegation zone in the upcoming season. We didn't sign any of them yet, though. To minimise the wage costs, the first priority was to reinforce with loan signings, preferably for free.
Our new senior affiliate decided to gift us with zero loan players and the ones we did apply for didn't want to come. Thanks for nothing, Sassuolo Calcio. Luckily, Palermo came to our rescue with four very good youngsters.
Transfers
Here's who we got on loan: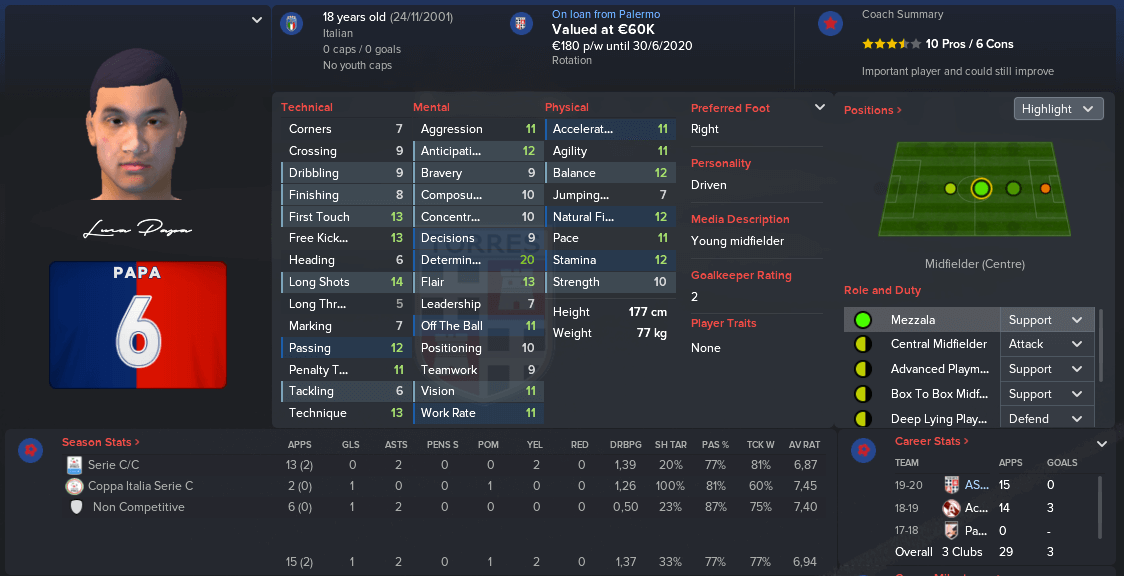 Luca Papa was 17 years old when he joined the club from Palermo. In his first start in the North-Sardinian derby game against Olbia in the Serie C cup, he scored on direct free kick. He's starting every game possible.
Paolo Lunardi might not look much, but he's an obvious starter for us.
Giacomo Paradiso was signed to play centre back next to Lunardi, but have ended up playing a lot as a right fullback. Which he isn't really suited for. It's clearly our weakest link.
Filippo Francavilla is our left sided utility players. Can play as a backup option for Marco Baldassini at left back or as a winger if needed.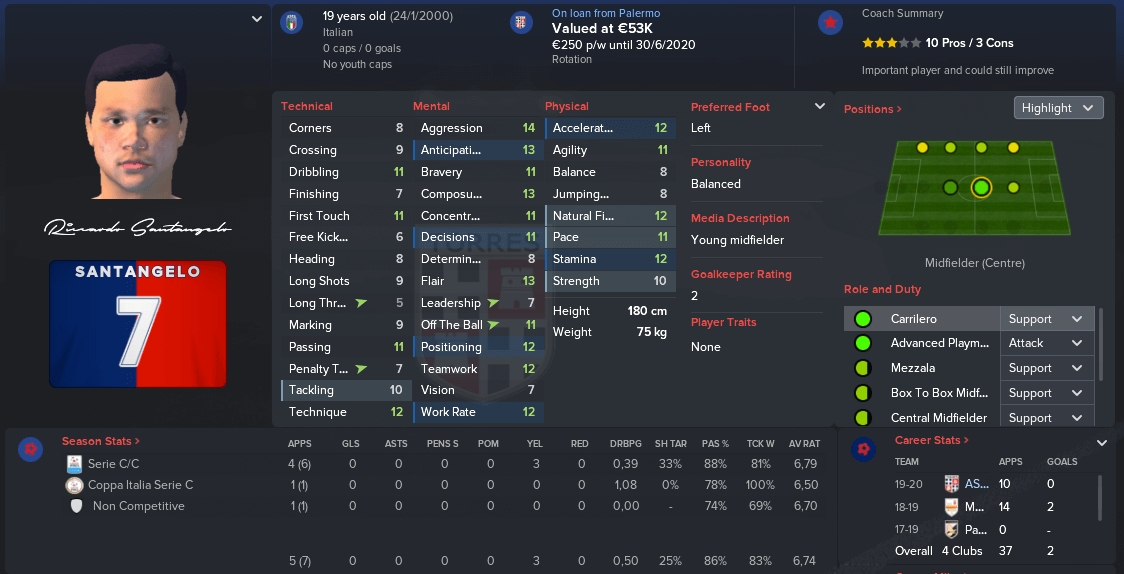 Riccardo Santangelo is not really good enough to be a first choice at midfield but he's getting plenty of time in the rotation.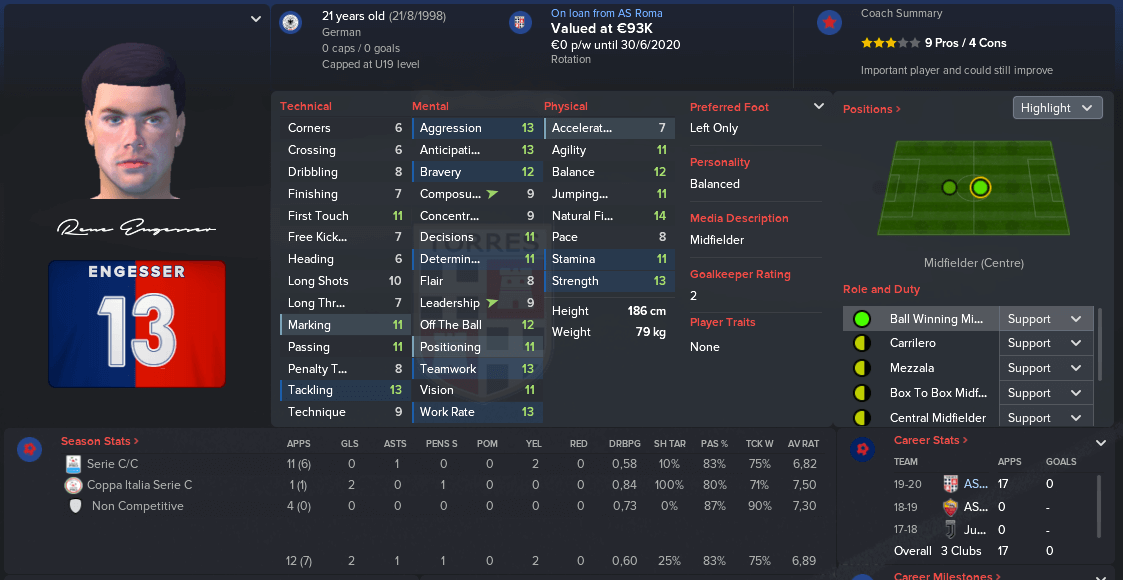 Rene Engesser joined us from Roma. He's is the only loan not to come from Palermo and the only foreigner in the club.
And here's who we signed ourselves:
And then here are the ones we've signed on contracts. All of them were free transfers. Being a sucker for wingers I couldn't help but fall a little in love with these three pacey dribblers.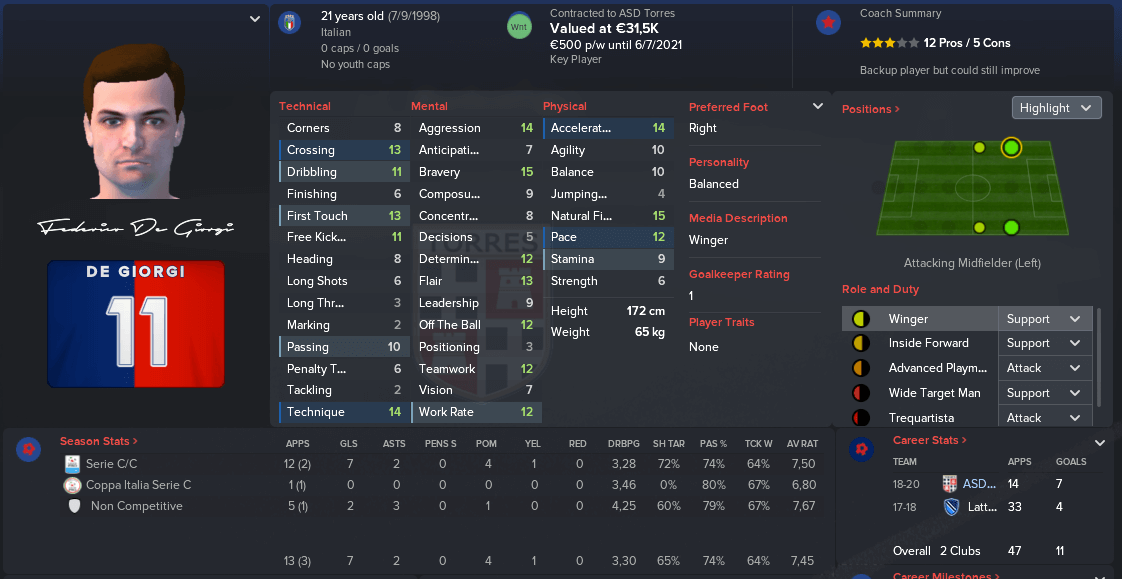 Federico de Giorgi joined us in a controversial transfer from cross-town rivals, Latte Dolce. You might remember them from a previous update, where I swore I would never lose a derby match against a team called Sweet Milk. De Giorgi has been on fire since joining Torres netting 7 goals and making 2 assists in 12 starts.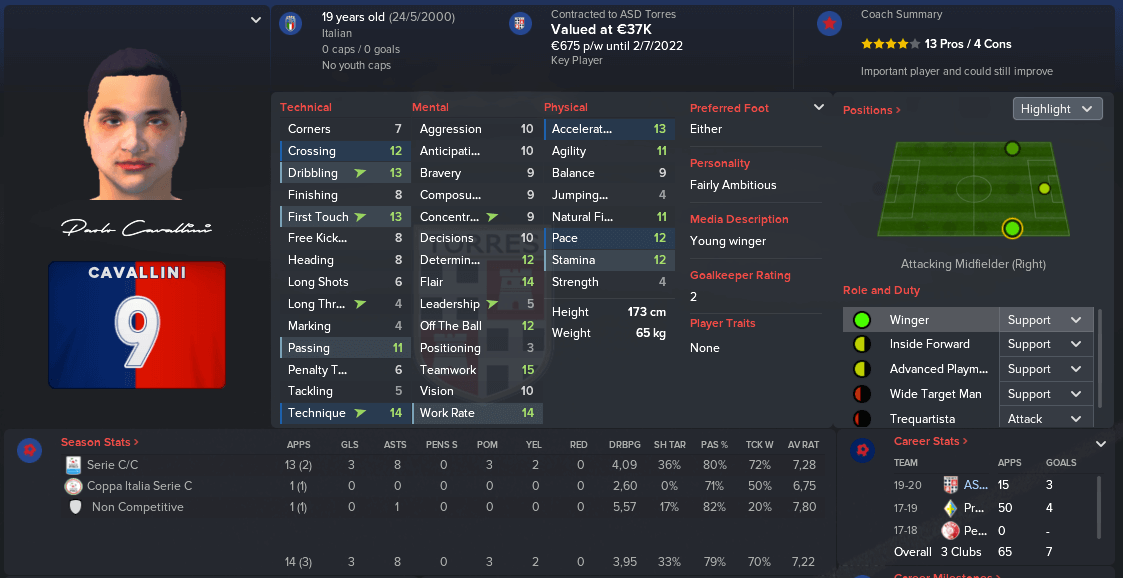 With good technique, pace, dribling, first touch, crossing and off-the-ball movement Paolo Cavalini looked to good to be true. Add to that that he's two-footed and I was sold. He's been playing on both sides of the pitch and have managed 8 assists and 3 goals in 13 starts. He joined us after two mediocre seasons at fellow Serie C club Prato.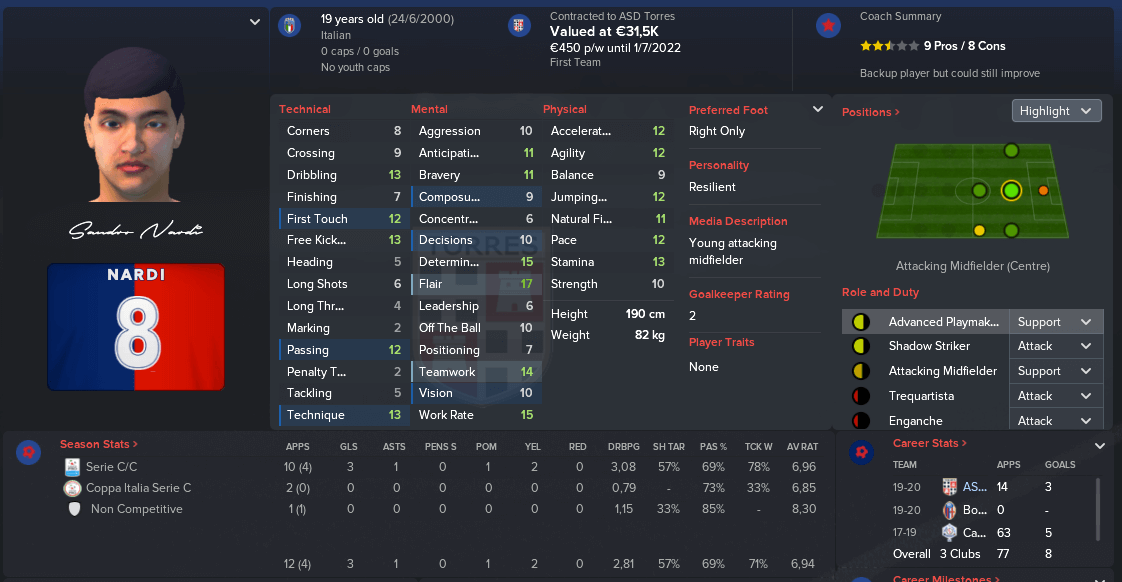 Sandro Nardi looks very much like the others, but haven't really had the same success. I'm still very pleased with him though.
Then there's Andrea Ravasio who somehow only managed 7 goals in 54 games for Varese in Serie D. Now he's alternating with Botrini as the lone striker in our 4-1-4-1 or the advanced forward in the 4-4-2. So far he's scored 5 and made 4 assists in 13 starts.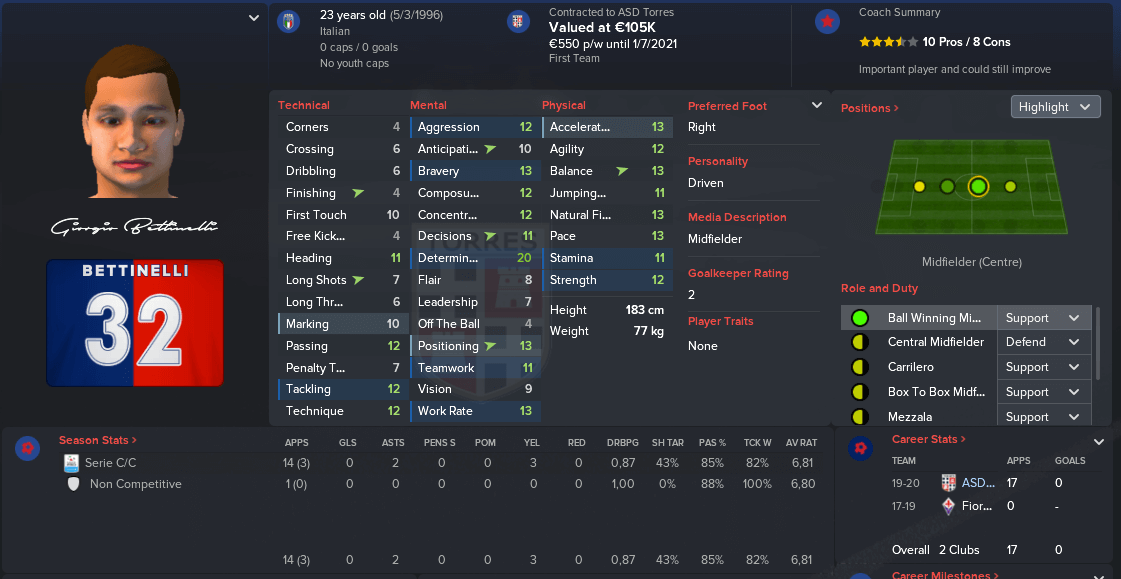 Giorgio Bettinelli is the Gattuso in our team. Iron-willed with plenty of work rate, bravery, aggression and tackling ability. He never got a chance at Fiorentina, but at Torres he's bossing the midfield.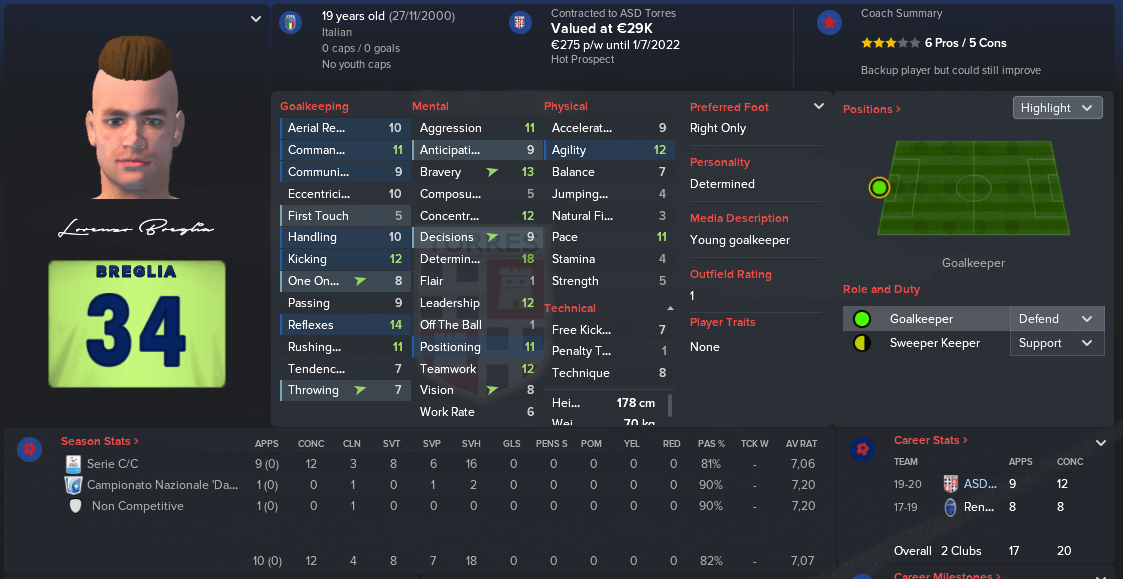 When I saw Lorenzo Breglia, I had to sign him. For his age and for this level, he's very good. And with good potential and low wage demands, this was a no-brainer. Our regular goalkeeper Ruocco is 39 years old. We need to think ahead.
On top of that a few of the regulars from last season was given a contract. Gianfranco Botrini was the first one of course. He's been injured a lot this season but has still managed 4 goals in 6 matches. The rest have chosen to stay on as amateurs.
Finances and future transfers
All in all that leaves us with a weekly wage bill at 6,725 euros. That's well below the 11,000 I calculated we could afford and miles away from the 29,000-figure the board came up with.
Not surprisingly, the finances look fine.

Heading into the transfer window the only signing I'm looking for a decent right-back. Preferably a cheap youngster on loan. Someone with potential and a contract running out in six months. Play him regularly and court him enough, he might just sign for us after the season ends.
Other than that everything will depend on whether or not we can keep hold of our new signings. Ravasio, Nardi, Cavallini and di Giorgio all have at least a handful of team interested in signing them. We even have Torino, Lazio and SPAL from Serie A asking to have them on trial.
I'm turning down all bids and approaches. It took me ages to find these guys and I'm certain we won't be able to replace them any time soon. Also, money's not a problem for us and as they develop, their value will most likely rise leading to bigger bids in the future.
Thanks for reading. I'd love to get feedback from you, so please reach out with questions, comments, suggestions or whatever else you feel like. You can reach me on Twitter at @FM_Ponzie or in my Slack channel #Torres.