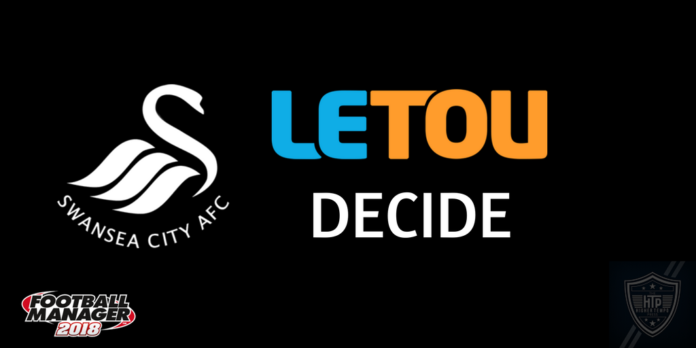 Ladies, gentlemen, boys, girls, children of all ages, I would like to introduce myself. My name is Charlie Tango and I am the greatest Football Manager of all time.
That might be hyperbole but the sentiment stands, having just governed a Swansea City victory over Tottenham Hotspur.

After the game the press were quick to stroke my ego. It's time to break out the passionate response.
Reporter: What a comeback! To see your side completely turn a game around like that must be very pleasing?

Me: I'm delighted. We weren't at the races for a while but the players showed fantastic spirit to change the course of the match. My substitutions were exceptional!

Reporter: You were under significant pressure for much of the match and allowed a number of shots on goal but you've come away with a result. How do you reflect on that performance?

Me: We defended well and were good value for what we got from the game. We soaked it up well and hit on the counter, just like the plan.

Reporter: Mike van der Hoorn's dramatic late goal was something for you to savour. How do you rate that moment?

Me: That's what football is all about – it was a joy to behold. Mike van der HHHOOOORRRRRNNNNNNNNNNN!

Reporter: Jordan Ayew was outstanding today wasn't he?

Me: He was the best player on the pitch and was absolutely faultless in my opinion. He's my player of the season.

Reporter: A particular hallmark of Swansea's play this season has been the regularity with which you've scored headed goals. How important has that been in your good form so far?

Me: It's been very important and our record this season is testament to that. Drill them in the dark arts and now it pays off.

What's more than the praise from the press, England manager Gareth Southgate was in attendance. That doesn't do much for Alfie Mawson, who I brought off at half time and replaced him with Mike van der Hoorn. Tom Carroll did well though and Tottenham had several England stars on show including Eric Dier, Harry Winks and Kieron Trippier.
The game itself was typical of a Swansea game. We soak up pressure and hit back on the counter. Tottenham took the lead, a corner by Lamela was hacked clear by Carroll only to fall at the feet of Danny Rose. His strike defected off Renato Sanches past a stranded Fabianski. We got back on level terms through the most Swansea of goals, the one that we've all come to know and love. The ball comes out from central midfield, this time from Renato Sanches to Dyer and his deep cross lands perfectly on the head of a teammate. Jordan Ayew had us back on track before he grabbed a second just prior to half-time. Again it was Dyer crossing after Carroll found him and Ayew heads home.
The decision to bring off Renato Sanches might have raised eyebrows but he was on a yellow card and needed to be saved, although it was Spurs' own substitution that paid quicker dividends with Son Heung-Min breaking the offside trap to equalise. Martin Olsson was too pre-occupied with Lamela, Mawson and Fernández were attracted to the ball, allowing Son to run through.
In response, I hooked Alfie Mawson for van der Hoorn and you can see why above. He's not even in the same postcode as Son! At the time it was reactionary, I admit, but it worked out an absolute treat. Roque Mesa (another substitute) put over a corner and van der Hoorn could have grazed cattle in the space he was left in as he hit a sweet volley.
Three points, three big points. What it does give us is breathing space because we play Chelsea on Wednesday and then Everton at Wembley for the FA Cup semi-final. It means I can play the reserves against Chelsea safe in our position.