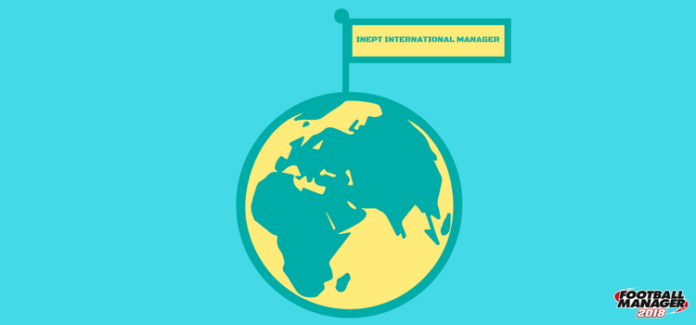 Not talking, this matters. Wait, I can't do that.
Very quickly here's a FIFA World Cup update. After Australia beat Italy and the last embers of my nerves were frayed, Spain drew their game with Uruguay with a Desmond. Denmark are off the mark in our group with a 1 – 0 win over Ghana in the other opening game. There have been wins for Croatia, Portugal, Colombia and even Saudi Arabia are in on the act. Russia beat the USA (don't make any jokes), Germany started as I'm sure they mean to go on with a victory over Mexico, South Korea and Japan played out the most boring 0 – 0 draw in World Cup history… since England in 2014… then England came crashing down to earth with their own scoreless draw against the Ivory Coast. Belgium defeated DR Congo, Argentina got a routine win and Poland demolished the superstars of Honduras 5 – 0.
Christ, there's more. Austria had their tummies tickled and duly rolled over for Brazil, Algeria were unlucky to lose to Spain after the Spanish got two late goals, Uruguay versus France was goalless. Already today Italy's poor start to the World Cup has continued as they could only draw 1 – 1 with Ghana. Then it's Denmark vs. Australia and later on in a game hardly anybody cares about, Senegal play Croatia.
Consider yourself updated. My fingers are hurting I'm typing that fast.
Now the fun starts because if we can beat Denmark, we're through to the knockouts. I say 'fun', what I mean is 'excruciating pain' because this won't be easy by any stretch of the imagination. Denmark are one of those sides you think "Oh, we can beat them." Well, I'm here to correct you, no you bloody can't. The 1992 European Champions are a decent side and on their day, they can have anybody. That includes Australian national teams thrown together in disarray when the two main strikers get injured. Enjoying that beer sat on your arse on your couch are you, Tim Cahill? I'm renaming him Judith Chalmers in this game because I wish he was here! I wish you were here Tim! Tim? Tim? Are you there Tim?
As you can see, emotions are running high…

We do have a couple of things going for us. Rasmus Nissen, a defender… I think, is injured and left wing-back Riza Durmisi got himself sent off in Denmark's match with Ghana so he's unavailable. Everything else, is against us. Looking at the squad list they have players from Leicester City, Tottenham, Chelsea, Ajax and Bremen. In our squad list, we have Millwall, Hull City and Dundee United. Oh, and we have the Inept International manager, Louis Henrik leading the charge. That old quote from Gareth Southgate could be utilised to good effect here: "We were expecting Winston Churchill and instead we got Iain Duncan-Smith."
Maybe the players do respond to Iain Duncan-Smith because blow me down with a feather, Australia took the lead! Despite Robbi Kruse going off with an injury that will end his World Cup, Aaron Mooy stepped up and blasted a free-kick over the wall and it went through Schmeichel!
The lead was savoured for all of four minutes until Denmark's striker Dolberg did one of those moves you only see on a certain variety of computer games. He held up the ball on the edge of the box, then laid it off wide and got on the end of the resulting cross.
1 – 1 at half-time became 1 – 1 at full time as despite Denmark taking 25 shots, goalkeeper Matt Ryan was largely untroubled. Again it was Australia who finished the stronger with Schmeichel called into action in added-time. 4 points from 2 games isn't a bad return considering the opposition, first Italy and now Denmark.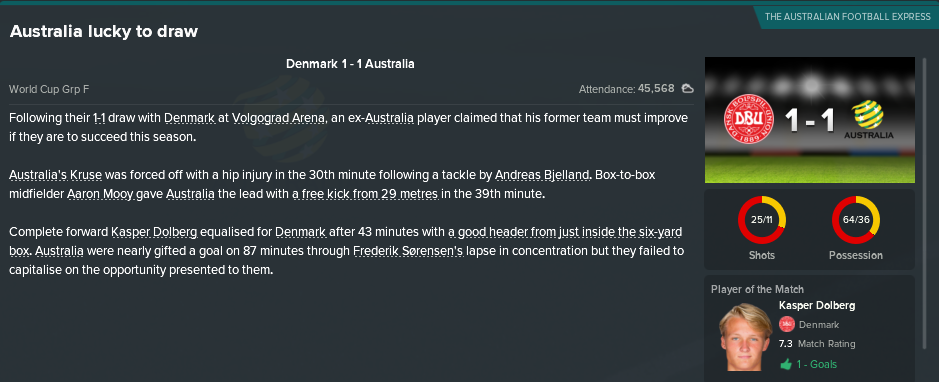 All Louis Henrik needs now is a competent performance to guarantee progression to the second round with a draw. That's all. A measly draw. A scoreless game, 1 – 1 or even a Desmond would seal it. For the first time, he seriously considers changing the formation and introducing three at the back, which would block the spaces Ghana will look to attack with Jordan Ayew (decidedly less welcome than in the Letou save) and Christian Atsu.
I won't go through the results between the two games, simply because you'll find out who made it to the knockouts at the end of this episode. If Australia are there, it'll probably be in some detail, if Australia are cruelly knocked out then you'll have to make do with a passing word and whatever the literary equivalent of a middle finger is.

I have to credit Louis Henrik, he had the balls to do what I would not. He picked a reserve side for the most important game in recent Australian football. It shows great faith in the squad players he brought to Russia and an admirable desire to build something lasting.
Obviously, Australia were battered from the first whistle.
Mile Jedinak had a woeful season at Aston Villa, ending the Championship season in 13th place under Steve Bruce and he took out all of that frustration on Christian Atsu with a tackle that was less an attempt to win the ball and more actual bodily harm, Despite half the team stopping for the inevitable free kick, the ref waved play on and Jon Mensah took his revenge pushing Jedinak over. Of course that caused the referee to blow and Jedinak himself stepped up to take the resulting kick. Unlike Mooy's against Denmark, this was a beautifully placed effort into the top corner and Australia lead once again.
This time the lead lasted longer than four minutes, a good 20 minutes in fact until injury time at the end of the first half when Jordan Ayew wriggled free on the edge of the box and in another guise I'd be celebrating a Jordan Ayew goal but not here. A point is fine, a point would see Australia qualify for the knockouts but Andre Ayew has other ideas. He gets onto a through pass from brother Jordan to fire past Adam Redmayne at the near post.
The game unfolds as I'm trying to work out what's happening. Italy are beating Denmark now by three goals to one and Louis Henrik probably wouldn't be aware if anybody told him.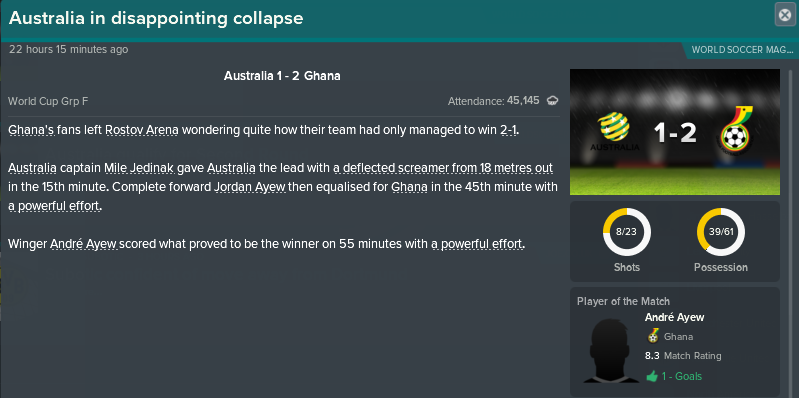 It's time to look at the league table and it's quite magnificent…
Australia have qualified by goals scored… I think. Take that FFA! Take that Tim Cahill! Talk about the most Louis Henrik way of qualifying. The only problem is, that puts them as second qualifiers and at risk of one of the big boys.
Yep, like I said. One of the big boys. Gulp.