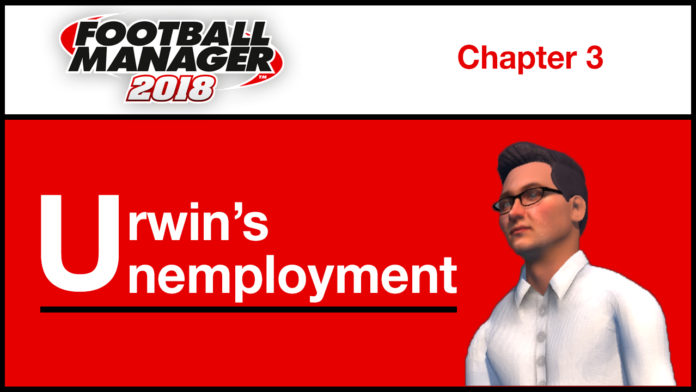 Welcome back to chapter three of English manager Nicholas Urwin's unemployment challenge. He continues his journey in Malaysia and we pick up at July 2018 in which Urwin is managing second-tier side Negeri Sembilan who are currently in 8th and underperforming. After a 5-2 defeat in his first game in charge, Urwin is looking to use the lengthy spells between league fixtures to play friendlies.
Missed the previous chapter? Click here for Chapter 2 of Nicholas Urwin's Unemployment Challenge.
Late Drama Becoming A Norm (July):
After two more friendly fixtures against first tier sides in Melaka and Perak, Urwin secured his first victory in Asia as a 91st-minute winner from winger Ahmad Hazeri Hamid secured a 2-1 win. This result and goal came days after Hamid requested to be given a chance in the first-team, and certainly stating why he should be playing. Frustration followed in Negeri's next match with a 95th-minute goal, despite only 4 minutes added on, prevented an impressive win over 2nd placed Kuantan, finishing 2-2.
'Pick One And Stick With It' (August):
A crucial match against 11th placed PJ Rangers ended in a 1-0 defeat and certainly did not go down well with supporters, the board and the players themselves. Urwin has decided his 4-1-4-1 compact system to get results is too negative and opted to use a more attacking formation in 4-2-2-2. Whilst Urwin could be criticised for changing formations like changing songs, the impact of the change in system saw Negeri outplay but not outscore league leaders Johor DT II, finishing 2-2.
Three more friendlies arranged against amateur Malaysian clubs saw dominant wins under the new system before a thumping 5-2 victory for Negeri away from home at MIFA with Jonathan Behe scoring a hat-trick. Another 2 goals conceded during the final game of the month and another 2-2 draw against mid-table Penang does continues the unbeaten run, however.
Established Starting XI and System (September):
Once again a gap in the fixtures meant more friendlies were arranged, and once again Negeri went unbeaten against some more competitive sides including Felcra and UKM. Only one league match of the month and Negeri earned revenge over Felcra with a 3-2 victory away from home with a Mohd Khairul Izuan Rosli goal coming in the 86th minute.
'Two Seasons In Already, Where Has The Time Gone?' (October):
Hamid popped up with a late, late winner once again in Negeri's game against bottom side ATM, securing an important 2-1 win to put the side on level points with 7th placed Felcra. Prior to the final game of the season, however, multiple players showed their discontent towards Urwin's management and lack of team cohesion. Despite Urwin feeling he dealt with the situation, Negeri ended a disappointing season with a 4-1 home defeat to UiTM. The end of the month saw a lot of contract negotiations and the retirement of veteran Kim Do-Hyun.
A Huge Axe Is Needed To Chop The 'Deadwood' (November):
A month of counting down the finals days before the release of 46 (yes, FORTY-SIX) players from their contracts at the club. The finances will surely look to improve as Urwin looks to make a few additions to the 17 who remain at the club in the first team and under 21 side. The weekly wage bill of the club has been reduced from £14,000 to under £5,000 per week.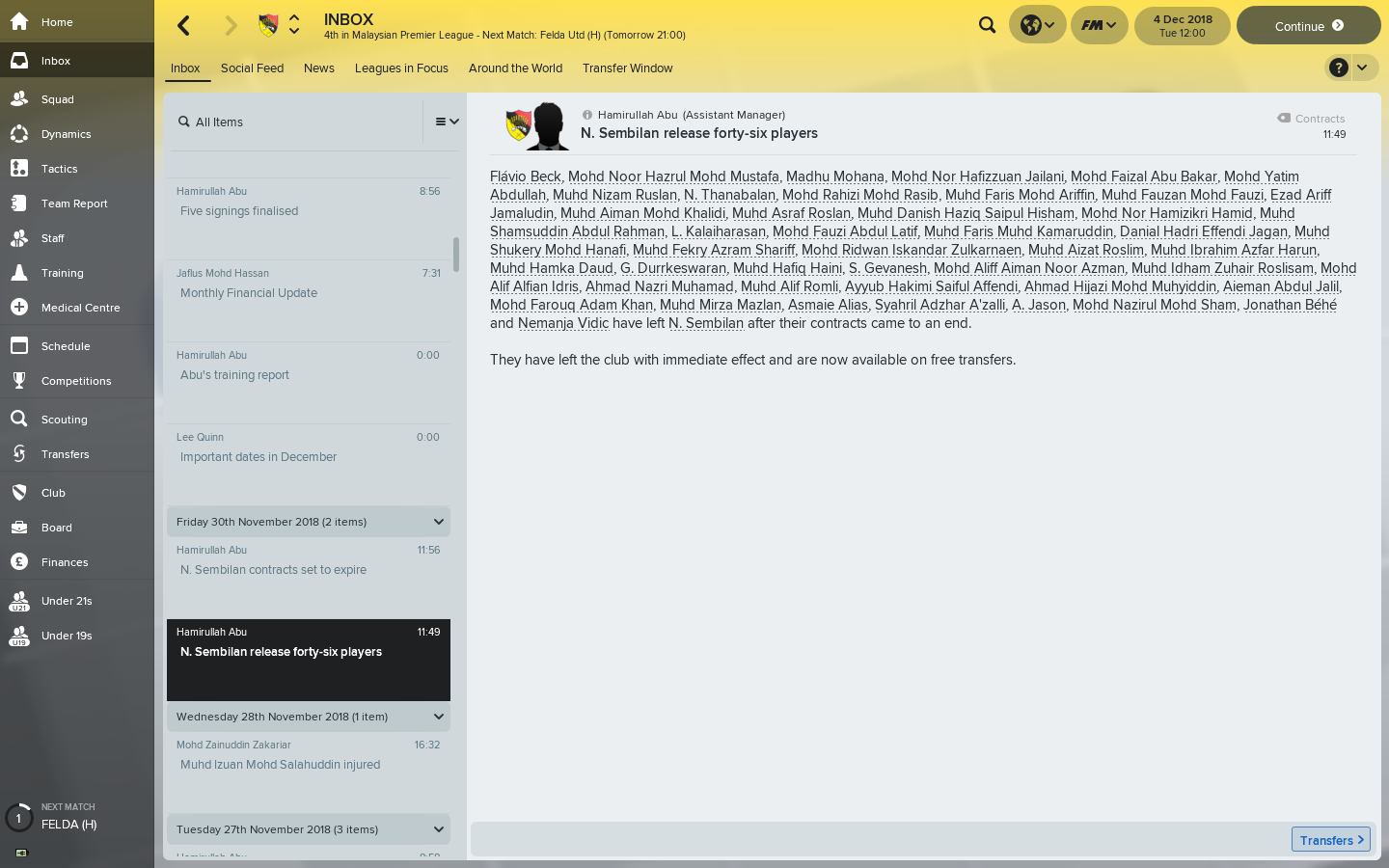 Wow…Funds, Let's Bring In Some Quality (December):
With so much space in the wage budget, five new signings to the club have joined after agreeing contracts in advance. Mali international Souleymane Konate, Japanese midfielder Ryutaro Karube and three new Malaysian players have joined and the fans are delighted with all five signings as pre-season can get underway.
New Season, New Regime:
Friendly, friendly, friendly, friendly, friendly, friendly, friendly, friendly, friendly, friendly, friendly, friendly, friendly, friendly, friendly, friendly, friendly and another friendly on top. Pre-season has been extremely intense with Urwin taking nothing lightly in hope of securing silverware and promotion to the Malaysian Super League. The 4-2-2-2 system has well and truly been drilled into the players and results in pre-season show its dominance. The only negative would have been the long-term injury to new signing Konate, who is expected to be out for at least three months.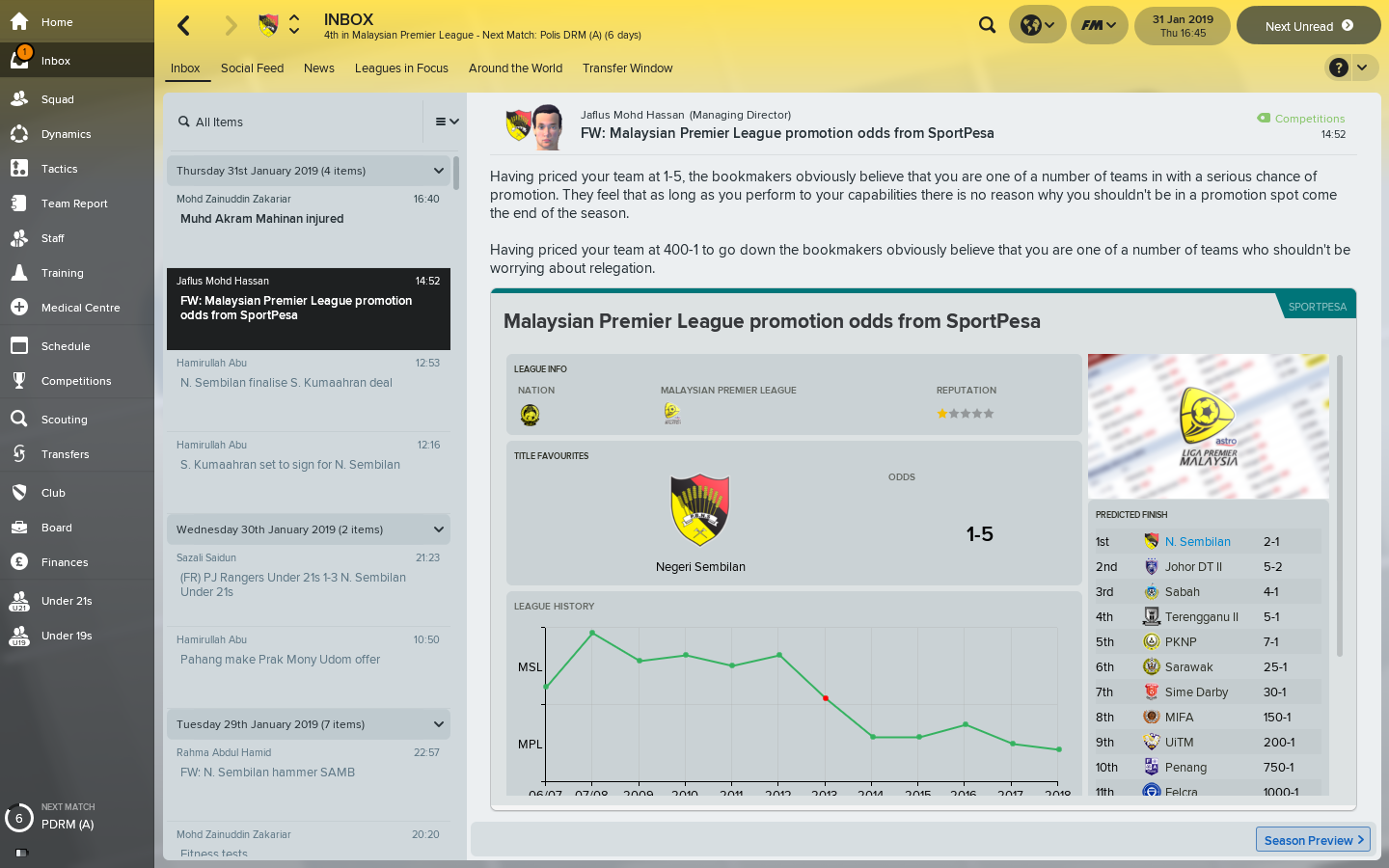 Eggs In One Basket?:
A great start to the season for Negeri as they secured a 1-0 win away from home to Penang thanks to a debut goal by winger Kumaahran. He got a second goal in Negeri's next game against MIFA in a 3-0 win but picked up an injury as well. Muhd Syahid Zaidon and Mohd Khairul Izuan Rosli bagged the other goals to make it two wins from two.
The Malaysian FA Cup, a competition which Negeri are expected to make the quarter-final stages, ended in disappointment with Johor DT II victorious from the penalty shootout after they forced extra time with a 93rd-minute goal.
Times Are Very Much Changing (March / April):
Things returned to normal in the league as Negeri ended the month strong with a 4-2 win over Terrenganu II including a hat-trick from Mohd Fakhrul Aiman Sidid. A gap in league fixtures meant more time for Urwin to arrange just the EIGHT friendlies in which Negeri went unbeaten only drawing one and winning the rest.
The end of April saw Negeri take on rival Felcra and defeat them comfortably 3-0 with Kumaahran having scored in every league game so far and Konate getting a goal on his league debut.
The Rarest Diamond In The Rough (May):
Sidid got on the scoresheet in the first half, however, Negeri suffered their first league defeat of the season to Sabah losing 2-1. He did, however, score in the next game, a 2-0 win over PKNP with Konate netting the other. A nine-goal thriller followed as Negeri won 6-3 over UKM, including a Konate hat-trick and goal from 16-year-old wonderkid Mohd Faizul Omar. He's come through the Negeri ranks and is already one of the highest ability players in the squad and is already set for the Malaysian senior national team.
Revenge gained in the league for Negeri as they defeated Johor DT II 2-0 with an in-form Konate scoring both goals. Konate cannot stop scoring, with the Mali striker getting another hat-trick in a 5-2 win over Sarawak. Sidid and winger Muhd Izuan Mohd Salahuddin got the other goals for Negeri.
Next Chapter: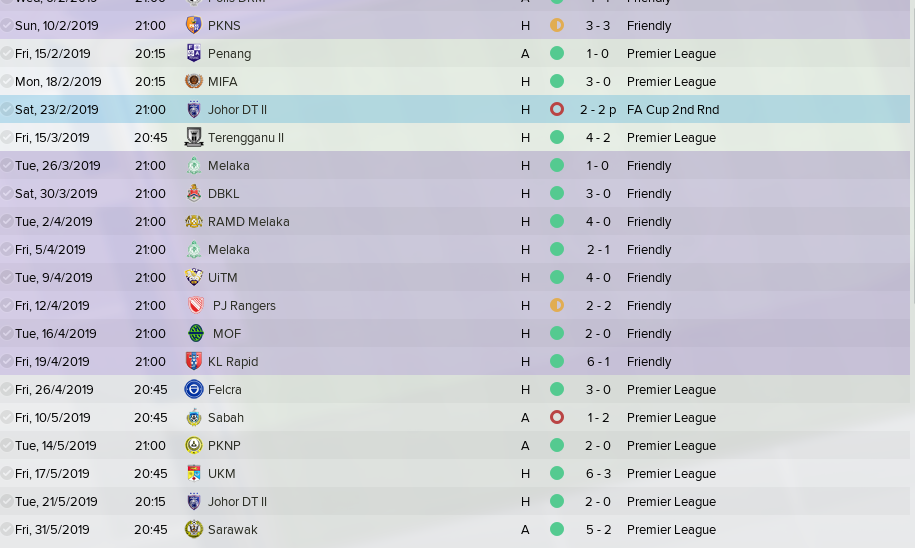 Urwin has got the side he wants and more importantly playing the way he wants which is reaping positive and dominant results and performances. Will his side continue this fantastic form to clinch the title come the end of the season? Find out in the next chapter.