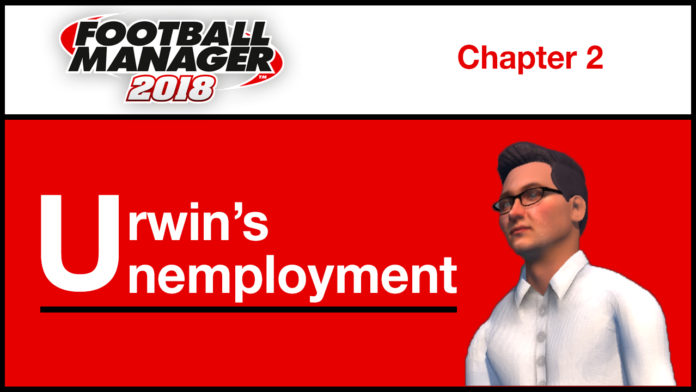 Welcome to the second chapter of the career of young English manager Nicholas Urwin. January 2018 is where we continue the journey and Urwin is finding it difficult to put a run of results together with Virton currently sat in 5th position. Urwin has picked up the French language to a basic understanding and has earned £13.25k so far, a long way off the goal £1m career earnings. With the club financially struggling, the option to bring in new recruits is out of the equation with Urwin needing to rely on and rally his troops for the league run in.
Missed the previous chapter? Click here for Chapter 1 of Nicholas Urwin's Unemployment Challenge.
Fewer Goals, More Points (January):
Arthur Njo Lea has recovered from his injury and will feel like a brand new signing since Urwin made the decision to recall him from his loan with Liege. The new year did not get off to the ideal start after being held to bottom of the league Patro Eisden 2-2. A captain's contribution from Luigi Vaccaro was ruled out by yet another equaliser in the dying minutes of the game, finishing 1-1 with Seraing.
A switch to a 4-2-3-1 formation sat on the counter-attack saw Urwin's side defeat league leaders Lommel SK 2-1 with goals from Samuel Fabris and Vaccaro. Pleasing for Urwin to end the month unbeaten with Virton dominating opponents Berchem 3-0 with centre-back Antoine Goulard heading home his fourth goal of the season.
Thankfully, This Month Is Only 28 Days (February):
Last month's great form transferred smoothly into February with an excellent 3-1 win away from home meaning Urwin might have found a suitable system in 4-2-3-1. Another three goals and another clean sheet in the following fixture against Oosterzonen saw Mehdi Lazaar's brace take his tally to seven for the season.
Plaudits including the previous Virton manager and former player Thomas Meunier heading into a big season-defining league game against Dessel. After a drab first half, Virton fell to pieces in the second half losing 4-0. It went from bad to worse for Urwin as a red card meant ten-men Virton conceded a 90th-minute winner in the final game of the month against 2nd placed Aalst.
Bounce-Back Ability And Then Some (March):
Back-to-back defeats to end February seriously halted a chance at making the top four however Urwin will be delighted to have humiliated Deinze 7-2 in a freak game where his side seemed to score with every chance on goal. Maksym Bah sealed a hat-trick whilst Lazaar brace came either side of goals from Milos Maric and Jeremy Serwy. Confidence was clearly oozing from the previous match meaning Virton could see off Oudenaarde 3-1 at home with Lazaar reaching double figures in the goalscoring charts.
The pressure was on to maintain the 4th and final play-off spot and Virton delivered an impressive performance once again, defeating FCV Dender 5-1 away from home including an Edvin Muratovic double. Urwin will have thoughts of what if his side had hit this form earlier into the season. Nail-bitingly Virton are still in the play-offs on goal difference despite suffering a disappointing 3-1 defeat away to Knokke. Another thriller saw Virton keep their heads, actually finishing 3rd with a 6-3 win over Heist and other results going Urwin's way.
Not The Play-Offs Urwin Is Use To (April):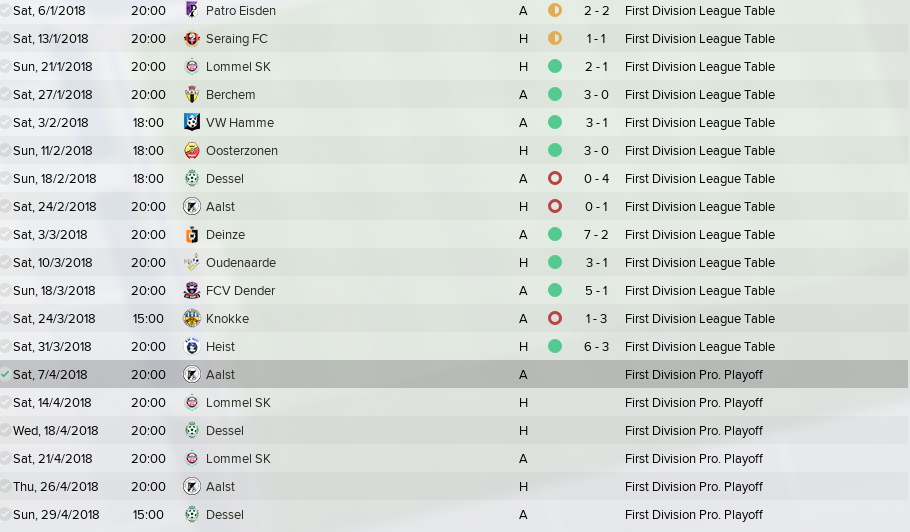 Virton sat in 3rd with 27 points since the league rules halve the total points earned and wipe the goals records clean. Leaders Aalst on 31 points were able to extend to 34 as they simple outclassed Virton in the second half, winning 3-1. Urwin's hopes of winning the division were still alive with Njo Lea turning around a 2-1 deficit into a 3-2 victory against Lommel.
Lamine Fall let his side down again as he ultimately cost ten-men Virton two points after Dessel scored an 89th-minute equaliser. Muratovic was then the difference-maker in a tight affair against Lommel, winning 1-0. The deciding fixture against Aalst meant Virton needed to win their final two games and hope Aalst would also lose their final game of the season.
Urwin was left fuming at the luck of the opponents as Virton missed two penalties and an open goal to only draw and hand the title in the cruelest of manors. A nothing game to finish the season ended in a surprise 0-0 draw, the first and only goalless game of Urwin's season with Virton.
Decision Time:
Having met the minimum expectation by the board, Urwin himself will feel disappointed to have not clinched promotion for Virton during his debut season as a manager. The club look to be in a financial mess and Urwin may need to consider moving clubs for more stability and rewards. It's the end of May and Urwin has yet to have been offered a new contract at Virton and managerial positions are vacant in Romania, Hungary and Malaysia.
After getting an interview with Malaysian club Negeri Sembilan, current club Virton have reacted and finally offered a new contract and vision but Urwin's disappointment in the club has meant he's rejected the offer. June 10th 2018 and Urwin has made the move to Asia, signing a £1.1k p/w 18-month contract with Negeri Sembilan.
Negeri Sembilan are in the second tier of Malaysian football and are based in the town of Seremban. The club enjoyed a long spell in the first tier before being relegated in 2013 and failing to finish higher than 4th position since. Nemanja Vidic currently plays for the club (not the ex-United legend, unfortunately) as well as South Korean veteran and former West Bromwich Albion midfielder Kim Do-Hyun.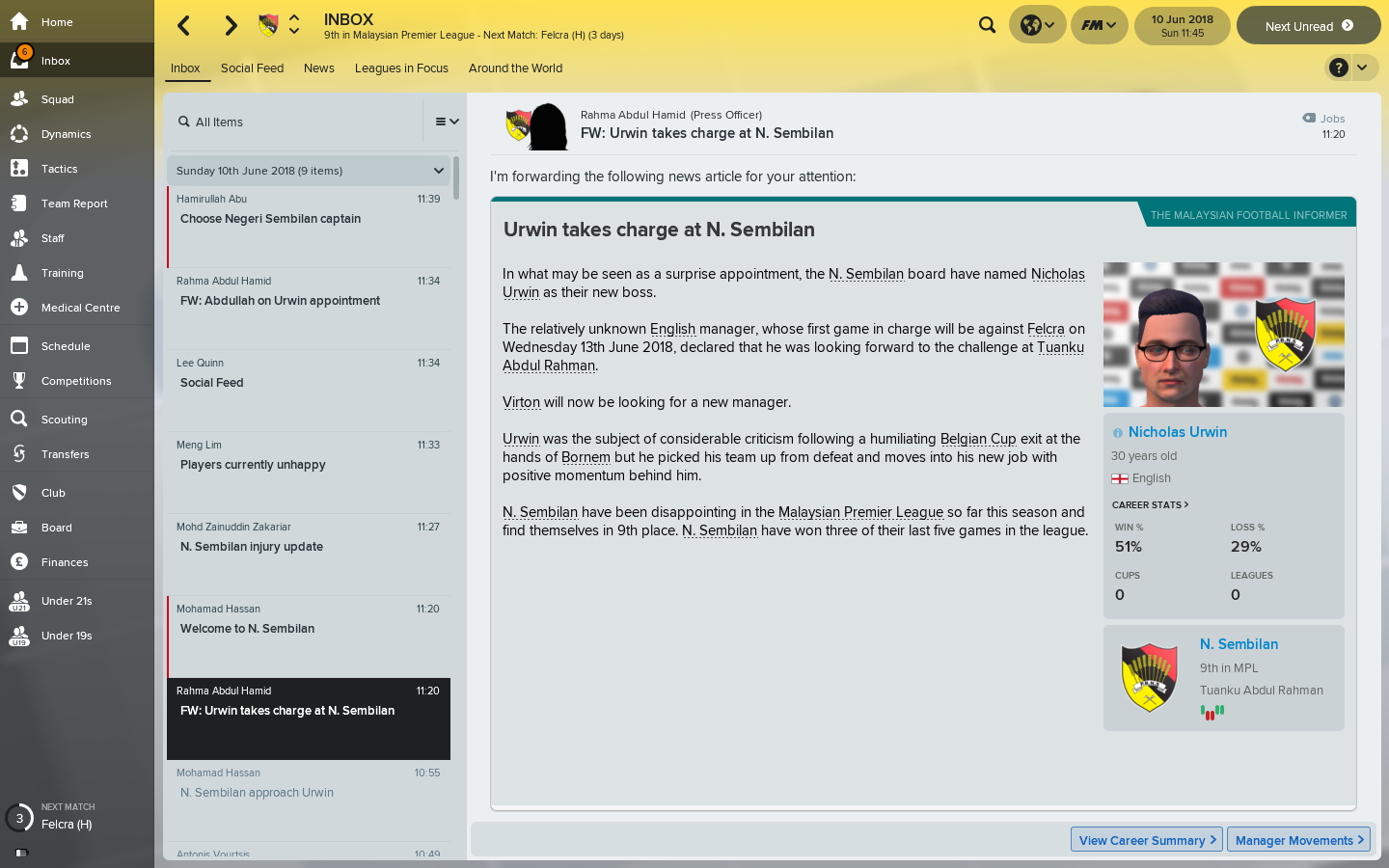 Little Preparation, Little Managerial Respect (June):
Three days preparation clearly was not long enough for Urwin's new team to adapt to his 4-2-3-1 system as they faced a 5-2 humiliation against Felcra with Brazilian striker Casagrande scoring four times. With the transfer window opening soon and the squad looking extremely large and disjointed, Urwin has opted to revert to a 4-1-4-1 system. The system can be implemented into the next three friendly fixtures and can give Urwin a better idea of his starting lineup to work around the league rules.
Success in the first friendly as Negeri won 2-1 over ATM with a double from want-out French striker Jonathan Behe. Unfortunately a classic case of one step forward two steps back, with Negeri losing 3-0 in the second friendly against Felda. Urwin really needs to get the trust of his new players and fast.
Next Chapter:
Will Urwin be able to turn the form around of the fragmented Malaysian side? Can he earn the respect of his newly inherited side? Find out in chapter three.