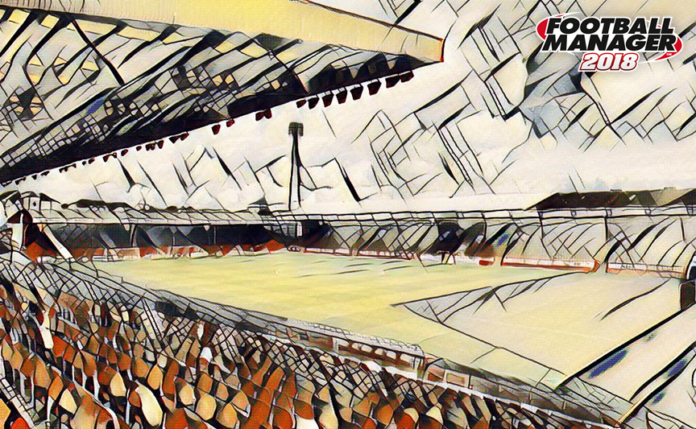 The SPL has a perfectly timed winter break for a mid-season update. It's weird playing the same teams, but oddly motivating because if you want to pull away from the teams around you then it's up to you to beat them again and again. If you don't win those games then you'll struggle and you can only blame yourself. So how are my aims for the season going? As always, see snippets and teasers on my Twitter account – @FM_Henke. Also, if you missed the first episode then catch up HERE.
Tartan Army On Tour
Europa League – (Group Stage)

It was comfortable as expected against the Maltese side and we had a decent performance against Freiburg too. For a short while, I thought we were going to grab a second away goal and go through but it wasn't to be. We'll take the money, and hope for better luck next year! Groups were never realistic…
St. Johnstone managed to lose to Vasas SC in the 2nd qualification round, whilst Rangers beat Midtjylland before falling admirably Bilbao in the playoff. Thankfully, Celtic made it to the Champions League group stage and finished third in a group with Barcelona, Chelsea and Olympiakos. They will face Besiktas in the Europa League last 32. We'll be cheering for them to raise our coefficient!
The League
The SPL – EL Qualification (3rd)
After 21 games our results have been as follows: (plus 1-0 over Hamilton at home in the first game, which has been chopped off)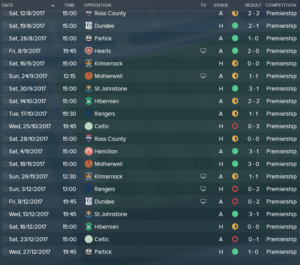 I'm happy with that, there's decent consistency. It has been good enough so far to put us in third place which is in line with expectations. We started very, very well with 10 games unbeaten until we faced Celtic who is silly good. A point away at Ibrox was nice, but we need to be giving the Old Firm more of a game. The real Aberdeen team is struggling in those games and I can see why. We seem to have gone off the boil a little bit in the last section but 3 of those 4 losses are against the OF. 7 games without scoring is a little worry but we are creating chances – just not always consistently finishing them. I'll try and get the confidence back up over the winter break and hit the next 12 games before the split hard. There's also a Scottish Cup game away at Hamilton coming up which is a potential banana skin.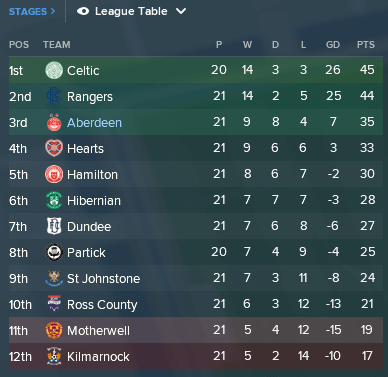 League Cup  – (Semi-Final)
As we represent Scotland in Europe, we skip the first round group games and enter the last 16. A resounding win over Partick was not followed up at Ibrox and we fall one round short of our target. The board were quite negative about our competition targets so far, but what do you expect when you don't set realistic targets? Better luck needed when the Scottish Cup starts next month.
Youth Watch
You don't win anything with kids! In this type of game youth development has to come at the expense of all other aspects otherwise I'll fail. In the introduction, I introduced a few of our burgeoning talents. I need to mould these rough diamonds into valuable first team starlets through training, tutoring and game time.
We haven't had many easy games so I've been slow on giving them minutes – it's the winning pressure! They have made a combined total of 12 starts with Scott Wright being a well-used sub (but too late in games). This needs to change or they'll stagnate. They only get a game if we are in the midst of heavy fixture congestion so I'm considering loaning one or two out for the second half of the season – or I could be braver in my team selections!
Tutoring is in progress with most players going into their second phase. McKenna especially is progressing nicely. We have a few mentally strong players in Reynolds, Shinnie and Rogers who will be vital in passing on that winning mentality.
Manager's Office
The board are still slightly unhappy with me, as is the dressing room, which I think is harsh. I've moved all of my transfer budget into wages to try and steal a bit more board confidence. Sneaky.
I'm dreading the day that Christie goes back to Celtic but I'm also going to miss Stewart and Ball. I need to work out a way of coping without them next season because it's going to be tough. Scott Wright and Frank Ross are just that little bit raw!
It seems a little negative but I'm really enjoying the challenge of this so far. I've had lots of game time and good fun. It's going to be a bit tense holding off that chasing pack of Hearts, Hamilton, Hibs and Dundee but in the next 6 games we play 3 of those plus Hamilton again in the cup. See what I mean about it being oddly motivating playing those same teams around you? I'll be back as the curtain falls on the SPL, will we hold onto 3rd place?