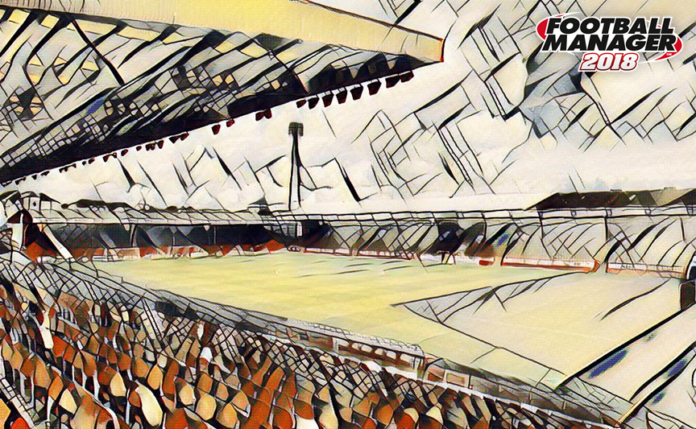 FM18 has been an interesting one so far. There's been bucket loads of enjoyment and effort with no real silverware or longevity. This is partly due to my obsessions/ projects of tracking players' statistics or keeping a meticulous eye on finances, which are very time-consuming. However, for this game I'll be primarily focusing on youth development. This will speed up the game by removing scouting and also tap into my current football reading, which is centred on famed youth academies such as Athletic Bilbao and Sporting Lisbon. Follow me and my future projects on Twitter – @FM_Henke.
For this challenge, I'll be taking over at Aberdeen FC and relying on my youth academy for players. Bilbao, Ajax and the likes do rely on feeder clubs and scouting, but my aim is to be completely self-sufficient through my intakes. To add an interesting sub-plot, Aberdeen is heavily rumoured to be moving away from Pittodrie into a new stadium. A secondary aim of this game is to oversee the move in a responsible way, a la Wenger and Arsenal's move to the Emirates.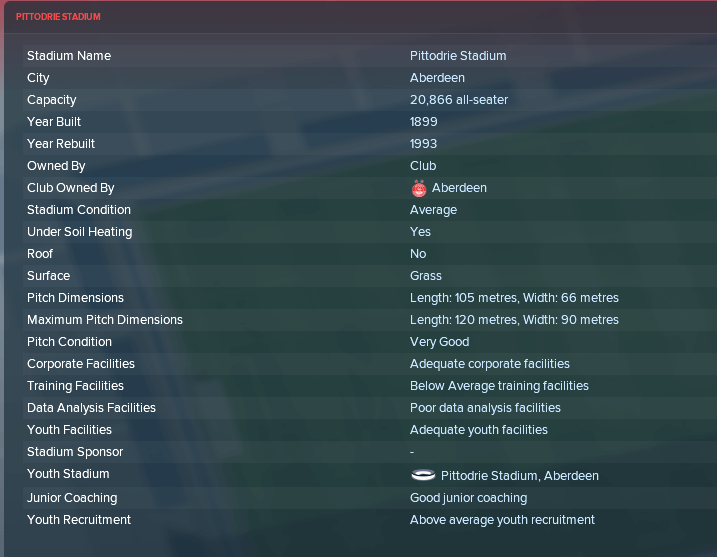 Facilities are the most important part of this save and an area that needs some TLC. Pittodrie is crumbling and is being left behind as football becomes more modernised. I read recently that the players never know where they are training until the morning in-case their training pitches are frosty or waterlogged. That's staggering for a top-flight side. I will use surplus cash to improve those facilities quickly, or we'll never catch the Old Firm.
Youth Watch
Here is a selection of the brightest talents on the books.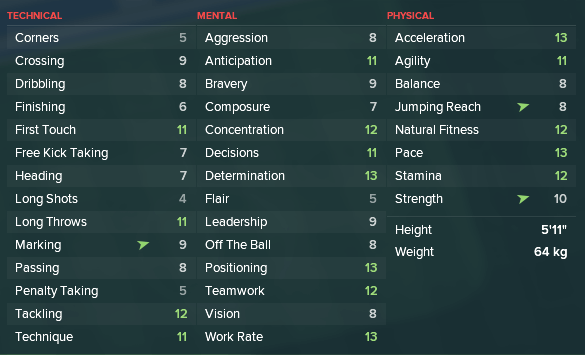 Scott McKenna (DC)

Frank Ross (AMR/MC/AMC)

Dean Campbell (DM)
Scott Wright (AML/STC)
They all have the potential to be very important players and I will need to phase them in alongside the current regulars as I bring through the next generation. I won't catch the OF with these though.
As mentioned, I will be focusing on developing the talents that I do have and those that come through. I will be doing this in a way that promotes the philosophy that I'm trying to implement. This will take a few seasons because I don't have those quality youth players to build around yet. In the first few seasons I will be playing to my means utilising the players that I have, then slowly phasing my philosophy in. My preferred style is aggressive, intelligent pressing with strong ball control. To do this my players will need to be mentally, physically, technically strong. This approach is very common in the major youth factories on the Continent such as Holland, Portugal and Spain. This will come from surrounding my players with strong personalities and then tutoring those that need to buy into our mental state. There will be a strong focus on facility upgrades and giving my youngsters broad training regimes to produce versatile, total footballers. Finally, if you are good enough then you are old enough. Young players will get plenty of chances to boost their progression. There will be more on this later when I actually have some prospects that can be moulded!
Expectations
The Dons have emerged as the third best team in Scotland in recent years, a sort of 'best of the rest'. This is replicated by the board expectations for the season ahead, but I'll have to be wary of being challenged by a team or two for that third spot.
Scottish Premier League – 3rd place (EL qualification)
No arguments here, I expect Celtic to run away with it. It will be interesting to see where Rangers are and if we can match them. As always in the SPL I will have to be wary of one-season-wonders spoiling the party.
Scottish and League Cup – Semi-Finals
Seems daunting, especially with the double focus. The aim for the near future has to be a Hampden visit and to come away with some silver though. Bit of potluck this season and I'd need a good draw.
Europa League – Group Stage
Laughable, really. We start in the second qualification round and should play a minnow but from there we will be unseeded and could face some very big teams. Let's not embarrass ourselves…
This has just been a quick introduction to what this game is going to be like. I'll be back soon with a slightly longer than usual half-way report when we play some fitba!!