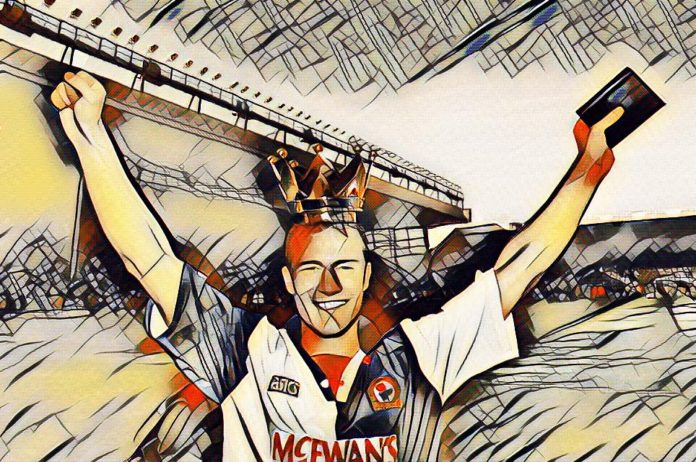 In recent weeks, there's been much speculation surrounding Blackburn Manager Luke Phelps, and his commitment to the club. But the 22-year-old responded to his critics this week:
"First of all I'd like to apologise to the fans and the staff for my actions over the past month or so. There's been a lot going on in my personal life, which has meant my head has been elsewhere. But I'd like come out and say publically that I am 100% committed to this job. My task is to make this team great again and we're half way to doing that – I will finish what I started."
And so the journey resumes in mid-February, Valentine's Day to be precise. Last time out was that dramatic Lancashire derby against Burnley where were beaten in the end, but only on penalties. Remaining in the month were 3 tricky fixtures against Bristol City, Wolves and Newcastle United.
We had been loitering around the automatic places for some time now, as our form continued to be matched by that of Middlesbrough and Newcastle. The visit of mid-table Bristol was a nice fixture to get us back in the swing of things after our Cup exit, and a routine 2-0 win was on the cards – temporarily lifting us into 2nd place and Newcastle weren't playing.
Wolves was a similar story, running away with all three points in a 3-1 win courtesy of Dominic Samuel and Ben Gladwin. Newcastle had caught up on their fixtures and found back-to-back wins themselves, keeping them a point ahead in 2nd. But next we would lock horns against the Toon, and the winner would claim 2nd place in the table in one of our biggest fixtures of the season so far.
Goals from Samuel and James Wilson gave us a much deserved 2-0 lead at half-time, but Rafa, as we know, is the half-time team-talk expert and was level by the hour mark with goals from Dwight Gayle and Mitrovic.
The turning point if the game though came on 72 minutes when United defender Ciaran Clark was shown a second yellow for what I can only assume was descent. With the man advantage we decided to take the game to Newcastle and with 5 remaining, midfielder Bradley Dack struck low for the win – pushing us into 2nd place.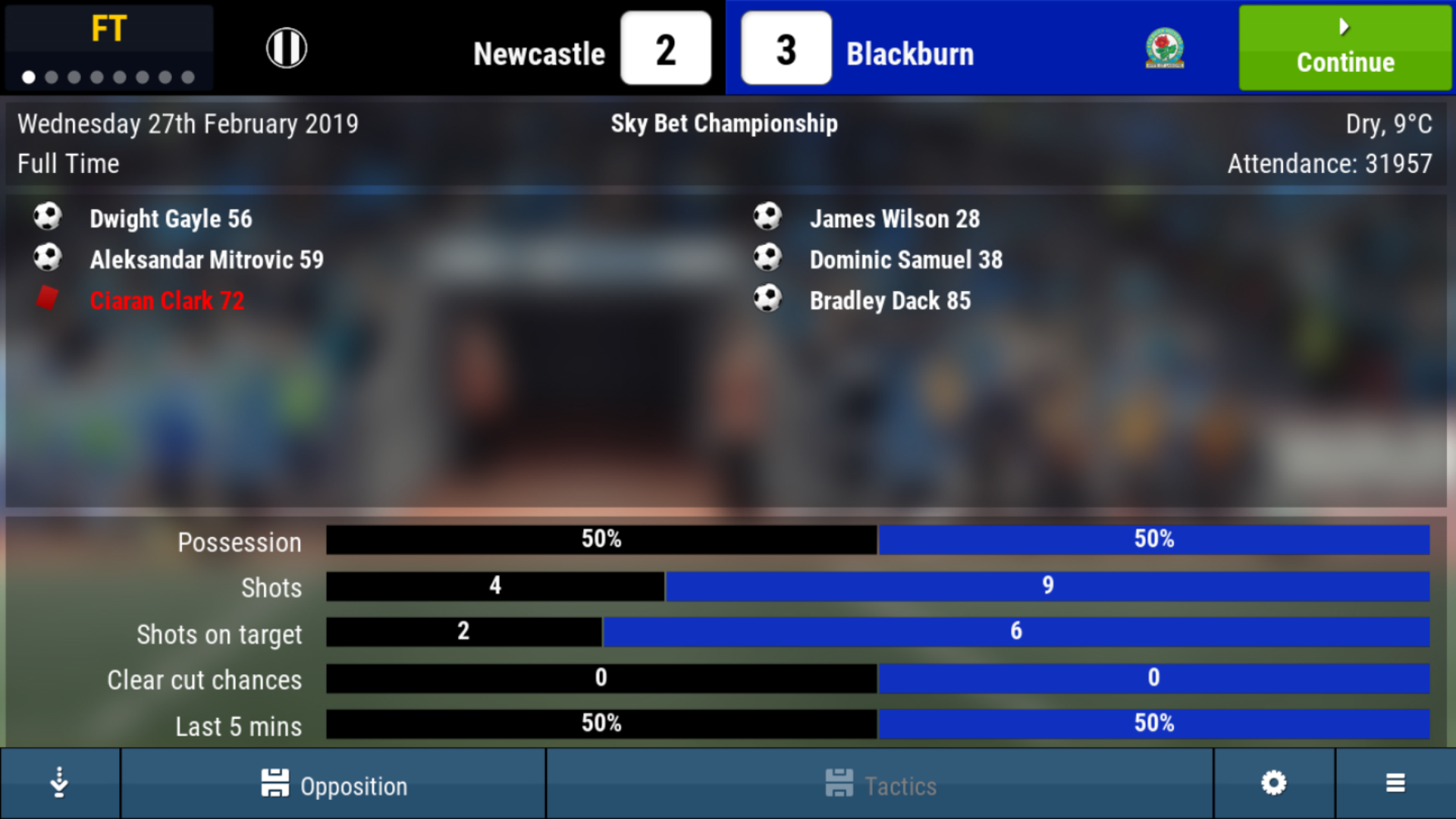 After a weeks break we faced another tough opponent in play-off hopefuls Derby County. It was one of our biggest losses to date and after such a heroic performance at St James' Park, I was bitterly disappointed with this one.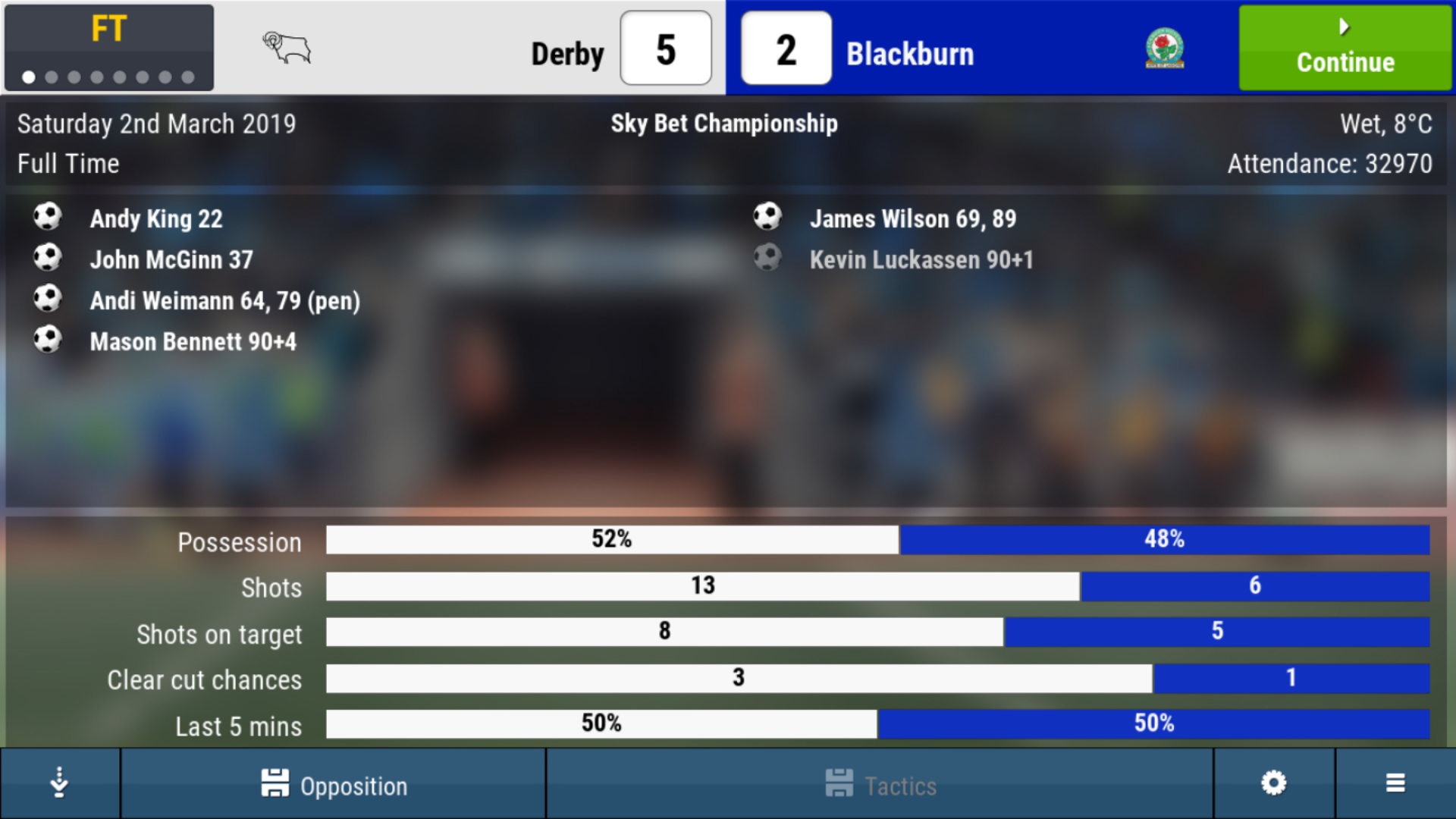 But next, we had a strong of 5 games and 5 wins, which for the first time in the season lifted us above Middlesbrough to the top of the Championship.
Wins came and QPR and Hull before narrow home wins against Brentford and Millwall, with on-loan James Wilson scoring 7 in those games. The fifth fixture was by far the biggest game of our season, as we again travelled to the north east, but this time to face Middlesbrough in a classic 1st v 2nd encounter.
Both teams were tied on 75 points before the game, Boro though had the goal advantage. We started the game positively and went into half-time at 1-1 after Wilson converted from the spot for the early lead. The second half was back and forth but it was we who rose victorious, when the king of late winners Bradley Dack netted for the 2-1 victory in the 87th minute, lifting us to the top of the table for the first time in the season.
So with 7 games of the season remaining, I was 3 points ahead of Boro in 2nd and 7 ahead of Newcastle.
The run into the end of the season was a kind one, facing just one of the top 6 and 3 of the bottom 5. First, we hosted Scunthorpe United and cruised through to a 4-0 victory with a hat-trick for James Wilson. Then we travelled to Burton to claim a 2-0 victory before making the short journey to Oldham, where a Richie Smallwood brace helped us to a 3-2 victory.
Boro had suffered a bad vein of form, stemming from our victory at the Riverside last month. Aitor Karanka's team had drawn 2 games and lost 1 since we meet, leaving them far adrift.
Our next game was the first opportunity for us to claim the title. We hosted Fulham and after naming a full strength team with Liam Lindsay returning from injury, I was hopeful of sealing the deal in front of our home fans.
Despite having a goal lead for almost 80 minutes, and last minute orbalty conceded by keeper Bailey Peacock-Farrell meant we had to wait for the title, but it was not long until we were presented with another chance.
Next up was a trip to my local club, Sheffield United. Commuting to Ewood Park every other weekend has its strains so to make the short journey to Bramall Lane was a welcome treat. Again I was able to make a full-strength squad and went into the game full of confidence in my boys.
This game was reflective of our season – we had found a way of breaking teams down that works for us. We line up in a 5-3-2 which isn't so often employed at this level of football, but all season my full backs had been doing bits and it was Cyrus Christie who opened the scoring for us on 20.
Dominic Samuel added a 2nd before the break before James Wilson headed home a third late on, to seal the victory and promotion to the Premier League.
Speaking after the game, Blackburn manager Luke Phelps said:
"I'm absolutely thrilled to be taking this team to the Premier League. When I took over 2 seasons ago I had no idea that we would come this far this quick. Back-to-back promotions is nothing less than a miracle, but there's no doubting that this team has earned the right to play in the top level."
After taking the boys out for a night on Sheffield's tiles, we saw off the remaining games before coming into summer. Having returned this great team to its rightful league, I now faced the task of keeping them there, and couldn't wait to get started.