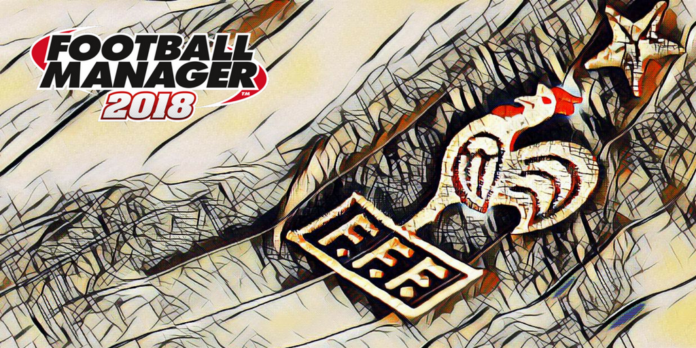 "'Do you realise we've played 15 games? That's nearly half the season gone already!' shouted Johan Micoud down the phone. Yes, of course I was aware. 15 games gone, 28 points gained. 12 more needed to make sure we stay up, though that could be considered quite a negative way of looking at it seeing we topped the table. Concarneau and Clermont Foot have a game in hand, sure, but when you open the newspaper today and check out the league table for Championnat National 1 you will see AS Cannes top of the table and that is, frankly, a bloody miracle. We're fighting against clubs that are spending up to €4.2m a year on wages – we are asking our lot to run out at the weekend because they love the game"
---
OK sure, it might also be because they believe that doing well for AS Cannes might lead to a decent full-time contract elsewhere but we cannot escape the fact that what we are doing is pretty special. Three clubs in the division spend in excess of €4m a year on wages. Nine spend between €500k and €1m. Four spend less than €500k. And then there is us, and we spend nothing. Yet, today, the league table looks like this.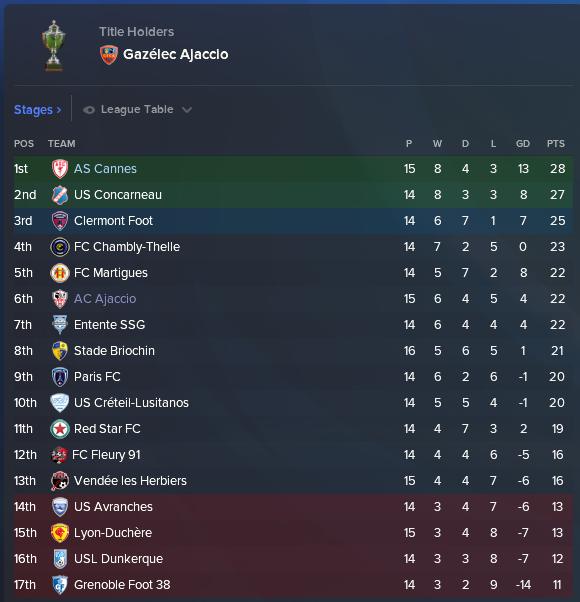 And you know what? I'm still pissed off. Pissed off at how inconsistent we have been in the last few games!
OK, inconsistent might be a touch of an exaggeration. We had a disappointing three games, losing two league games and going out of the cup. If we go back to our early season form, and there is nothing to suggest we won't, then I believe we might be there or thereabouts come the end of the season.
I've had to be pretty brutal with releasing players to keep the squad at a manageable size, whilst looking to improve it at every available opportunity.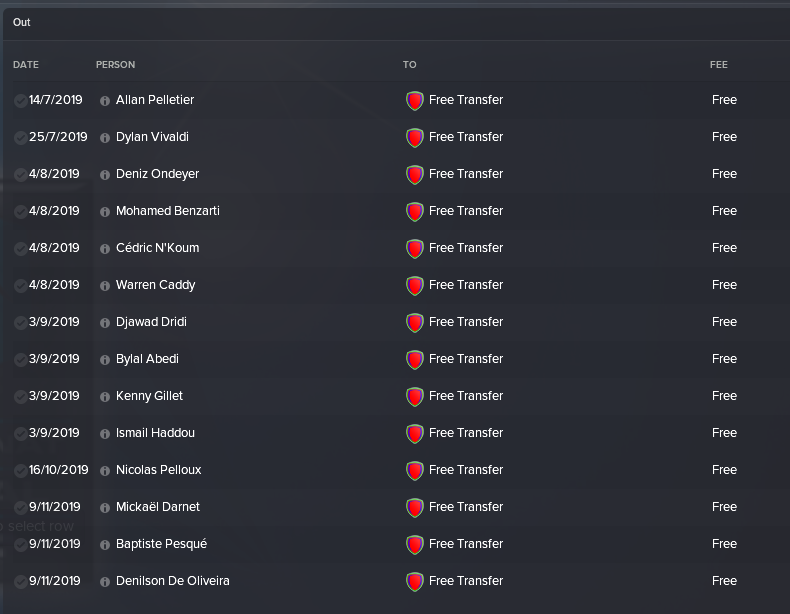 Pelloux, N'Koum, Pesque and Darnet all played big parts in getting us to where we are today but, honestly, are not good enough for this league. Everyone else released had been initially brought in as I believed they would be an upgrade and it turned out they were not – but there is no shame in this. Identify a failed signing as fast as possible, move on!
Looking at my players in list makes me realise that my recent recruitment hasn't been earth-shattering.
The only one that has completely nailed down a place in the starting XI is Hugo Hagege, a new goalkeeper. The others are kinda rotating the striker position in the hope that one of them starts to own it soon.
So this leads me to ask, can I be improving my recruitment?
The way I am having to do it right now is by taking a look at a player once he comes to us and deciding then. Because we are amateur, we have a small pool to swim in so I continue to back my theory that if the player has been released by Ligue 1 or Ligue 2 and wants to come and play for free then I should take a look.
However, now we have a critical mass of players for this season's squad I can afford to be a little bit more picky. If a player becomes interested in signing for us and appears on my shortlist then I can get him scouted before bringing him in on trial. The only time this can't really work is in the summer when I need to recruit a little faster, but I can probably tweak it again. Eventually I will be picking up players who have been released by their club and I actually know about – at the moment, I cannot employ StS as I am not investing in anything that helps me know more about players – at the moment everything is about keeping costs to a minimum and, as you can see, it is working.
---
FINANCES

Almost half-way through the season and we are operating at a minor loss of €50k or so. I have no worries about this – even if it balloons to €150k by the end of the season we will make that up in winnings from the season. Even the bottom side in this division will earn €275k and I would be amazed if we finished outside the top ten in a very, very worst case scenario. Top ten brings in a minimum of €675k.
How much longer can we get away with being amateurs? I have no idea at all.
---
PERFORMANCE
Yeah, I'm jumping around a bit – shoot me.
These are the guys averaging over 7.00 currently. As it stands, I am little cloudy over what my best XI is.

What does this tell me?
Well, the midfield makes sense – Diatta, Bangoura, Chryst and Cyril.
Albert is doing better than Thiam as the DM.
Then the average rating lies to me a bit – over the left back slot. If I was relying on the average rating only, I'd be thinking that I need to give Sommier a longer run at left back as his average rating is higher in 4 games than the guy who has been playing there most of the time. Yet, Hamache has a higher % on wins, tackles won, headers won, crosses completed and passes completed. That said, neither have been Roberto Carlos.
The other concern is that none of the strikers really stand out, which kinda links in with what I was saying earlier.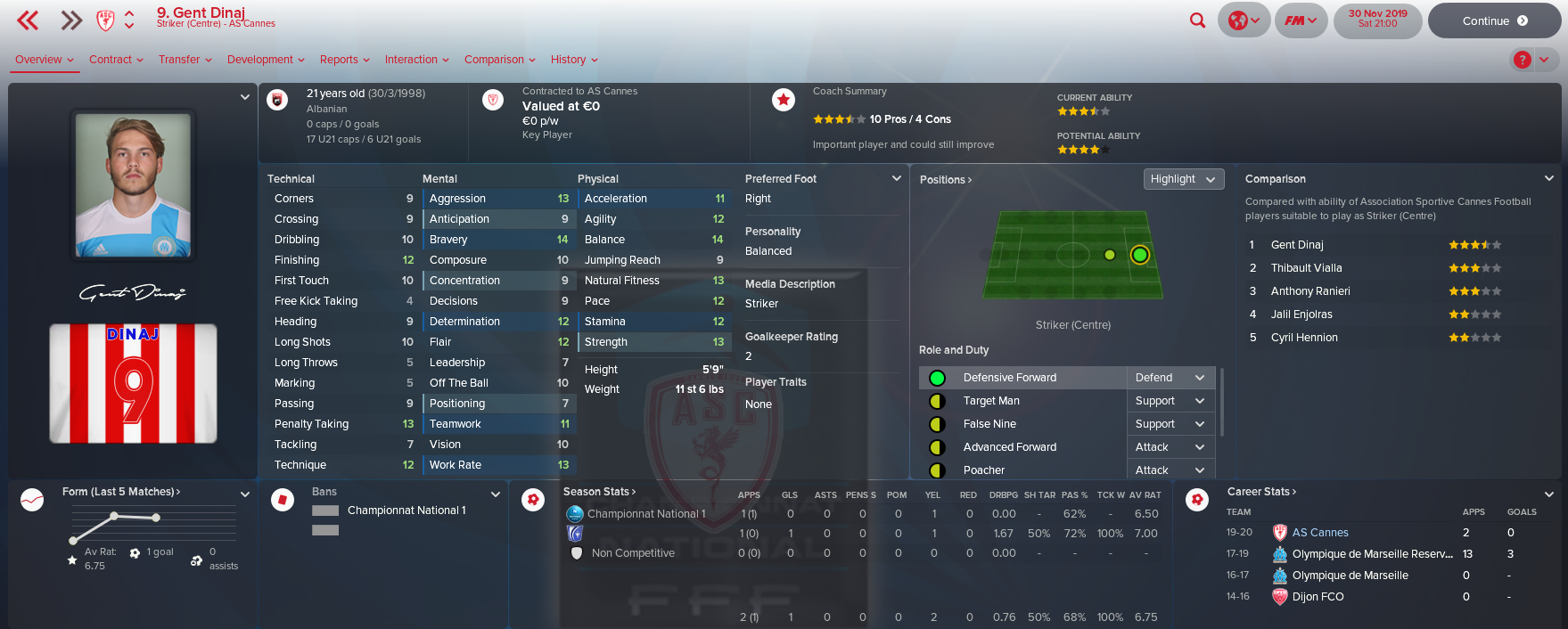 Gent is very recently signed. I'd like to think he will be good enough.
---
THE RUN-IN
Your guess is as good as mine folks, it really is. We have, um quick bit of maths, 17 games left (I think). One more match is the exact half way point. Personal history tells me that I rarely fall away completely if I am there or thereabouts at this stage but then I've never done it this way before. So I really don't know. We could win every game, we could lose every game. We'll give it a damn good shot though.