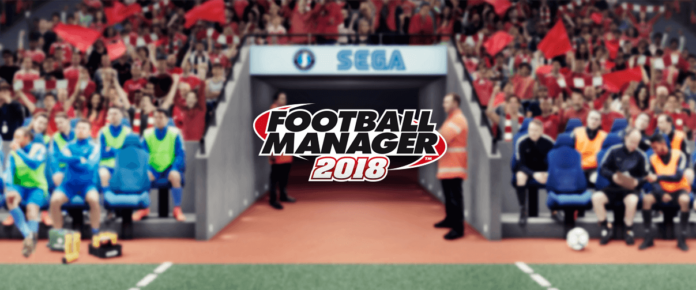 I'm sick of the MLS schedule, I really am. We've enjoyed a storming campaign but things have become a bit more difficult over the course of the summer months as my squad has been completely ravaged by international call-ups.
The U20 World Cup, Copa America, African Cup of Nations and Gold Cup saw many of our players unavailable and I was only able to postpone two matches. Without our big hitters, we understandably struggled and the US Cup exit to Sporting Kansas City was unsurprising considering the number of players we had unavailable. Honestly, it's like the MLS isn't used to actually having good players.
Anyway, I don't mean to be a grump. We are of course still leading the way and look set to clinch our conference title and the MLS Supporter's Shield for the third season in a row. Moreover, we've achieved more success. I'm managing the MLS All-Stars against Stoke and 10 of my players have been selected in the 23-man squad.
It leaves me with a bit of an issue. Do I play those I know and love or do I completely overlook them selfishly to keep them fresh for our own campaign? We shall see. I'll probably mix things up a bit although the defensive line is likely to be completely Atlanta United based.
In the end we select Philadelphia's Andre Blake in goal, LA Galaxy's Capa at left-back, Seattle's Nicolas Lodeiro and Sebastian Giovinco in attack. The rest is my squad. The issue is the tactical familiarity is minimal. I expect a drubbing for that reason alone. Imagine my surprise when we win 3-1, with Giovinco netting a brace. Another honour for my cabinet.
Tsosie has also enjoyed success, winning the Gold Cup with the USA, and I should now be set for the remainder of the season. Here's how things currently stand. As you can see, we're pretty unstoppable, those losses came due to our international absences, and there are still games in hand.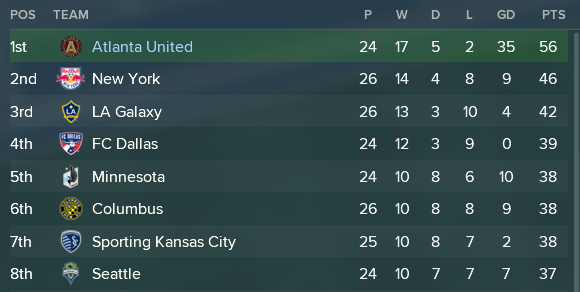 One thing I think has been particularly useful this season has been the versatility of our attacking quartet. Martinez and Toko Ekambi can both lead the line or play out wide, just like young Carleton, whilst Lucimi can play on either side or at CM, with Mathuesinho also capable of filling in wherever we require.
It means that we can keep teams on their toes without making drastic changes and it's certainly making its mark. The issue of course is European sides coming in for our big hitters. I managed to convince Matheusinho to stay and reject Boca Juniors, though he wanted a new contract, and a £7m release-clause leaves him as an easy target to secure for another side.
With our options though, I don't actually think I'd step into the market. We'd have one designated player spot available and I don't particularly think we need it in attack, due to our depth. Our midfield has also recently been bolstered by the signing of 22-year-old Argentine Juan Bautista Cascini, so it's probably in defence where I'd use that spot – although I still don't think we're crying out for it. We shall see.

By moving to Russia, his value has already soared to £11.5m. That's the sort of battle we're up against but it's the way it is. He did very well for us and I don't blame him for moving on, as Zenit have given him a frankly ridiculous £125k-a-week. We have a 30% sell-on clause too.
All eyes are now on Carleton, who follows in the footsteps of Robin Tsosie as replacing a big gun. He's just 19, has scored six MLS goals in 44 appearances and has been in-and-out of the side this season. He certainly deserves his chance.
I may look at bringing in an American international as a designated player for next season but I've got plenty of time until that comes around. For now, we've got to focus on the final ten games of our season.
I'll see you for the play-offs!