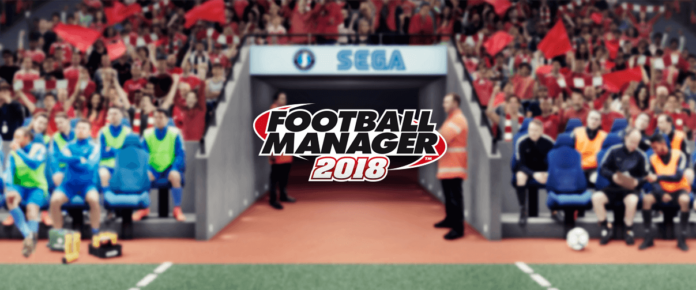 The international adventure in charge of the USMNT didn't go to plan but after a couple of months of soul searching and tactical self-discovery… Okay, that's a load of crap. I was moving and working, not playing FM18. Anyway, I'm back after a spell tinkering with Hearts on a personal save to give a go to rebuilding an old German team and seeing if I can get them over that last hurdle to win it all.
Because Damon McKnight is a poor manager and has lost the respect of the FM18 international management community, I'm calling in Dirk van Oortveld to take over MSV Duisburg in 2. Bundesliga. Van Oortveld is a fictitious Dutch-New Zealand manager I had back in FM16 during a successful-ish spell in England, and he's taking off for the mainland because he never got that Chelsea job.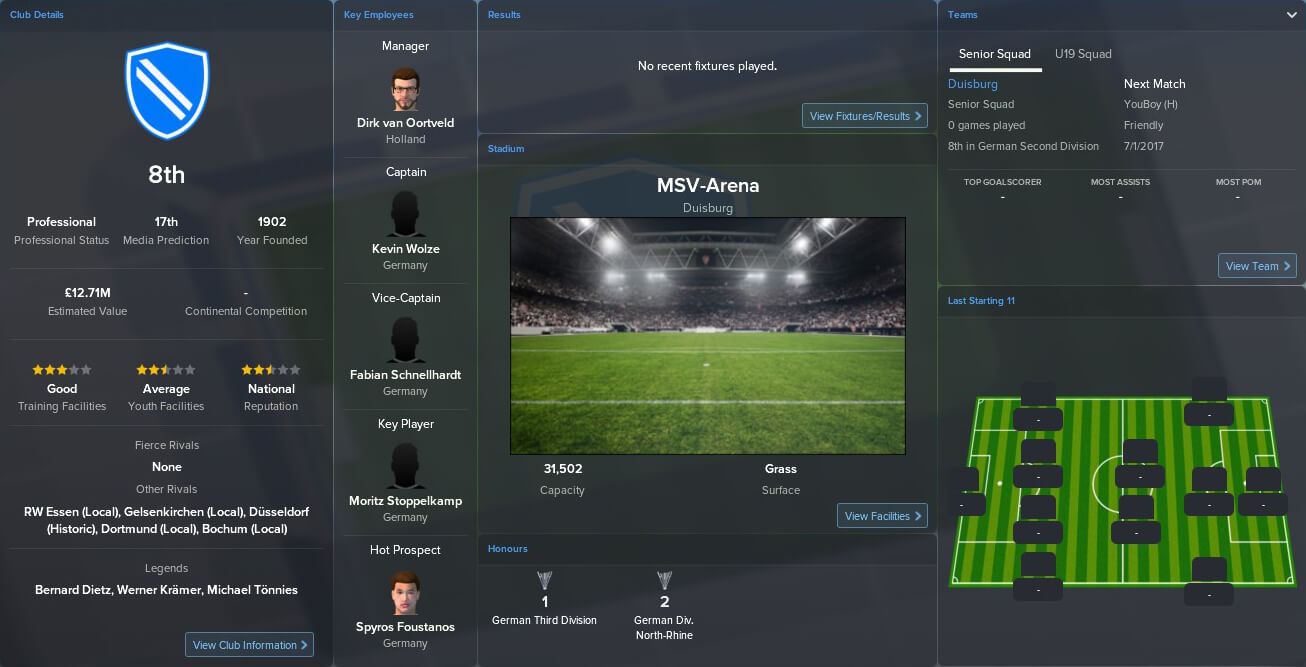 MSV Duisburg, die Zebras, are a 2. Bundesliga team that was recently promoted from the third division. I stumbled across them by accident the other day and I saw a challenge I had to take. These guys are a yo-yo team, having spent 8 of the last 13 years either promoting or relegating between the top three divisions, as seen in the league history shown here.
They also have a history of only being second best, as seen in the image below. With any luck, Dirk van Oortveld will be up to the challenge and will be able to help Duisburg get their s*** together and push them over the top to finally win something major.

Financially, the club has a couple of million in the bank, but not quite enough to be worth asking for facility investments right away when you consider spending over the season and needing to stay solvent.
We also are spending €116,000 of our €120,000 budget, with a €50,000 transfer budget available. There's not a whole lot of room to make big signings at the moment, but I reckon we can work with what we've got for at least a little bit. Ideally, I like to give my existing players a chance to impress before making major transfers, so unless I get a seriously generous offer on a player, I'm not going to try making any major moves in the transfer window.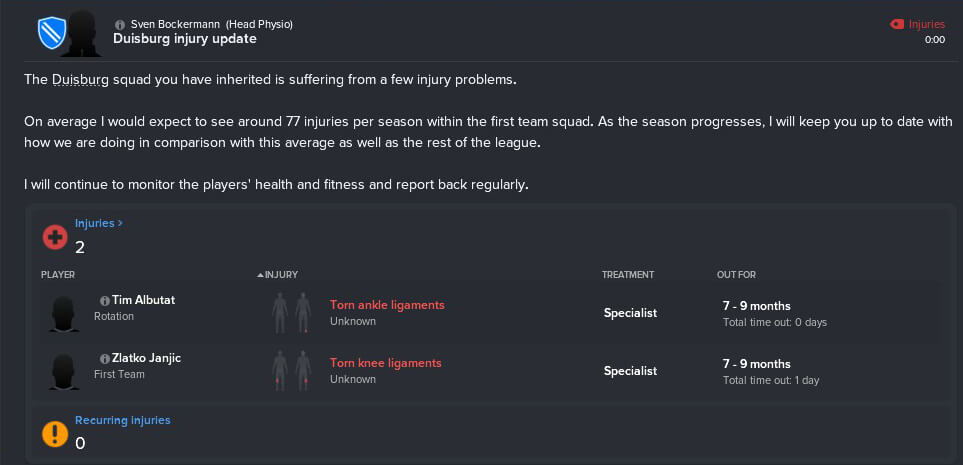 I've inherited a squad with two major injuries. Albutat and Janjic are both out for 7-9 months with torn ligaments that require specialist treatment.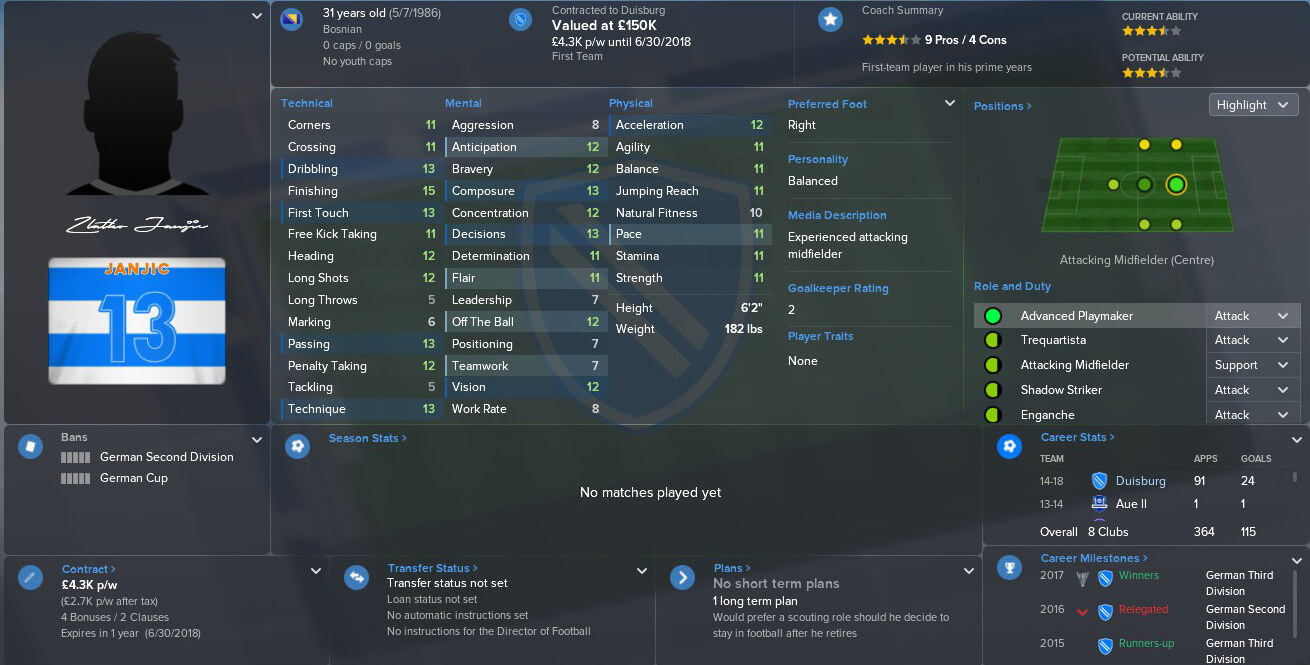 Taking a look at Janjic, while a bit older at 31, he's a versatile midfielder who's all-around an alright looking guy in my opinion. He's rated as one of the best in the team, so he's probably going to be missed in my midfield. At least it gives a youngster some time to shine. At 31 years old, he's going to be replaced sooner rather than later, if I can find a good deal on a younger player.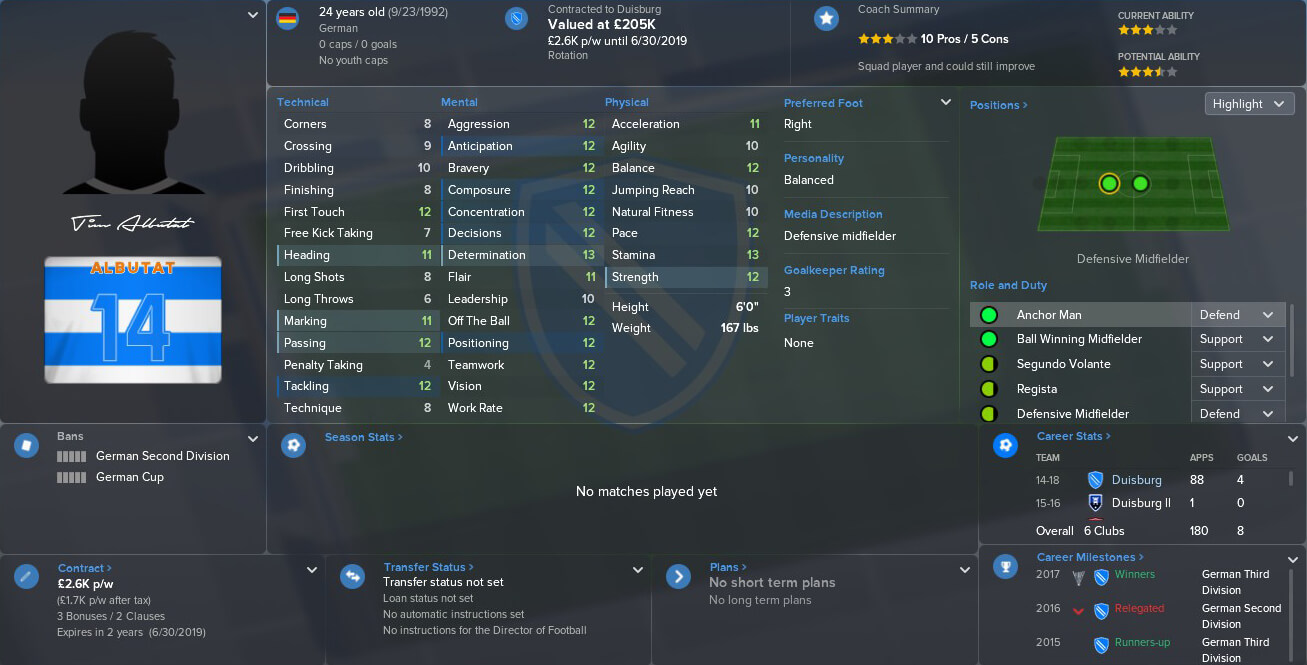 Albutat is another midfielder. He's certainly lacking in some places compared to Janjic and a few not-injured players on the team, but he's still a solid guy, though my staff rates him as not having much room left to grow in potential. When he's back from injury, I'm prepared to give him a chance to see what he can do, though.
This was a bit of a shorter entry compared to what's coming, but I knew that getting into the team and staff overview would be a long post of its own, so in the next update, I'll go over the players at my disposal, think of some kind of formation to employ them in, and we'll take a look at the pre-season.