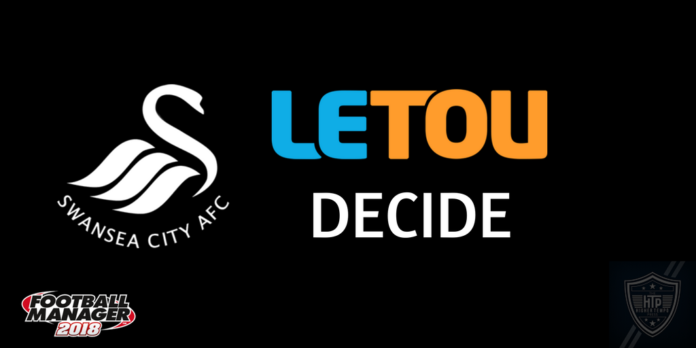 Welcome to another week of the #LetouDecide project here on The Higher Tempo. This weekend our Swansea side played well to defeat Stoke City but I'm a little miffed that the press are referring to a 'rearguard action', which is a tad unfair considering that I thought we were Stoke's equal.

Stoke have been flying high in the Premier League this season and remain in eighth place so not only matching them but beating Mark Hughes' side is a significant result as far as I'm concerned.
How did we win?
Very simply, wing play.
I'm now starting to think I am the most tactically aware manager in the league, thinking about our record since I was parachuted in and the transformation of players like Nathan Dyer, who was practically bombed out under Stuart Reid. I don't think Stuart went as far as to deny Nathan a locker and a shirt number but he hadn't made a single appearance.
In truth, it wasn't a great game to watch with only three clear-cut chances created between us.
The first goal was a result of a cross, Josh Tymon bringing down Tammy Abraham in the Stoke penalty box to give us a penalty, which Jordan Ayew dispatched with aplomb. Our second goal was the result of Tom Carroll's free-kick and Dyer made himself free at the back post to prod home.
Wayne Routledge continued his return from injury with some minutes, Andy King took a knock but Leroy Fer covered well and your selection of Mael Davies at right-back proved successful as he didn't let us down.
My interpretation of Stoke's team was a little off, considering they started Sobhi at left wing instead of Choupo-Moting as I suggested. The substitution of Xherdan Shaqiri, Stoke's best player, was puzzling and Raúl Ruidíaz hardly made an impact.
Our next game comes at the weekend when we play West Ham United in London, that's another side exceeding expectations as they are fifth, within touching distance of Champions League qualification. Before that, there is a crucial fixture between Watford and Newcastle for Monday Night Football. If Watford (down in 19th) can win, that puts clear daylight between us and the Toon Army. I'll let you know how it goes tomorrow.