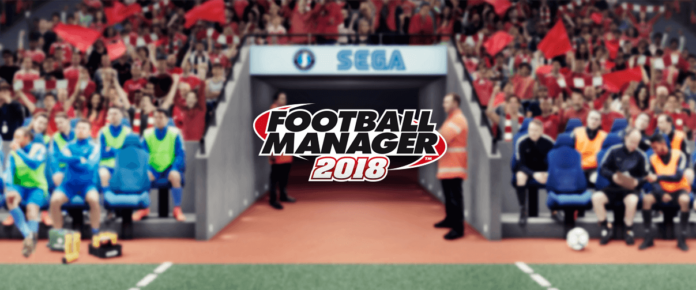 Howdy folks, welcome to our new adventure. Yeehaw! What, nobody talks like that? Yeah, I was joking. I obviously knew that. No no, that's not a cowboy hat in my hands and I definitely didn't arrive here in a pick-up.
Welcome friends, to my new life. After my success with Arsenal, it was time for a real challenge. Something that's more long-term, something that takes me out of my comfort zone. Europe is out of the equation, South America and Asia are considered. But it's not my destination. Instead, I'm off to the MLS and, specifically, Atlanta United.
It's worth pointing out at this stage that my knowledge of US Soccer, or US sports in general, is fairly minimal. In the NFL, I exclusively follow the Seattle Seahawks. I barely watch any other NFL team, unless it's the Superbowl. When it comes to the MLS, I promise myself at the start of every season I will follow it this year. Guess what happens? I don't.
So, I'm certainly out of my depth. I have barely any idea about trading or the drafts. I couldn't even tell you how many games I have to play this season. Heck, ask me to name an Atlanta player? Nope, not a clue. I'm a blank sheet- which is exactly why Atlanta is the ideal move for me.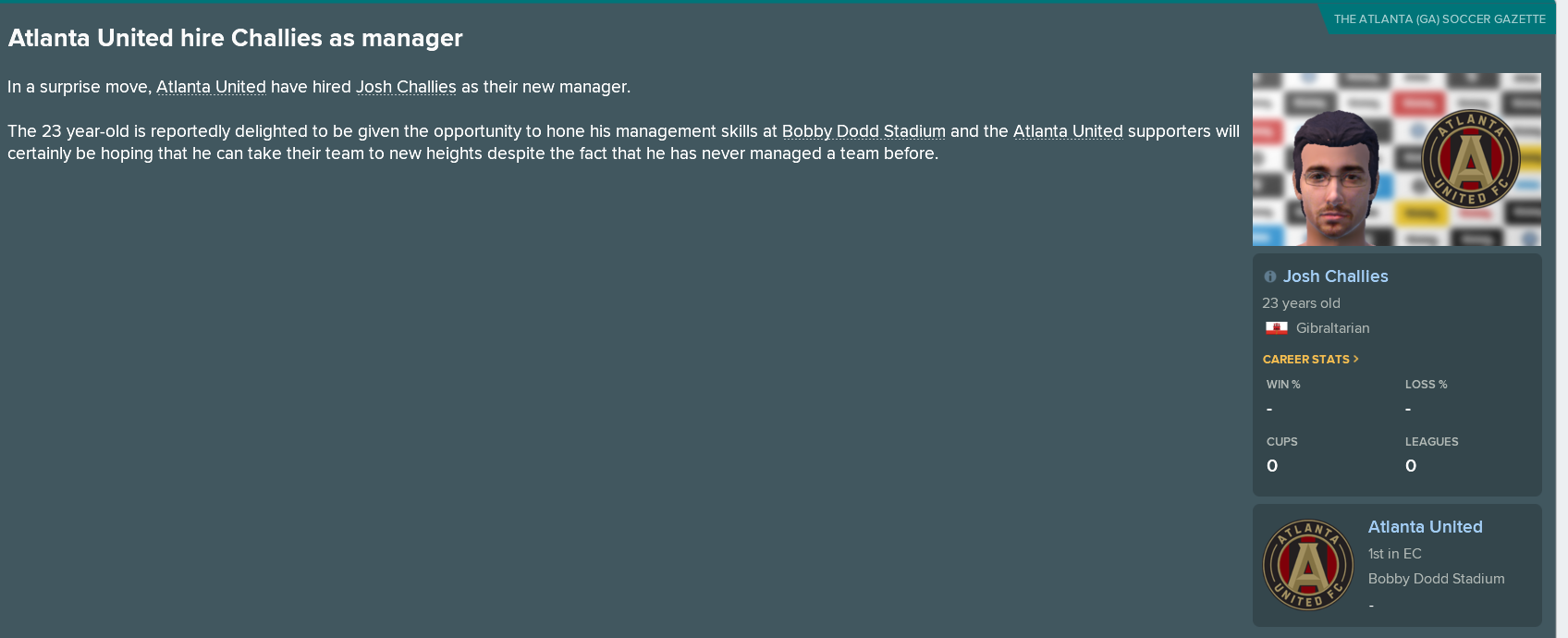 Founded in 2017, my journey in the MLS starts at the exact same time as my club. They, like me, are a blank sheet. We're the newbies. Oh, and I'm certainly given a baptism of fire. The contract system in the MLS is complex, to say the least. Generation Adidas? Designated players? Hell, I've come from Arsenal. My budget was limitless. Here, well crap.
In the squad, there's good news and bad news. Miguel Almiron and Brad Guzan are rated excellently but we have significant lack of depth outside the squad. We also have six players that can play at left-back and five that can play up front. We also lack talented youth prospects, which is a bit of a concern.
Anyway, here's my vision. First, we're going to find stability, following the classic MLS model; high profile names to boost the squad, raising our profile both nationally and globally. That is 'Phase 1' and begins instantly. I'll take a look at the squad and see which areas need improving but I do have a few ideas.
Phase 2 requires youth players, which I don't have yet. I plan to bring youngsters through and develop them, handing them plenty of opportunities and bolstering the United States national squad. Phase 3 is more ambitious, think Sebastian Giovinco. I want good players from Europe that aren't at the twilight years of their career. That, of course, is costly and takes work. Phase 4 is a bit of everything.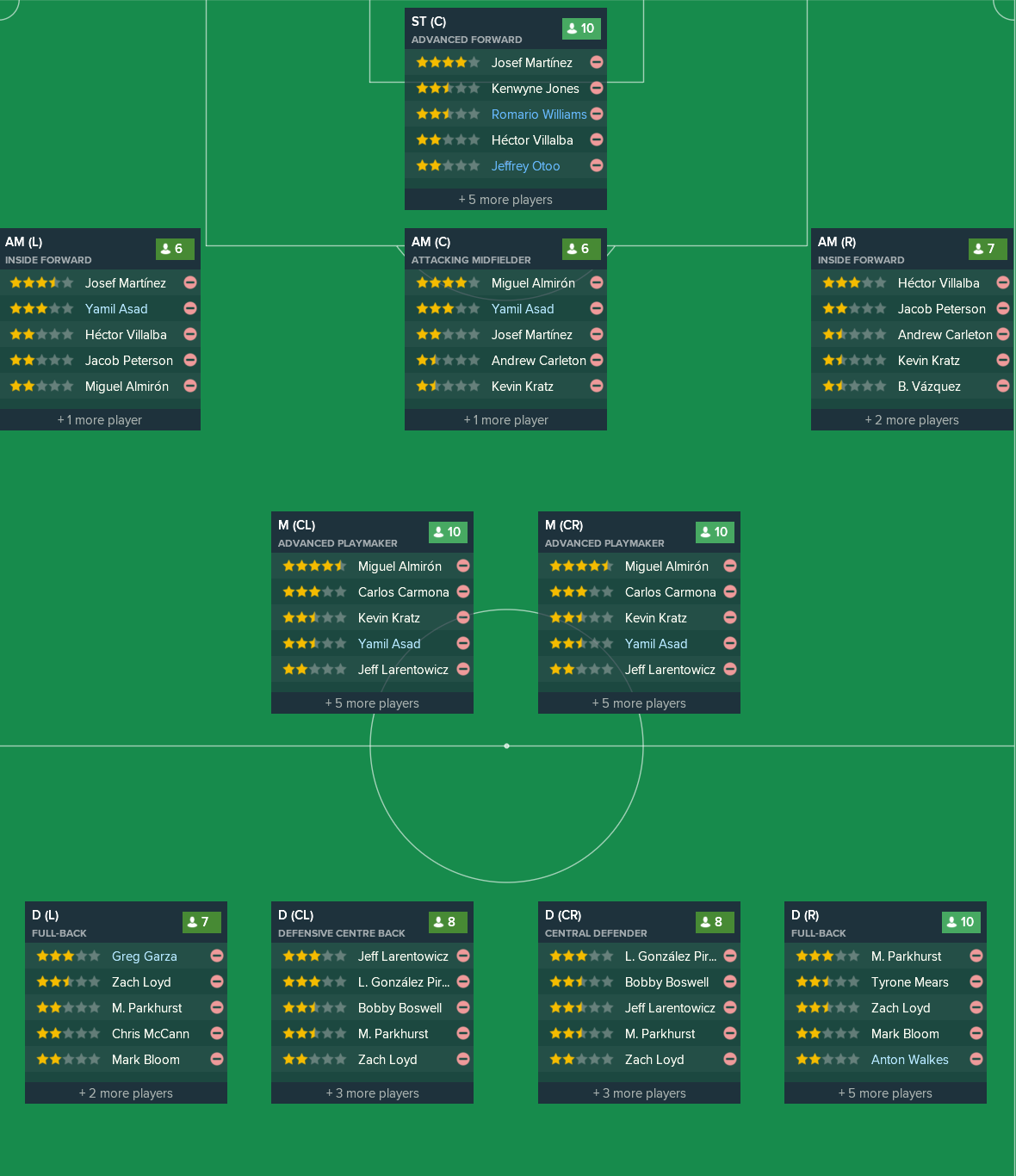 This is the situation in the squad. My shopping list isn't exactly specified but there isn't too much movement on things.  The biggest issue I have is that the squad is pretty full, as they have of course been preparing for their first season. As such, there's no room for new foreign players and I don't even have a scouting team yet. Sigh, this really is scraping the barrel.
I have, admittedly, had a bit of practice. I dived into a random save with LA Galaxy to get my head around the caps and everything else. It was disastrous, in all honesty, but I THINK I've got a grip on things now. We shall see. I hope I don't make a mess of this but, here we go- transfer time!
The targets are a new goalkeeper, as I don't fancy Guzan no matter what the reports say, a top-class centre-back and a left-winger. We'll see what becomes available though and I'm ready to make trades where necessary, having done as many as possible in my practice save to get used to it all.
I've learned, particularly as Atlanta are a new side, it's wise to stick with the 'one in, one out' strategy. With the team pretty much assembled already, I'm making a few minor moves to bolster the squad in key areas. It all depends on who or what is available though, especially with my foreign quota pretty full, which severely restricts me, and there isn't too much movement in the salary cap.

Therefore, there's minimal signings, though I did try (and fail) to make a few more changes. The two youngsters coming in from the academy are very highly rated, though they won't get too many opportunities this term, whilst Filippo De Col is a huge addition that came from a bargain price.
The Italian, 23-years-old, is valued higher than we got him for and he's rated as a very good player for us. He can still improve too, which is great, and his valuation should also rise- although financially we are very strong.
So, that's that then! I'll give you an update in a few months to let you know how we're getting on.