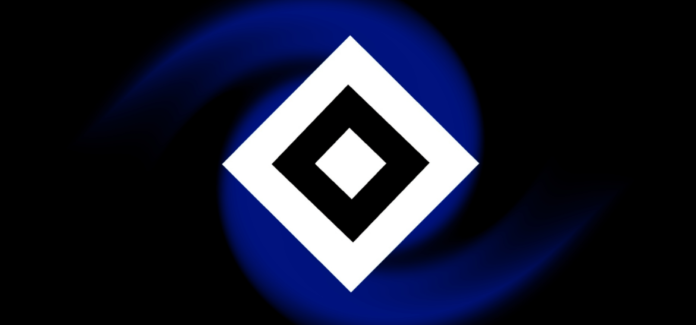 For the Hamburg part of the story so far, go here
So if you read the piece published earlier today, you'll be aware that we got promotion at the first time of asking by finishing second to Stuttgart.
What made this quite special was that we completely remodelled the squad in the summer and then January, meaning that only one player who had come down with the club the previous season was still playing by the time we regained our Bundesliga status.
How did we go about recruiting a promotion winning squad?
When I introduced the move to Hamburg I spoke about this as our recruitment battle-plan.
Players at higher rated clubs that have not achieved what they should have
Players from lesser rated territories (Oceania, Africa for example) where there would be value
Young German players from smaller clubs that the scouts rated highly
Nothing massively revolutionary there but saying it is one thing, executing it successfully is another.
So this is how we did it.

That right there is my recruitment team – all recruited by me.
The key man is our chief scout (obviously).
How did he get the job? Honestly, there was no real formula. He was available and of the people available to bring in he had the best judging attributes.
He is in charge of everything.
Why? Because I was not a fan of the scouting centre initially and soon learned that delegating responsibility was not that scary.
This is how we are set up.

As I said, everything.

I want my scouts actively finding young talent, hence me setting the focus to general/young. The Chief Scout is in charge of where the scouts go – as long as they find me people I am not that bothered where they come from. Naturally, most of them will be in and around Germany as that is where my scouts have knowledge. Our territory is Central Europe and Poland meaning if I want to be creative, I have to start to blend our approach.
Therefore, general scouting is managed by the Chief Scout leaving me free to request specific reports.
(I also keep adjusting my transfer budget to give me more scouting budget).
This initial set-up ticks off point 3 – talented young German players from smaller clubs that the scouts rate highly.
Here is a good example.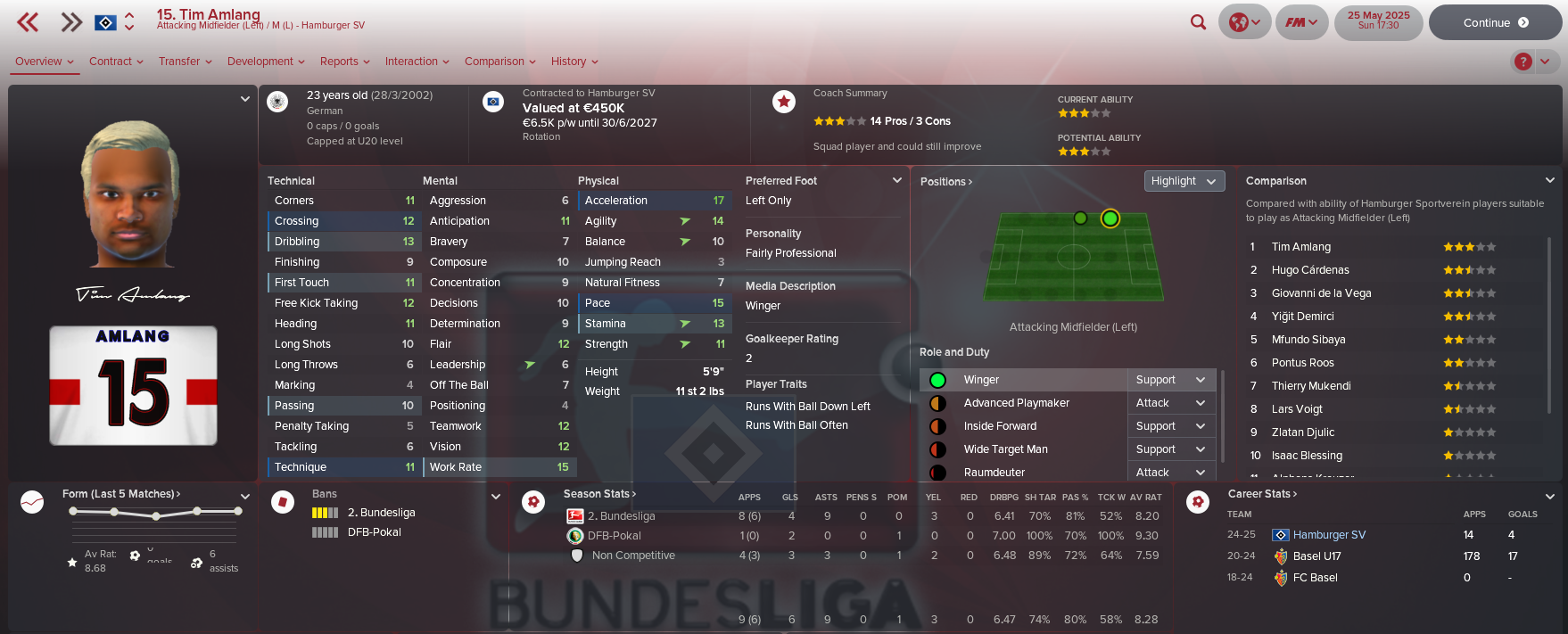 Tim was in Basel's U17 side waiting for a club to give him a chance. He'd averaged above 7.25 each season for them and was available for €400k and €6.5k a week. Considering he was being brought into potentially replace Indy Boonen who was sold for €15m and was on €60k a week this represents minimal risk. Tim finally broke into the team around the winter break and rewarded me with a goal every other game and an assist in every single game he was involved in.
In the interest of fairness, let's look at one that didn't work out as well.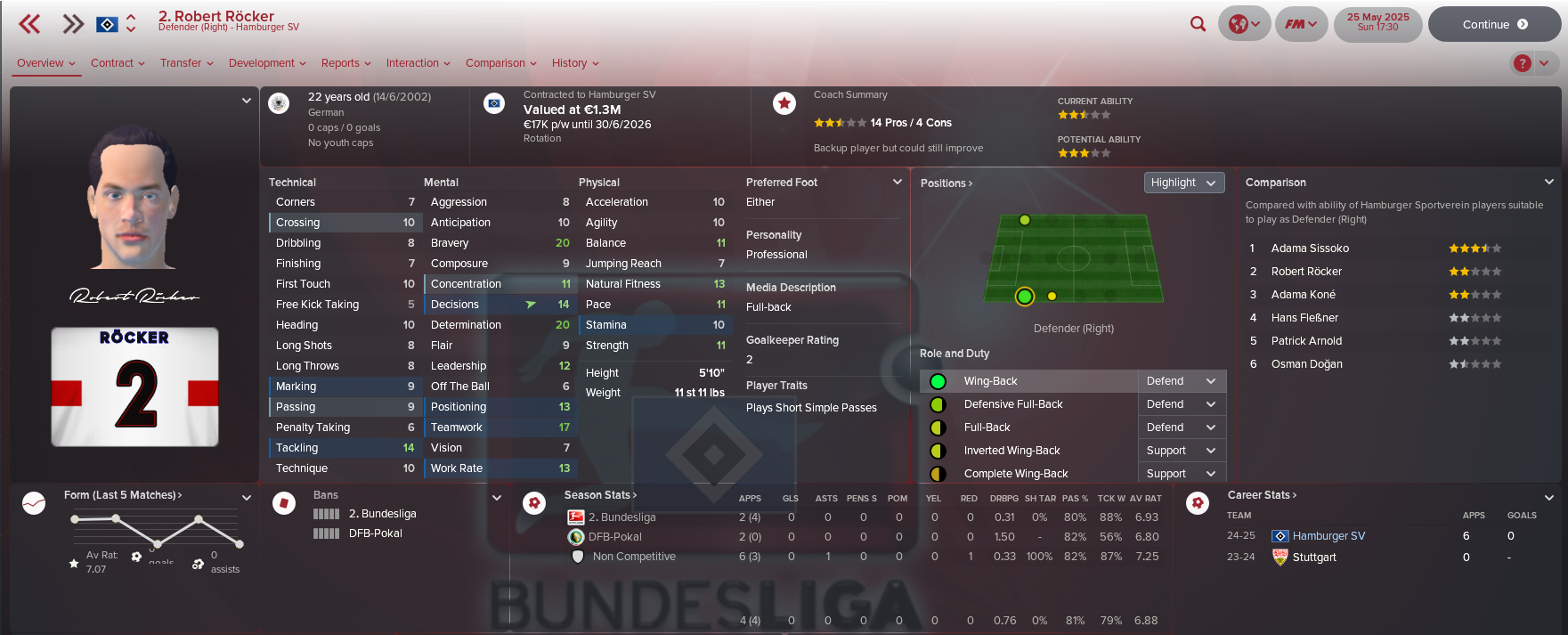 Robert Rocker was on the list at Stuttgart and the scouts rated him as being worth €3.5m and a recommendation level of 63. He was available for €2.3m, a nice drop from his actual value I felt. He was being brought in (a) to replace Gotoku Sakai who was 34, sold for €2.1m and was on €30k a week and (b) to compete with Sissoko for the right back slot – Siss had cost me €24k! So, for a total of €300k more than Sakai I was going to have two right-backs who both looked very capable competing for the shirt, rather than one ageing one on a silly contract. It's a bit harsh to even say Rocker has failed – he is 22 and didn't play much as Sissoko played 32 games, averaged 7.19 and never got injured! Rocks averaged a healthy 6.88 but never got a run in the side.
Working in reverse order – point 2 works like this (searching players from lesser territories)
I decide where I want us to unearth some gems and I send the scouts to give me individual reports on each one. My shortcut method to doing this this season was hitting every country in Africa and getting a report on every player in their youth teams and also every player aged sub-21 in their senior team. The process cost about €250k but the results were worth it when you look at the players we signed. I then would see which ones ended up with a recommendation of 60+ on the scout list and go from there.
Here's a good example of one working out very well.
Diomande was playing foe ASEC in the Ivory Coast. The scouts recommended him at 77. He'd scored 35 in 80 games as a teenager which had seen him get 1 in 3 for both his club and the Ivory Coast U20's. He'd been capped and scored for the senior side. Attributes wise he was quick, powerful, technically decent and two-footed. €350k? Again, what was there to lose seeing that I had sold 5 strikers in the summer for a total of €62m and removing €220k a week off the wage bill? Not a great deal and he certainly paid me back and covered the investment in the other three or four I brought in as options.
Finally, finding players who hadn't achieved at "bigger" clubs.
To do this I keep a close eye on the transfer list and get reports as soon as new players appear on the list.
This is how I found this lad.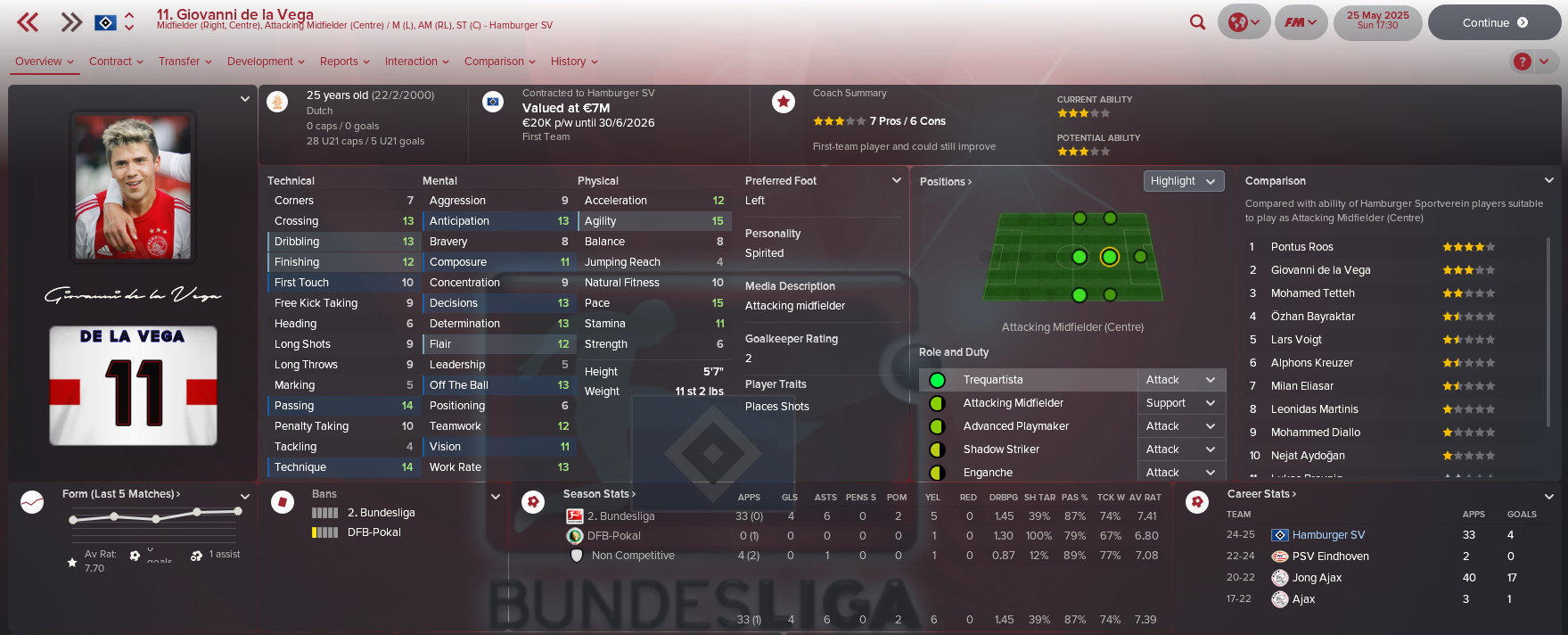 Gio had been bombed out of Ajax and wasn't much of a success for PSV by all accounts. Yet, there must have been something there for him to have been at either club in the first place. He was on the list for €3m having been allegedly worth €5m and the scouts rated him at 65. €20k a week meant he was going to be one of our bigger earners but I had a feeling he'd be a good roaming playmaker. He can dribble and he is quick so I could see him driving through the lines and creating havoc for us. His end of season stats suggest he was successful. Was €3m a risk? Well, yeah he was. But – we raised about €35m in selling central midfielders so putting 10% back in suddenly didn't feel too bad.
So these are the filters I use.

I'm looking at players aged sub-25 and on the list – as you can see there are some there without a recommendation level yet, so I will get the scouts on to them ASAP.
They will then end up on this list.

Currently, the filter is set up to show me players scouted in the last 30 days – normally I go 10 days. It's sorted by recommendation level. I'll check out each player here and decide whether it someone I feel could add something now or in the future. For example, the lad at the top is unlikely to make our shortlist as he is English and a striker. Why? Without even opening him up I know he will be overpriced when I know I can get find a striker of equal ability somewhere else in the world for a fraction of the price. Further down the list is a South African DM – I'd be able to get him for about €500k tops I reckon, so he could well be added to the shortlist.

The shortlist view – I monitor these players consistently with a mental note to check them out every time I get the monthly training reminder from my assistant. What I would love to see SI add is the ability to put this list in preference order. I manage this by keeping a close eye on players where I feel we are weak or players where I feel we might be losing a player but generally I want to have two or three options for every position on there eventually – that takes me time though.
Final decisions are made from a blended approach of StS (checking their stats relevant to their position), the scout opinion and the mental/physical attributes.
I think I've covered everything to do with how we put this promotion winning squad together. Feel free to ask about anything you might feel I have missed!