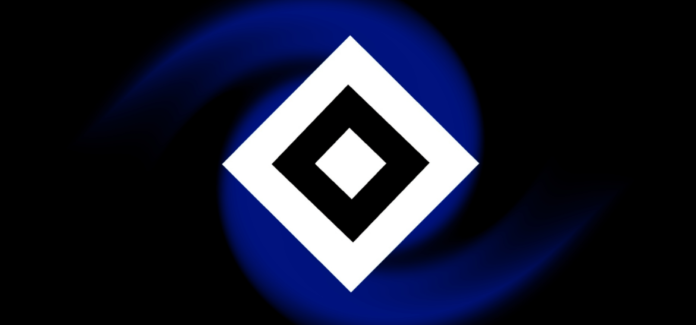 For the Hamburg part of the story so far, go here
It's been a while since I've written an almost whole season roundup, so here we go.
I'll break it into the following parts.
How we did (as in, do I still have a job?)
How we are recruiting
How we are training
Any other business
---
How we did
When we last spoke, Hamburg were sitting in 4th place after 10 games in the 2.Bundesliga season. Stuttgart and Kaiserslauten shared top spot, Hannover were third and Union were right in the mix.
At Hamburg, considering it was a brand new squad with a brand new technical team we were doing OK. The board had demanded promotion by winning the league, but we all knew they'd accept just getting back into the Bundesliga at the first time of asking. With just under a third of the season gone we were five points back, which I was more than happy with as the whole squad were still finding their feet.

Little did I know, but some of the early protagonists were not likely to see the whole season out – Swiderski would soon want to move and Manuel Schmidt, despite getting seven goals, slipped down the pecking order. Our initial skipper, Hanko, was sold after we fell out.
Hannover beat us in consecutive matchdays, knocking us out of the Pokal and going ahead of us in the league. That appeared to be the kick-start we needed as we flew through to the winter break scoring more than two goals in every game. However, the matches with Furth and Sandhausen saw us throw away two-goal leads in both matches, making the transfer window activity massively important. Everything clicked against bottom club Aue and safe in the knowledge of who I'd be adding in January, I was feeling confident that momentum was going to carry us through. Promotion was feeling likely. I've been here once or twice in my life, I know what it smells like.
January meant transfer activity – I will go into more detail about how we did it all in the next section, but these were the end results.

I've left the top two in there, as I don't think I've announced the fact I signed three players from Mumbai over the course of the season. Shanks and Dane joined in September and were immediately loaned back to India – they will be part of next season's squad I hope.
As I said, Hanno's backchat saw him bombed out to Eintracht. Kokkinis was a bad signing by me, he was nowhere near the standard required so has gone to Fortuna to prove me wrong.
Swiderski, as I said, wanted out. He came to me demanding a move to Stuttgart and my policy has always been to move an unhappy player on as quickly as possible – I felt €6.5m upfront was a decent sum considering I had a good replacement already at the club in Bangoura.
Finally, I didn't feel the Oman international Lucas was quite ready for us yet so he went out to Nurnberg to develop a bit more.
All that would suggest we didn't need much in the way of signings, right? Wrong. I went a bit crazy shopper.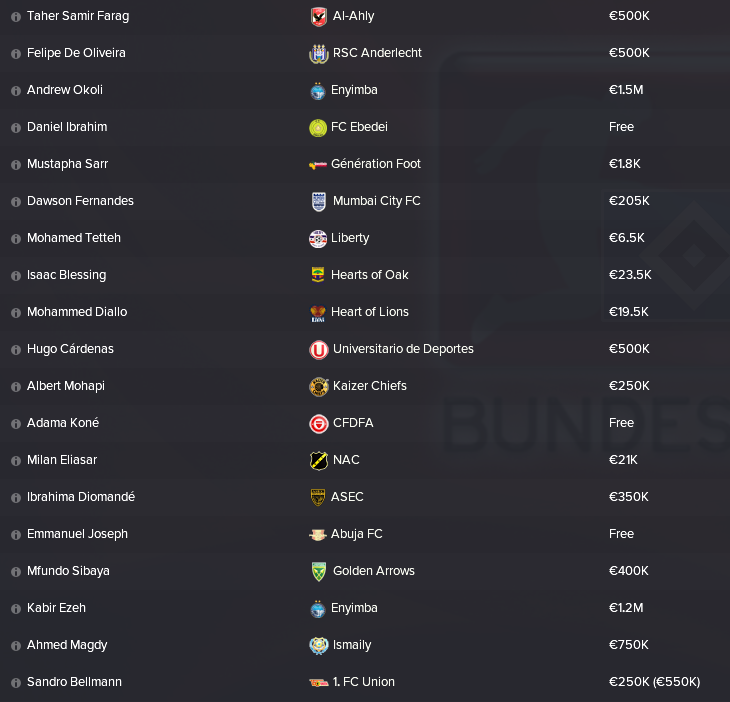 19 new faces. Why so many? I new we needed to rebuild the defence further as I wasn't happy with my central defence options or my left back on loan from Bayern. The New Zealand keeper I had wasn't convincing me either, so I was in the market for a new shot-stopper. I was also keen on finding at least one more striker as other than a couple of games we had been very wasteful in good positions.
Some of these boys were bought with the now in mind, but at least eleven of them were thinking about the future and went straight into the U19 squad.

After the Christmas break we were obviously transitioning in a few new faces but it did not make any difference to the results at all. In fact, we stepped up a gear culminating in a last-gasp win over leaders Stuttgart – a result that made all of us believe we could go up automatically.
Bangoura was better than Swiderski from the off, but Hugo Cardenas proved to be trouble from the word go. Even though he'd only cost me €500k, he was on €35k a week. Why? The scouts rated him very, very highly and a couple of Premier League clubs had been after him at the same time. A week after joining he came in to the office saying I hadn't kept a promise of strengthening the squad. Mate, I bought 18 other players – what else did you want? He was straight on the list and Sampdoria signed him for next season. But, he was still a decent player so I kept in the squad until he tore a calf and was ruled out for the rest of the season.
Of the new boys, Diomande was standing out. He's an Ivory Coast international striker with an eye for goal and could easily go on and boss a top flight in the future. Not bad for €350k. Ahmed Magdy, an Egyptian centre-back, was forming a good partnership at the back with Papa and our new left back was doing alright too – a few of you might remember Dawson Fernandes?
With seven games going we were 2nd in the table in an automatic promotion place. We had a four-point gap from Hannover in 3rd, but Stuttgart were still 8 points ahead.

The run in kicked off with a tough 1-1 draw with Kaiserslauten where Tim Amlang saved us with a wonderful strike. Next were Hannover, the only team that could really catch us in second. We were stunningly good, dominating the ball and stopping them from having a shot on target. From there it was clean sheets all the way to Furth, where the point meant we had a six-point lead with two games left but, crucially, a far superior goal difference.
We couldn't screw it up from here. Could we? Could we?

Back-to-back hat-tricks from Diomande at the club had a new hero.
We were up!
Yeah, yeah the board aren't ecstatic but we are up and that is the most important thing.
We ended the season selecting what I considered to be our first choice side.
The lads highlighted made the biggest impact for me but, in fairness to the rest of them, it was a stunning effort as it was a team thrown together with a mix of scattergun recruitment, some risk-free gambles and hunches.
If you look at the key facts – €102m raised in player sales, €26m reinvested. The wage bill halved from €1.1m being spent a week to €550k. The average age of the squad dropping from 31 to 23. 22 matches unbeaten. 16 clean sheets – it was a fantastic season.
The whole point of me going to Germany was to prove I could manage in a "proper" country so, hopefully, this is a good step towards getting that monkey off my back – just got to do it in the Bundesliga now.
Right, that's 1200 words – so "how we are recruiting" can be another post later today. Enjoy!