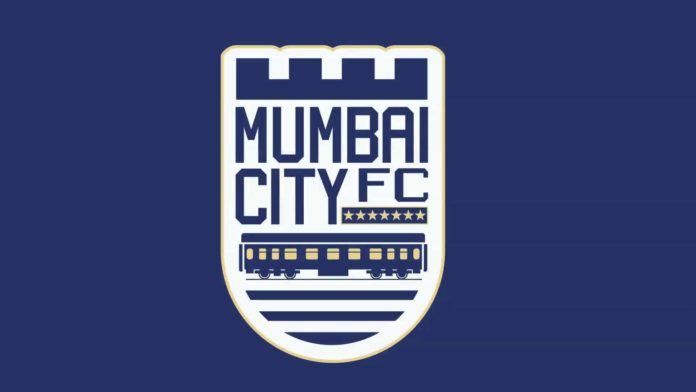 Don't panic, I'm here. I'm here. Admittedly, I nearly wasn't but I am here. I had a momentary save wobble last week, but a good session last night got me well back on the Mumbai City Express and we are chugging along at quite the pace again. I'm feeling in a fine mood so let me tell you about some free bets no deposit too. Look at that, I just did.
---
THE WOBBLE
Ah yes, the wobble. Why?
Well, I spent a few hours during the week sorting out all the little errors on the ISL database I've created with a view to making it available to download soon. Annoying little things like all the away kits being black, the TV money being wrong and a few other frustrating little things that an OCD freak like me notice. Plus, if I want you lot to have a go on it I want it to be as accurate as possible.
The end result? A bloody good database. Excellent. The only problem is this – I know the database I am using is not as good as the one I updated and it was killing me. Options went through my mind, mainly around walking away from the current save, mucking about somewhere else for a while and then coming back to India and starting over.
I was very close to this but then I fired up the save and saw Thiago Santos, Dawson Dias et al and the fact that our next competitive game was the AFC Cup Final and made the right choice.
To be honest, we are that far into this save now that the things I've changed don't make that much difference to me so I may as well crack on and stop being an arse.
So, yeah, MUMBAI BABY!
---
Now that is over, let's get back down to business.

Building a new stadium also gave me a reason to stick around a little longer, even if I have not progressed any further than favoured personnel yet. Back-to-back ISL titles and I am barely any more popular than the players. Harsh in my opinion.
As I mentioned above, the next competitive match for Mumbai City was going to be the AFC Cup Final – a title we are defending.
We worked our way through the usual preseason stuff of playing teams local to us (mainly because no bigger teams are available for us to play whilst we watch I-League 2 sides play Manchester United) and we eased through the AFC West Zone Final.
We were drawn to play these boys in Mumbai, the first time extra seats in the old stadium would be used.
They're Indonesian. But you knew that, right?
---
TRANSFERS
So we did some business over the summer, like any true Del Boy of the FM Community should.
Our policy now is only Indian players and typically they are all under 21. We are working towards the goal of having an all-Indian XI in the next five years.

Ganesh Singh looks like a player. He is 5ft 8 and predominantly a "centre-back" right now which, at that height, is total bollocks. He is also competent in the DM slot as well as CM so, naturally, I am training him to be a right back.
Marcus Mondal was offered to us due to the affiliation with Shiva and other ISL teams were sniffing round. I thought there was nothing to lose by bringing him in. He's another central defender but he will remain one – he is rapid.
The other three boys are gambles for the future and have immediately joined the somewhat lengthy list of players learning their trade with the affiliate clubs.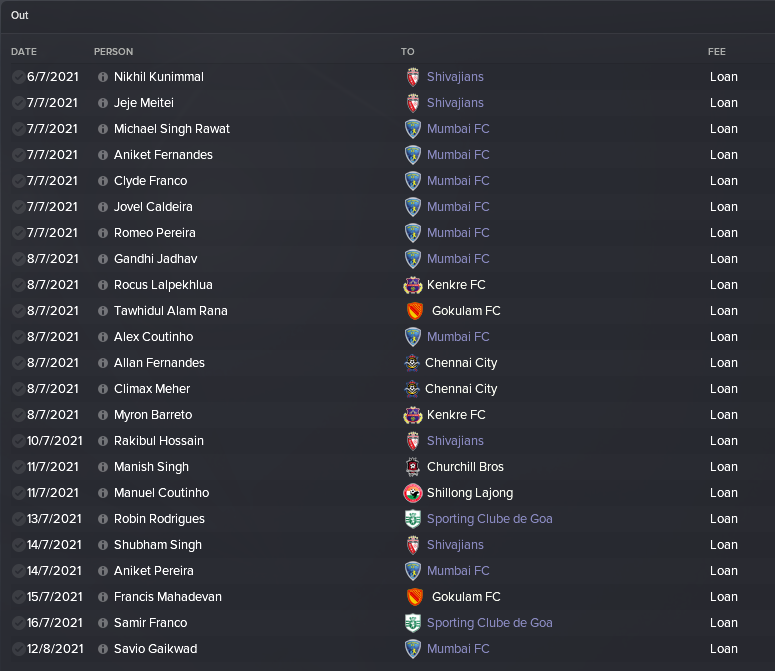 Just call us the Chelsea of India. 24 players are out on loan – but there is a method to the madness.
The process…
No fancy graphics around here.
Not every kid has gone to an affiliate club – if they've already been out on loan to an affiliate and done well but I don't have a space for them in the squad yet then I do send them to another club just to see how they do in a new environment.
It is working so far – for example, one of the kids out on loan is Alex Coutinho. He played one cup game for the first team as a 15-year-old and got a taste. He then went to Goa and did OK. He went to Mumbai FC and did very well indeed in their promotion season. If he has another decent season with them this time he could well be brought into the fold.
Equally, if they were that good already then they'd be straight into the first team squad so some of this is really to try and make sure that we don't miss out on anyone that could be class and if my maximum spend a season is €100k picking up a couple of highly rated kids then I don't have anything to lose really.
---
THE AFC CUP FINAL
Can we defend our crown before heading back into the much more challenging AFC Champions League in the new year? I bloody well hope so – no other team has defended the trophy and victory would mean we get the treble having won last season's ISL and Federation Cup.
Of course, getting this from your skipper over breakfast on the day of the final isn't ideal.

The lad has been top quality for me ever since I brought him to the club to replace Leo Costa in the first few months of my tenure. He plays the RPM role in midfield and he is class. He breaks the lines time and time again with his ability to dribble and he is the best player in the ISL by a mile now. Figueirense are in the top flight of Brazilian football, so you can't blame the kid for taking notice of their interest. I agreed to let him go if they offer me €100k, twice his current value. He said that was too much and suggested €95k so we negotiated and agreed on €100k such is the intelligence of the AI.
The boys from Indonesia offered little, I was surprised.
3′ Dawson Dias opened the scoring with a drilled left-foot effort from a tight angle
11′ Thiago Santos raced on to a ball from Gustavo and slid it home
33′ clever interplay and movement through the midfield ended with Thiago slamming it home
41′ Thiago, half-injured, earned himself a rest at half-time by tapping in Israilov's free-kick that came back off the bar.
Job. Done.

---
THE SUPERCUP
I don't care how often Jose Mourinho claims this is a real trophy, but even in India this is as much of a Mickey Mouse game as it is in England.
This didn't help matters either.
It wasn't as bad as it had been in the past, but still. This was my situation going into the traditional seasonal curtain-raiser.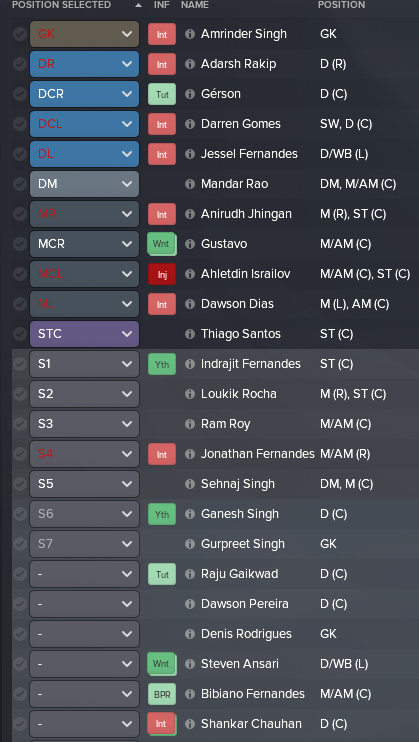 Still, it was a chance for a couple of others to show me what they had.
We were facing NorthEast United who we beat in the ISL Final last season.
Without boring you too much, we eased past them 2-0. Thiago Santos got a double but Mandar Rao picked up two yellows meaning he will miss the opening game of the ISL which is, as is the want of the fixture computer, also against NorthEast United.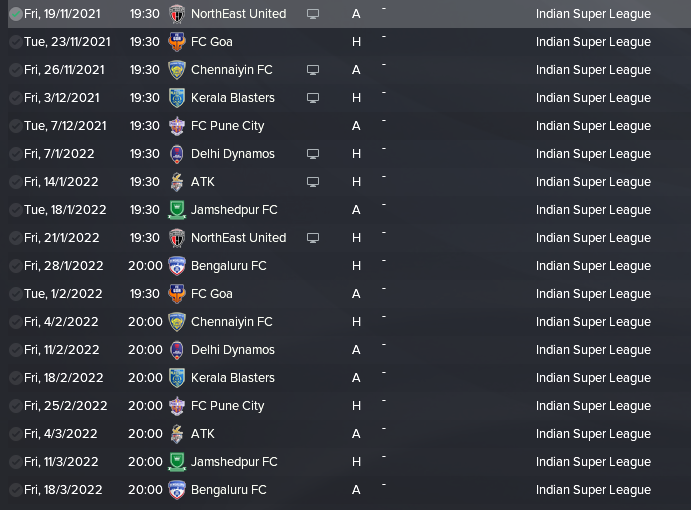 Obviously, the aim for the season is to win it for the third time in a row. I'd really like to do better than just winning it though, and going unbeaten is the aim.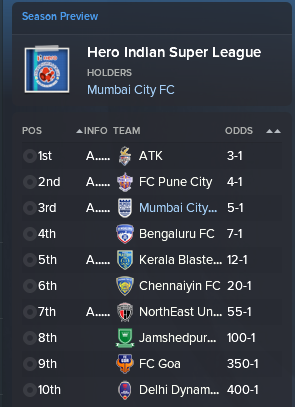 As ever, the bookies don't make us favourites but do think Delhi will finish bottom. One out of two predictions will be right.
Plus we have the AFC Champions League to look forward to and the aim there is to get out of the groups this time!
The Mumbai Express is about to set off on its next journey then, destination season five of the ISL.
All aboard!