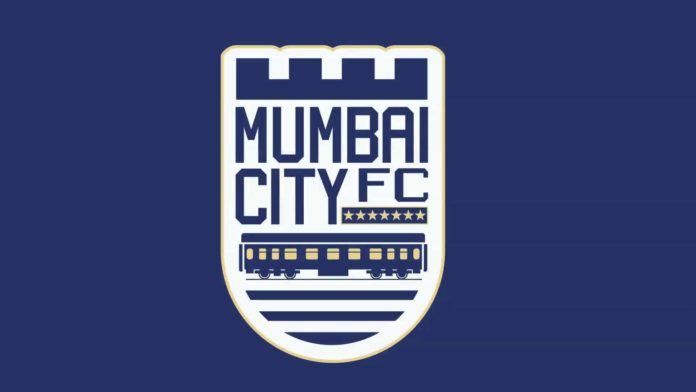 I remember this clip on Match of the Day very well. A youthful Manchester United had just been beaten on the opening day of the season by Aston Villa. Yes! Aston Villa. Alan Hansen got quite a bit right in his playing days, didn't do too badly in general as a pundit but this one was a bit of a howler. The kids that United weren't going to win anything with? David Beckham. Paul Scholes. Gary Neville. Nicky Butt. Phil Neville. Yeah, they didn't do too badly.
It is easy to forget though, these kids weren't just rolling up into a rubbish side and transforming them. Not a bit of it. They had Steve Bruce, Peter Schmeichel, Eric Cantona, Denis Irwin, Roy Keane etc already there to guide them. But many agreed with Hansen, United were written off.
Of course, he was wrong. United won the title that season and many more after that.
Why is this relevant?
At the start of my 3rd season in the ISL with Mumbai City FC I had my "let's get rid of Paul Ince, Andrei Kanchelskis and Mark Hughes" moment as I decided to put all my faith in the young players I had at the club. We'd failed in the AFC Champions League the season before and lost in the ISL Final and I felt it was time to fast forward the plan to have a young predominantly Indian squad competing.
It was a bold move and I immediately lowered my expectations for the season – I was prepared to accept even missing out on the playoffs, especially as the media felt we were looking at 8th place.
My players had slightly different ideas though…
This is, without a doubt, the most unexpected championship win of my FM life. Why? Because the team had an average age of 18 and because for long periods we played with only 3 of the allocated 5 foreign players allowed in ISL (due to Isra getting broken ribs).
We didn't just win the regular season, we stormed it.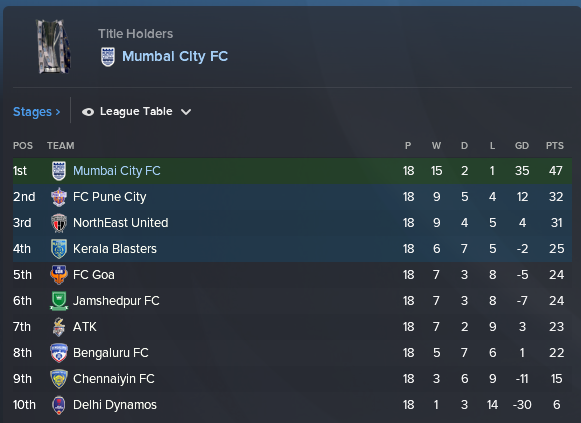 47 points beat our previous best points tally of 44 from last season. We were stunning in the league season, some of the football we played was breathtaking.

FC Pune City looked like the team to beat early on, especially as they beat us in the third match. They raced away, winning something like the first 8 games if I recall correctly. But we just kept doing what we could, improving every week and it became clear we were onto something quite special indeed.
Thiago Santos repaid my faith in not selling him over the close season. Come the end of the season he was the ISL top scorer with 21, even if the final passed him by as he chose those two legs to go missing.
The right-back, Rakip provided 5 assists, meaning the €80k or so spent on him was worth it. Dazza Gomes slotted in perfectly alongside Gerson at centre-back and ended the season with a league average rating of 7.23 and 13 Indian caps, all at the age of 17. At left-back, Jessel Fernandes grew and grew, ending with 7.26 and 3 assists but, more importantly, a telepathic understanding with Dawson Dias.
One of the revelations of the season was Mandar Rao.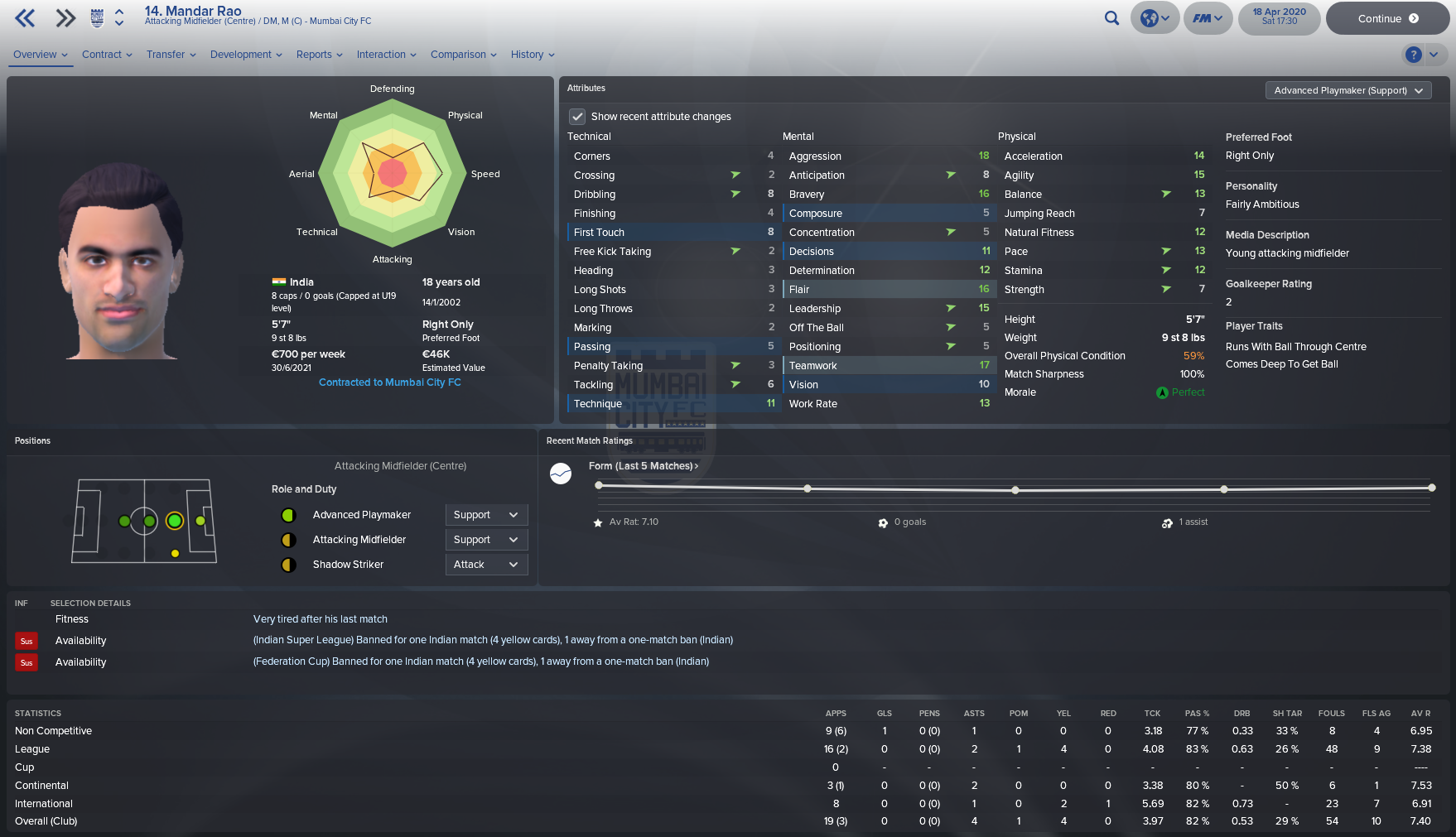 This lad had no defensive midfielder ability when I signed him, but I do love taking an attacking midfielder and turning them into a capable DM/S. Hell, if it works for Pirlo and all that. Rao has now displaced Sehnaj Singh as our first choice DM and is absolutely brilliant in that role knitting everything together.
The other main revelation of the season was this kid.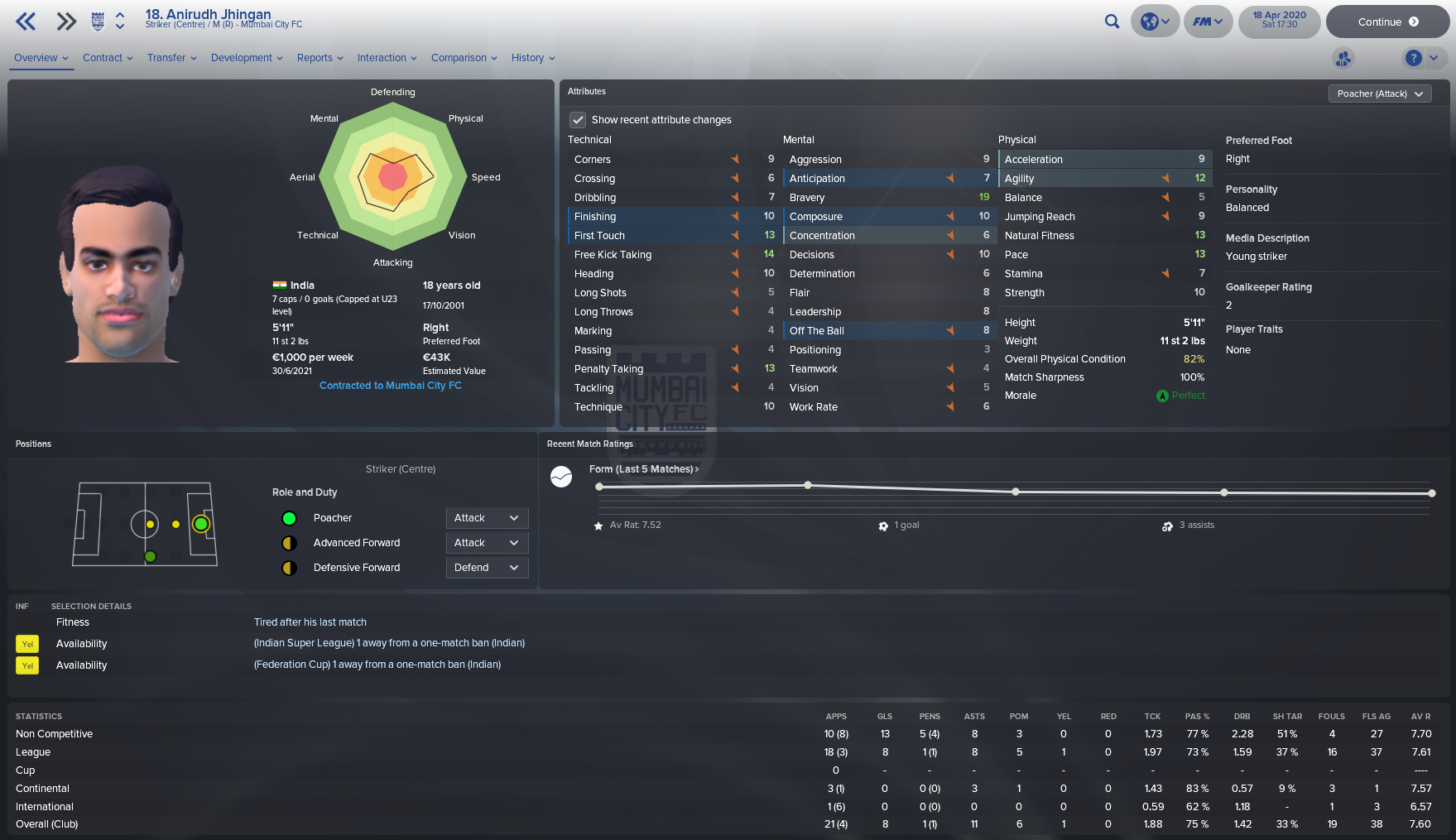 He was signed, at a cost, to be Thiago Santos' understudy striker but he also had a little bit of capability to play right midfield. I'd been chasing Jonny Fernandes to join us from Kerala to play right mid all summer and we did eventually get him for €80k. However, Fernandes came back tired from the international match days before the first game of the season and Jhinny put in a great shift on the right and ended up making the position his own. His training arrows don't look great right now as a couple of weeks ago I started to train him as a wide player as well as just playing him there, and he was getting definite improvements in his ability being trained as a complete forward.
The other star men were Dawson Dias, the new darling of Indian football, Gustavo and Israilov.
So we stormed our way to the playoff semi finals where we met Kerala Blasters. The only problem, like last season, was the match clashed with an international for India and we had 10 players in the squad for that match and no opportunity to rearrange the game. It was the youth Academy side plus Gerson, Thiago Santos and Gustavo vs one of our biggest rivals. We lost the first leg 1-0 at home. Bizarrely, I was quite happy. I was right to be as we battered them 4-0 in the return to book our place against NorthEast United in the final.
We sneaked the first leg 1-0, thanks to a goal from Gustavo.
The led 1-0 after 90 minutes in the second leg, meaning extra-time. Considering our final heartbreak against ATK last season, this was feeling alarmingly similar. We'd hit the post three times and they looked like they might score again at any moment.
I gambled. We went three at the back, sacrificing a fullback, and threw on another striker. Still we could not find a way through and penalties were calling. I didn't fancy penalties. And, thank god, neither did the team as with 120 minutes on the clock Gustavo hit a diagonal ball to our substitute – club record signing Jonny Fernandes who had done precisely sod all since signing. The NorthEast keeper thought he could get there first and charged out on the angle. Fernandes got their first and shot from the tightest of angles you can imagine. The ball flew IN! I don't care if he never kicks a ball for me again, he'd just won us the ISL!!
Straight from kick-off we went again and Fernandes picked out Ruidas at the far post and he scored our second, meaning we'd won it 3-1 on aggregate.
An average age of 18 years old in the squad. Incredible. The foundations are now in place to really push on and become the dominant side in India and, hopefully, Asia. But, it's the second part of that which is now tricky.
I can't recall if I mentioned this in a previous post but the ISL's ranking has fallen so low that we no longer get to compete in the AFC Champions League. The ISL winner now goes into the AFC Cup with everyone else which is, frankly, rubbish. We are currently in it this season as we only came runners-up last term in the ISL and the standard is a bit pants (hence us qualifying from our group with ease). The Champions League is a must for the future but I don't know what the likelihood is that we will get a place again in the next decade.
Mind you, we still have a long way to go to nail down that spot as the number one Indian team.
This squad is special and if I can keep them together for five years then nobody will touch us. I've already lined up some excellent additions for next season (all young, all Indian) and we've had a very decent youth intake once again.
I remember reading something somewhere about taking responsibility for strengthening the league ourselves, and I guess we can aid that by producing top talent and then letting those that will not make it with us go and play for other ISL teams, making them stronger. Then, the better they do in continental competition the better the ISL ranking and hopefully, we can get that Champions League spot back. I presume it's all to do with coefficients or something.
All that is left for this season, and I say all, is the final two group games of the AFC Cup and then the knockouts, plus the Federation Cup which I would really like to win (and do the Indian double). Like here in Spain, it is seeded and we have a very favourable run to the semi-finals. Last season we were victims to a giant-killing as I played the kids and I won't be doing that this time.
What a season it has been, and financially it's been alright too. We got €5m for winning the regular season then another €11m for winning the final. Having won two of the last three ISL's we are in great shape financially. Dehli Dynamos (bottom each of the last three seasons) probably are not. I have to say, going there one day and trying to turn them around would be a challenge. Don't panic, I have way too much to do in Mumbai first of all.
I have no idea how far we can go in the AFC Cup, the Asian continental stuff is still a bit of an unknown quantity to me – but who knows, maybe a treble is on the cards?
I'll report back soon for sure.