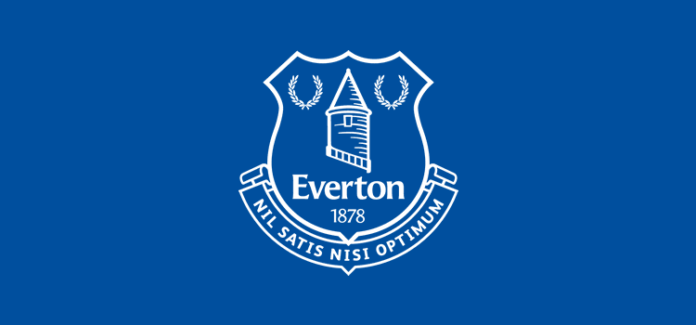 It's time for Episode Four. As you may remember from the last instalment, we are in the midst of a dodgy run.
So, here goes. It was Chelsea first up in the league. Fresh from snatching three points from Milan, I was quietly confident. In fact, the bookies even made us favourites at home to Antonio Conte's struggling Blues.
It went badly. Very badly. Even an out of form Chelsea dominated, and my attackers were unable to create almost anything. Niggling injuries hampered Tom Davies, Wayne Rooney and Gylfi Sigurdsson, leaving my team without invention.
The table looked ugly. So very, very ugly.

It took us to an international break. A long two week wait before facing Spurs. The table was not looking good.
Spurs were lethal. A couple of sniffs for Harry Kane brought a 2-0 deficit. The three-striker system came out, but Sandro again missed chances. A Sigurdsson injury was a worry again, but late chances meant we finished the match with seven shots on target each. A silver lining in a disappointing match. A 3-1 defeat was no disaster, mind.
After falling to Spurs, Rooney decided it was a good time to complain… again. He had asked for more minutes, and he had been given them. It was not enough for angry Wayne, though, who produced an almighty strop. A persistent injury problem meant I wanted to avoid overworking him, but he was having none of it.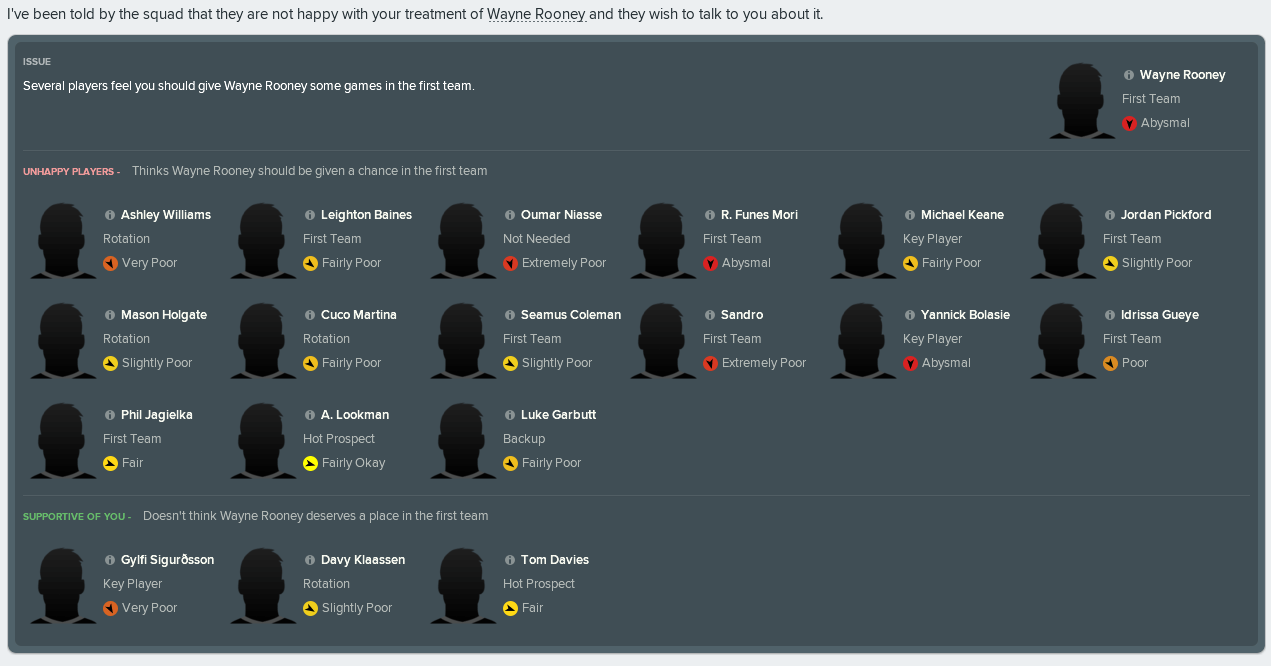 Our meeting went badly. The squad, including a lot of my senior, key players, came to confront me. Sigurdsson and Davy Klaassen unsurprisingly were happy to see Rooney sit out, but I caved. With our poor form, pressure from the press and a key player ready to overthrow me, I had to side with the majority.
The chance to cement a place in the next round of the Europa League came at home to Sparta Prague. Again, though, quality finishing was non-existent. Sandro burnt his last shot as a starter, as 22 shots brought no goals. The defence was solid, and a 0-0 was enough to make it through to the last 32 with a round of group matches to play.
Next up, we witnessed a rearguard action I doubted my side were capable of. The fearsome Manchester City were one up inside 60 seconds. I thought a cricket score was on the cards. We kept them quiet until the 24th minute, though. Florin Andone then got a rare breakthrough.
Now what? Well, we sit and hold on to what we have. We did just that. We did that for over an hour of the match to snatch an invaluable point.
The visit of Stoke came next, to announce the end of our hideous run. The Potters arrived in their 3-4-3, and we took the lead inside two minutes. All looked rosy.
Unfortunately, Michael Keane – who had scored the first – sloppily passed the ball to Saido Berahino a couple of minutes later. 1-1.
More chaotic defending gave Stoke a 2-1 lead at half-time. Changes were in order, so the stroppy Wayne Rooney was taken off. Morgan Schneiderlin then came off for Ross Barkley as I switched to 4-2-2-2, before Tom Davies had to limp off for Idrissa Gueye.
In the dying embers of the match, it was Barkley who delivered. Seizing on a wonderful ball from Seamus Coleman, the England international stroked home from 15 yards. 2-2 was all we could manage, but it was enough.
Despite the media trying to bully me into a resignation, Bill Kenwright handed me a bit of cash for the January window. Very kind of him.

A far less eventful draw with Brighton made it four drawn in a row. It also extended the winless streak to six. Not such great news, but at least I wasn't in the bottom three.

The final Europa League match brought a 1-0 win. The change of shape to a 3-5-1-1 went okay with a fully rotated team, even though finishing was again an issue. The team was different, so I thought I could blame it on that. I mean, just look at that XI!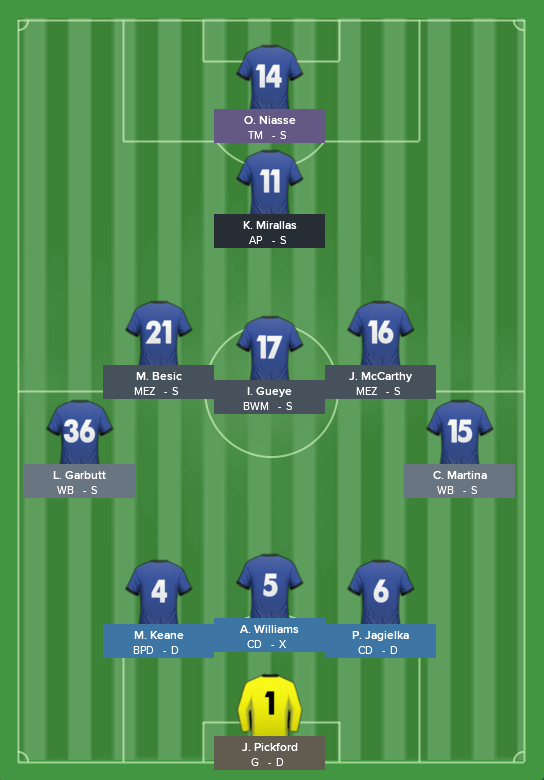 The same problems continued against Crystal Palace in the next league match. A terrible 1-0 defeat was a rough deal given the balance of the match, but that's all.
Farhad Moshiri summoned me for a chat a day later. He wanted answers.
Unfortunately, I had no excuses. I explained that we had a lot of horrible fixtures, but that was it. Eventually we reached a deal. Eight points from five matches.

Join us for Episode Five to see if I survive…