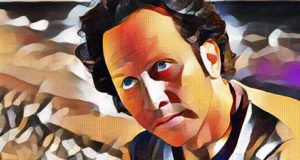 We've reached the winter break in the Bundesliga and I've managed to keep my job. Four wins in a row across all competitions saw us secure top-spot in our Europa League group and rise to just four points off the Champions League spots. About six weeks ago we were a point off the relegation zone, so it's a massive turnaround. In fact it's the kind of turnaround that our friendly bookmakers were not expecting which has led to sports betting sites trying to entice a range of betting offers, especially ones that offer free bets to now go one step further, offering people the opportunity to claim £100 with BetBright Sportsbook on all football competitions such as the Bundesliga or the premier league where outrights for Liverpool to win the Premier league are at an enticing 10/1.
Enough of the real world and back to the matter in hand and although the board are satisfied with me again but I'm not sitting comfortably. We need work in January, particularly in the wing-back areas, and I'd like a more reliable striker. Seemingly out of nowhere, the Director of Football plucks Maximiliano Romero from my short-list and enters negotiations. We get our man, it's the perfect start.
Sascha Riether is back from injury but I need more depth on the right and the situation is the same on the left, as Baba Rahman is off to the African Cup of Nations (along with Nabil Bentaleb). My hopes of using Phil Neumann in the long-term are also over, as he agreed to join Ingolstadt on a free transfer before I took charge.
The board's Christmas present to me is £3m added to my transfer budget, which won't stretch too far, but I've secured Benedikt Howedes to a new contract- crucially removing his £15.5m release-clause. Now, my sights are set on potential signings- but I may have to allow some departures to give me more money to spend. In fact, I definitely do.
Frustratingly, there's very little room to make moves and I instead secure Leon Goretzka down to a new deal, as he was moaning, whilst exploring cheaper options available to me. I've also transfer listed high-earner Atsuto Uchida and I plan to use Alessandro Shcopf more, as well as recalling Klaas-Jan Huntelaar from his loan with AZ Alkmaar and promoting three talented youngsters to the first-team.
Preparations for the second-half of the season went well as we comfortably won all three friendlies, scoring 14 goals in the process, but I'm wary of becoming too optimistic following our struggles previously- but I'm confident ahead of our game against Mainz, who we smashed 5-1 previously.
Uchida isn't likely to leave until the summer though and I intend to use him while I can. I'm also pretty settled on my first-choice XI now but I'd like there to be more competition for places- and I'm especially expecting more from Javier Pastore.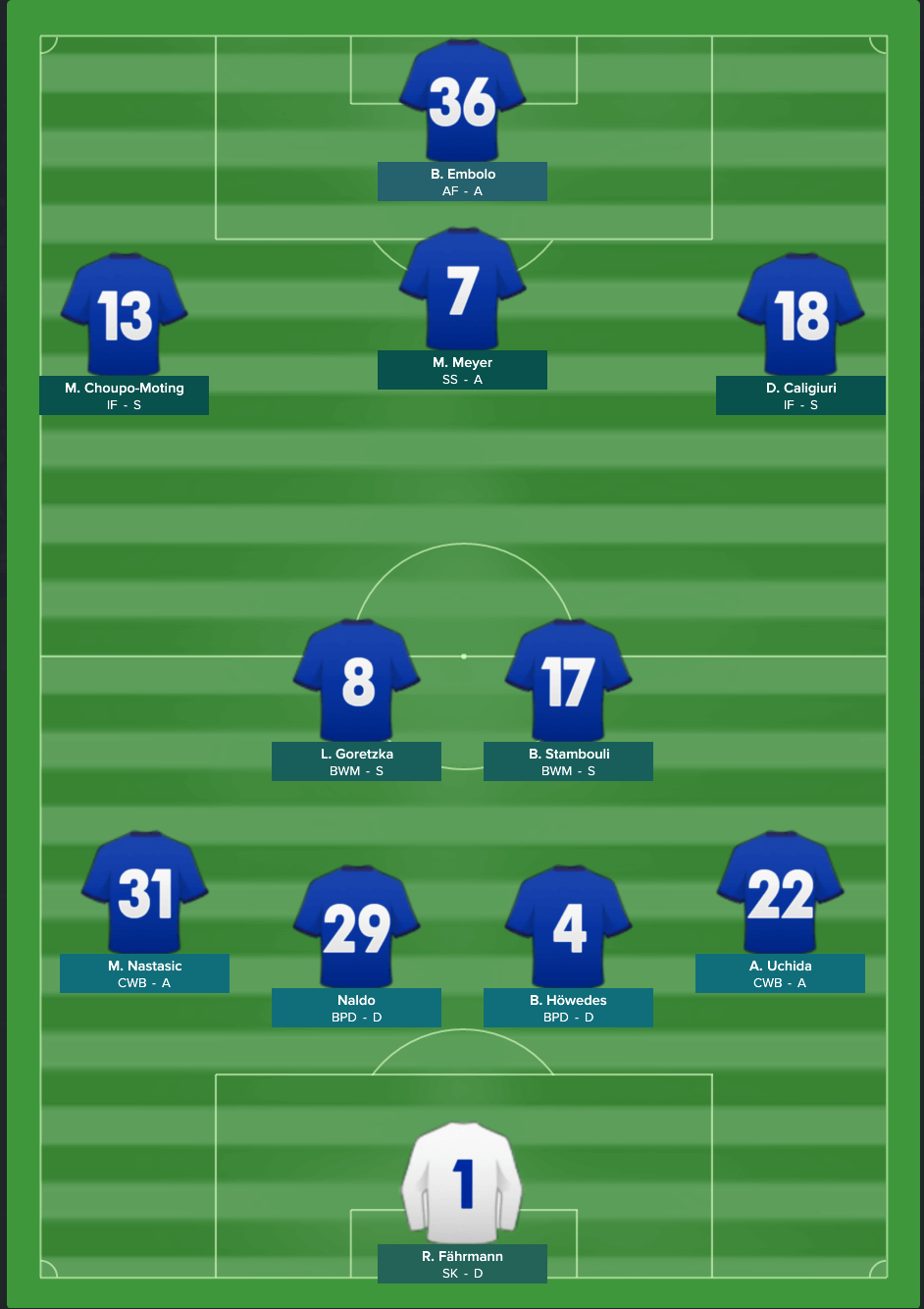 Irritatingly we draw 2-2 with Mainz, having led twice, and in our following match against a Bayer Leverkusen side enduring similar struggles to us we enter the break 1-0 up. Ten minutes into the second-half, however, we're 3-1 down and my laptop is dangerously close to being thrown across the room. It finishes 4-2 to the hosts and our unbeaten run comes to an end before it even gives me some stability in my job.
Had to won either of those games, we'd be at least seventh in the table. Instead, my job status is 'very insecure' once again. Matija Nastastic moves on Deadline Day to Arsenal and I sign Haris Seferovic to bolster my attack. I try for Jetro Willems in defence, but he wants a ridiculous £81k-a-week, and I have similar issues trying to get Marc Muniesa. I get no wing-backs, I'm furious. Mostly with Willems.
Victory over Ingolstadt, albeit unconvincing, puts us eighth and just two points off the top-six but I change tactics for the next game, a German Cup clash with Hertha Berlin. We lose 2-0 so I adopt more familiar tactics for the next Bundesliga match, incidentally against Hertha again, and we lose 1-0 but the performance was much better.
The Europa League has provided us with some comfort this season and the first-leg against Zenit finishes 3-2 in our favour. Having rejigged every single player's individual training, we then beat Frankfurt 1-0 and I decline a job interview with Udinese. We beat Zenit 3-1 in the return leg, handing ourselves a Round of 16 clash with St. Etienne; a side we played in the group stages.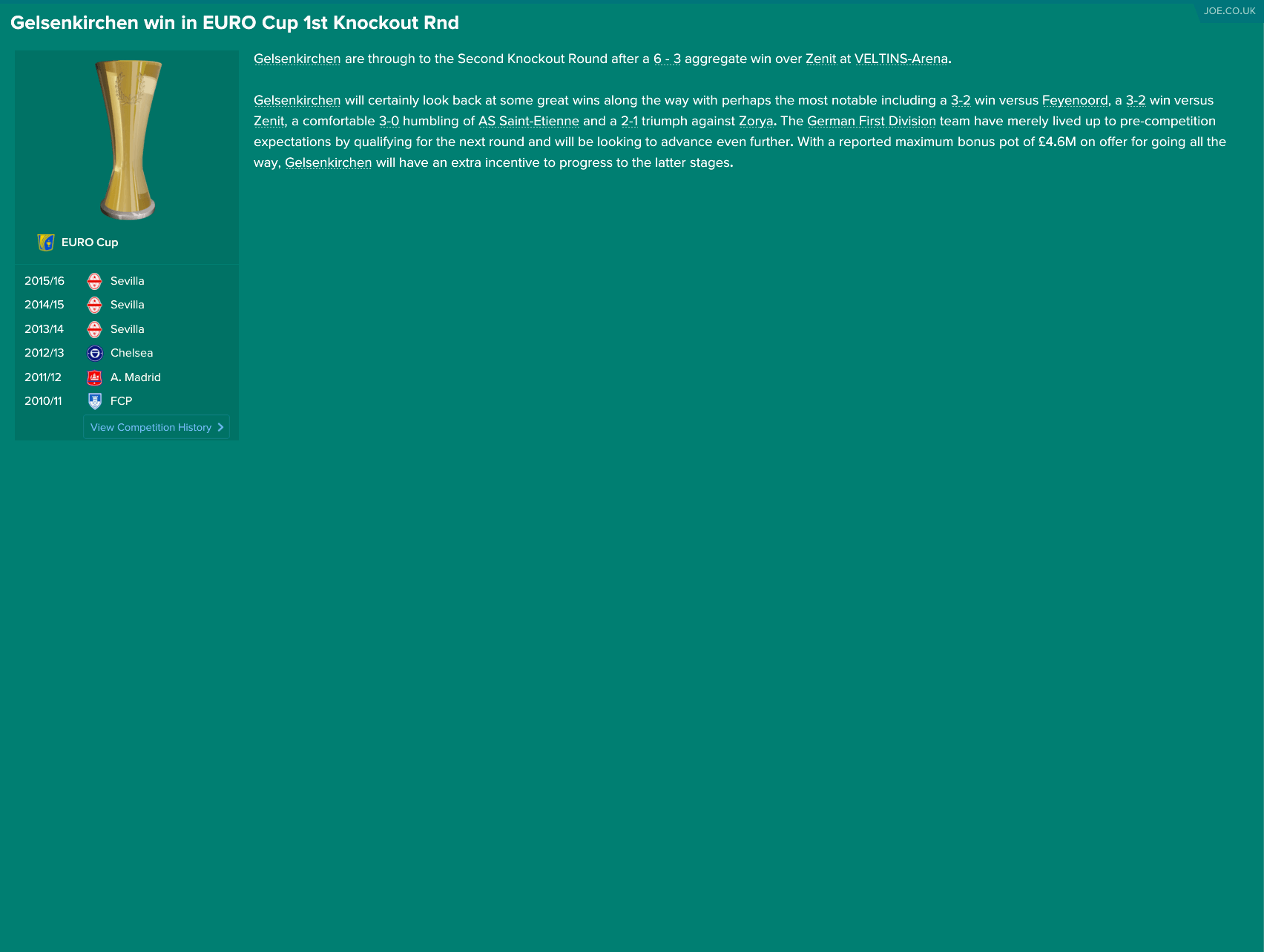 I feel like we've turned a corner with three consecutive victories but if anything is to burst my bubble it's a clash with league leaders Bayern Munich. Beforehand, I'm greeted to news that I'll retain just 35% of any player sales, and we unsurprisingly lose 2-1 to Bayern. Yet again, we can count ourselves unlucky.
Despite my fantastic performances in the Europa League and the fact we performed well against Bayern, the club's board have demanded a meeting with me and I'm very much staring down the barrel of a gun. They demand I achieve ten points from my next five games against Leipzig, Wolfsburg, Gladbach, Hamburg and Koln.
A morale-boosting team meeting follows and I have to laugh when I see that the board have since criticised the signing of Maximiliano Romero- a player they actually signed. It seems I can't win with these people and I've started to look at potential opportunities elsewhere. Maybe I shouldn't have been so hasty rejecting the advance from Udinese.
Against Leipzig we fall apart, I genuinely don't know what's wrong with these players. I applied for the Atalanta job before this game and I'm already dreaming of Franck Kessie, as we fall to another defeat. I don't like this tactic, I won't take it with me to my next job. I quickly change it here, though it's probably too late.
Our fixtures come thick and fast; we beat St Etienne and then lose to Wolfsburg because of an 89th minute penalty. I feel sick, I can't match the board's demands. I know I'm going to be sacked. But then, from nowhere, Benjamin Stambouli saves me. It's 2-2. No, it's 3-2. Di Santo. This is it, there's hope. I have three games to get seven points. Game on.