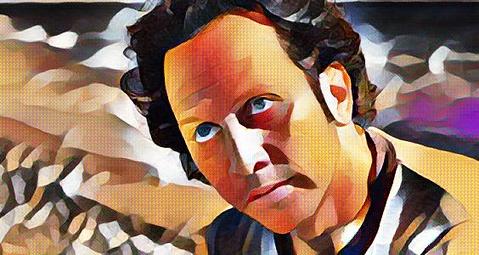 October has not been good for us so far, we've won just once, and it's extended a poor record that emerged towards the end of September. Our form at the start shows me this formation works though, as does my experience previously, so I've cracked my knuckles and intend on flushing out the issues.
First point of call is replacing wing-back Sascha Riether with a player capable of performing in his role, so 19-year-old Phil Neumann will get his chance, but he's not ready for the next match. Javier Pastore has also been changed to an advanced playmaker, which should see him get the ball more, and Johannes Geis has changed from half-back to a Regista.
A few more youngsters that fit my system have been promoted from the second team and the upcoming German Cup game against Bayer Leverkusen, who defeated us on the opening day, is the ideal time to put my tweaked system to the test.
Di Santo sets up Guddo Burgstaller after only a few minutes and the inside forward secures his brace before the half-hour mark. Benedikt Howedes forgets how to defend before the break though, which leads Geis to concede a penalty, which leaves us with work to do. Di Santo ends his drought in the second-half and we advance to the next round, where we'll play Hertha Berlin.
With job done, I make a further few adjustments. Geis is back to half-back after a stinker and the ageing Steiber won't be back in my side anytime soon, I'm trusting the youth now. Don't let me down Neumann.
Third-place Gladbach are my next opponents and I'm left fairly happy with a respectable goalless draw. November starts with positive news with the return of first-choice goalkeeper Fahrmann, who obviously scores an own-goal against Feyenoord. Fortunately, we win 3-2 and Andrea Pinamonti is the hero off the bench, with the win sealing our spot in the next round.
Ahead of the next Bundesliga match against Hamburg, I've had a play around with an alternative tactic that will see us play in a more traditional 4-4-2; although there is some alterations as it includes Pastore as a shadow striker and Benjamin Stambouli in a more defensive role. Incidentally, Hamburg are vulnerable against a 4-4-2, I've been informed, so I'm trying it out.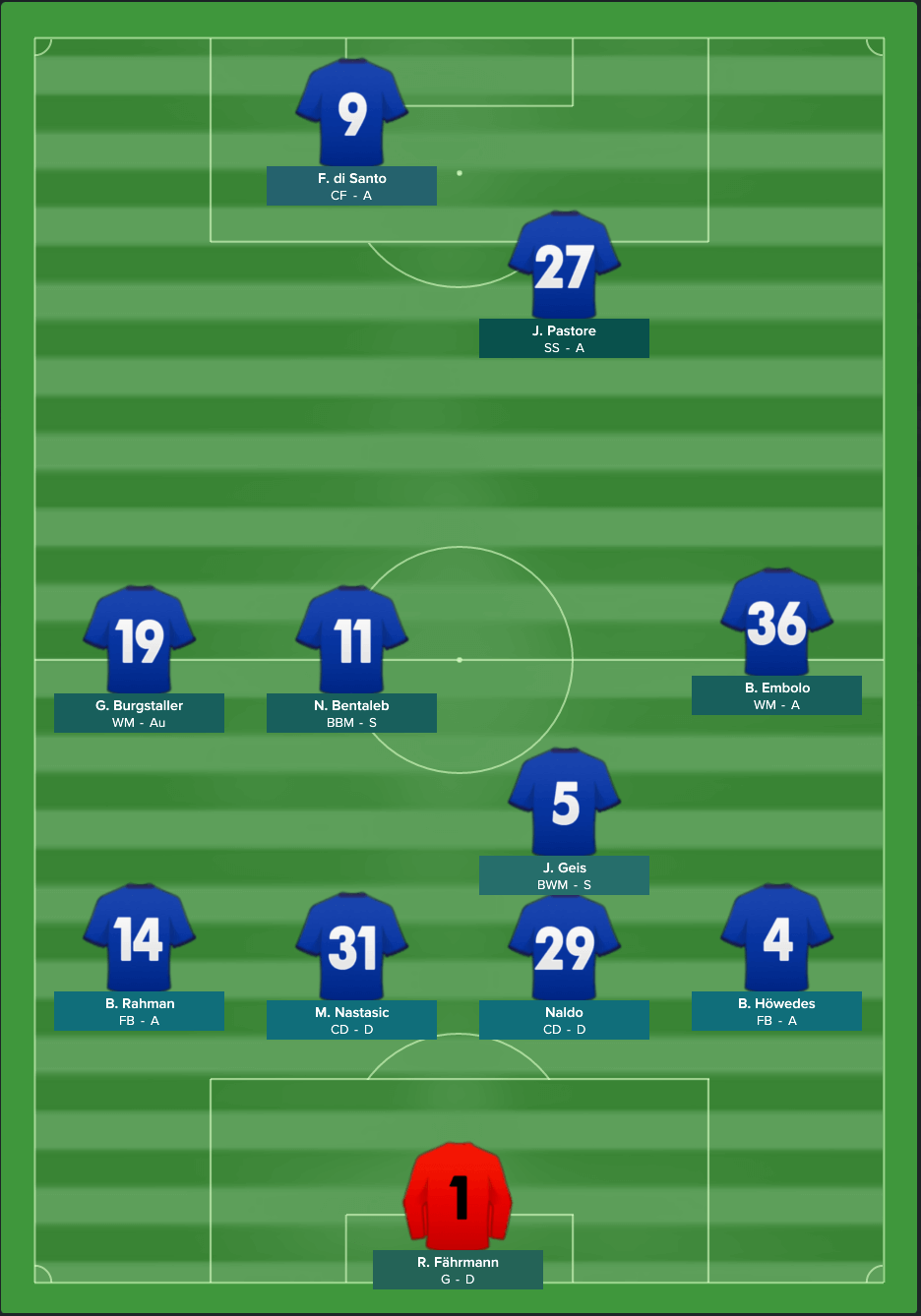 We're playing well in the first-half, though we do fall behind, but then things go sour as Nabil Bentaleb is sent off, forcing us to play three in the midfield. We bring on Max Meyer for Pastore and Benjamin Stambouli for Geis and continue to play well but we can't hit a barn door in attack. We concede again, we lose again and I'm regretting my decision to pick Schalke over Valencia.
We're six games without a win but for some reason the board are 'satisfied' with me still. I'm glad somebody is. In the international break, I work on another tactic. That's three I've had success with previously. Hopefully my team decides to play football.
Against highly-flying Koln we're unlucky to lose 2-1 and then we're defeated by St. Etienne. However, our winless run ends with a 3-1 victory over Darmstadt but the board is starting to get on my back and Torsten Frings has been running his mouth in the media. Thankfully, we respond with a 2-0 win over third-placed Hoffenheim.
We're on course for a point against Werder Bremen until Benjamin Stambouli and Baba Rahman decide they're going to audition for the next Assassin's Creed movie and both get sent off as we lose 3-2. That means the board is, again, on my back and I don't think I'll be here in January. Or next week, for that matter.
We beat Zorya to top our Europa League group but our next game is at Borussia Dortmund. They're under-performing in ninth spot but are still favourites to win. It's the worst possible time for a Revier Derby. To make matters worse, injuries and suspensions mean I'm starting with four centre-backs.
Max Meyer gives us the lead after ten minutes but our advantage is cancelled before half-time by Mario Gotze. Thankfully, Eugene Konoplyanka likes me and restores our lead immediately, with Eric Choupo-Moting making it 3-1 before the break. In the 75th minute Johannes Guis makes it 4-1 and Thomas Tuchel's tears taste sweet, although Shinji Kagawa's late effort means it finishes 4-2.
The board think I can do better and I agree. We've got two games before the mid-season break and I'm determined to keep my job. Our Europa League draw hands us Zenit, which isn't bad, but my focus is on Augsburg and Freiburg in the Bundesliga.
Daniel Caliguiri's goal gives us a 1-0 victory over Augsburg and a 2-1 win over Freiburg means we enter the mid-season break with four consecutive victories across all competitions. Significantly, we're now ninth in the table and just four points behind the Champions League spots.