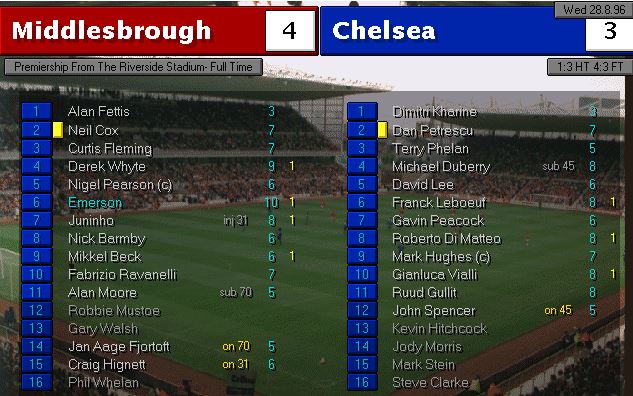 Just how did this team get relegated?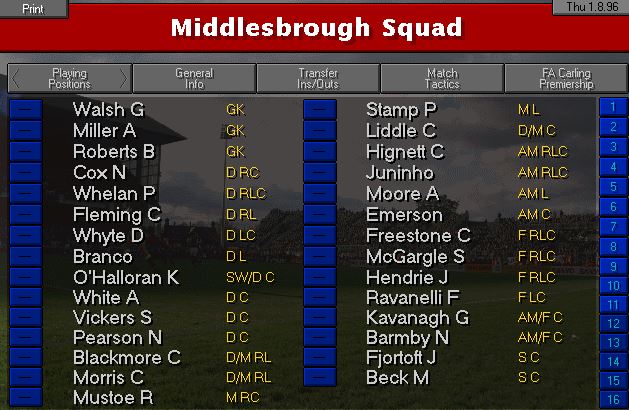 Well, two reasons. A quick look at the table shows us that whilst Boro outscored most of the division, they conceded more than anybody else. 60 times they were breached, that's 1.5 times per game. So whilst Ravanelli, Junino and friends ran riot at one end, Steve Vickers and Neil Cox had no chance at the other. We'll work on that. Another rather large factor is that Boro were docked 3 points for failing to fulfil a fixture, against Blackburn, where Boro were adamant that injuries and illness had depleted the squad so much they were unable to play the match. The FA disagreed.
Obviously we'll avoid that, but I suppose a third factor is that Middlesbrough made two cup finals in this season. Yes sure, they lost both, but if they hadn't been docked 3 points you'd have to say it was a good season.
Ravanelli finished one of the league's top scorers, netting 16 league goals and 15 in the cups to finish with 31 for the season. Not bad. Juninho was the creative spark, backed up by fellow countryman Emerson, whilst Brazilian left back Branco, who was terrible in real life, I'll be hoping to make use of his set pieces if nothing else. I have one space in the squad as a result of Bryan Robson being released as a player due to no longer being manager, and I'll need to fill it with either a goalkeeper or a defender.
Alan Fettis answers the call, I seem to remember him being useful on CM2. £600k leaves us plenty to spend but a full squad. Hopefully somebody wants some of the fringe players

Alas though nobody is interested and the season starts with the squad I inherited plus Alan Fettis. We set up in a 4-3-3, for no other reason than I think it worked well back in the day
Branco lasts 3 minutes before getting crocked. We lose 2-0.
We've lost Branco for a month, which will probably mean it's Curtis Fleming's time to shine, but really it seems the 4-3-3 isn't going to work. A switch to a 4-3-1-2 for the home clash with Chelsea will be tough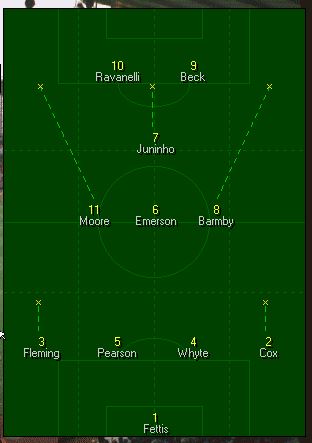 Juninho belts in a free kick to make it 1-1 but departs injured 8 minutes later. We're soon 3-1 down and the half time ratings are…just awful
Somehow, in spite of it all, we score three second half goals to win 4-3. The unlikely figure of Derek Whyte heads in the winner and Kharine and Fettis compare their crisp packet hands at full time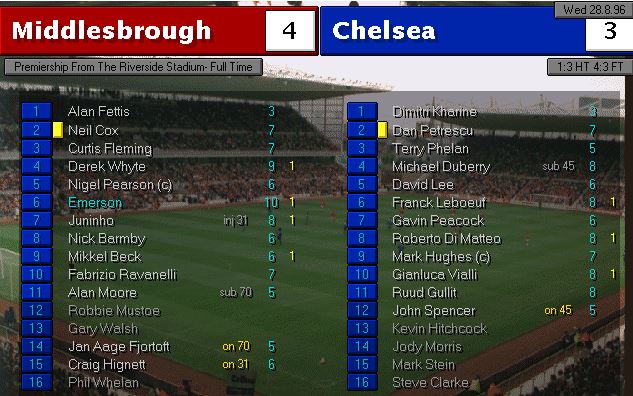 Juninho has a pulled hamstring and will be out for two weeks. To be honest, I might just play 6 up front. This match engine on this version is insane.
Villa away and we're 4-0 down after 25 minutes. Fettis plays a 3 again. I'm starting to think he's not the genius I had him down as. Get me Gary Walsh. We lost 4-1, incidentally.
A 3-1 loss at home to Man Utd follows, not a surprising result but I'm starting to get a flavour of why Bryan Robson sounds so unhappy all the time. The international break has arrived, we're 17th and I think it's time to go to a much more conservative formation having conceded 12 goals in 4 games.
I need a holding midfielder, this team sorely lacks one. Tired of waiting for somebody to take a punt on the terrible reserves, I've sacked one at the cost of £8k. Defensive midfielders are hard to come by, and it takes every fibre of my being not to buy Matt Le Tissier or Rai, who are both interested but very much the opposite of what I need. No, instead I buy this legend for £250k

He's 35 but class is permanent. Besides, I don't need him to move.
Fettis gets a 6 week injury on International duty, which is probably a blessing. Juninho and Branco are both available for our trip to Leicester, are our new 4-5-1 is going to smash your socks off.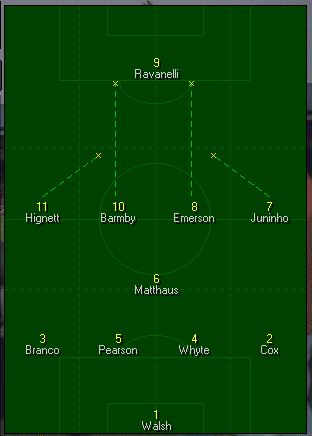 The system works. We draw 0-0, Leicester have 3 shots and Matthaus gets man of the match. Steady the ship lads.
Blackburn at home next and Ravanelli is the latest to leave on a stretcher. That takes him to no goals in 6 games. His replacement Mikkel Beck seals the victory, and we're up to 12th. Ravanelli is out for a few weeks though.
A Juninho hat-trick helps us to a 4-2 win at Norwich in the first leg of a league cup tie, before 3 days later we do the impossible and shut up shop against Keegan's Newcastle at St James' Park to claim a very decent 0-0 draw. But just as I feel a corner has been turned, we lose 2-1 at home to Sheff Wed, and Juninho goes off injured after scoring our goal. 6 weeks without our best player is not a pleasing thought.
Ravanelli returns for the return leg of the Norwich game but he still can't get off the mark as we win 2-1 on the night to secure our safe passage to round 3, where we'll travel to Brentford.
A disastrous trip to Highbury follows the International break, where we lost 5-1. Even Steve Morrow scored. The only silver lining is Ravanelli is off the mark, briefly reducing the arrears to 3-1. In the next game it's Liverpool at home, a game where Ravanelli announced his arrival in English football with a hat-trick. Here, it's a 0-0 draw and Rav goes off injured. For goodness sake.
We end on two profitable trips to London, and Steve Vickers scores in both. Firstly a 1-0 win at Brentford in the cup thanks to Vickers' 57th minute header books us a trip to QPR in round 4, and then 3 days later we win an entertaining game at Selhurst Park. Wimbledon lead, we storm back to lead 3-1 before Robbie Earle sets up a tense finale. Vickers' goal was a 25 yard free kick, I have no idea why he took it but you can't set set piece takers on this game. Matthaus also got his first goal for the club.

Juninho is still a few weeks away and we lose a player to injury every week it seems
But the important thing is, we're not in the bottom 3. Somehow. Join me in part 2 to see if we can survive a harsh winter without having to call a game off. Toodles