Teething Problems
I'm going to level with you. This week didn't turn out well. You get those sessions on FM sometimes where one tiny thing goes wrong in the first game, and the team never quite manage to turn it around.
When we left off last week, we were sitting pretty in 7th, having won the first leg of the final Europa League qualifier. We were sticking goals away, and most importantly, we were yet to concede in those opening three games.
The next game involved our Brexit club hosting Burnley.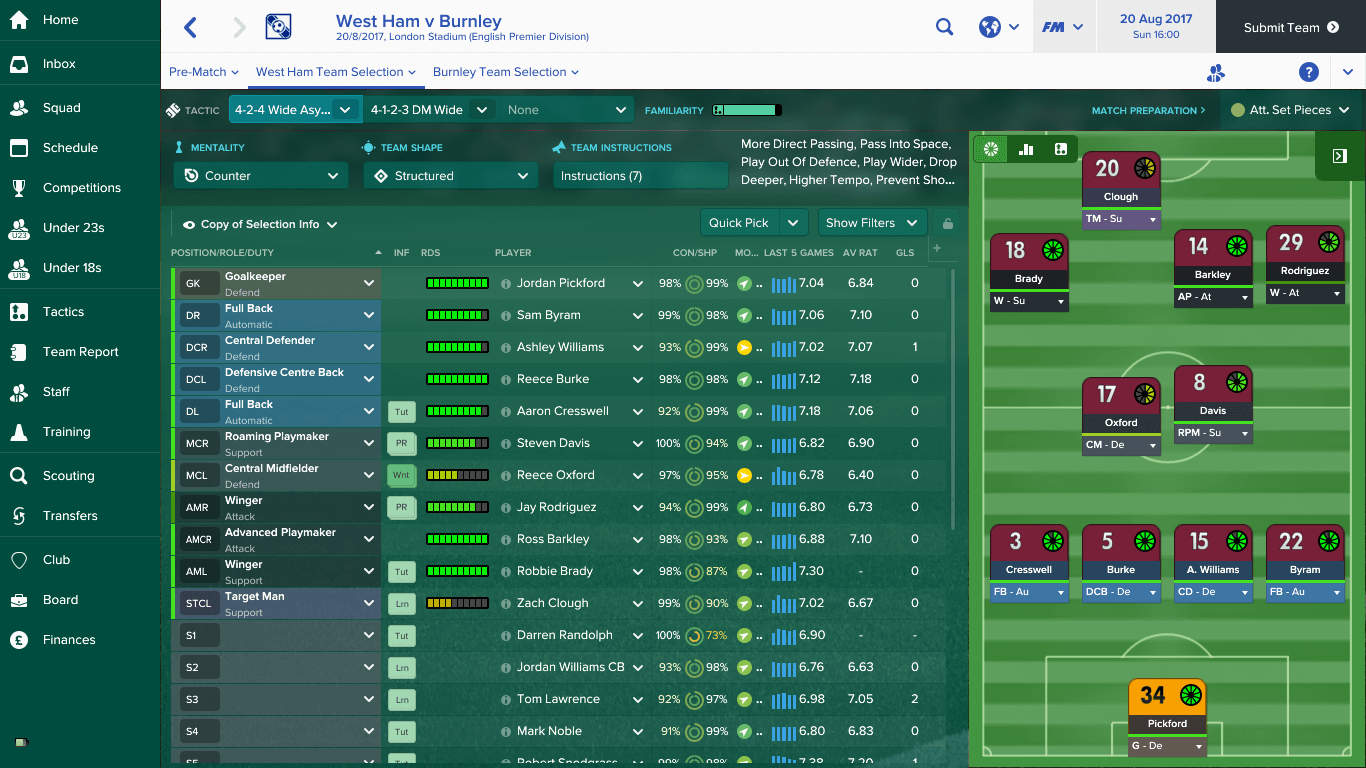 A bold move putting Clough up top on his own, but with Barkley behind him and a defence that had proven itself in the opening weeks, I was sure that this would be business as usual.
We went ahead early on through a Clough penalty, and dominated for the majority of the game. Then, just as FM realised I was getting a bit too big for my British boots, George Boyd did what he does best and smacked a volley home from 25 yards.
Frustration set in. Then Andre Gray slotted home two minutes later. Anger set in. I wouldn't mind normally, but it was my strong and stable centre-back Ashley Williams whose mistakes led to both goals.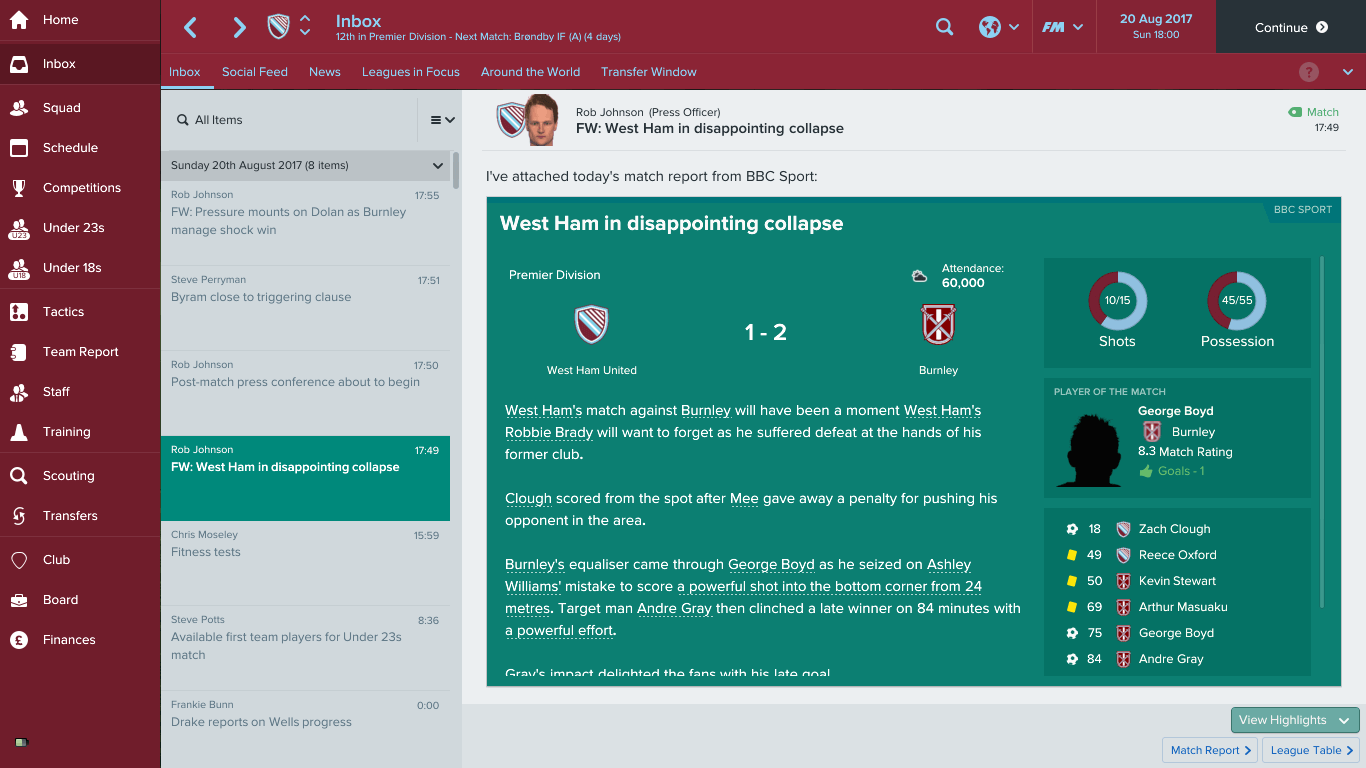 It's just one game, these things happen, but I think the media were a little quick to jump on my back.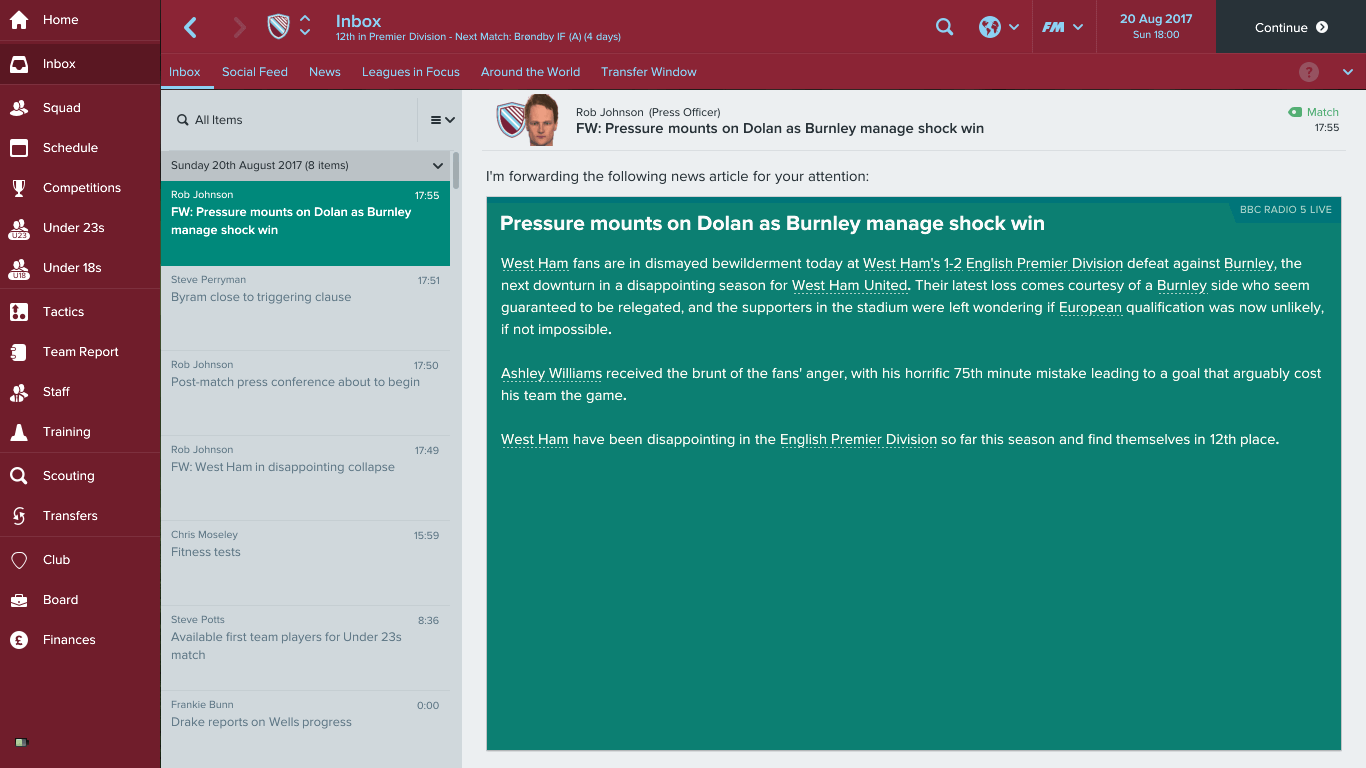 Still, a win against Brondby would be enough to cast my woes aside. Failing to qualify for the Europa League would be disastrous, so I set up my team to defend and got to work.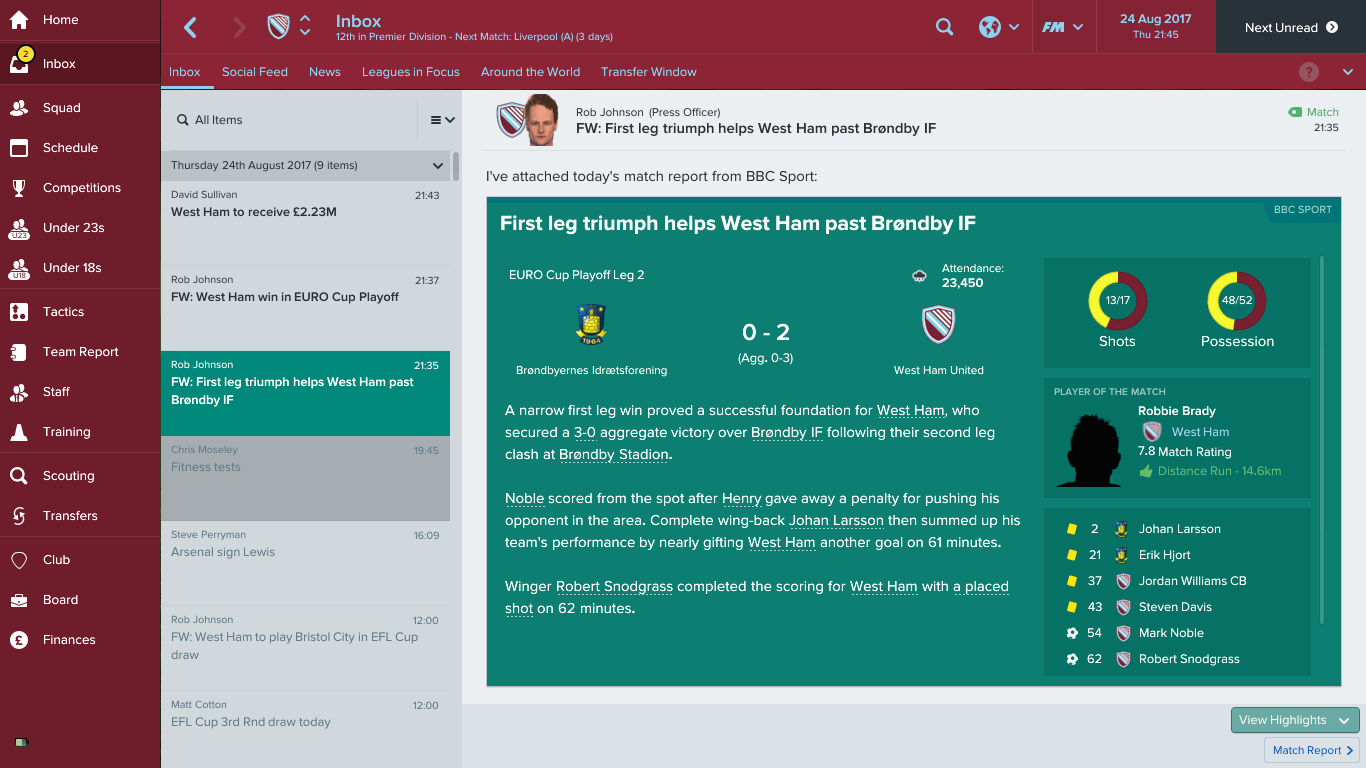 A Mark Noble penalty and a Robert Snodgrass free-kick were enough for me to qualify for the group stages. Here I got thrown into a group with Olympiakos, Dinamo Kyiv and Irtysh Pavlodar. A pretty nice looking group I hear you say, and I fully agree.
Unfortunately, this was the last nice thing to happen to me this week.
Liverpool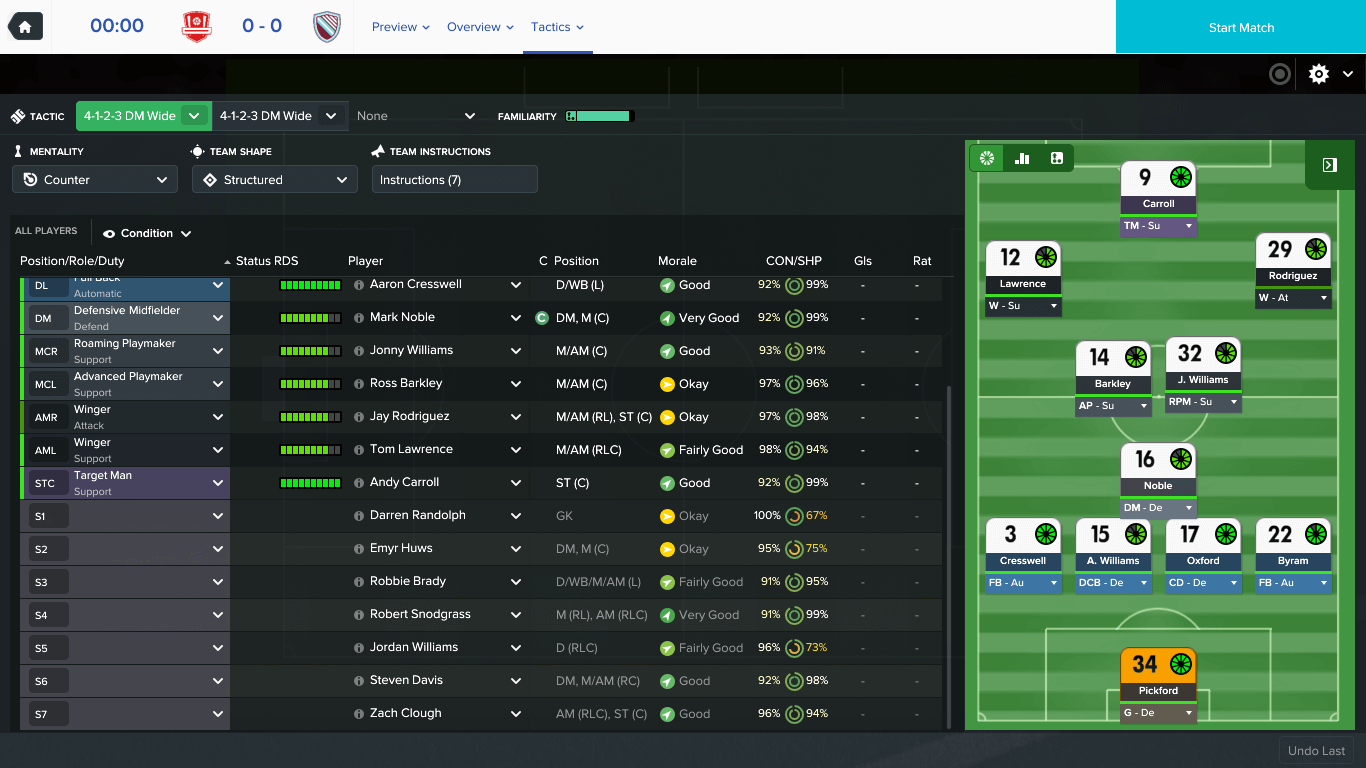 When we went to Arsenal last week I fully anticipated a 5-0 hammering. But the defence was exceptional, and we even managed to fire a shot off the bar as the game drew to a solid 0-0. So, I employed the same tactics at Anfield, expecting at least similarly good performances.
One of these tactics was to have Carroll play on the left of the attack, but to man mark Dejan Lovren, on the other side. This meant that when a ball came over the top from Pickford, Carroll would be between the two CBs, and would have more chance of winning the header.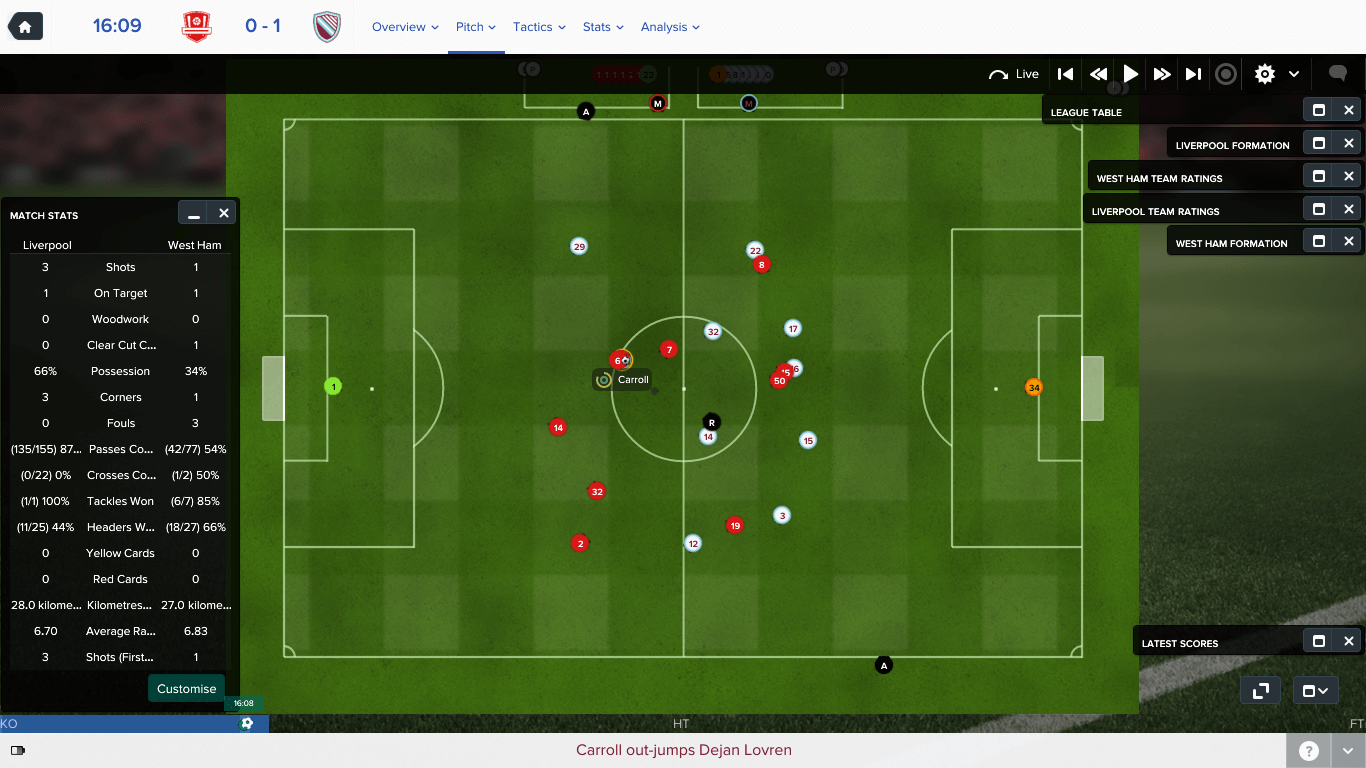 Here you can see that exact plan in action, as he flicks it on to the rushing Jay Rodriguez. Carroll then races into the box, to the far-post. 1-0. He did what he does best, and we were leading at Anfield!
Unfortunately, he then did the other thing he does best. He went off injured a few minutes later. Now I never knew that Carroll was a world class defender, but after he went off injured, this was the final score.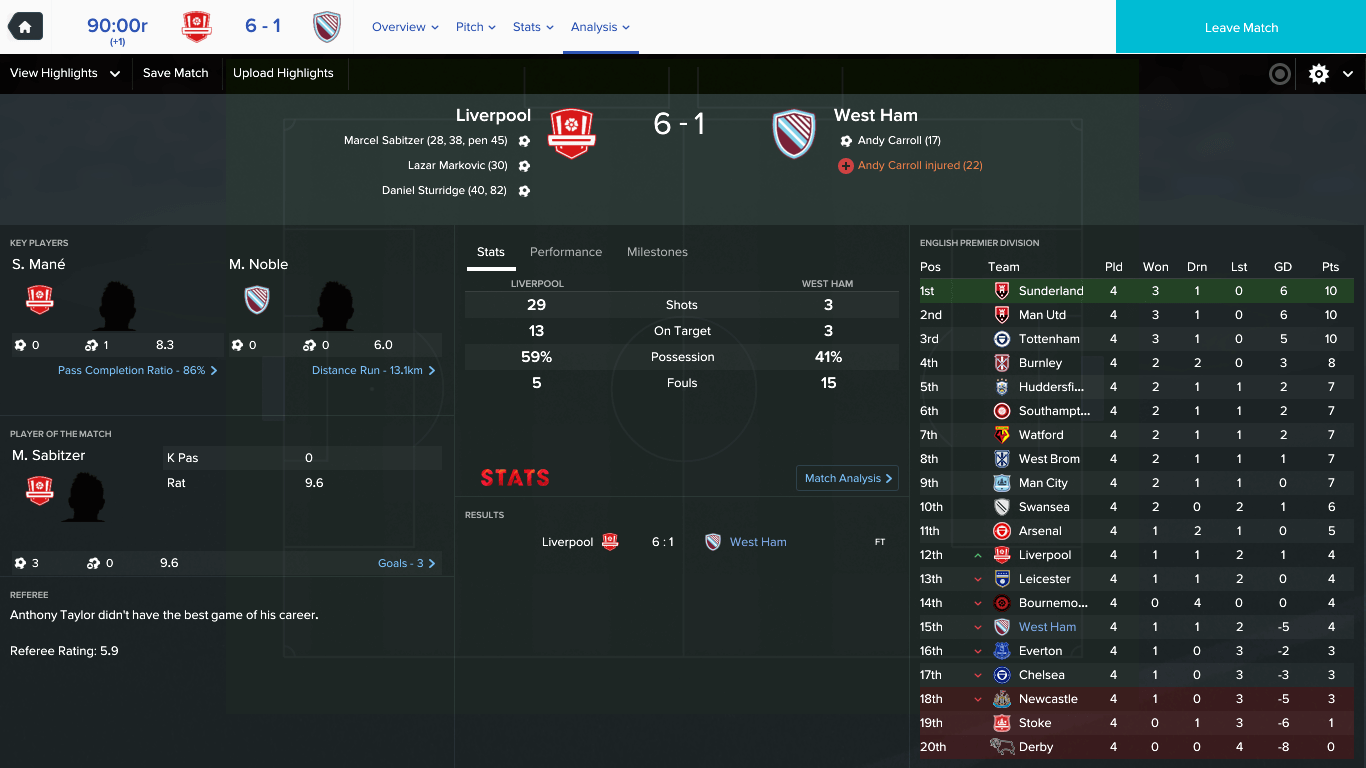 I couldn't believe it. This was a team who had conceded twice in 5 games, now they conceded 6 in one. I know Liverpool have a great attack but this was unacceptable. I should note, Ashley Williams was again awful.
This also presented me with a new problem. It turns out, Andy Carroll is vital to the team's performances, and we were now without him for 3 months. Yes, that's right, 3 months.
I needed a new striker, but I didn't have an awful lot left in the bank to play with. Goals could come from any direction, so I needed a big man to get on the end of those crosses.
Turning it Round?
Shane Long was the obvious answer. £4m, tall, quick, and could annoy defenders. Most importantly, he was British. And for his first match, he was to play up front against Manchester United.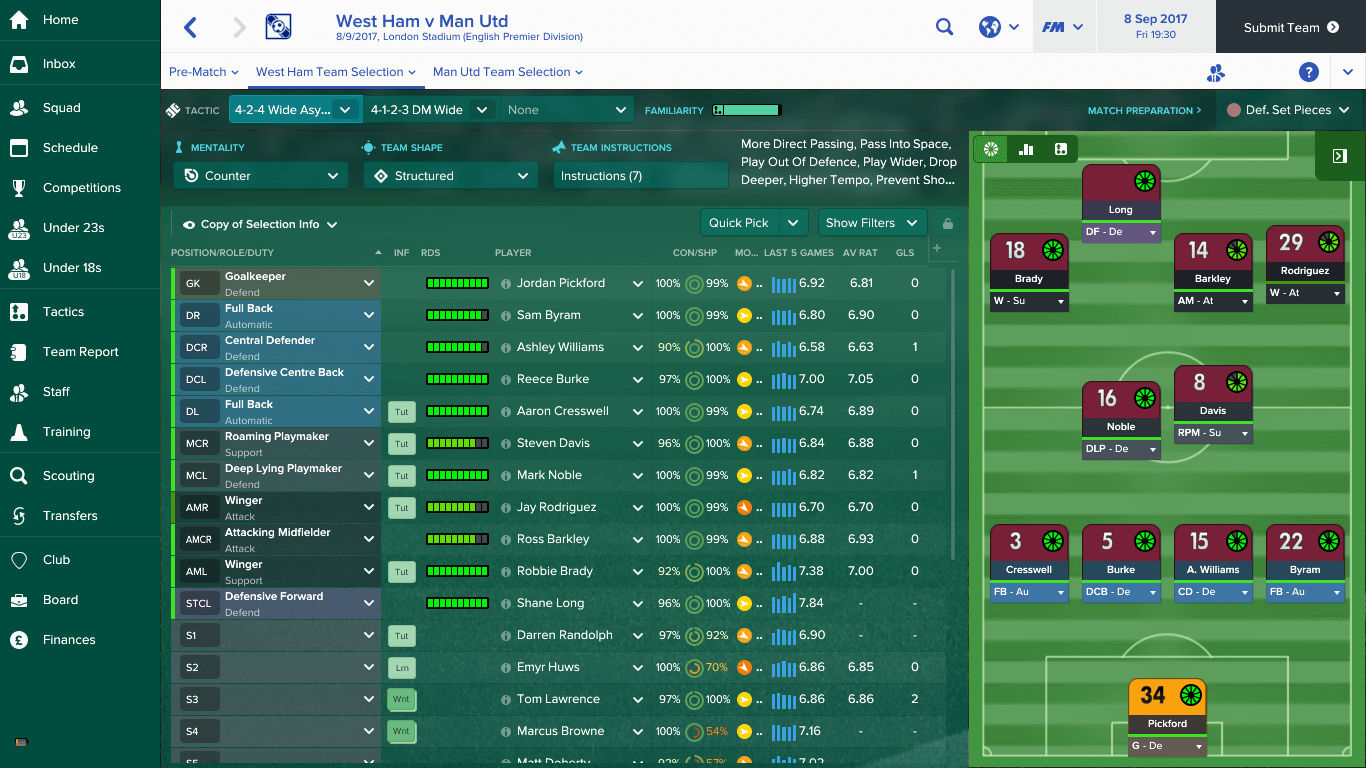 I kept the rest of the 11 the same, still relying on Ashley Williams in the centre. While a decent performance was put in by all, two Rashford goals were enough to put Man Utd top of the league. I doubt I'll be chasing them for that top spot come the end of the season.
Things weren't looking great, and we were slipping down the league. But then, a Europa League game. Say what you like about the Brexit team, but we do great in Europe.
Away at Olympiakos, we took an early two-goal lead through Long and Brady. Despite being brought back to 2-1, we regained our two-goal cushion courtesy of captain Noble. Of course, because our defence is embarrassing, the Greek side equalized with five minutes to play.
With time running out, who popped up for their first West Ham goal. About time Ross Barkley. 4-3, with seconds remaining in the game. A brilliant feeling. Not only were we off the mark in Europe, but our tragic run of games without a win was over.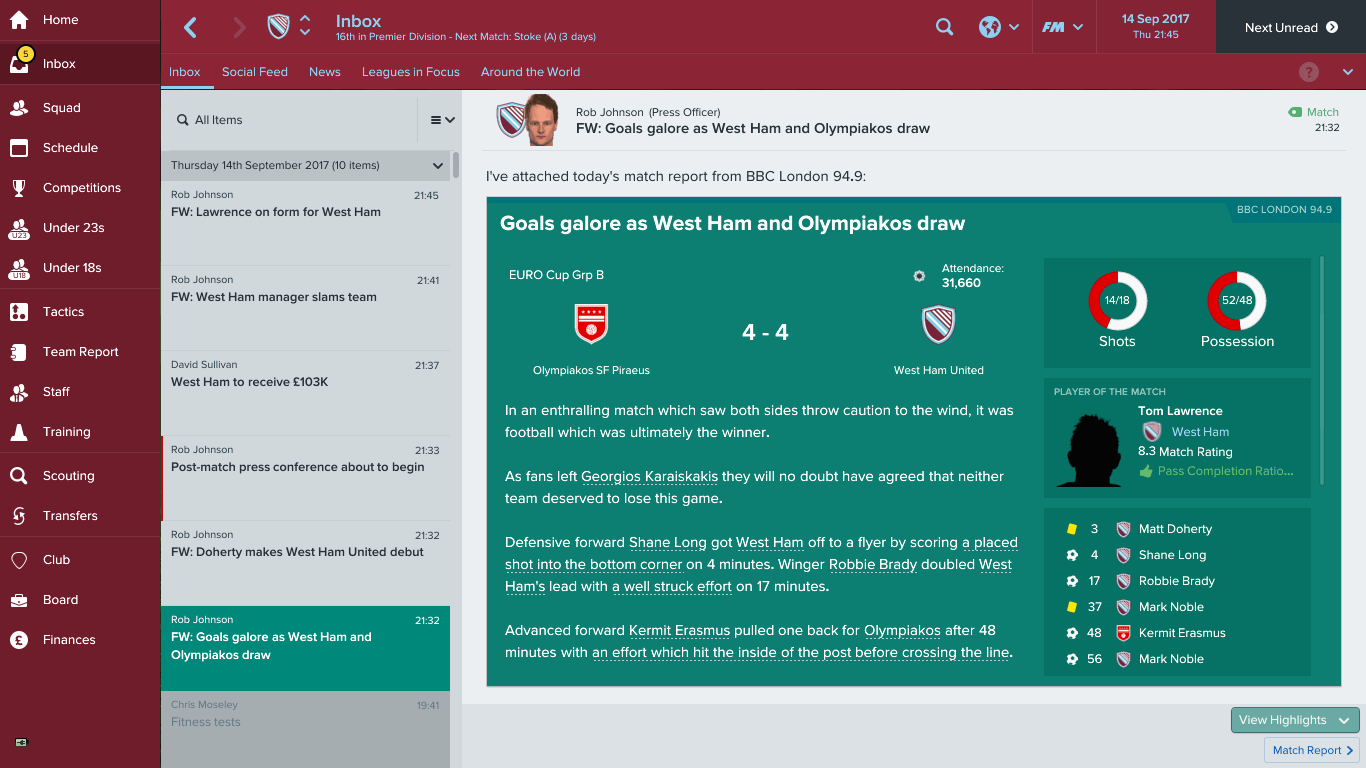 Oh, what's that? You thought we were solid defensively and Aaron Cresswell didn't give away needless penalties in the dying seconds? Well, I'm afraid you were wrong.
So the Europa League proper is still yet to see a West Ham win this season. And to make matters worse, next is an away trip to Stoke. For a normal team, not too imposing, but as I mentioned last week, I'm an Arsenal fan.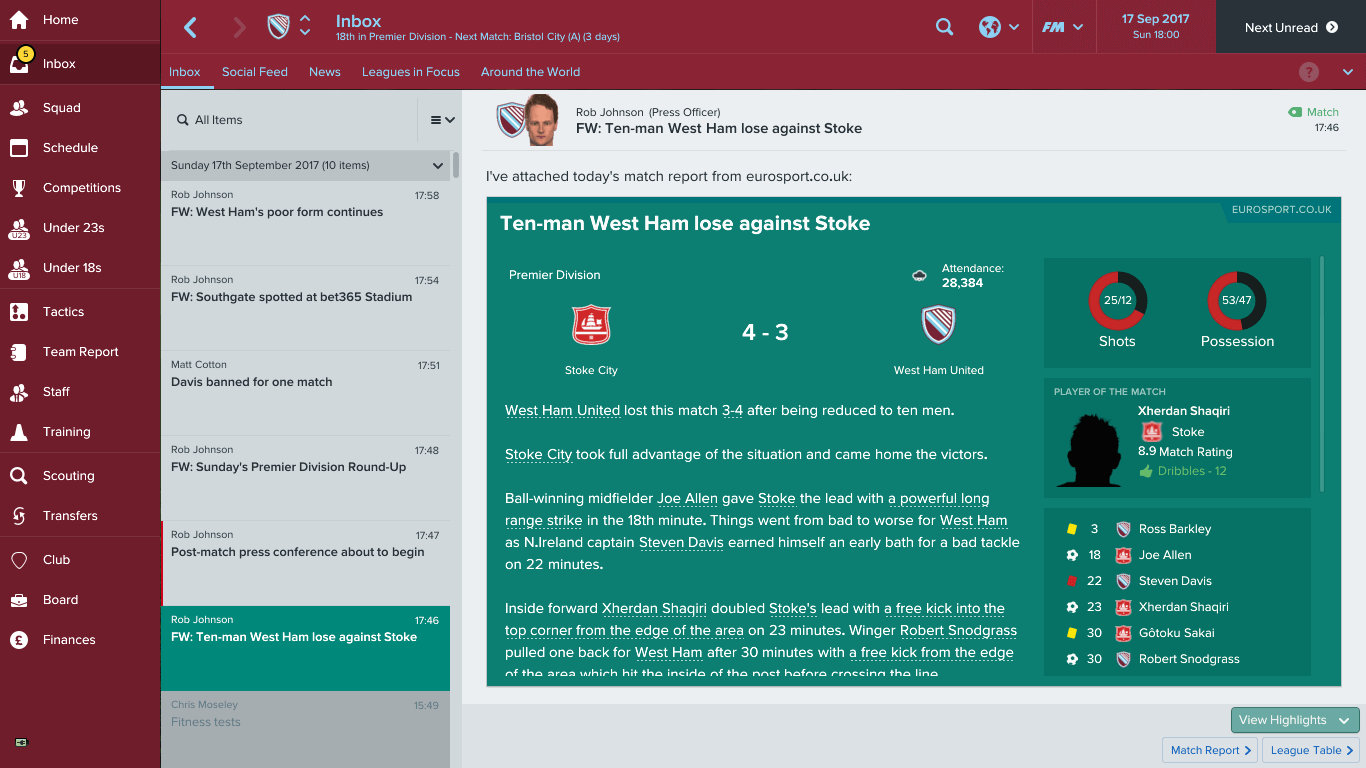 A mixture of a Steven Davies red card and yet another late penalty meant that it's now five league games without a win.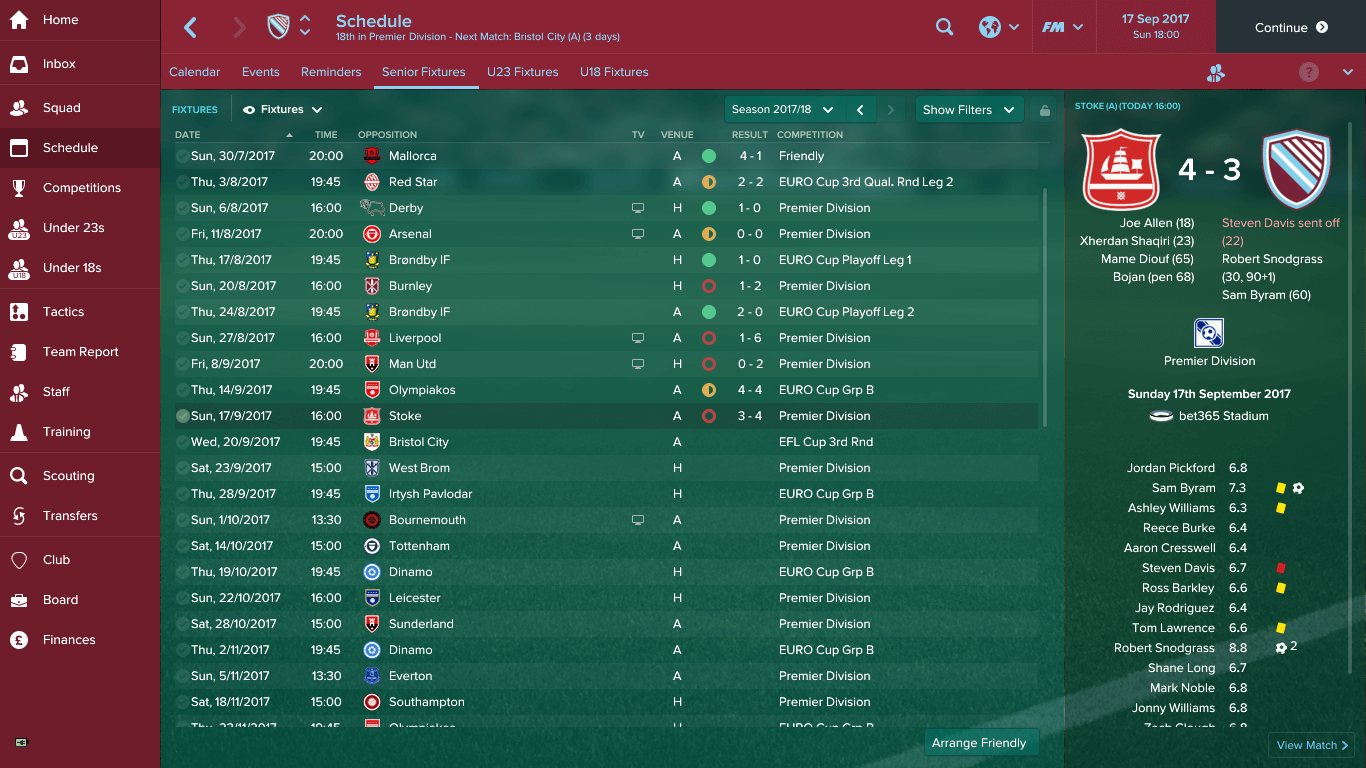 We all have bad FM sessions. It happens. In my own defence, these have been tricky fixtures. My only hope is that our EFL Cup opener against Bristol City goes better. This Brexit thing is harder than it looks.