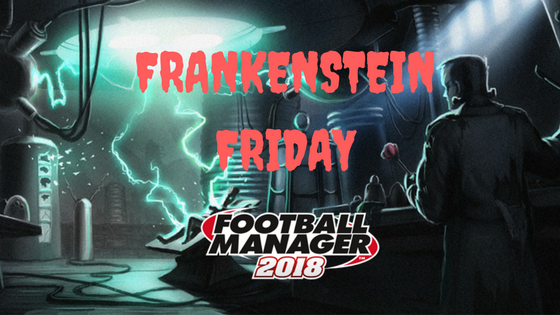 Webster's Dictionary defines an experiment as…
"an operation or procedure carried out under controlled conditions in order to discover an unknown effect or law, to test or establish a hypothesis, or to illustrate a known law"
In our continuing series of exploratory experiments, we look at the effects of a set group of mental attributes. N'golo Kante has earned rapturous reviews for his sheer devotion to the cause but what if he suddenly lost all motivation? What if his attributes relating to that were reduced to the lowest possible? Let's see.
Using the in-game editor on FM's 14th manifestation I have lowered Kante's Aggression, Determination, Leadership, Teamwork and Work Rate to '1'. In addition, I've also removed his player traits to reflect his new-found lack of application to the game. In this virtual world, with artificial intelligence hot on its heels, what difference will it make? A notable change in the Media Description already!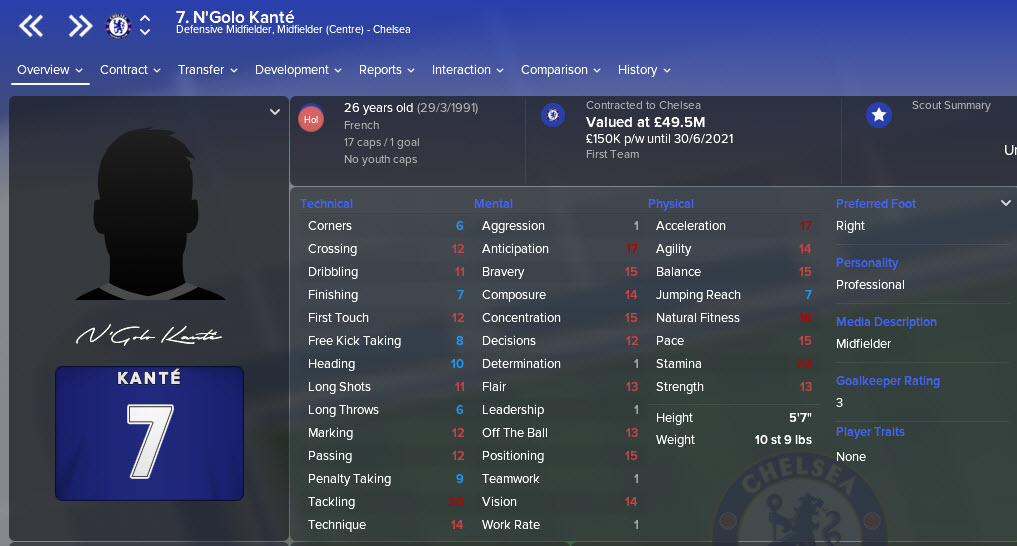 We will simulate five seasons into the game to see what effect this has on his stats and also his attribute development. With so much sports betting on football in the world, would you even think about putting money on a team with this N'Golo Kante in it?
Season One
Chelsea finished the league a disappointing 6th place, exiting the League Cup in the Semi-Final on penalties to Liverpool and the FA Cup in a 3rd Rd replay against Ipswich. They did, however, make the Champions League Final recording a 3-1 victory over Manchester United.
Kante's end of season stats are an interesting find. Despite his lack of motivation he still managed to notch up 10 goals and 19 assists – a goal and an assist coming in the Champions League final. We do notice a substantially low distance covered per 90 mins.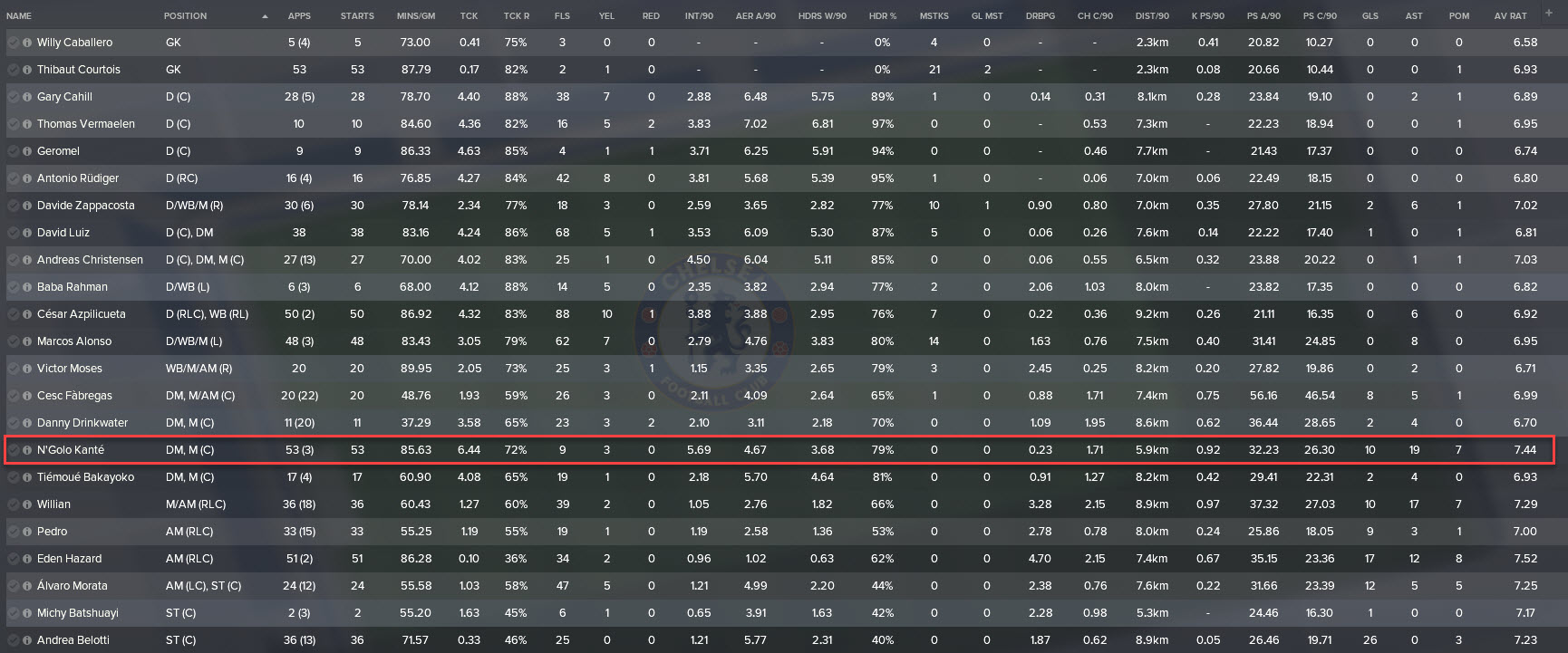 In terms of his attributes, we see some regrowth in the Leadership, Teamwork and Work Rate categories.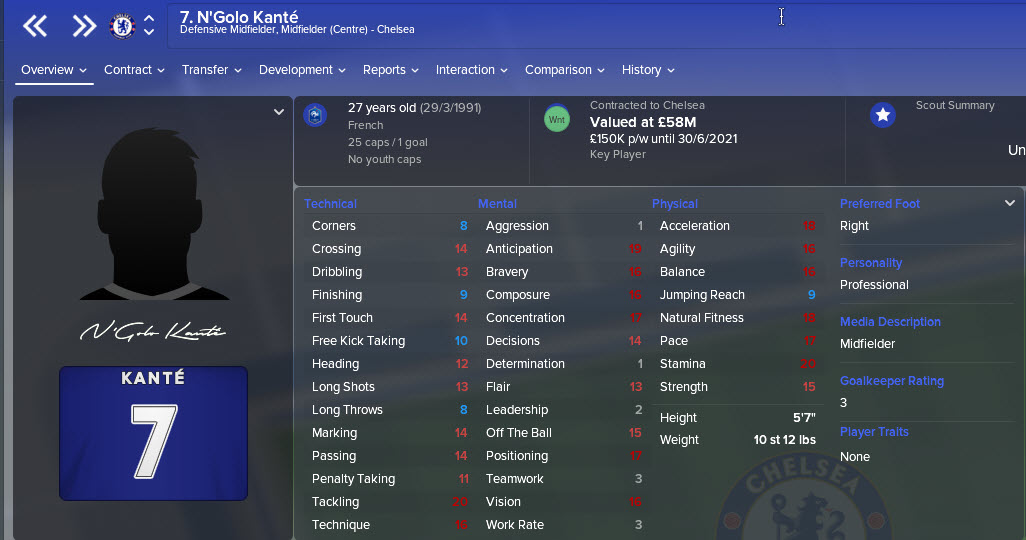 Season Two
Chelsea managed to pull themselves back into the coveted top 4 by finishing a respectable 3rd. An FA Cup final loss will have been somewhat offset by an EFL Cup win over Arsenal and a victory in the Club World Cup Final. Sadly, Chelsea could not retain their Champions League title as they exited in the Quarter Final on penalties to Bayern.
Kante had a stellar season – scoring 18 goals and assisting a further 18! This despite covering the second least ground over 90 mins in the squad in his 53 appearances.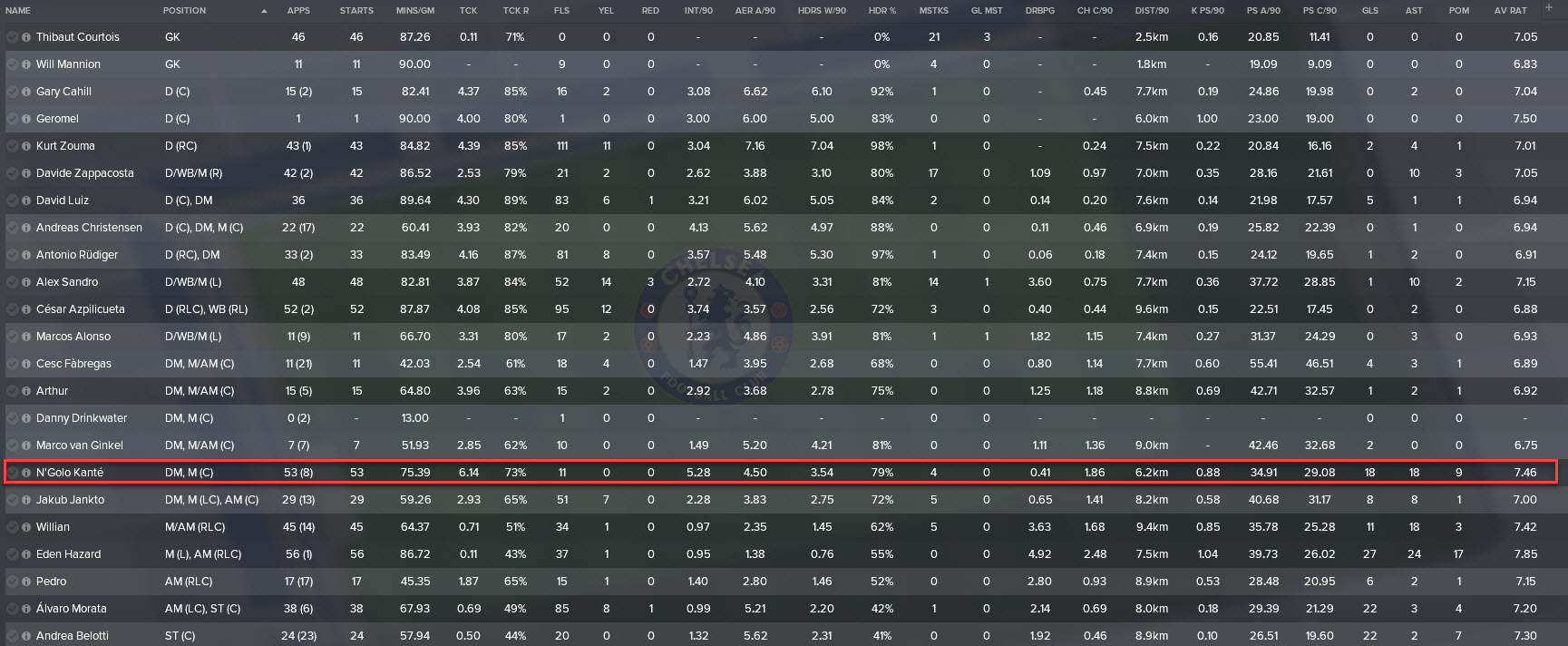 On the development front, there were no further gains on the specified attributes.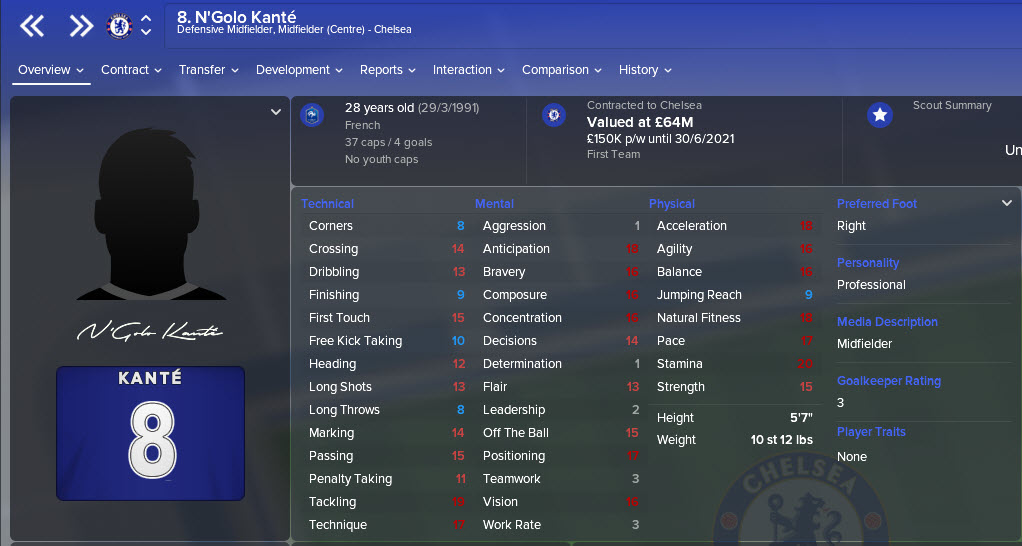 Season Three
Champions League football didn't last long for Chelsea as they have fallen back to 5th in the league. An EFL Cup quarter-final exit was compounded by leaving the FA Cup in the 6th Round and a Quarter Final defeat in the Champions League.
Kante slipped to 9 goals but still notched up 18 assists. The distance covered was again a meagre 5.9km per 90 mins.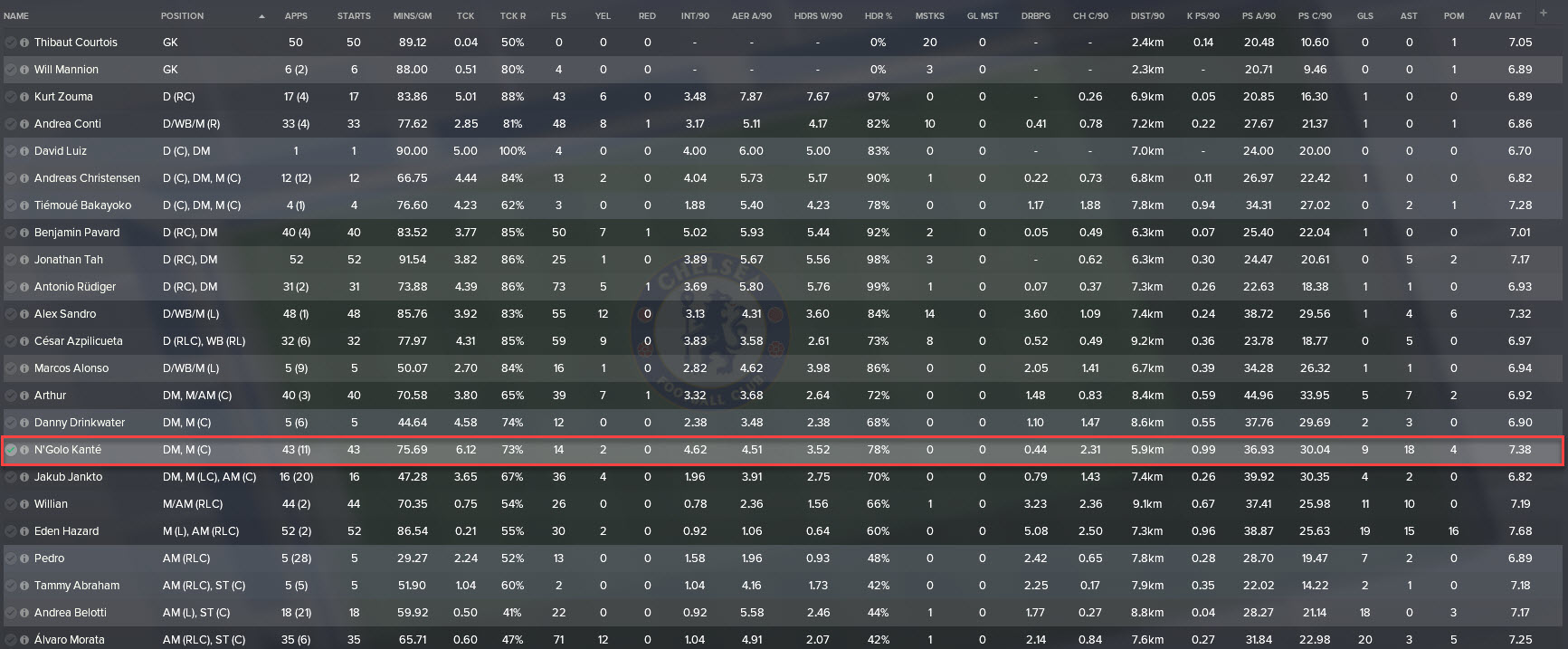 It's another attribute freeze on the featured areas for Kante as he enters his prime years.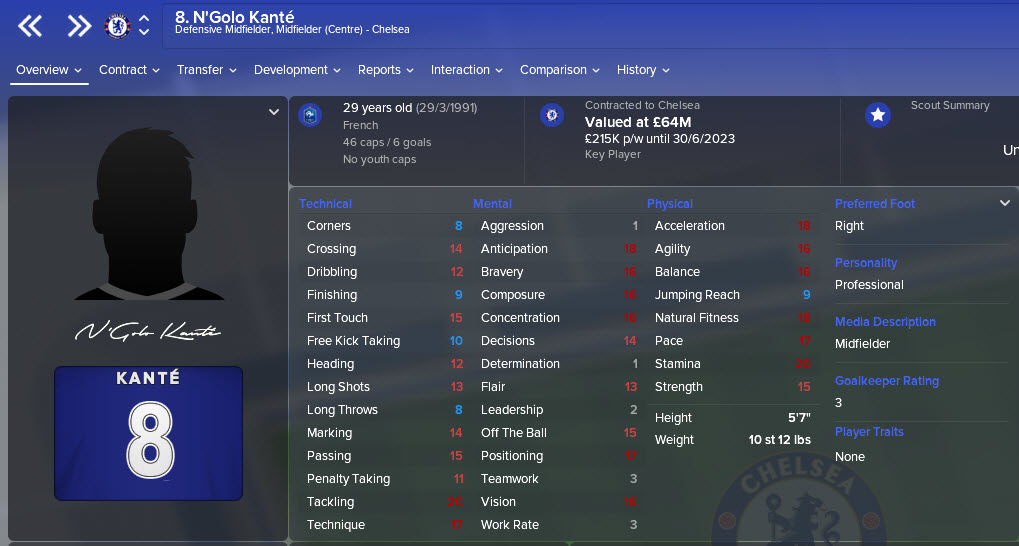 Season Four
The league yo-yo-ing continued for Chelsea as they climbed back up to 3rd in the table. An EFL final loss to Manchester United was followed by an FA Cup Semi-Final loss to the same. Chelsea then lost out in the Semi-Final of the Europa League to Arsenal.
Kante kept up a decent goalscoring record as he banged in 13 goals with a further 9 assists. Alongside a measly 5.9km per 90 minutes.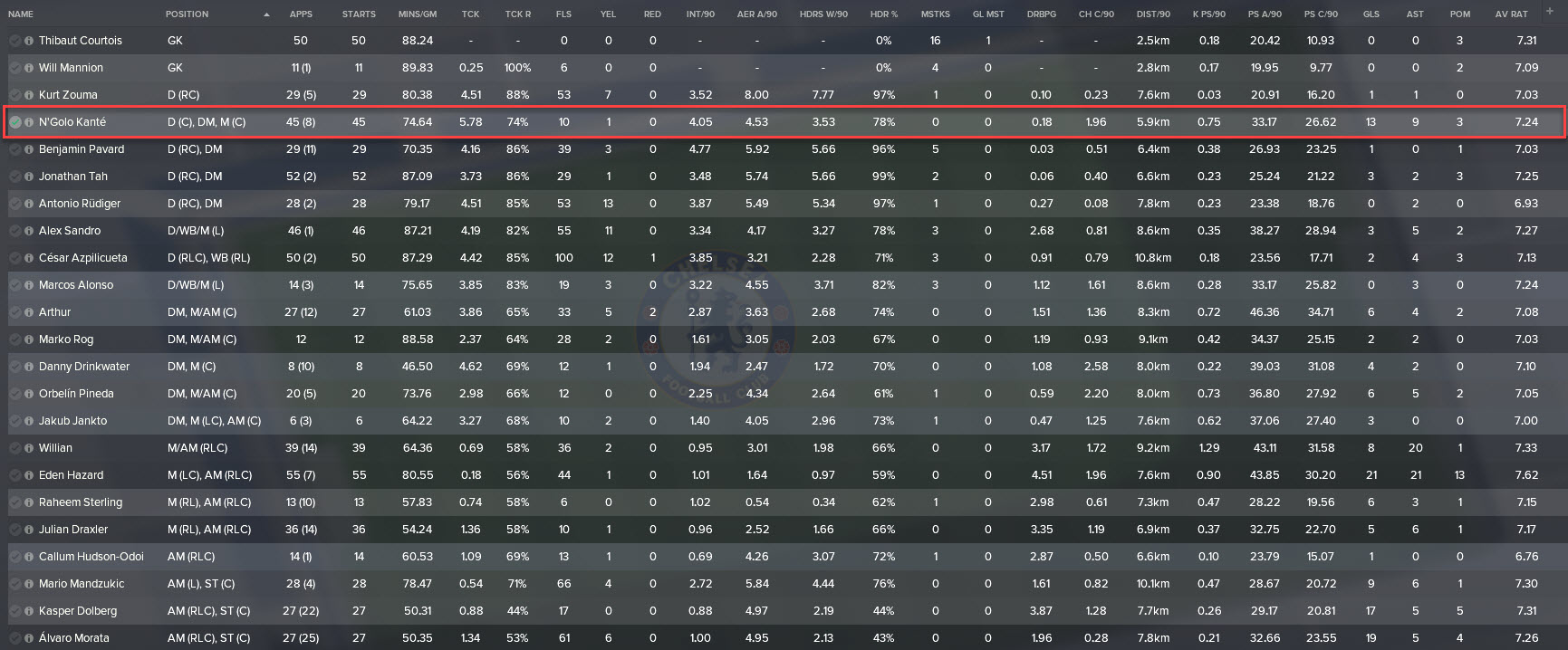 Signs of attribute regression show as Kante's Work Rate drops back to 2, he has also retrained as a central defender to add another string to his already versatile bow.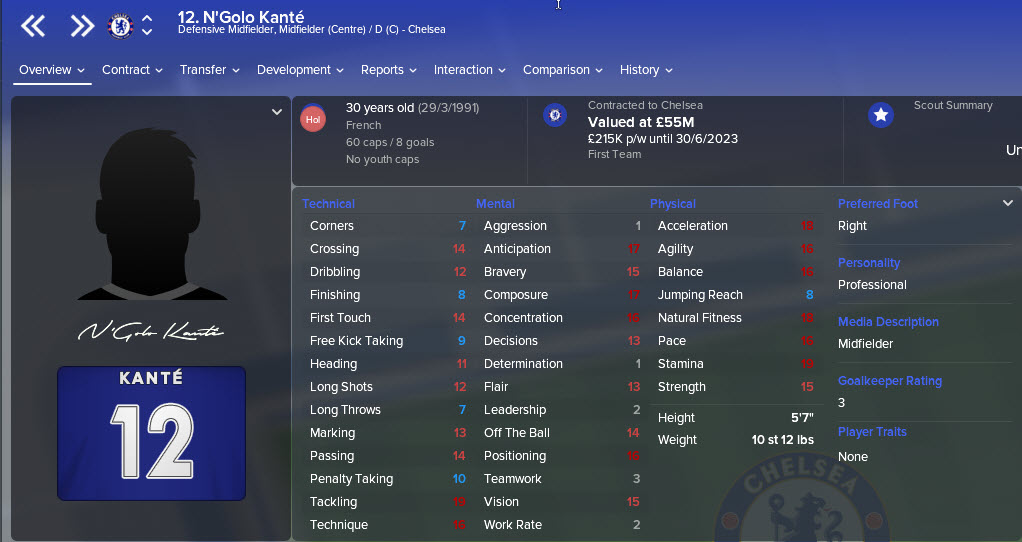 Season Five
In the final season of our experiment, Chelsea finally managed to come out on top by winning the Premier League! An FA Cup 3rd round exit was as disappointing as their CL 3rd place finish but the wounds were licked by an EFL Cup victory and a 3-0 win over AC Milan in the Europa League Final!
Kante's influence began to wane in this season as he only made 27 appearances but still managed to strike up 7 goals and 8 assists.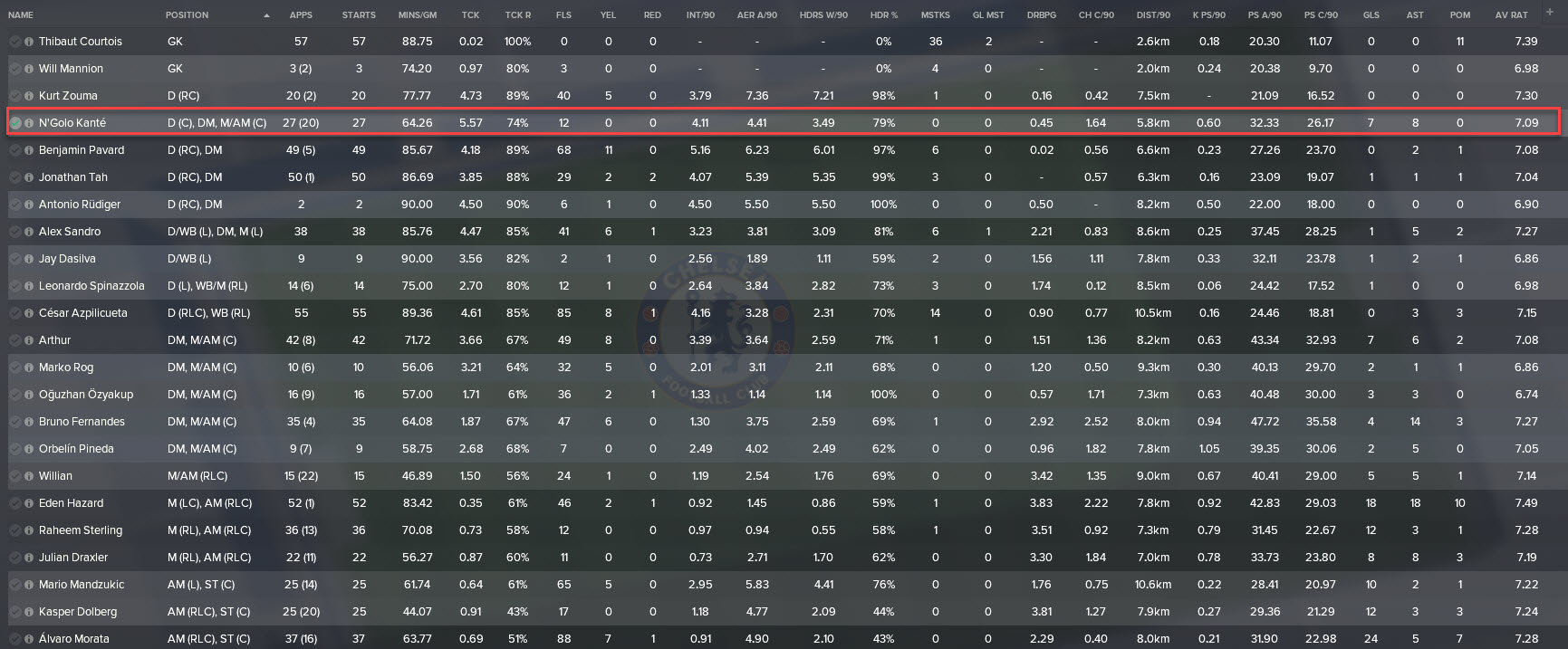 The ship was steadied in terms of the mental attributes as this experiment concludes.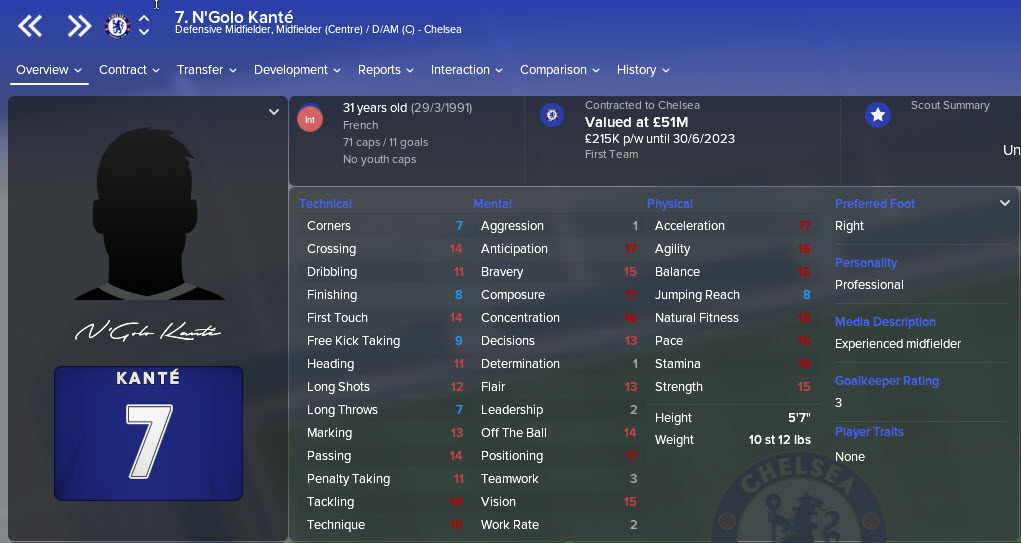 A conclusion
These experiments are difficult to make a judgement on but Kante's new lethargy didn't seem to hamper him, probably even helping him become more self-aware due to the goals tally! At one point his value increased to £64m showing his true worth to the club. Don't forget, this is using a database that a number of clubs turn to first when thinking about making real world signings.
Perhaps what is significant is that N'golo Kante's squad number switched throughout the process, possibly a sign of Chelsea's lack of belief in an unmotivated player?
Interesting, indeed? Or just a complete waste of everybody's time?
Disclaimer: This experiment was run under controlled circumstances. Please replicate with due care and attention.