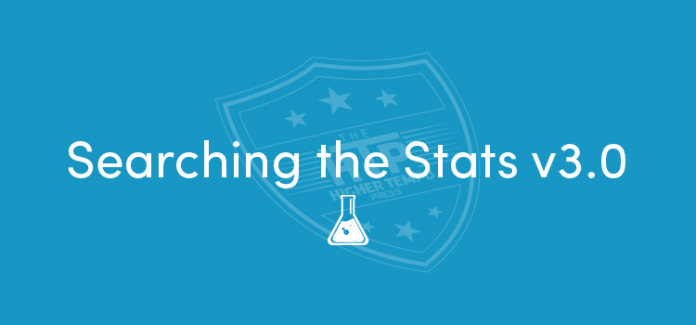 Episode 2 – Centre Backs
Last week we got our shortlist for recruiting full-backs for our team that we'll pursue when we take over our club, but now we need to recruit some centre-backs.
First, though we need to work out what stats would be useful in judging potential recruits.
We're adopting the same base criteria for every position on the pitch (alongside the specialised criteria) which is:

Started a minimum of 15 games in the last season
Value in between 150k and £20m
Age at most 32
The more centre-back specific traits we're after are:
Tackle Attempts – What use is a centre-back that can't tackle? We'll need to be careful in our use of this statistic as attempting more tackles doesn't necessarily mean a player is a better defender, it could just mean they were caught out of position and were forced to attempt a tackle.
Tackle Completion Ratio – What use is a centre-back that can't tackle WELL? The above stat is useless without the completion ratio to complement it as it's pointless signing centre-back 1 who's made 50 tackles more than another centre-back if centre-back 1 has a tackle completion ratio 30% lower than centre-back 2.
Key Tackles – Similar to the above, how good is the player at last ditch/crucial tackles?
Headers won ratio – Obviously, we want our CBs to be good in the air – if they can win more than their fair share of headers that'd be nice.
Interceptions – Probably a more important stat than tackling, if a player is positioned well enough so he can intercept the ball rather than have to attempt a tackle then that's a huge bonus.
Mistakes Leading to goal – The lower the better here obviously.
Passes Completion % – Since we're playing at one of the highest levels in football we want our players to be technically good and be able to pick a decent pass.
Average Rating – Obvious, needs no explanation!
Fouls Made – Another obvious one, the fewer fouls given away the better, in particular, combined with a high tackle completion % should find some reliable defenders
Yellow Cards – Again, linked to fouls made and tackle completion %
So when we add those stats into the known player's bar and apply the following criteria (got from starting at the highest possible number and working down until a decent number of players are showing)

Started a minimum of 15 games in the last season

Value in between 150k and £20m

Age at most 32

Tackle Attempts at least 200

Tackle Completion Ratio at least 80%

Key Tackles at least 35

Headers won ratio at least 80%

Interceptions at least 140

Passes Completion at least 70%

Average Rating at least 6.50

Yellow Cards at most 10
When applying this criteria we end up with a shortlist of 14 players as below.

From this shortlist we want to be recruiting 5 centre-backs – 2 centre-backs for the starting 11, one very adequate deputy and 2 backups. In order to further narrow down our search, we'll now create 2 shortlists similar to what we did when trying to narrow down the number of full-backs we'd be hiring. The main shortlist is for the 3 best CBs (the 2 in the starting 11 and the one that will most likely be starting on the bench) whilst the secondary shortlist will be for the backup centre-backs.
We'll now work through each centre-back on the lists career to see if we can spot any potential red flags or details that will stop us from adding them to a shortlist.
Vincent Balustre: The 25-year-old has never played outside of France (starting his career at Stade Rennais before moving to Marseille 3 seasons ago. Whilst he doesn't speak English he comes from a good club, has played regularly at a high level (including games in the Champions League this season). Joins the main shortlist.
Damian Coloccini: Had flitted around all over the place since coming through Argentinian side Belgrano's youth system, going on loan to 4 different clubs in 4 seasons, before moving to Europe with Bordeaux. He got to play European football with them before moving to Belgium with Anderlecht 6 seasons ago, during which time he switched international allegiances from Argentina (where he won 7 youth caps) to Belgium, where he's been capped 4 times this season. Joins the main shortlist.
Roberto Lavin: A few red flags here. He started his career at Racing Santander in Spain spending 3 seasons with them in the Segunda division until Las Palmas bought him up to La Liga for a fee of £1.8m. He spent a season at Las Palmas before moving to Italy with Inter Milan. He didn't play a single game for Inter and moved the season after to Anderlecht where he only made a solitary appearance before returning to Racing Santander. 2 seasons were spent at Racing, helping them get promoted, then leaving as they got relegated at the end of 26/27 season. Another transfer to Deportivo La Coruna followed, where he only played half the available league games before transferring again to Sporting Gijon where he's been for the last 3 seasons. He'll most likely ask to leave at the end of this season as Gijon have been relegated, however, question marks about his ability (his teams always seem to struggle) and his lack of games (he's 28 and only played 275 games). Joins the secondary shortlist.
Mathys Kuntz: Spent the first few years of his career flitting betweens Ligue 1 and Ligue 2 with Sochaux-Montbéliard until Celta Vigo plucked him from the French 2nd tier for £4.6m in January 2023. Sevilla then signed him in the summer of 2024 where he's remained for the last 7 seasons. Whilst getting on a bit (now aged 31), he's obviously still a solid centre-back, only missing one league game this season and making his French national team debut last season. Joins the main shortlist.
Mike John: A product of Readings academy, he broke through into their first team in 21/22 playing half the available Championship games. A few seasons on loan in League 1 then followed before he was released. He joined fellow Championship side Walsall where he's been a regular in their team for the last 6 seasons, including a relegation down into League 1. He joins the backup shortlist for further examination due to a combination of his age and current league (he's 28 and still playing in League 1).
Marcos Renzi: The young (he's 21) Argentinian has spent all his career so far playing domestically in Argentina, he started his career at Talleres before making a £1.9m move to Independiente at the start of the season just gone. He's capped at U23 level for Argentina and could potentially make the step-up to the Premier League, moving him to the secondary shortlist as I doubt he's of ability to start regularly in the Premier League yet.
Diego Vignati: Has a future transfer arranged, ruled out.
Keith Powell: Spent a year in Blackburn's academy before being plucked up by Premier League Bournemouth. 6 seasons at Bournemouth followed with loans to Northampton, Coventry, Port Vale and Stevenage followed before being released without a single appearance for the Cherries. He then joined Southend in League 1 on a free where he spent 2 seasons before moving to Sheffield United (also in League 1) for a big fee (for the league) of £1.7m. He spent just a season at the Blades before getting his shot in the Championship with Derby. He spent 2 years at Derby – looking a bit out of his depth with ratings of 6.58 and 6.41 for the 2 seasons there before returning to Sheffield United at the start of this season where he's excelled. A tough one this, he struggled in the championship aged 27 so personally don't see him ever making an appearance for a Premier League team, so will rule him out.
Marcelo Caballero: Despite being the star performer in his team this season, it was in the Argentinian 3rd division, and having never played higher than the 2nd division, he's now 24 and I doubt he can make the step up to the Premier League. Ruled out.
Lisandro Mansilla: A similar fate for Lisandro. He's now 29 and has only played 10 top flight games in Argentina and is in the third division. Ruled out.
Aaron Herrera: A tough one this. He flitted between the Argentinian Premier and 1st division for a few seasons before making the move to Portugal. He played for 2 seasons (one in the Primeria Liga and one in the second division) before joining Apollon Limassol on a free transfer. He spent 6 and a half seasons there before making the switch to Cypriot rivals Omonia Nicosia. He's now a fully fledged Cypriot international and has played in multiple Europa League campaigns. Could be a rough gem but seems unlikely, will add him to the secondary shortlist for further analysis.
Ronnie Saxby: An interesting case, Ronnie turns 21 near the end of June. He's a product of Watford's academy and has spent the last 4 seasons on loan in League 1. He's excelled this season and could be ready for games at a higher level. Joins the secondary shortlist.
Dario Feuillassier: Broke into his teams (Almagro in the Argentinian 3rd division) starting 11 aged just 17, now 20 he's just had a ridiculously good season (with an average rating of 7.95 in 32 games) and could be ready for a big move. Joins the secondary shortlist.
Sean Tear-Biggins: Aged 30 he's never played above League 1 level and having just been relegated down to League 2 with Charlton, I'd wager he's not capable of playing at the level we desire.
Main Shortlist
Just 3 players make it onto the main shortlist:
Vincent Balustre:
Damian Coloccini:
Mathys Kuntz:
A very tough choice this! Balustre has the worst discipline and gave away the most fouls which shows potential weakness in his side of the game, but also had the least amount of mistakes to his name. Coloccini looks pretty unremarkable by the radar despite having the highest tackle completion ratio, whilst Kuntz looks a solid all-rounder. Kuntz takes the lead spot and will be partnered by Balustre. Whilst I have question marks over his discipline, his defensive stats read a lot better than Coloccini's however, the secondary shortlist may throw up some new options.
Kuntz

Balustre

Coloccini
Secondary Shortlist
Roberto Lavin:
Mike John:
Marcos Renzi:
Aaron Herrera:
Ronnie Saxby:
Dario Feuillassier:
Again a very tough choice. Mike John has a fantastic record for the season, but it's worth remembering that he's 28 and playing in League 1 so making the step up to the Premier League will be massive for him, likewise with Herrera. Saxby has incredible discipline and solid defensive stats for the season – the Premier League will be a big step up for him but he's young and we can ease him in. Renzi looks a great shout and Feuillassier as well, although the league Feuillassier is playing in plays against him.
So after a long think, I've opted for:
Ronnie Saxby

Marcos Renzi

Aaron Herrera

Roberto Lavin

Dario Feuillassier
Mike John