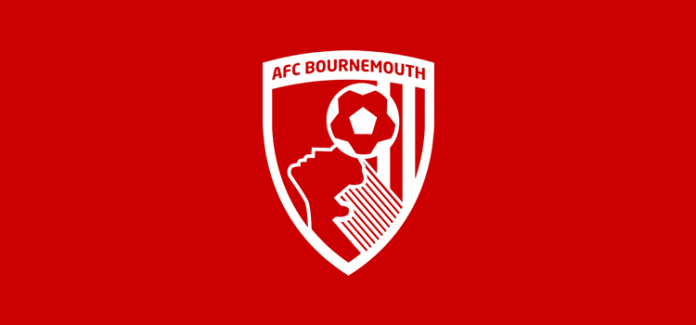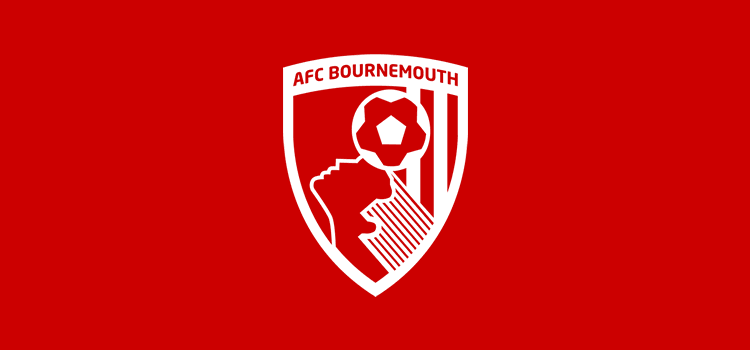 It's time to jump on the fixture list merry-go-round once more and we're back to the beginning. Perhaps inspired by the 5-2 goal extravaganza we served up against Hull the last time one of our games was televised, the powers that be pencilled in our Boxing Day match against Spurs for broadcast.
I can only apologise to the hungover masses as our lunchtime kick-off delivers precisely zero goals. Anyone who was on the verge of a turkey-induced midday nap would have been comatose by half time. It's not that there weren't chances; we somehow managed to squander 3 clear cut ones.
A bit of total football started with Butland rolling the ball out and a snappy exchange of passes between Keane, Rossiter and Arter saw us travel up the right hand side of the pitch in a satisfying zigzag pattern. Simon Francis had overlapped beyond Danny Rose and proceeded to not simply put a chance on a plate for Callum Wilson, but to cut it up into easily edible little chunks for him too. Wilson had eluded Vertonghen and then, despite being close enough to Lloris to smell his aftershave, smashed the ball a good six yards wide. More quick, neat football saw Arter exchange a one-two on the edge of the box and put him through on goal with the ball on his favoured left foot. His finishing was better than Wilson's but not by much – the Irishman's placed shot clunked against the post and rolled aimlessly wide. A point is a good result against a very decent side but it feels like two point dropped; Tottenham's goose was cooked but still contrived to fly away from the kitchen table, to stretch a Christmas-themed metaphor to breaking point.
More imprecise, clumsy and otherwise profligate finishing was the reason for a disappointing end to the calendar year against Everton. We had them on the ropes for the entirety of the game but couldn't land that knock-out blow. To make matters worse, they hit us with a sucker punch to pick up a 1-0 victory (I promise to stop with the extended metaphors from now on).
New Year's Day saw us amble and grimace our way through another uncomfortable encounter with Watford in our shared lodgings. Lewis Cook scored a lovely solo goal though, dribbling past three players before slotting home with his left foot. He's coming along nicely in his new role. Unfortunately we let Odion Ighalo score and if you do that – and it's not 2015 – then you don't deserve to win.
The FA Cup chucked us a tie against a struggling Leicester City who have recently given old Claudio the chop. Life imitating art, eh? Anyway, in the build up to the game, new gaffer Steve Clarke singles out Alex Smithies as our weak link. While I fancied giving the FA Cup a good shot this season – it's pretty much certain we're gonna end up somewhere in midtable, so there's not much to play for in the league – I was thinking of giving Smithies a run out anyway and I'm not about to let Clarke mug us off here, so I stick him in net.
What an error that would prove to be. With five minutes on the clock, Smithies gathers a simple cross. As our defence trots forward, Smithies goes to roll the ball out and inexplicably hurls it against Jack Stephens heels. The ball pops up and Vardy is at hand to smash the ball home.
I'm fuming. I can't believe that I've been done by the game like this.  I've been completely suckered by fictional Steve Clarke's mind games. I've let hubris get the better of me and I have to pause the game and take a little walk to cool off. Eventually I return, composure restored and determined to salvage this. In fairness to Smithies, I'd say the blame lies more with Stephens – he was running away with his back to the ball when we were in possession, ignoring his instructions to offer for a short pass – but the game has decided it's the keeper's fault, as a his rating plummets to a 5.1. I take a drastic step and haul Smithies off after just 7 minutes. Whatever self-esteem the lad had is now in tatters; shrapnel spread over the Vicarage Road pitch.
My decision is vindicated as we claw our way to a draw and Butland is named man of the match during his 83 minute stint between the sticks. I have to endure the smug post-match comments of Clarke who smears his superiority right in my face. The cup dream isn't over but we've failed to beat a poor team and now we've got to negotiate a replay. Another game is the last thing we need.
Speaking of cup dreams, the first leg of our EFL Cup semi against Chelsea is our next game. I've been dreading it, to be honest – they've been the best team in the league this season and I'm unsure how to tackle them.
They mix it up in terms of selection, opting for a blend of first team and squad players which gives us a glimmer of hope. It's a tense and cagey affair and I wince every time they have a highlight, but the game is largely devoid of incident. At least it was for the first hour.
While I watched another wave of blue shirts crash against the cliff face of my defence, my mind started to wander and I thought to myself that there had been a remarkable lack of penalties in my games this season; I couldn't think of a single one.
You can see where is going, can't you? No sooner than I'd finished that thought, Adam Smith took umbrage with Victor Moses and violently assaulted his shins. How he didn't get sent off, I don't know. Eden Hazard stuck the penalty away and at that point I just chuckled to myself. FM is constantly finding new and innovative ways to boot you in the ribs when you're down.
That laughter quickly morphed into something more sincere, as we race up the other end, in a highlight straight from the kick off, and Benik Afobe powers us level with a header. The game settles into a familiar pattern and we go into the second leg with a creditable 1-1 draw. I can work with that.
Our never-ending succession of cup fixtures is briefly interrupted by an extremely lame 0-0 draw with Southampton. I had to make a few changes to combat fatigue so I'm not too displeased with a point. What does please me is the set of 7+ ratings my entire defensive unit picks up. It seems like we're slowly rediscovering that solidity that helped us grind out that run of clean sheets earlier in the season.
For the Leicester replay I toy with the idea of giving Smithies a shot at redemption but I don't want to give Clarke the satisfaction of being right twice, so I stick with Butland. We essentially get the job done inside the first 10 minutes. Afobe and Wilson both net and look like a fearsome duo as they terrorise Huth and Morgan. This is what they're capable of, and what the switch to a 3-5-2 was designed to encourage, but I just can't ever get them to play well simultaneously. Islam Slimani scores a sumptuous volley to half the deficit but they never look like getting back into.
Infuriatingly, our next two games are both against Chelsea; the first a league game dress rehearsal for the cup semi-final 2nd leg 3 days later. They go full strength in the league game and maul us 3-0. My hopes of a cup final look increasingly distant as they toy with our carcass at Stamford Bridge.
The second leg game goes so, so much better. I set us up in our 3-4-3 and we're defensively robust and lightning fast on the counter for the first half, which ends 0-0. It's more of the same during the 2nd 45 and with ten minutes left to play we get a penalty! This is it. Our big chance. The tie's set at 1-1 and if we score here, they've barely got time to get back into the game. Up steps Saido and…
… he misses. It's not even close. Berahino drills it so far over the bar I'm surprised it didn't clear the stand behind the goal. After making such a big fucking song and dance about being assigned penalties when you signed, after I promised you that you could take them, Saido, you go and do this in our hour of need. Jesus fucking Christ.
We scrape through to extra time and then, almost inevitably, they score – Matić with a tap in from a cut back –  in the first period and that's that. Dream over. Chelsea are going to Wembley, we're back off to Watford and that eleven stop difference on the Metropolitan line that seems like a gaping chasm.
There's little time to mope as we're straight back on the cup horse with our FA Cup 4th round tie against Peterborough. Time for a few fresh faces so Tyrone Mings and Dan Gosling are given a rare start as we travel to the League One side. We play terribly. It's honestly dreadful to watch. The game ebbs away with us on the back foot and the prospect of another replay looming. I really can't be arsed with that so I go a bit silly and chuck on all my attacking players at once: two strikers, and Inside Forward on the left wing, a Trequartista in the middle, no right winger, two Advanced Playmakers in midfield. It's a malformed, lop-sided Frankenformation but it somehow works? Adam Smith hurls a cross to the far post for Wilson to nudge over the line with his face. Phew.
Dodging the unwanted burden of a replay is a bonus, but that sort of dour performance isn't what you need before a journey to Old Trafford. Once again we set up to pick them off on the counter, loading the attacking positions with pace and opting for the industry of Arter and Chalobah to clog up with centre of the park. It goes quite nicely in the first half, with Charlie Daniels even scraping several layers of paint off the woodwork with a 35-yard pinger.
But then I get Zlataned. The big Swede is hoisted off the bench and stuffs a hat-trick past us. That's twice in a row that United have beaten me with a three goals from a substitute striker. I'm starting to worry that there might be a slight glass ceiling to this challenge when I look at the sort of strength in depth the top teams have compared to the calibre of players I can draw on.
The lads are looking a bit glum after the game; the dressing room is a sea of heads-in-hands and drooping bottom lips, so I set up a team meeting for Monday morning to try and raise their spirits. I decide to go for a gentle approach rather than giving them a proper bollocking and I tell them to have some perspective – we've been poor recently but we're safe from relegation and I know there's more to come from them.
There's no dissent in the ranks as everyone gets on board with the message. I'm slightly relieved as these situations are risky – it only takes one important player to disagree with you for things to go south quite quickly. Our little chat works like a charm as we put in a sturdy team performance to nick a 1-0 victory against Sunderland, who are one place above us in the table. My team is awash with 7s and 8s at the end of the game so I'm chuffed.
We have the opportunity to pick up back to back wins as our next game sees us take on Leicester City. Days before the game, I'm greeted with news that our Cooks have been struck down by illness. Not the kitchen staff, but Steve and Lewis, who've both contracted similar illnesses simultaneously. Something you want to tell me gents?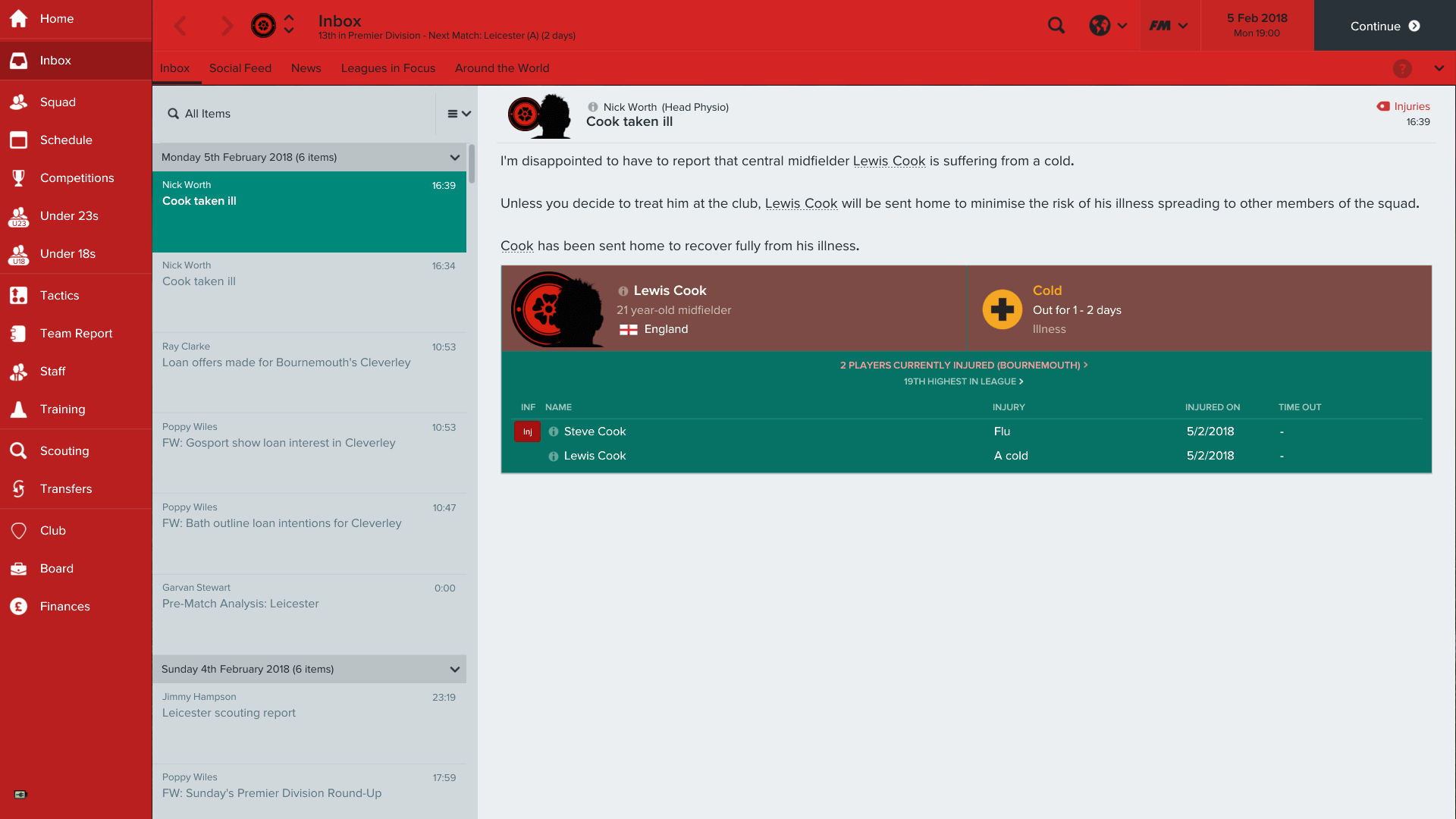 It gladdens my heart to see that smarmy harlot Steve Clarke is driving the Foxes right into the abyss. He neglects to pull any of his mind games nonsense before the match – probably because he knows he's already occupying space inside my head rent-free.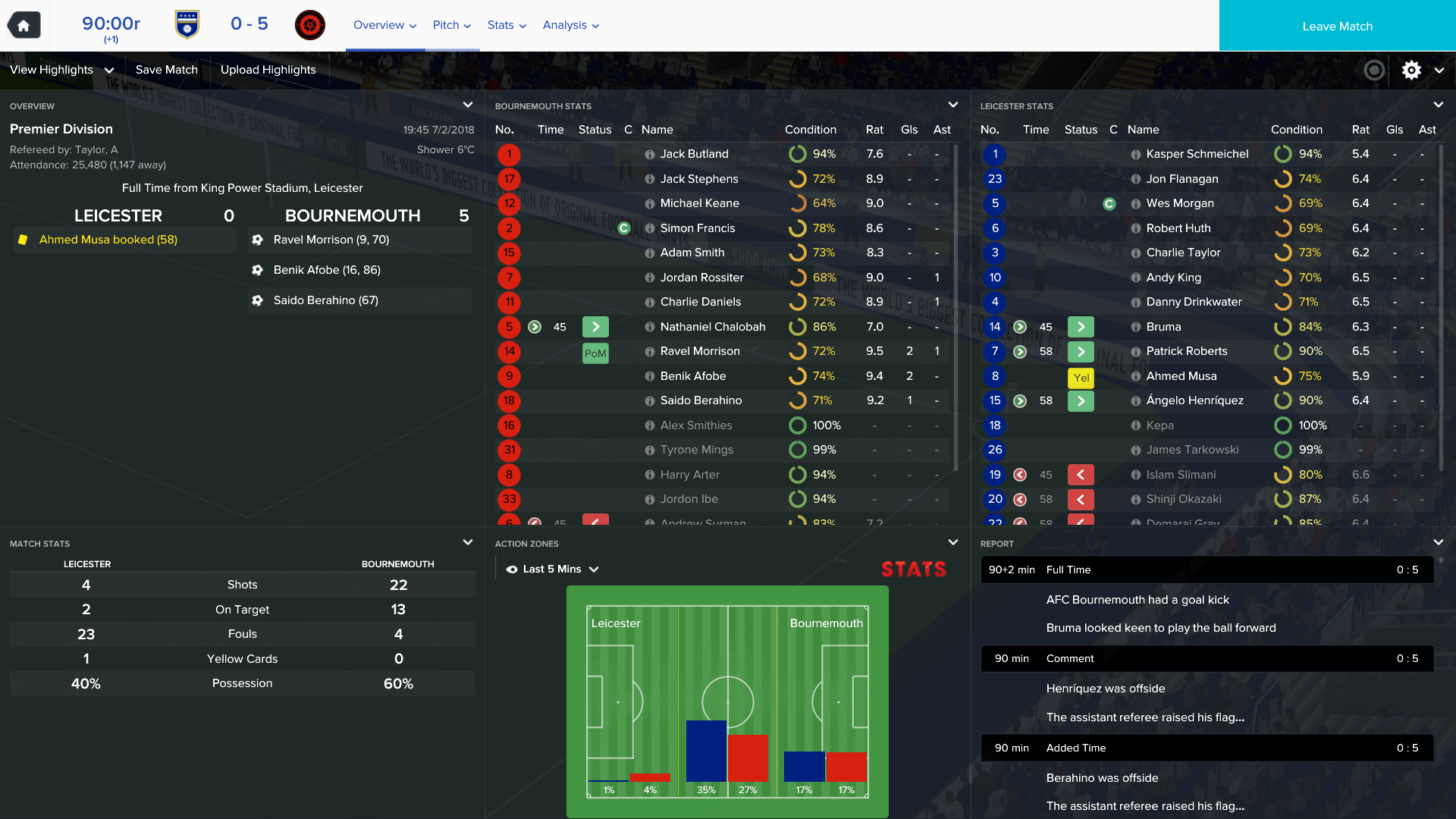 Perhaps he should have, though. Have a gander at that. Lock us up and throw away the key: we murdered them. My boy Ravel, sweet darling Ravel, was utterly untouchable as he sauntered through their back four, effortlessly dribbling past them, carving them apart with reverse balls, and stinging in shots from all manner of angles. He's a proper joy to watch when he plays like that. That's the best we've played all season and I really feel like we can kick on from that performance.
Except we don't. We contrive to lose 1-0 at home against Hull – a team who think it's acceptable to play 5-4-1 with Robert Snodgrass as their most advanced player. I despair. The only positive thing I can say about that game is that it snows, which looks pretty in the match engine and the snowflakes melting on my face help camouflage the tears rolling down my cheeks.
Not that it wasn't already gasping its last breaths, but after that last chastening defeat, our league season is truly dead. Fortunately there's still the FA Cup which is really my only hope at this point. We've drawn Southampton – just the 4th time we've played them this season – in the next round and it's time to show them we mean business.
Which we do with aplomb. Morrison is once again a Ravelation (sorry), elegantly floating a ball into the channel for Saido to race onto and dispatch. Rossiter also displayed his passing proficiency by dwelling on the ball until an avenue opened up for him before threading a delightfully weighted pass between defenders. This time it's Afobe who finishes it off. And, with that, we're through to the quarters and there's reason for optimism amongst the Cherries supporters once again.
The draw is unkind and sets up a date with Arsenal, meaning that we'll face them in back to back games now. I hate that. I can't ever figure out how much to tinker and whether I should persist even if we get a bad result in the first game. I'm starting to suspect that my head might have gone a little.
We get punished in the first game. Barely lay a glove on them. Needless to say, it doesn't fill me with confidence going into the big FA cup game in the slightest – it could end up a bit embarrassing. And then…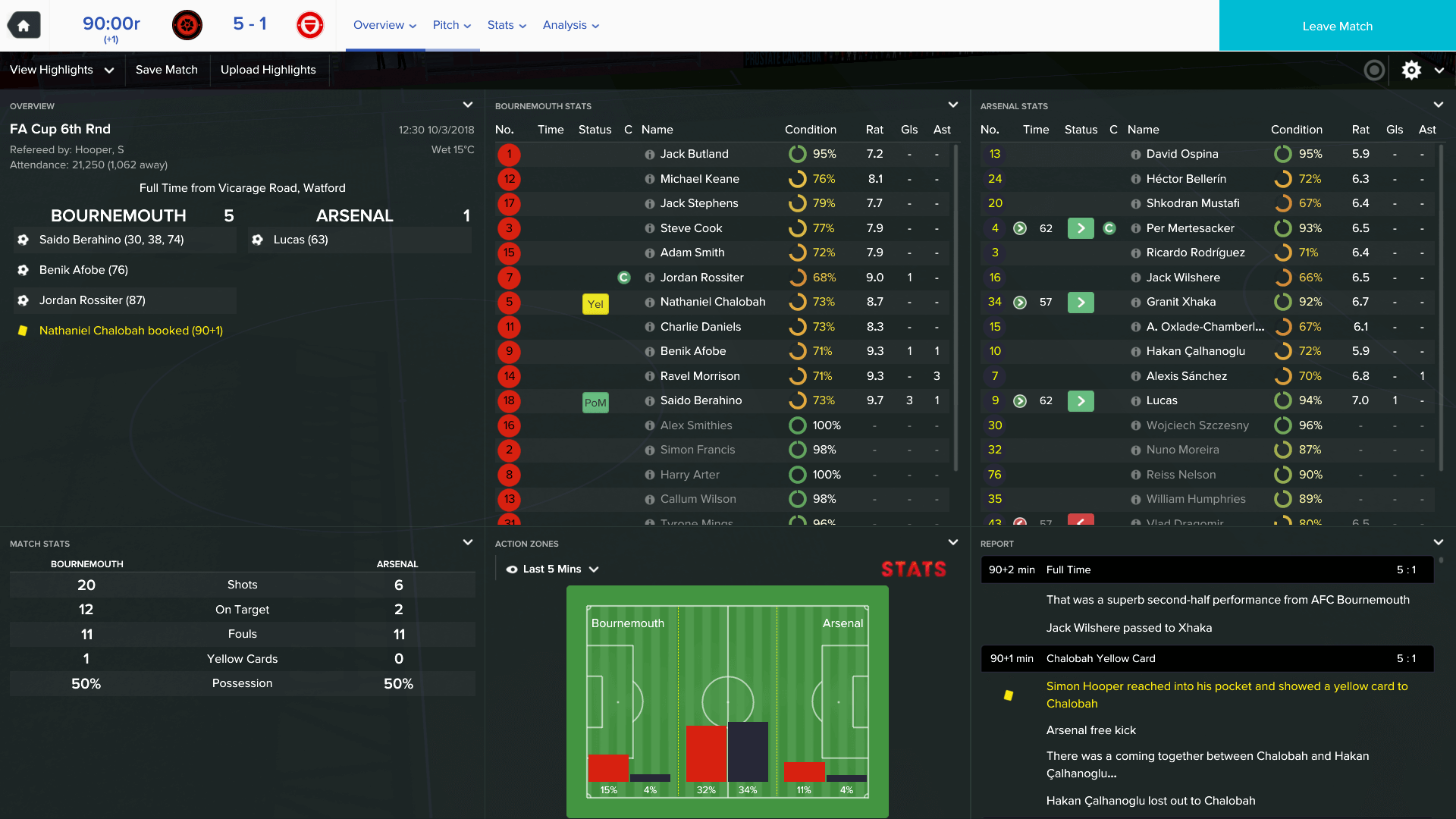 SCENES. Unbelievable scenes. Saido, my boy, you're officially forgiven for that penalty miss against Chelsea. We play them off the park. We're merciless in front of goal. We're through.
To make matters better, Jake Humphrey and the lads pluck Crystal Palace out of that naughty little red velvet bag as our semi-final opponents. We're in with half a chance there as long as we don't get too cocky.
Oh, and to cap it all off? The latest round of international fixtures sees 4 of our chaps getting drafted into the England squad, with Lewis Cook the latest Bournemouth player to don the 3 Lions on his chest.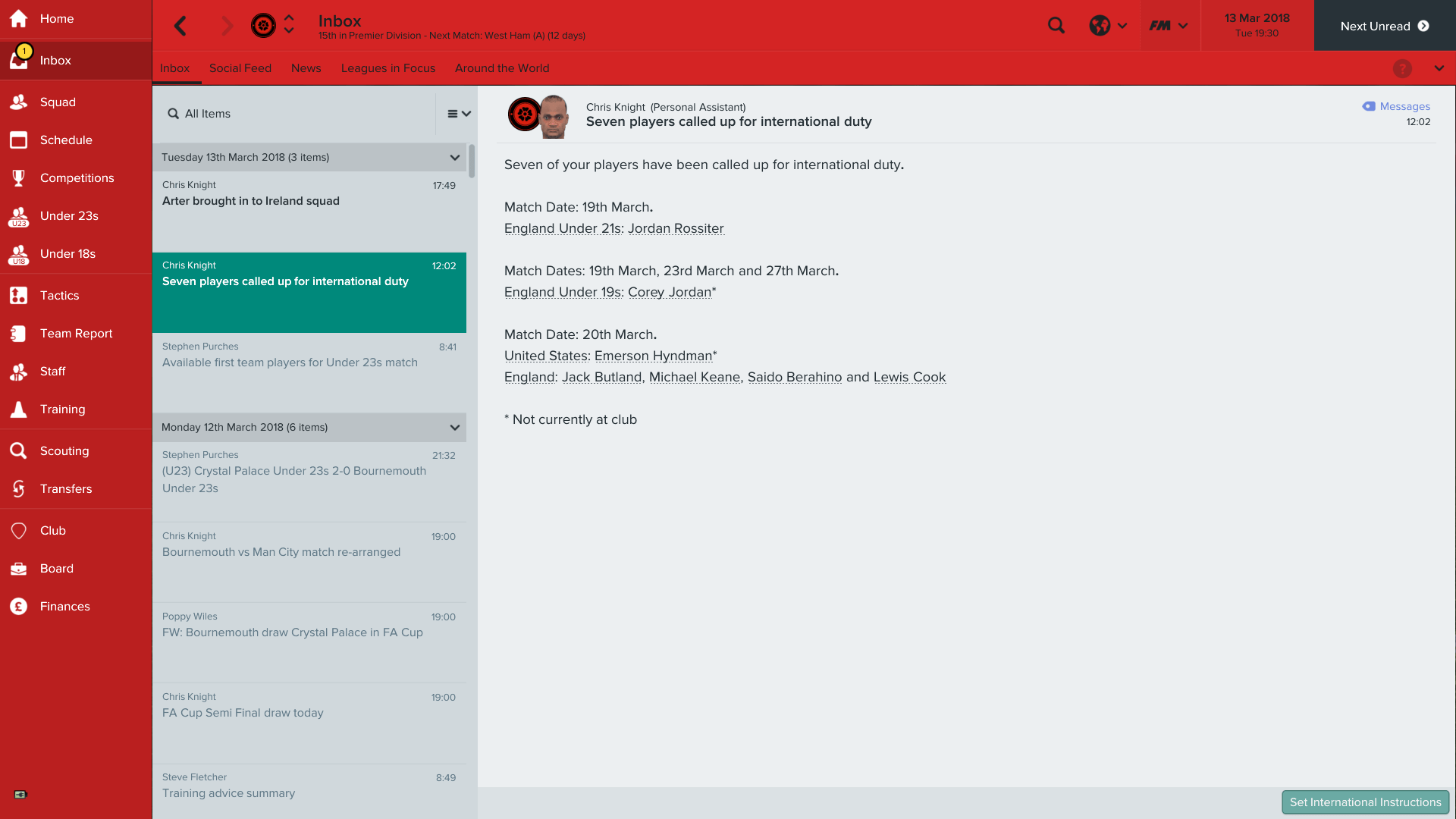 With a handful of league games left, it's simply a case of trying to plod our way as high as we can, whilst ensuring our key players stay healthy for that huge game against Palace. I smell silverware lads. Let's do this.