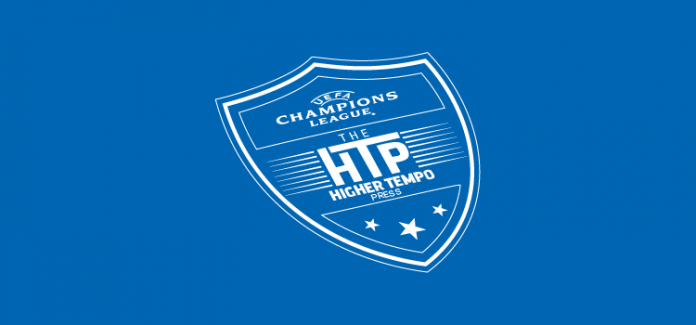 Champions League Quarter Final (Sponsored by The Higher Tempo Press)
ChrisHatton (Juventus) vs AccordingToFM (Barcelona)
The Tactics
ChrisHatton's Tactics:
Looking at the Juventus squad that I have been given, I was not very optimistic about our chances against Barcelona. Surely their front 3 would absolute tear us apart, especially if I went with my assistant manager's suggestion of playing 3 at the back. I believed that going toe to toe with MSN would see them run riot have the tie over before the first half of the first leg had finished. Therefore I needed a back 4, and a defensive midfielder. This would mean that the 3 central players could go up against the 3 strikers, with the full backs there to cover. A flat midfield 4 would also be good in order to combat the attacking full backs that Barca will have as well as their midfield trio. This means just the one player up top who will have to do a lot of holding up the ball before other players get there to support.
Most of the team picks itself apart from the wide players and who to play up top. I noted when I first looked at the squad that there was a lack of decent wingers in the squad. The best one was on loan to Bayern Munich! I decided to go with two players who were the best at defending and tracking back. As stated, this will be key to keeping Barca at bay. The biggest choice that I had to make was who was to be our lone striker, with Mandzukic, Higuain and Dybala who looking to get the nod. Mandzukic seemed perfect to play the lone striker role as my assistant tells me that his best role is target man. However, his lack of pace compared to the other two worried me. It came down to either Higuain and Dybala, who I thought were very similar to each other, and to be truthful I made my choice based on Dybala being younger. The thinking behind this was that he would have more pace than the Barca backline and also would have no fear in taking on these players. Let's hope I'm right!
I kept the instructions fairly simple, thinking that I would not have a lot of time with the players before our two legs to train up on complex tactics. Our main ideals would be to play on the counter, with more direct passing and early crosses being played in. Doing this, I hoped to keep the Barca defence on the back foot and use Dybala's pace to get in behind.
AccordingToFM's Tactics:
If not for the most remarkable comeback in Champions League history I would be preparing for this game with PSG. Instead, I have arguably the best front three in the world at my disposal. I am someone who is more at home in League Two than the Champions League, better on the back foot than taking the ascendancy. I will have to change this mentality as I go into our tie with Juventus.
From my first look at the team I realise that there are some amazing players here, it has been a long time since I saw a player with 20 as an attribute. The other thing I notice is that everyone is a playmaker. I would kill for a ball winner or Anchor to bolster the midfield. I have Busquets but even he is listed as a deep lying playmaker and Mascherano is good but lacks mobility.
My first thought is to play the Barca way, keep possession and make use of the quality players. I come up with one tactic in my first trial, but 2-0 down in a friendly against Napoli I scrap it and starts again.
I need to be more like Pep, more like Conte, hell, even more like Allardyce! These wouldn't come into a club and play how the players want, they play their way.
Taking our opponents into consideration I am guessing they will play a back three and only one out wide. I could be wrong but this is how I would play with Juve, and so I am hoping that I am right. I want to pack the midfield, play narrow and not worry about the wings too much. For the first leg I want to keep it tight, counter attack and get the ball to the front three quickly. This is not the true Barcelona way, but if I bring home the trophy then I am sure they will let me off.
First Leg
ChrisHatton:
We started nervously, and Barca started very well having around 5 corners within the first 5 minutes! We struggled to clear each one but most resulted in a long shot from a Barca player which never tested Buffon. We settled and started to see some of the ball and even had a couple of attacks of our own. Our first real chance came when Cuadrado played an early cross into the box which Dybala met with a volley, which was straight at Ter Stegen in the Barcelona goal. This was promising.
Things got even better within minutes when another early cross from Cuadrado was met by a flying Dybala, who this time managed to put it past Ter Stegen! WE WERE AHEAD!! I had to fight against everything inside me which was saying to put 10 men behind the ball for the rest of the game. If it was later on then maybe, but this was only the 18th minute! It nearly got even better when Dybala put a header against the post when it would have been easier to score. The keeper was nowhere near it and I was hoping that this wouldn't come back to bite us later on. For the rest of the half, it was real back to the wall stuff but again we matched everything that Barca could throw at us, limiting them to shots from outside the box.
Somehow, we managed to get to half-time still one up. The halftime stats showed that Barca had managed 9 shots compared to our 3 but only one more on target than we had. They had also had 9 corners!
The second half started and Barca again came at us like a rabid dog. In the 65th minute, we had struggled to even get out of our half so I decided to swap Dybala for Mandzukic who I hoped would be able to hold the ball up for us. My opponent responded by bringing Iniesta on, who started running the show. We managed a rare attack in the 72nd minute where yet another early Cuadrado cross was put into the box, although it was slightly too high for Mandzukic. However, rushing to the back post was Asamoah who struck it past the keeper to put us 2-0 up!! I thought I was dreaming! I quickly changed our strategy to contain and hoped to not concede an away goal before the end of the game. Again we were under a lot of pressure but most attacks ended with either a long shot or Suarez being caught offside. The final whistle went and we had managed to hang on to a famous victory!
AccordingToFM:
As the game loads up I see the opposition, 4141, Balls! That's not what I expected but we have a defensive back four to cope with the men out wide. I choose to see how the game starts and adjust from there
It's all us for the first 10 minutes. We have three corners in a row, but I have not been able to find a good tactic all year and this shows. Corner after corner is cleared and we come away with nothing, but it is good early pressure.
15 minutes in and Cuadrado has it out on the right, he crosses early and Dybala hits the post! A big let off for us as the striker should do better. Just two minutes later however and it's a repeat situation, but this time he finds the back of the net. We're 1-0 down after a bright start.
The next 20 minutes is sustained pressure from us but all we can muster is the odd long shot. Every time we can find a bit of space to shoot, Buffon is more than equal to it. Two minutes before half-time and we clear a corner. The ball is knocked long for Neymar to counter but he drags the shot wide.
At Half Time I take a look at how Juventus are set up. They are compact and the DM is shielding the defence well. I drop Neymar to attack from deep, trying to double up on the Juventus DM in an effort to break them down. Alba at left back is made a defensive full back, I want him to stay back and stop crosses.
The next 15 minutes after half time is an exchange of blows for each side but neither can find the breakthrough. First Dybala is through to shoot over, Messi then has two good sites of goal either side of a Juventus chance, but still, the score is 1-0.
With 20 minutes to go, I switch to three up front, I need to outnumber them somehow. Every highlight is 10 Juventus players behind the ball. Just two minutes after though and we are 2-0 down, Cuadrado again the architect but this time it goes over Dybala for Asamoah to tap in.
That's how the first leg ends. We have a few more long shots but Buffon doesn't look too troubled by them. 19 shots for us, 8 on target, but the Italian 'keeper was equal to them all.
1st leg: Juventus 2-0 Barcelona (Dybala 18", Asamoah 72")
Second Leg
AccordingToFM:
Playing narrow didn't work for the first leg so I decide to change it for the return game. I want width, try to stretch Juventus a little. I keep the defence the same to start, conceding on the counter would kill the game off. We set up as below and as the game loads, I see the opposition are the same as before.
This game starts the same as the first, we are all over them. I get a message from Chris and he seems worried by the dominant start we have made. Still no breakthrough, just a shot each from Messi and Neymar, but of little concern to Buffon.
Juventus have a few breaks but mostly they fluff their lines. I know at some point it will cost me but what else can I do at this point, I need goals and they have 10 behind the ball at all times.
Two more shots from Messi and Neymar come and go but they both see their efforts saved. Then a minute later they catch us on the break and Dybala should score but he shoots straight into the 'keepers arms.
It's mostly just long shots to close out the first half but seconds before the break Dybala is clean through, and he really should finish the game off but cannot convert a golden chance.
Half Time comes and I move Messi out to the right wing with Rakatic coming in as an attacking midfielder. I see that the opposition now have a 4231 with two defensive midfielders, making our task even more difficult.
For the next 15 minutes, it is a mix of a lot of poor shots from us, interspersed with a Dybala chance where he once again should seal the match.
With 20 minutes to go, I push as many players forward as possible. If we can get just one goal I feel it could turn in our favour. We are now set up as below in an effort to get something passed the Black and White wall we face.
For most of the remaining time, there is 21 players camped in the Juventus half of the field but to little effect. We have shots but they aren't of enough quality to beat the magnificent Buffon. The final five minutes are a constant highlight of failed cross after failed cross by our wide men, but there is to be no breakthrough. The game finishes 0-0 and I get the feeling that we could play for days and still not score. 22 shots for this game, 9 on target, but none were of enough quality to beat the last line of the Italian defence.
ChrisHatton:
We started with the same formation and lineup as the first game, thinking that more of the same would be nice, but would be ready to make defensive changes when necessary. When the line-ups were announced I was not surprised to see a very attacking one from our opponents, we would have to be at our very best to progress to the next round, despite the aggregate advantage.
Buffon showed that he would be hard to beat within the first 3 minutes when he made a fantastic save from Barca's first attack. We finally got out of our own half on the 22nd minute when a long ball over the top from Pranjic sent Dybala chasing before the Barca keeper pulled off a great save. We spent the rest of the half in our defensive third hoping to frustrate our opponents. Another long ball from Pranjic was again met by Dybala but this time he sent the ball past the post when it would have been easier to score. The half time whistle went and we were holding on by our fingertips. I decided to move Khedira to DM from CM to give a bit more protection to the back four.
The first chance of the half was yet again another long ball over the top and again Dybala missed when it was easier to score. I started worrying that at some point the dam would break and we would rue all these missed chances. Around 70 minutes I made another sub, changing Dybala for Higuain, but the process was the same with Pranjic picking out the Argentine for him to then pick out the keeper from just outside the box. Around this time, I moved Pranjic to the unknown position for him of DM, meaning we would finish with a back four and 3 DMs. Very defensive but we needed it. We also needed Buffon who stopped Barca at every opportunity. The Wall™ was equal to everything that Barca threw at him and he made enough saves for a highlight reel on this game alone, making 9 saves in total. (Although the game only gave him a 6.9 rating?!) When the final whistle eventually went I literally jumped for joy (causing a very confused cat to start worrying about me).
WE WERE THROUGH TO THE NEXT ROUND!!!
2nd leg: Barcelona 0-0 Juventus
Juventus win 2-0 on aggregate!