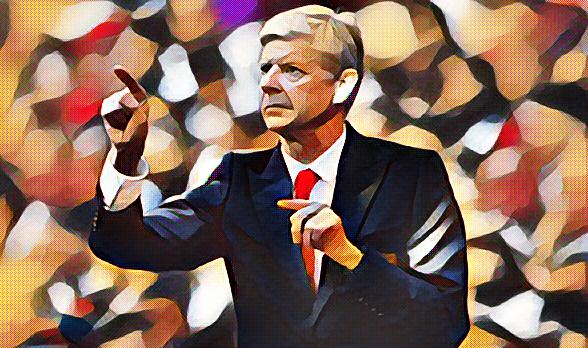 It's been an odd week for Arsenal fans. Saturday's shambolic display against West Brom, banners in the sky, banners in the crowd and then came the news we all expected to hear: Arsene Wenger is rumoured to have agreed a contract extension. Sorry, what?
The Arsenal conundrum is always a hot topic of conversation at this time of year. What if it wasn't Arsenal but Manchester United? Or Manchester City? Liverpool, Chelsea or, heaven forbid, even Spurs? Could Wenger prove that he still has what it takes by leading one of the other top six to glory? It's a good question that we pose to Football Manager.
In the interest of full disclosure: Arsene Wenger was moved to the relevant team in each section without a replacement being added at Arsenal. The game was simulated on a large database with the first transfer window disabled.
Arsenal
There's no better way to start than with the status quo. Arsene led Arsenal to their first Premier Division title since the Invincibles season in 2003/04.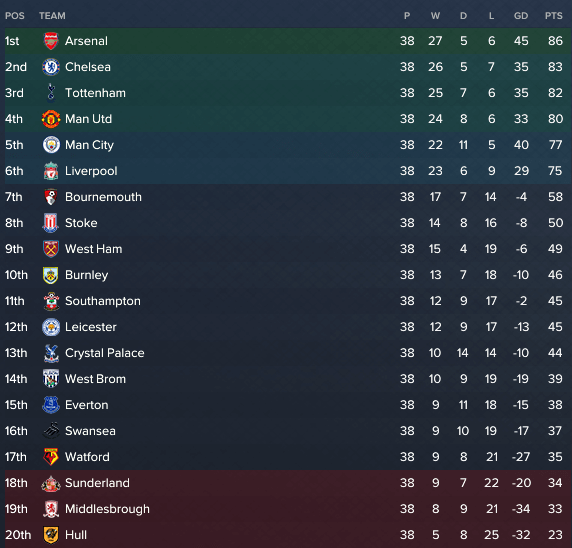 A Quarter Final penalty loss to North London rivals Spurs ended Arsenal's EFL Cup campaign.
Leicester eliminated them from the FA Cup in the 5th Round.

A narrow semi-final defeat to Bayern Munich ended a great Champions League run.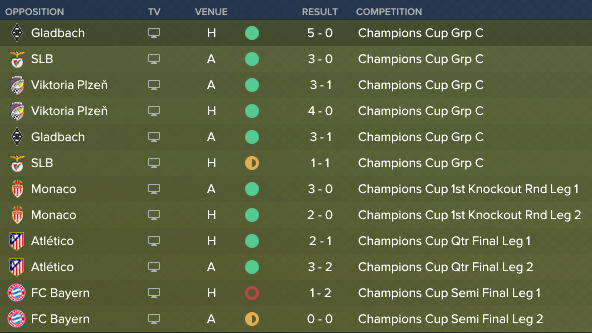 Arsene splashed the cash in January by shelling out £11m for Rick Karsdorp and £20m for Jonny. Both were obviously signings with the future in mind and Karsdorp was loaned back to Feyenoord for the season while Jonny managed 6 league appearances.

The undoubted stars of the season for Arsenal were Mesut Ozil and Alexis Sanchez. Ozil scored 18 goals and provided 17 assists in 55 appearances gaining an average rating of 8.07, Sanchez scored 30 goals and had 18 assists in 48 appearances with an average rating of 7.86.
Tottenham Hotspur
This one was a controversial appointment…across the North London divide Arsene Wenger took charge at White Hart Lane. Arsene was an instant hit as he took Spurs to their first top division league title since 1961!
A League and Cup double as Arsene's Spurs defeated West Brom in the EFL Cup Final on penalties, defeating his old club Arsenal along the way would have made things all the sweeter.

A run in the FA Cup was cut short as Spurs lost out to fellow London side West Ham in the 4th Round.

Wenger couldn't do anything for Spurs in the Champions League as they finished dead last in a tough group with only one win from six games.

One signing in January as Wenger moved for 24 year old Brazillian Luan from Gremio for £14.25m – Luan made 12 appearances and scored once in the Premier Divison.
The top performers for Spurs were Toby Alderweireld and Christian Eriksen. Alderweireld made 49 appearances with no goals but 2 assists and 15 clean sheets with an average rating of 7.64. Eriksen made 48 appearances scoring 15 goals and had 13 assists with an average rating of 7.51.
Chelsea
Staying in London and Wenger took over at Stamford Bridge. A slip down to 5th place in the Premier Divison.
An embarrassing 2nd Round exit in the EFL Cup to Bristol City.
Sadly no further success in the FA Cup as Arsene's Chelsea exited in the 3rd Round to Manchester City.

Two signings in January as Wenger shelled out £13.75m for 24 year old Michael Keane and £20.5m for Dutchman Kevin Strootman. Both made 12 appearances for Chelsea with Strootman grabbing one goal.
The top performers for Chelsea were Eden Hazard and a reinvigorated John Terry! Hazard made 39 appearances scoring 16 goals and providing 16 assists with an average rating of 7.77. Terry made 30 appearances providing one assist and being a party in 15 clean sheets with an average rating of 7.57.
Liverpool
So, Wenger left the comfort of his London surroundings and travelled to Merseyside to be gazed upon by an adoring Kop. An uninspiring 6th placed finish is what they were treated to.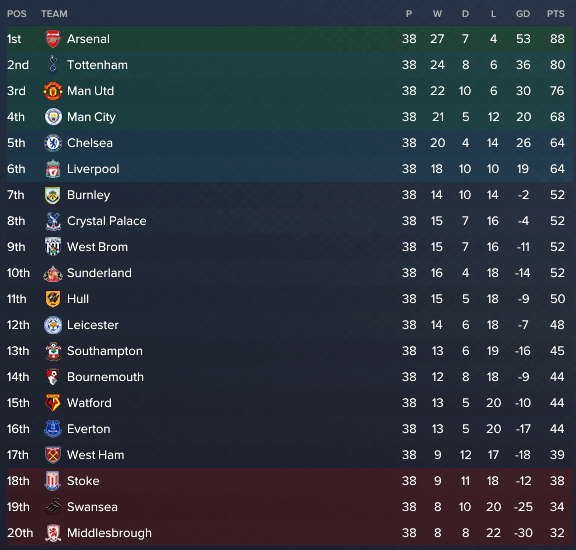 Wenger's Pool were beaten in the 3rd Round of the EFL Cup by his former employers, Arsenal.
A similarly disappointing showing in the FA Cup as Liverpool exited in the 4th Round to Bristol City.
Wenger really went for it in January by spending a combined £91m, a figure that was offset by the £88m sale of Coutinho to PSG. Mbemba, Ward-Prowse, Imbula, Kolasinac and Dozzell are all under the age of 24 years old. 18 year old Dozzell was the only player not to see any senior footballing action.

The stars for Liverpool were undoubtedly Roberto Firmino and Nathaniel Clyne. Firmino made 39 appearances, scoring 16 goals and laying on 7 assists for an average rating of 7.47 while Clyne made 39 appearances providing 5 assists and being involved in 11 clean sheets which gave him an average rating of 7.36.
Manchester City
A trip to the Etihad for Wenger allowed Wenger to lift another Premier Division title.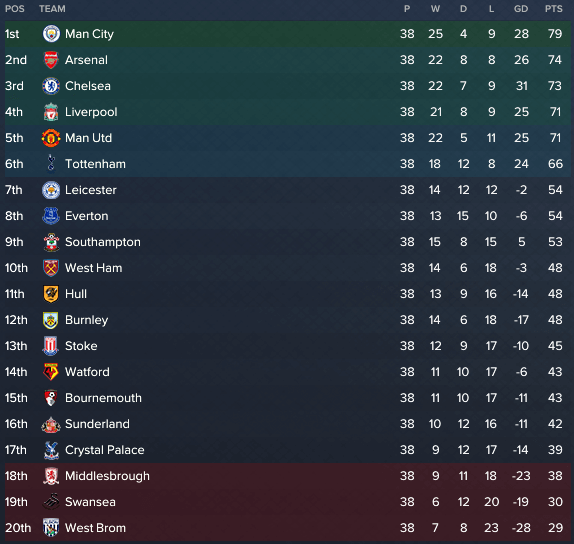 A 4th Round exit was in line for City in the EFL Cup.

A penalties win in the final of the FA Cup capped a great campaign as City beat Arsene's ex-club Arsenal and their main rivals Manchester United along the way.
City were unlucky to lose out in the Semi-Final of the Champions League to Barcelona, another competition that they eliminated Arsenal from.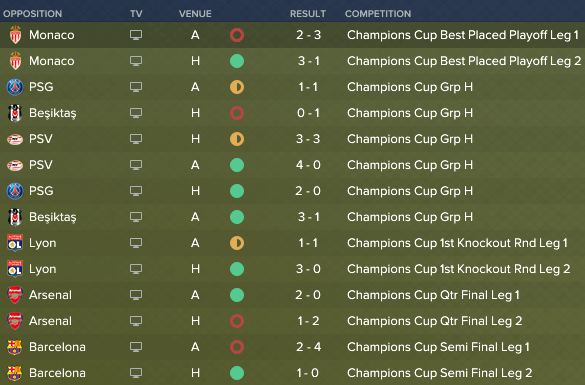 Arsene drew strength from his own knowledge in January by signing Alex Oxlade-Chamberlain for £31m. Juan Bernat (£24m from Bayern Munich) and Tin Jedvaj (£7.75m from Bayer Leverkusen) also arrived in Manchester.
Unsurprisingly the pick of the bunch for Man City were Kevin De Bruyne and Sergio Aguero. De Bruyne made 58 appearances, scoring 14 goals and racking up 20 assists for an average rating of 7.76. Aguero made 53 appearances, scored 29 goals and laid on 2 assists which got him a 7.48 average rating.
Manchester United
Wenger had many fantastic battles with Sir Alex Ferguson at Old Trafford through the years and now he takes the reins at the famous Manchester United. Arsene managed to guide United to a first league title since Fergie left. What a tribute…
Things didn't get off to a great start though as United were dominated by Leicester in the Community Shield
An away goals defeat to Spurs was United's cue to exit the EFL Cup in the Semi-Final.

A disappointing 5th Round Replay exit to long time rivals Liverpool in the FA Cup.
United had the chance to complete a League and mini European double but failed in the Final against Athletic Bilbao.
The January signings were classically Wenger with all but one aged 24 or younger. The exception was 25 year old de Vrij. A whopping outlay of £90m!
United's stars of the season were midfield maestro Juan Mata and new signing, the ever-dabbing Paul Pogba. Mata made 52 appearances, scored 15 goals and assisted 10 with an average rating of 7.60. Pogba made 50 appearances and scored 24 goals with 12 assists for an average rating of 7.57.
Conclusion
Wenger managed to win four league titles out of a possible six simulations. There was also one EFL Cup and an FA Cup. As far as drawing conclusions from Football Manager simulations goes I think we can safely say to Arsene and Arsenal: "FOUR MORE YEARS!"