Welcome to part 3 of Scotland's Road to Euro 2004, after what seems like an age since the last update. It has been the best part of 6 months mind, but who is counting? After taking the Scots to the World Cup final in 2002, there was a fear the Qualifying campaign for Euro 2004 would be a bit "after the Lord Mayor's show." Fortunately for me, it hasn't been, and we've actually been pretty damn impressive in racking up the maximum 12 out of 12 points from the 4 games so far.
Our sort of neighbours Northern Ireland did us a huge favour by shocking the Spanish at Windsor Park with a 90th minute penalty, meaning we go to Spain in the first of this qualifying double header with a 3 point cushion before heading off to Azerbaijan 4 days later to probably lick our wounds.
However, it was October 2002 when we spoke last and now here we are in March 2003. What has happened in the meantime?
Firstly we played a friendly with Bolivia. I'm not sure why. Steven Nicholas has broken a cheekbone so he's missing, but Charlie Miller (now of Aston Villa) is back in the squad. Jim Paterson has a less serious injury and is replaced by Chris Innes. There's not much experimenting with the lineup, but there is room for young Stephen Hughes who is having a great time at Rangers.
Bolivia, well, they've not come to protect the back 4.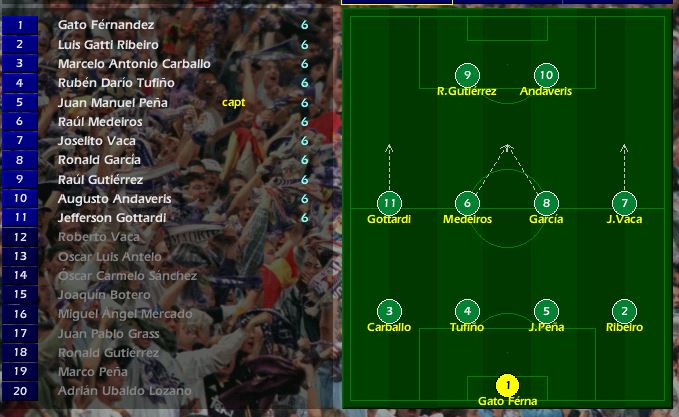 The game itself is not your usual friendly…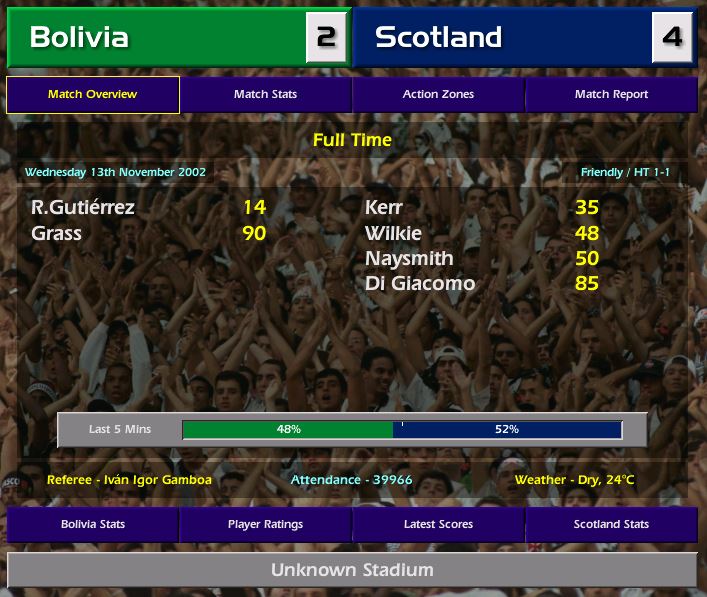 Firstly – Unknown Stadium? Research has come a long way. Secondly, we could have had about 10.
It does confirm though that I am right to be concerned about the centre of defence. Wilkie has emerged as the number 1 choice but alongside him is a decision I need to make.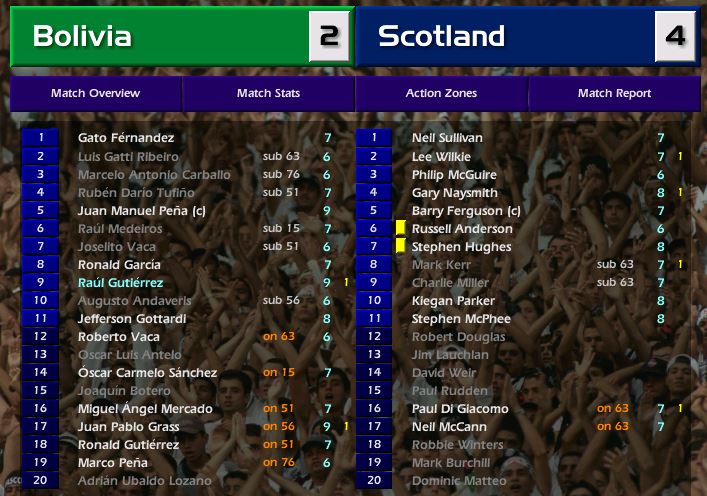 Incidentally Spain got gubbed 3-0 in Holland in their friendly. If only we were as good as Holland…
Anyway, Christmas comes and goes and before you know it, we're getting into the time to name the squad to travel to Spain. A quick look at the league tables show me Glenn Hoddle's Celtic are top in Scotland whilst David O'Leary has taken Man Utd to a 4 point lead with 9 games to go. The Scottish FA are 'very pleased' with me but I find that quite insulting. We're World Cup runners up for crying out loud. But whatever, rise above it, and prepare the team for Spain.
Gladly Nicholas is recovered from his broken cheekbone and Jim Paterson is back too. Paul Rudden is struggling to recover from a groin strain but we'll give him the benefit of the doubt. Spain are hosting this match in Barcelona – but not at Camp Nou, no no, we're at Lluis Companys, the home of Espanyol. My main selection decision is made for me – Chris Innes was due to come in to play alongside Wilkie but he's knacked his shin so Philip McGuire gets another go, with Weir and Lauchlan missing out.
Spain's team is mighty. How did they lose to Northern Ireland!?
It's a tale of two goalkeepers sadly. Let me show you the stats first…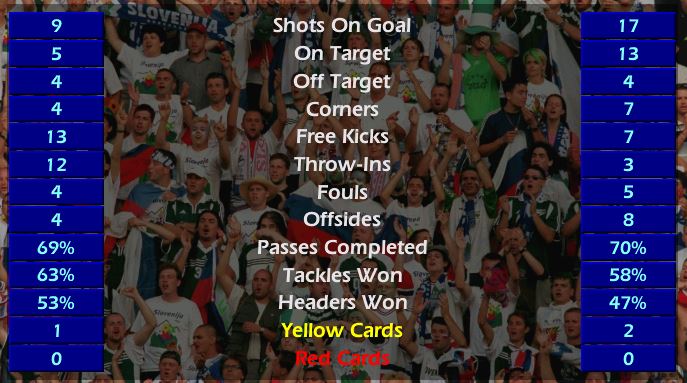 We hit the target 13 times. How many did we score?

What can you say about that? Their keeper gets a 10 and we come away with what looks like a hammering, but in reality we had a lot of chances and would have got something on another day.
Northern Ireland win 3-0 in Azerbaijan to move 3 points behind ourselves and Spain, who in turn join us on 12 points. Poland also win 3-0 in Malta, so they're up to 6 points. Pleasingly we have the chance to put things right in just 4 days time.
Our display hasn't worried me, it's not every game the opposition keeper pulls out a 10 out of 10 performance and I'm not going to panic. It's an unchanged team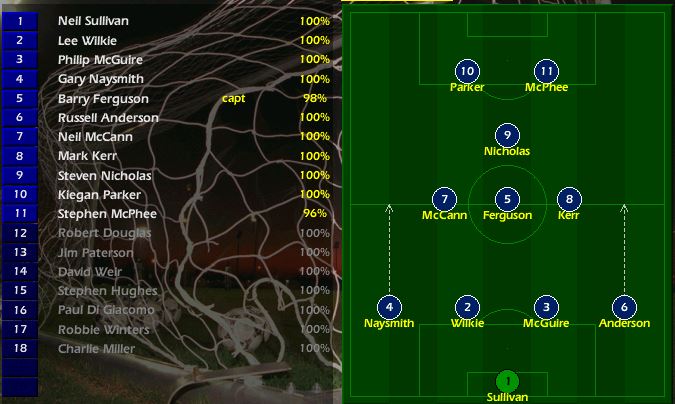 Kerr, McGuire and Anderson are all one yellow away from a ban, which would mean they miss June's home clash with Poland if they fall foul of the referee here. It's Kerr I'm mainly worried for. Azerbaijan line up in a 4-5-1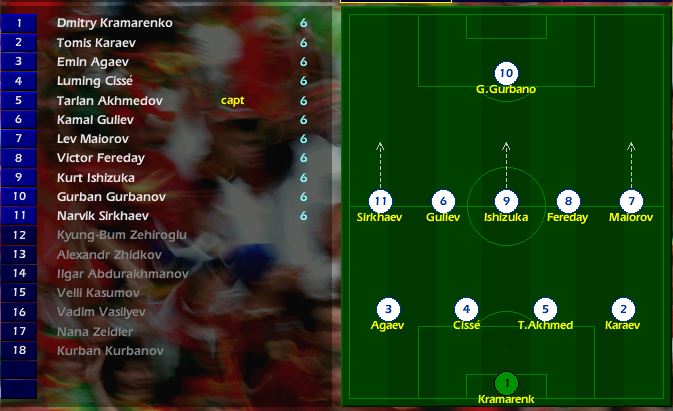 The good news is, nobody is booked. The bad news is, we've bloody blown it.
An awful result. We had the majority of the chances as you would expect but couldn't find a winner.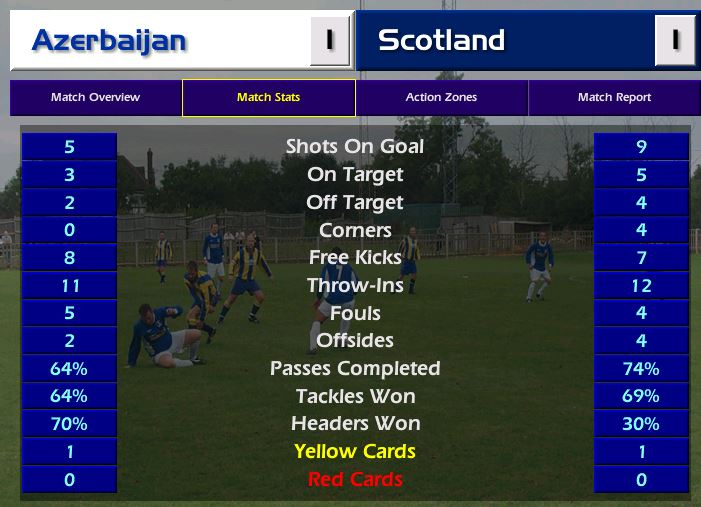 McPhee departing with injury didn't help but it was a substandard performance.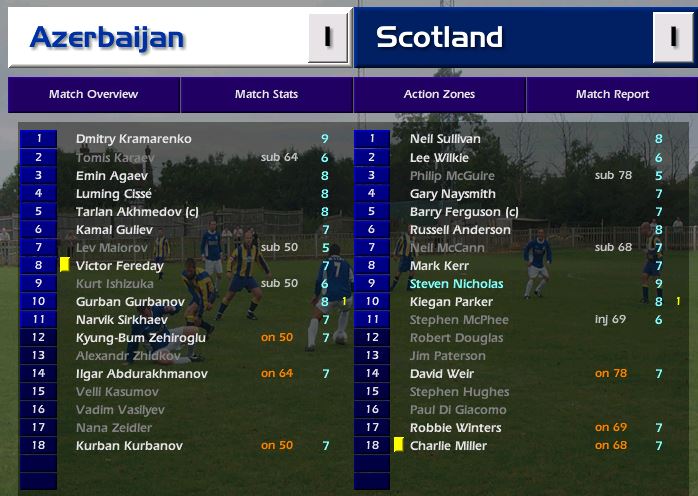 The centre half problem is very real. As is still needing to rely on Robbie Winters from the bench. Spain obviously win in Malta whilst Poland beat Northern Ireland, giving them an incentive to hunt us down at Hampden.
I suppose all is not lost, if all goes to form we'll go into the last match with Spain at Hampden knowing a win will take us through. However, it seems more likely the playoffs will be our route to Portugal, and that could be a disaster. We're actually one of the worst 2nd place teams, but then we've given bottom place Azerbaijan their only point, so you get what you deserve.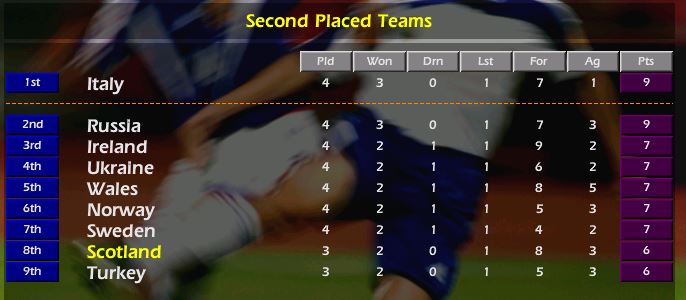 Next month we have a friendly with Switzerland where I'll need to try and address these issues before we take on Poland in June. We'd then go into the September Internationals with a trip to Northern Ireland and a home clash with Malta, before a potentially pivotal game with Spain. Then, who knows?
I'll be back in June with the Switzerland friendly and that crucial clash with Poland. See you then, and thanks for reading!