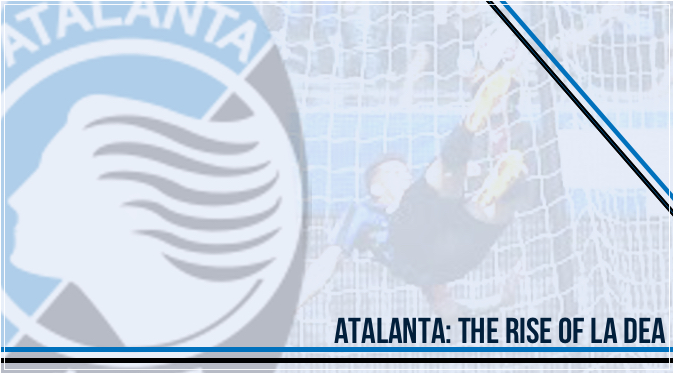 Heading into May, Atalanta's season was done and dusted.  A 2nd place finish, the highest in the club's history, had been confirmed and the club had Champions League football to look forward to next season.
Two of our three May fixtures were against sides whose season was certainly not done and dusted.  Genoa were staring relegation to Serie B in the face while Inter were continuing their battle with Fiorentina for the final Champions League spot.  A dead rubber at home to Juve rounded up an incredible debut season for the club and yours truly.
Genoa travelled to Bergamo deep in the brown stuff.  With Pescara already relegated and Crotone looking set to join them, Italy's oldest club found themselves battling with Bologna to avoid slipping below the dotted line by the time the big boned lady began to sing.
In the interest of fair play, I fielded a strong team.  As well as benefitting former Atalanta man Roberto Donadoni's Bologna, this could also benefit Alberto Paloschi – the former Swansea man was in with a shot of becoming Capocannoniere, sitting one goal behind Juve's Gonzalo Higuain.
By the time news filtered through that Higuain had netted in Juve's 1-1 draw at Bologna, Paloschi was in the changing room watching on as his team mates signed his match ball.  A devastating hat trick had downed Genoa and put him a goal ahead in the race to become Serie A's top scorer.
The big striker opened the scoring in the 4th minute, racing onto Tino Susic's through ball and firing past Genoa's Perin.  Marco D'Alessandro got his obligatory assist ten minutes later, drilling across the six yard box for Paloschi to lift past the keeper at his near post.  Fifteen minutes from the end, Paloschi completed his hat trick, the only one to be scored by a Dea player all season, latching on to de Luca's ball over the top and, again, beating Perin at his near post.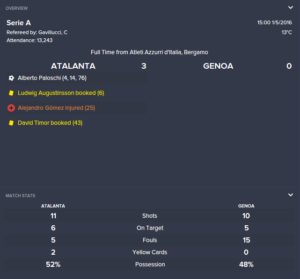 08.05.2016 – Serie A – Inter (A)
Inter headed into this game at the Giuseppe Meazza level on points with La Viola in the race for third place.  They had won six of their last seven at home – including an impressive Europa League win over Bayern Munich – and hoped to face a Dea side, Paloschi aside, who were on the beach.
However, I hate Inter and wanted to ruin their season.  Fringe players Guiseppe de Luca and Remo Freuler came in for the injured Gómez and Timor, attempting to try and play for their places next season.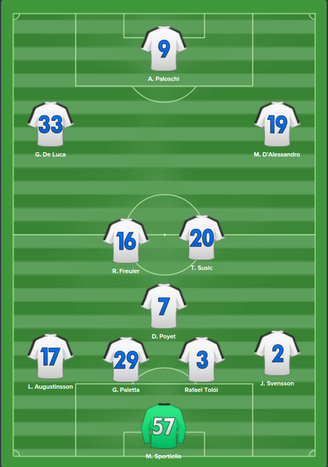 A game in which literally nothing happened as the barren FM highlight below testifies to.
Paloschi's failure to score coupled with a Higuain goal in a 3-0 Juve win over Empoli meant that the strikers would face off at Atleti Azzurri d'Italia on the last day.  To the victor, the spoils.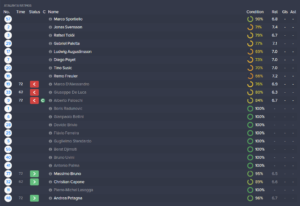 On a side note, another promising youngster made his Atalanta debut in this game -Christian Capone came on as a sub and played half an hour.  Most people in the stadium were so bored at this point, it barely registered – but he does look good.
14.05.2016 – Serie A – Juventus (H)
22,702 squeezed into Atleti Azzurri d'Italia to celebrate what was an incredible, yet trophy-less, season of over-achievement for Atalanta.  A guard of honour was given to champions Juventus but once the formalities were out of the way, it was down to business.
This wasn't Atalanta vs Juve, this was Paloschi vs Higuain.  Juve wouldn't be a team for lying down either.  Both Max Allegri and I named our strongest teams, injuries aside.
Juve tried to land plenty of body blows but travelled back to Turin with a bloodied nose courtesy of two sucker punches from 2015/2016 Capocannoniere Alberto Paloschi.  His rival, Higuain, never got a sniff and looked decidedly off colour.
Once again, Marco D'Alessandro looked to provide the bullets for Paloschi.  As the first half drew to a close, the former Roma man burned past Alex Sandro before curling a delightful ball to the striker who powered his header past Buffon.
Fifteen minutes from the end, Paloschi put clear day light between his team and Juve and also himself and Higuain, firing a deep Svensson free kick high into the roof of the net.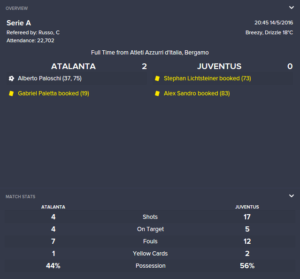 A fine end to a fine season.  A meagre three defeats all season was a huge achievement, but there was a sense of what could have been if we had secured more wins from those fourteen draws and put some real pressure on Juve.
However this season has laid a great foundation to build on.  With Champions League on the agenda next season, a lot of the promising youngsters who spent the 2015/16 season out on loan will be in and around the first team squad as I aim to bulk it out with up and coming talent.
Next blog I will detail the end of season awards, then it's on to pre-season for the 2016/2017 season.  But for now, I will leave you with the awe-inspiring Atalanta club song – "Dea" by Roby Facchinetti.
Final 2015/2016 Serie A Table

Be sure to look out for more Atalanta updates, and my plans for FM17, on my personal page SeenThemGivenFM and on Twitter @SeenThemGivenFM.
STGFM