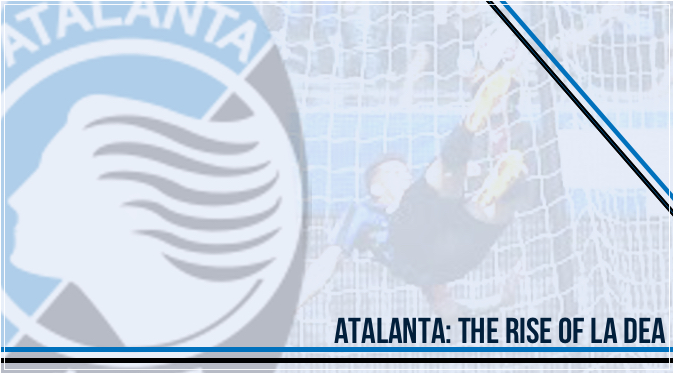 A promising start to 2016 had been somewhat soured by our loss to Sampdoria at the end of February, but our battling point at home to Milan proved we had the mettle for the Champions League qualification fight.
The remaining eleven fixtures were very much divided; I felt we had to restart our momentum and take maximum points from the first six games before hoping for bonus points in our last five against teams with spoils to fight over at both ends of the table.

First up was a trip to Turin to face Joe Hart's Torino for the third time this season.  We then welcomed a struggling Bologna side to Atleti Azzurri d'Italia in front of the TV cameras before ending the month at an Empoli side who were also punching well above their weight in 7th.
06.03.2016 – Serie A – Torino (H)
After a slow start, Joe Hart's Torino had dragged themselves up the table and were sitting in 9th as we made the two hour journey west to Turin in early March.
With Tino Susic unavailable due to injury, we dropped Besic in beside Kurtic to give more protection to the defence.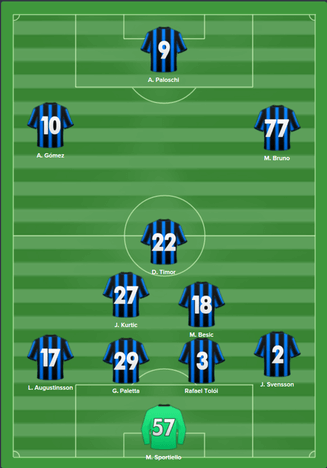 Now would be a bad time to get the wobbles.  The last time we played this badly, we managed to win (a 2-0 win over Palermo) but we failed to replicate this.  Joe Hart's Torino could and should have had more after a nervous, stuttering performance by their opposition.
Paloschi looked to have stopped the rot by striking in the 3rd minute, but Joe Hart's Torino could have levelled up after five minutes had Dani Avelar not seen his penalty turned away by Sportiello.
This didn't deter Il Toro as they slipped through gears, creating chance after chance.  We held onto our lead until the break but two quick fire goals from Parigini – his first being a curling beauty from outside the box – gave Joe Hart's Torino the lead, and ultimately win, they deserved.
While Fiorentina faltered, losing at home to Juve, Inter seized the opportunity to cut into our lead by squeaking past Napoli at the San Paolo.
12.03.2016 – Serie A –  Bologna (H)
While no wins in three caused concern, the pathetic performance at Joe Hart's Torino's Olimpico was a greater worry.  The fight seemed to be sucked out of the players as Adem Ljajić, Andrea Belotti and Daniele Baselli played their triangles and toyed with the Dea players.
Bologna at home was the opportunity to rectify this.  To avoid the languid Timor getting overran in midfield, I pushed Besic further up, but still in a ball-winning role.
Boom.  Back on it.  Donadoni's Bologna had no answers as we hit them for three without reply.
Gómez got us off and running in the 37th minute, ghosting between two defenders to knock in Marco D'Alessandro's low cross.  Ten minutes into the second half and we were two clear – D'Alessandro scoring a carbon copy of Gómez' goal, this time knocking in an Augustinsson cross.  D'Alessandro turned provider once again with ten minutes to go, swinging in a cross that Pierre-Michel Lasogga headed in, despite Bologna's Mirante getting a good hand to the ball.
Wins for Inter and Fiorentina against Crotone and Chievo respectively meant there was no change in the European places.
20.03.2016 – Serie A – Empoli (A)
If any fixture could derail any positivity from the Bologna result, this would be it.  Empoli were flying in 7th and confounding their pre-season prediction of 18th, swapping a relegation battle for a fight to get into Europe.
Despite this, I felt we had to go for it considering the fixtures at the end of the season so string puller Susic came in for the more defensive minded Besic.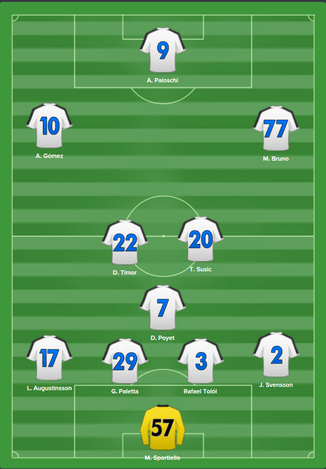 A game that failed to ignite.  Ricky Saponara came closest for Empoli, hitting the inside of Sportiello's post in the first half.  Gómez came closest for Atalanta, striking the only clear cut chance of the game directly at Douchez from a tight angle.
A good result but had Gómez' converted his chance we would have been a lot more comfortable heading into April – Inter suffered a surprising 3-0 defeat at Palermo while Fiorentina dropped two points in a 1-1 draw at Udinese.
The first three games of April represented a huge chance to seal Champions League football.  After that we faced Roma, Inter and Juve and a Genoa side battling to stay in the league.
We were well and truly entering Fergie's much vaunted squeaky bum time – and we couldn't blame the parmesan and our lactose-intolerance.
Serie A Position: 2nd
Results/Fixtures:
Youth Intake
March saw my first youth intake at Atleti Azzurri d'Italia and it threw up a few interesting prospects.
One in particular was Felix Iuzzolino – a player that immediately attracted interest from the likes of Barcelona, Real Madrid and Bayern Munich.  His natural position is a CAM but I will be retraining him as an advanced forward and he will spend the 2016/17 out on loan.
Another decent prospect is Gabriele Pasiani – more eye catching than his stats though is the impressive beard he has at the age of 16.  Again, he will be re-trained, this time as a poacher, and will spend 2016/17 out on loan.
The best of the rest is Ghanian winger David Yakubu.  He looks quite rough round the edges but with the right training and exposure to first team football when the time is right, I am hoping he can make an impression in the first team.

The final prospect on show has little to no chance of ever kicking a ball in anger for the first team but deserves a mention for being a Liverpool-born, Northern Ireland under-20 international plying his trade in northern Italy.  Say "what about ye, la" to Richard Downey.
Be sure to look out for more Atalanta updates, and my plans for FM17, on my personal page SeenThemGivenFM and on Twitter @SeenThemGivenFM.
STGFM