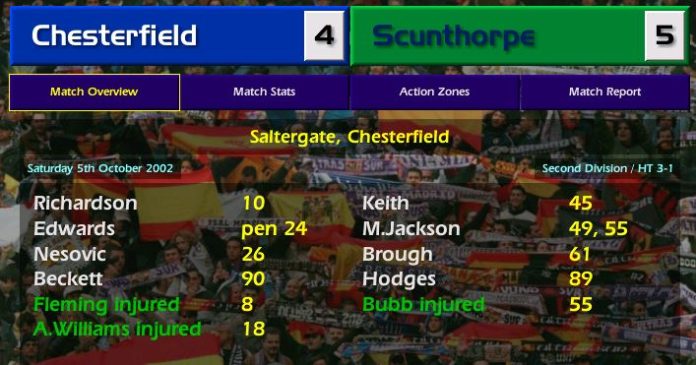 Greetings to you. We're into part 3 of Dave & Ross trying to make their way up the football pyramid without spending anything. So far, it's fair to say it's going better for Dave than Ross, as Scunthorpe have been promoted whilst Ross has been dismissed from Hull. Where do we go from here? Scroll down…
How's the job centre, Ross?
"Where to go?" I hear all 3 of you ask. Well Barcelona, Madrid, Munich, Manchester… none of these asked. Well why should they? I've just got the sack from Division 3.
This was my absolute first choice, honest.
Yep, it's David Brent country. But hey the expectations are low and they have no money to spend. This ironically will help me for this adventure.
I know nothing about the squad but I'm not expecting much. And with this I head into the season trying to organise some sort of hard work in training and the two loans I'm allowed.
How have you prepared for Division 2, Dave?
It's pretty annoying not being able to spend anything. We've done ok on the out of contract players though:
That's £400k compensation for Lisbie, incidentally. Mark Hughes signed on as player/assistant manager but retired immediately, so he's just my assistant. To be honest, most of these boys have been a disaster. Ramis, Convery, Deas, and even Lisbie have all fallen well short of expectation. I had to wait until December for Kjellin to arrive, but he is worth the wait: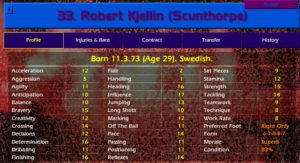 For Division 2, he's practically Olof Mellberg. Brian Laudrup and Slaven Bilic have joined the coaching staff, so we've got the all star cast on the training ground.
How's the season started for you both?
Dave: We had a bit of an iffy start but we got into the swing of things by the end of August.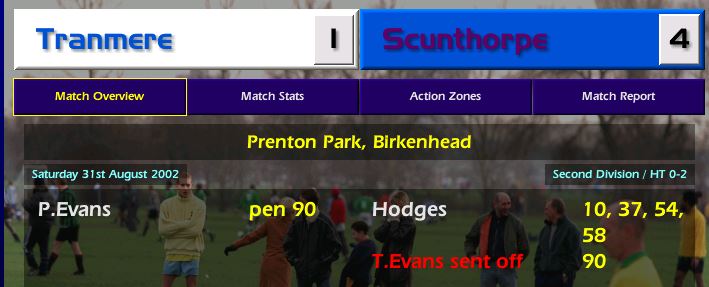 Hodges is in the free role vacated by Calvo-Garcia and he has taken his chance with both hands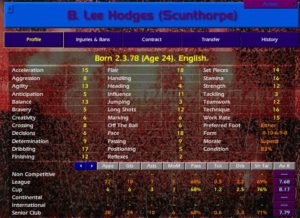 There'll be no repeat of our League Cup heroics of last season after a 2nd round exit to Gillingham but we're in the FA Cup 3rd round after that man Hodges took care of Cambridge in a replay

It's a tie dreams are made of in Round 3 – Wycombe at home…
Ross: It's been a bit of a slog. The season starts with a visit from USA team Boston United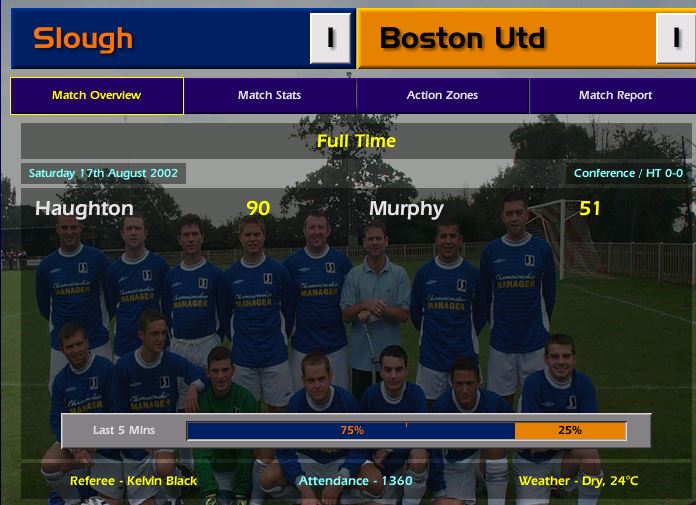 The excitement of a last minute leveller was shared around my house with a loud cry and a fist pump. And over 1300 people is pretty darn good y'all.
This is a false dawn as we go on a terrible run with just 1 win in the next 10.
My team are down and in of a fresh face at the back. So with the words of Slade ringing around my head there is only one person who will do (also the only half decent defender that wanted to join)
With these stats I can't go wrong, also he wants to join until the end of the season.
We go on an EPIC run (one loss in four is epic OK!)
Including this win in front of 2000 people!!! I'm falling in love with this lot. Just don't tell them OK!?
Any really memorable matches?
Ross: FA Cup first round time is always magical for a non-league club and we're in the hat for round 2.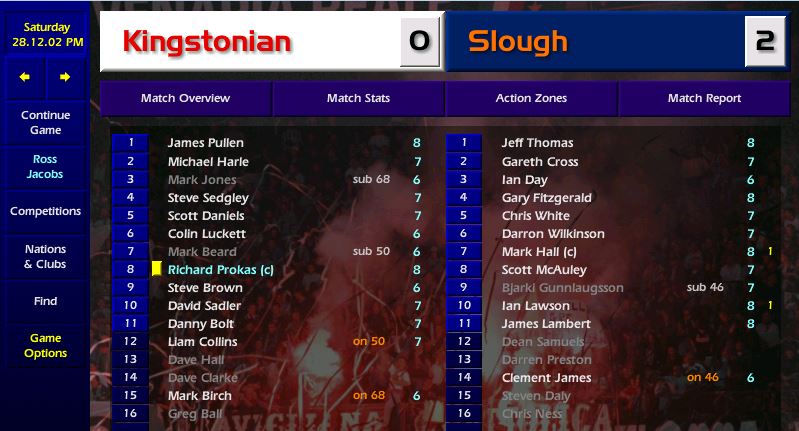 I rested a few players as well. Oddly, their central midfielder gets MOM. Should have been their keeper for keeping things down to 2!
Sadly the cup run comes to  a halt on Merseyside. Hoping Tranmere will share the gates receipts 10/90 in our favour. Was always told 'don't ask don't get.'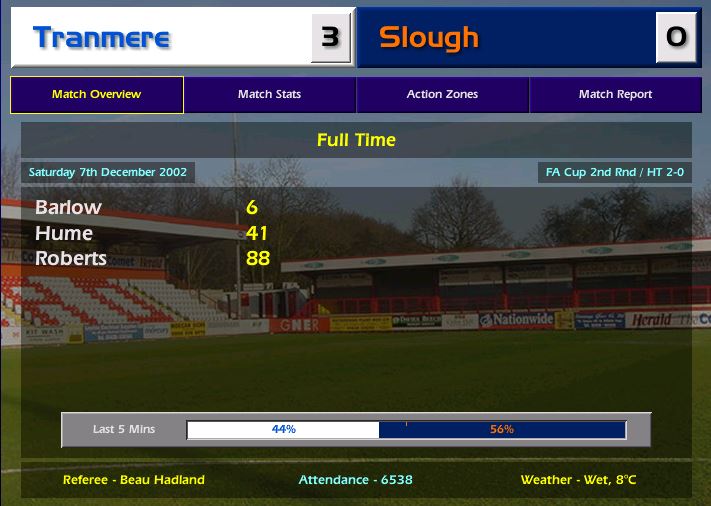 I have decided to release the attacking side of my team. Gung-ho 4-3 type of games is the only way I'm keeping this lot up. No game epitomizes this better than Bath at home
Dave: Pick the bones out of this
3-0 down, 5-3 up then a late consolation. Inexplicable.
This match was odd. Oh I've got John Karelse on loan, by the way.
Speaking of loans, I also have the brilliantly named Lloyd Doyley from Watford.
Is promotion on the cards?
Dave: We're just about in the playoff mix. We're an entertaining side but I'm hopeful now big Bobby the Swede has joined we'll concede fewer goals.
Playoffs are probably the best we can hope for, back to back promotions would be a ridiculous achievement.
Ross: It's survival on our minds. I end this part with my team maintaining mid table form but still languishing at the bottom.
The rules of no money on transfers, which is out the window anyway as we are on a nil balance.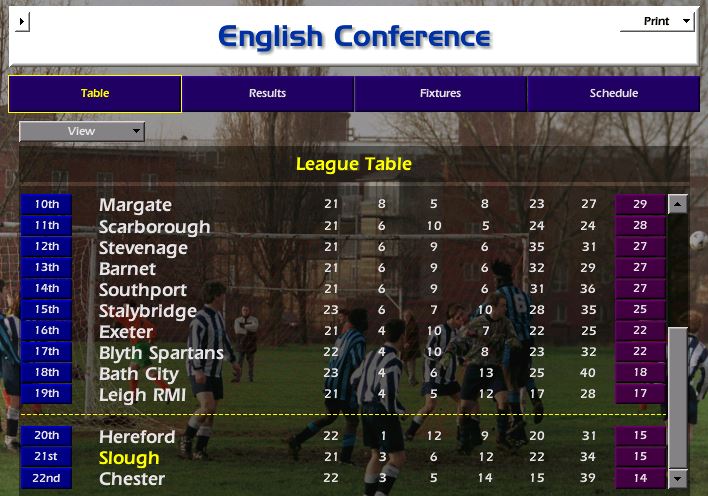 Contrasting fortunes then, as one man copes better without a cheque book than the other. Do join us next time to see if Ross can keep Slough up, or if Dave can secure back to back promotions.