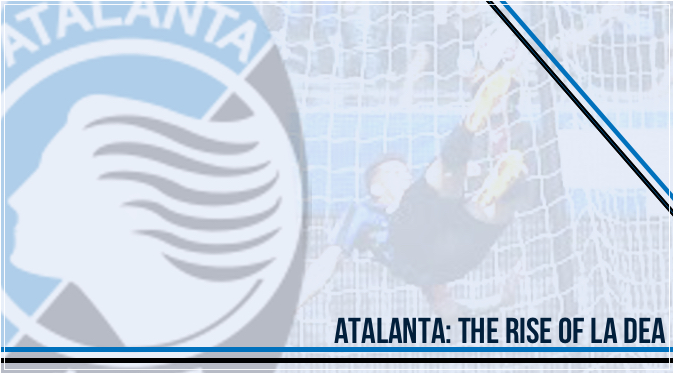 La Dea headed into April, after an international break, hoping to have consigned their three game wobble against Samp, Milan and Joe Hart's Torino to the history books after two successive clean sheets in a 3-0 win over Bologna and a 0-0 draw at Empoli.
We held a six point lead over Fiorentina and Inter and a maximum points haul from April's first four fixtures was a must before heading into a difficult end to the Serie A season.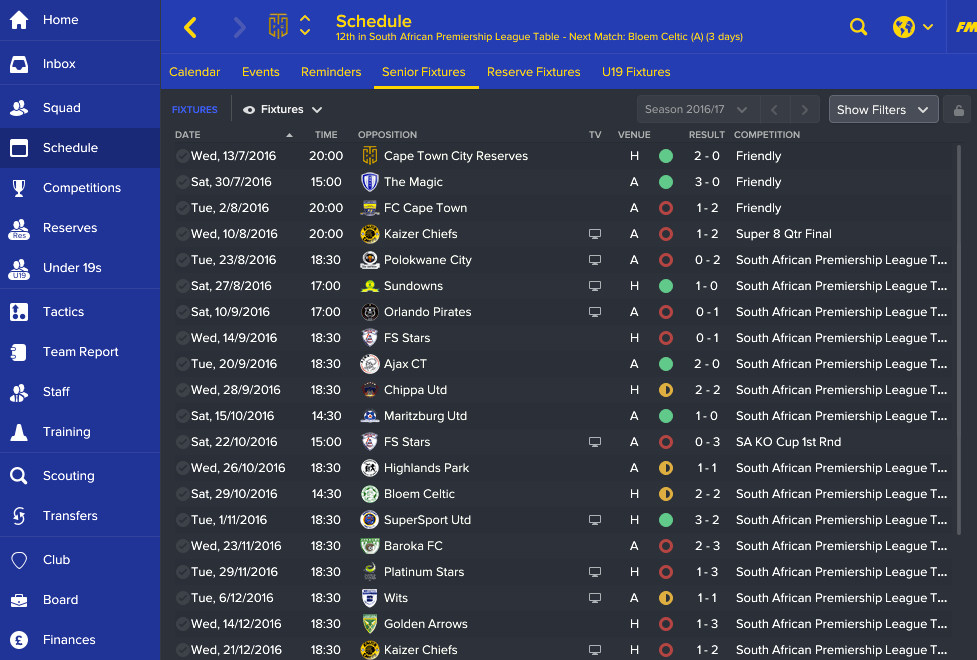 03.04.2016 – Serie A – Udinese (H)
You may remember back to back to November when Stefano Pioli's side gave us a proper FMing at the Friuli – desperately clinging onto a undeserved point as we bombarded their goal.
This was not a time for us to show them that sort of mercy – like killing a circus, we had to go straight for the juggler jugular.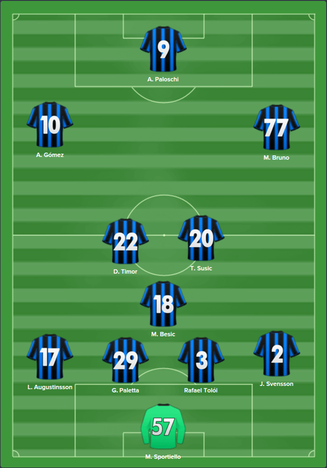 We went for the jugular, but armed with the safety scissors handed out to pre-school children.
Udinese eventually succumbed to the bludgeoning and a drab game was only settled by an Alberto Palsochi goal mid-way through the second half.  The goal itself was a bizarre one, the away defence seemingly intent on carrying out a Mannequin Challenge, were more than happy to let Paloschi react first after keeper Karnezis had spilled Augustinsson's shot.
Meanwhile, our closest rivals exchanged places as Inter lost 2-1 at home to Lazio and Fiorentina recorded a win over Napoli by the same scoreline.
10.04.2016 – Serie A – Cagliari (H)
Cagliari travelled north from the island of Sardinia in high spirits having pulled themselves out of the relegation dogfight and were sitting in a respectable 13th position.
This fact relegated this game to the sort of dead rubber for the away side that would allow them to play fearlessly and with freedom, with all the pressure being on us.  Tits.
The stats make this look like we've got out of jail here.  In truth it was a terrible game but we came closest to winning it; Paletta heading a Gómez free kick onto the bar.  This provided little comfort in what were two points dropped rather than a point gained.
A further bittersweet feeling followed with the news that both Inter and Fiorentina had surprisingly dropped points in a 1-1 draw with Sampdoria and a 2-0 defeat at Crotone respectively.
Our cushion between automatic Champions League qualification and a play off now stood at seven points and nine between us and dropping into the Europa League.
17.04.2016 – Serie A – Pescara (A)
We travelled east looking to build on said lead.  Pescara had inhabited the bottom spot in the table from match day 12 and were already relegated at this point.  Another dead rubber, another team playing with freedom.  Gordon Bennett.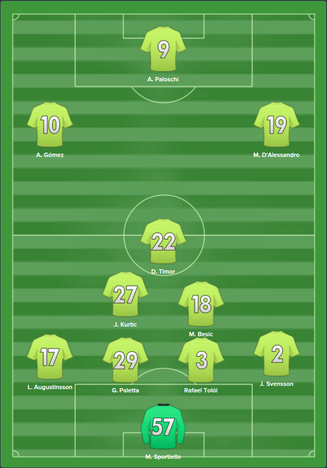 Thankfully we made lighter work of this than we had with Cagliari.
Marco D'Alessandro was nigh on unplayable,  firstly setting up Mo Besic for the opener.  Rey Manaj equalised for Pescara after our defenders, clearly swept up in the craze,  decided to carry out their own Mannequin Challenge following Sportiello's save from a Memushaj shot.
D'Alessandro then hit La Dea's second of the afternoon before turning provider again and crossing for Paloschi to nod in.  D'Alessandro got his second of the game, firing in from a Svensson free kick.
The game ebbed and flowed towards completion before Memushaj got on the scoresheet with a penalty in the 88th minute to reduce the arrears.
Inter and Fiorentina both kept the pressure on us; Inter recording a 1-0 win in the Derby della Madonnina against Milan and La Viola securing a 2-1 home win over Palermo.
20.04.2016 – Serie A – Sassuolo (H)
After struggling at the start of the season to balance their Europa League and Serie A commitments, Sassuolo had benefitted from having a less hectic schedule once the group stage had finished and had once again started to push for Europe, sitting in 8th position.
In team news, Stendardo came in for the suspended Paletta, Susic for the defensively minded Besic.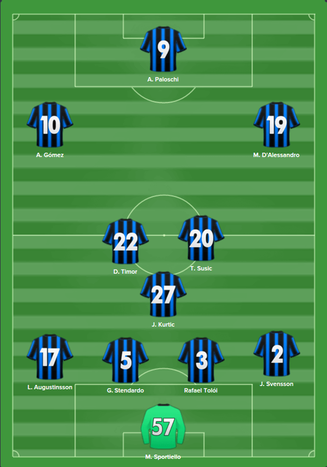 Two headline makers at either end of the pitch ensured another narrow win for La Dea.  Alberto Paloschi's 18th league goal of the season was a screamer – from a narrow-ish angle, he swivelled and cracked a first time effort off the underside of the cross bar following Karim Laribi's poor back-pass.
However, Marco Sportiello's performance was a thing of true beauty.  He single handedly (p-unintended) kept out Alfred Duncan, Alessandro Matri and Domenico Berardi – including one magnificent double save from the latter duo.  In the dressing room, I laid down the law and forced Jonas Svensson to give Sportiello his man-of-the-match award.
This result all but confirmed Champions League qualification – whether it be automatic or play off was yet to be decided.  While Fiorentina beat Lazio 1-0 at the Olimpico in Rome, Inter were suffering a 2-0 reverse at Torino's own Olimpico, thus creating a twelve point gap between us with four left to play – including Inter v Atalanta.
23.04.2016 – Serie A – Roma (A)
This was it.  This is what it all boils down to.  A win at Roma and we had guaranteed Champions League football at Atleti Azzurri d'Italia for next season…providing Fiorentina lost at home to Sampdoria.
We were dealt a blow with the news that Jasmin Kurtic would miss the run in with a strained stomach.  Diego Poyet replaced him as we went on the attack in the Olimpico.
Roma had suffered a huge dip mid season – not winning in six games – and although they had started to pick up again, I smelt blood.  (This later turned out to be a nose bleed caused by me continually picking my hooter).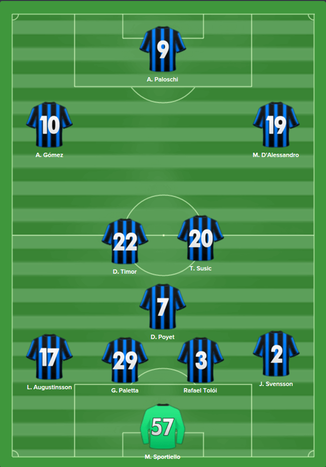 WE ONLY WENT AND RUDDY DID IT.  News had filtered through of Fiorentina's 1-0 defeat and a wave of emotions washed over me as I stood on the touchline as the referee's whistle blew, weighing up what we had achieved.
A series of monumental highs – crushing wins over Lazio and Napoli, tactical mastery against Juve, Inter and Roma – and what turned out to be insignificant lows – a five game goalless streak and threatening to piss in the corners of the ground to break it, a fall out with my assistant using a booby pen after being sabotaged by him on the eve of the new season.
Putting the result and what it subsequently meant aside, the game was fantastic – real end to end stuff.  Ludwig Augustinsson rammed in his first for Atalanta in the 15th minute, firing low across the Roma keeper.  Diego Poyet also found an ideal time to come up with his first goal for the club, firing in five minutes later following a scramble at a corner.
From then on it was like a game of five-a-side before the leisure centre staff flick the lights on and off – real end to end stuff, desperate defending, inspired goalkeeping and wayward finishing.  It could have easily finished 6-3 to La Dea.
And so, we head into May, an initially treacherous looking month, with everything sewed up.  The inevitable had happened and Juve had tied up the league title, we were confirmed in second with Fiorentina and Inter fighting out for third.
One surprising title was left within our grasp – Alberto Paloschi (18) was a single goal behind Gol-zalo Higuain (19) in the race for the illustrious Capocannoniere title.
A home game against struggling Genoa (with all the pressure on them now, for once) gave the former Swansea man a good chance to nudge in front before we finished the season at the Giuseppe Meazza to face Inter and a home game against champions elect Juve.  Surely it wouldn't come down to a direct shoot-out in that final game…..
Serie A Position: 2nd
Fixtures/Results:
Be sure to look out for more Atalanta updates, and my plans for FM17, on my personal page SeenThemGivenFM and on Twitter @SeenThemGivenFM.
STGFM