I consider myself as being quite good at Championship Manager. Hopefully you have enjoyed my various series on The Higher Tempo Press as I've taken the Brits Abroad on CM9798, Scotland to the World Cup Final on CM 01/02 and nearly taken Newcastle to the title on the first CM. But something has been bugging me, and it's not the fact that Trevor Francis beat me to the winning post with his Chris Waddle inspired Sheffield Wednesday team.
I've owned every game since 96/97, and even then I've played the others retrospectively. This includes the Football Manager series, however, in recent years, I've barely completed a season. Too much detail, too complicated, not good at it right away. Take your pick. I've lined up the excuses, and the game has remained largely boxed. Well, it's time for that to change.
I'm 28. I shouldn't be overwhelmed by the level of detail the game now offers me. Ok, it gets really irritating when players knock on my metaphorical door every day saying they demand regular first team football when they've barely made it out of the academy. It is frustrating when your tactics seem utterly useless. I sympathise with Wenger not wanting to pay double somebody's value. But like it or not, this is the most realistic management sim the world has ever seen. It's time for me to get on with it.
So, FM17 is installing as we speak. It is hard to get into the game after a full day at work staring at a computer screen so here's my grand plan. I'm going to play the hell out of it on my days off and get everything right. Failure to prepare, and so on. I'm going to be Newcastle, as I always am, because in theory that should be a nice way to ease myself in. Granted, I have no idea what I'm doing, but we'll learn and hopefully you will help me. Also, I have a notebook. I'll write things down the old fashioned way to remind me. This time, things will be different.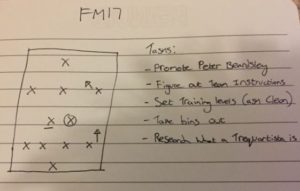 I have some ideas that I want to implement having been quietly reading some quality posts on the FM Community. There's enough help out there if you go looking for it. I'm thinking I'll keep it simple, I've probably over complicated it on other FMs. I'm even going to play the friendlies to try and get those tactics tweaked. My trusty notebook will help with that too. I've got this, lads. I can't lie, Iain MacIntosh's experience of this game for the Set Pieces has worried me a great deal. Iain is basically a more successful version of myself, and he was sacked by Christmas (that's in game and real life). I will seek revenge on the FM overlords for him.
There's a few excellent series running on THTP at present. This might not be one of them. Consider it an experiment – a bit like when Gary Sparrow came back to the present day in that one off episode of Goodnight Sweetheart recently. Back to the Future – a series coming your way very soon.
Although this looks nothing like me, I can assure you he shares my current facial expression.
=====
You can follow David Black on Twitter
If you enjoyed this post subscribe to the daily bulletin and never miss another post!