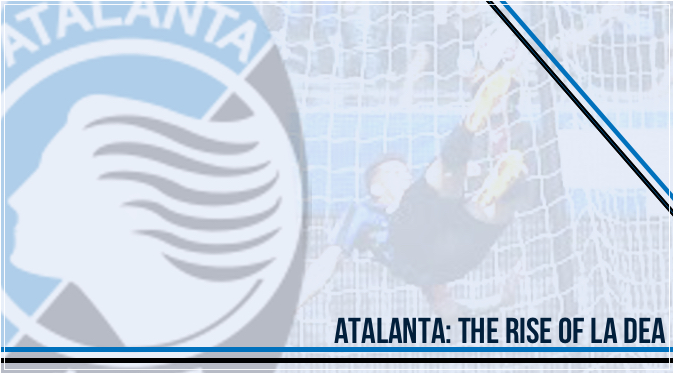 As the last balls were kicked in anger, final whistles sounded across the continent and the curtain came down on Europe's club competitions.  The 2015/2016 season drew to a close and the European Championships and awards season drew near.
The big questions were on everyone's lips; who would be top dog in France?  Who would the surprise package be?  Who would SeenThem GivenFM be wearing at the Serie A awards do?  (It was H&M, naturally.)
Serie A – Italy
Juventus, not too surprisingly, finished top of the pile – a full thirteen points clear of the chasing pack.  Atalanta and Fiorentina both had seasons to smile about, overachieving and qualifying for the Champions League.  Elsewhere, Inter and Roma sealed Europa League qualification.
There were disappointing league campaigns for Milan and Napoli who finished 8th and 13th respectively.  At the turn of the year, Milan were looking genuine relegation candidates until Rudi Garcia was installed to replace the sacked Vincenzo Montella and steadied the ship.  Not too surprisingly, Napoli sacked Maurizio Sarri, choosing to replace him with under 18s manager Massimo Carnevale.  They'll be hoping for more of a party at San Paolo at this point of the season under his tutelage…
There were no shocks at the bottom as Pescara and Crotone both slipped out of the top division and back into Serie B after a solitary season.  Surprisingly, they were joined by Genoa, relegated after a Mattia Destro hat-trick for Bologna on the final day kept his side up at the Grifone's expense.  Vultures, such as myself, will be circling and looking at the likes of Mattia Perin, Leonardo Pavoletti and Diego Laxalt.
Replacing Pescara, Crotone and Genoa will be two of the relegated teams from previous season, Frosinone and Carpi, plus, interestingly from an Atalanta perspective, Brescia – Dea's bitter rivals.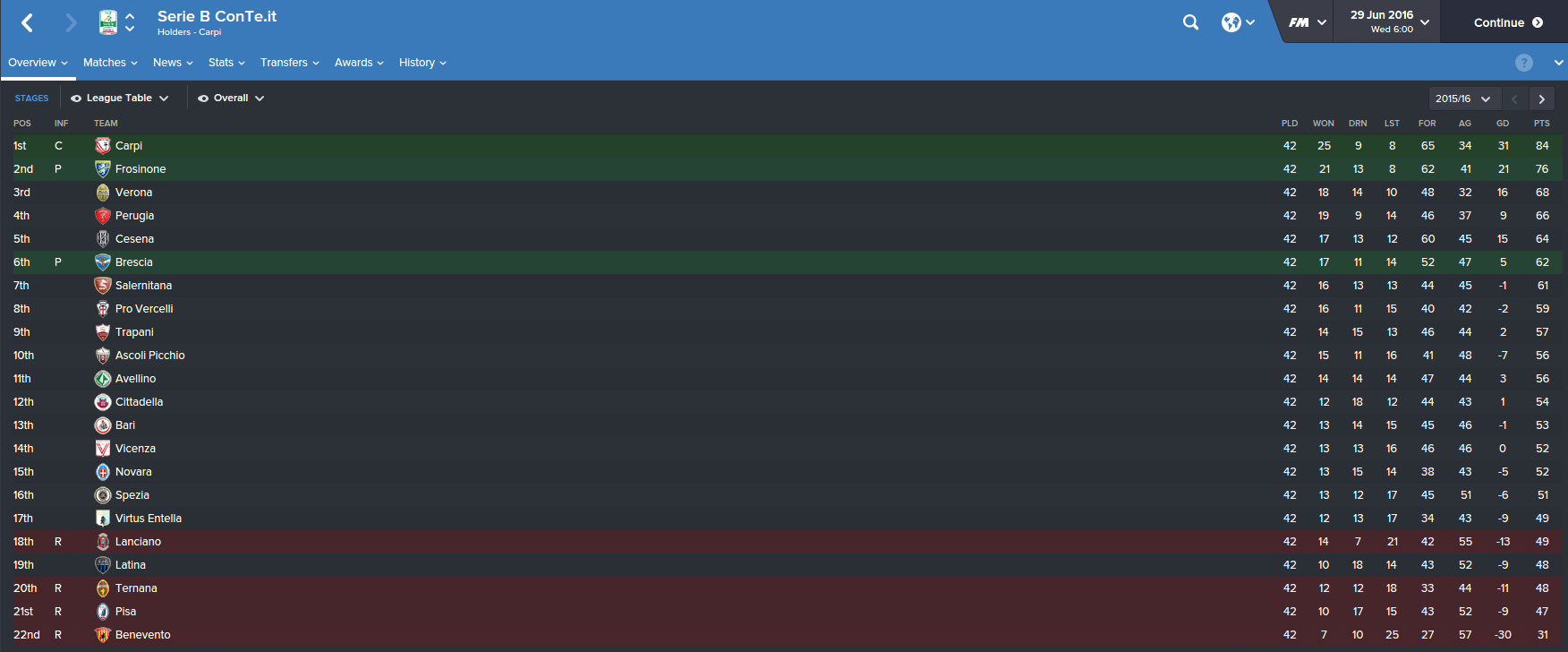 TIM Cup
Milan put aside their league struggles and lifted the TIM Cup for the sixth time in the club's history, beating Roma 1-0 at the Olimpico thanks to a Carlos Bacca goal in the first half.
Serie A Review
Well, there it is.  In black and white.  In print from now until the end of time (or until WordPress collapses).  Atalanta are officially Radio Sportiva's Over-Achievers of the Year.
Radio Sportiva then slightly sullied this award when listing why Napoli were Under-Achievers of the Year – a 4-1 defeat at Atalanta, the station's Over-Achievers of the Year, seemed to seal their fate.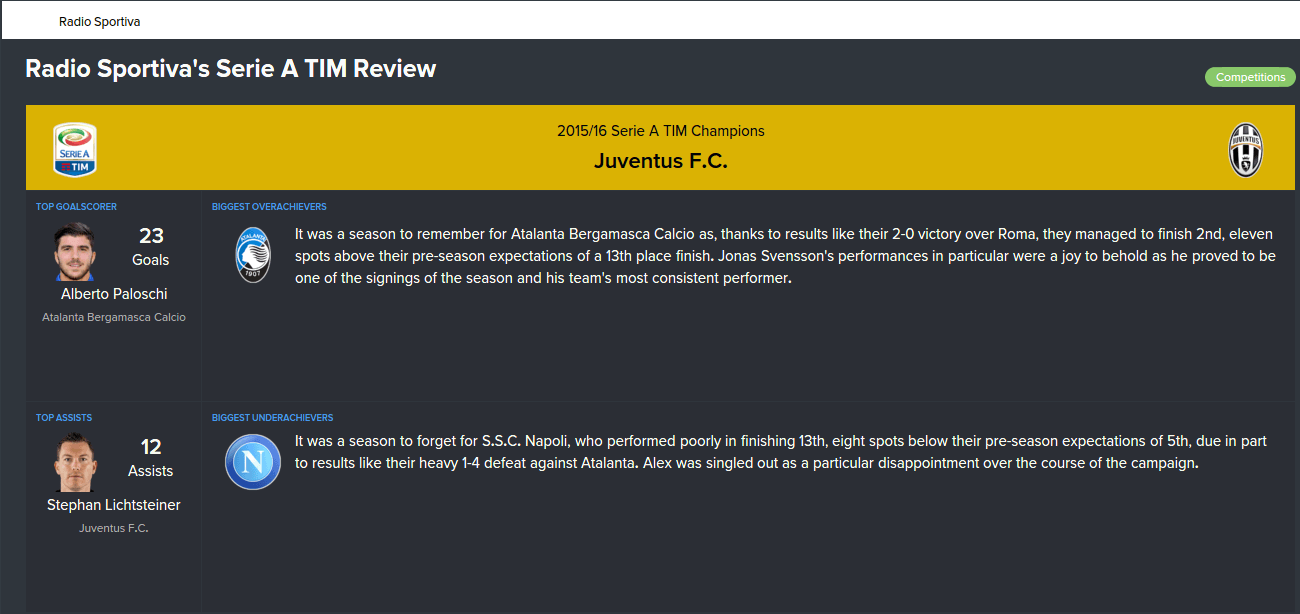 Serie A Awards
As per the above screenshot, Alberto Paloschi finished Capocannoniere for 2015/16 with an astonishing 23 goals; the former Swansea striker finishing two goals clear of Juve's £75m man Gonzalo Higuain.  Surprisingly, the apparently evergreen Alberto Gilardino came in third with 19 goals.
There was further joy for Atalanta when Marco D'Alessandro claimed the Miglior Calciatore Italiano per l'Associazione Italiana Calciatori (AIC) or the Players' Players Award (for Italian nationals).
Being the nice lad he is, he dedicated the win to his manager.  Like a proud mum at the back of an assembly hall during a recital of the nativity, I dabbed away tears with a folded up tissue.  He is an awful good boy, that Marco.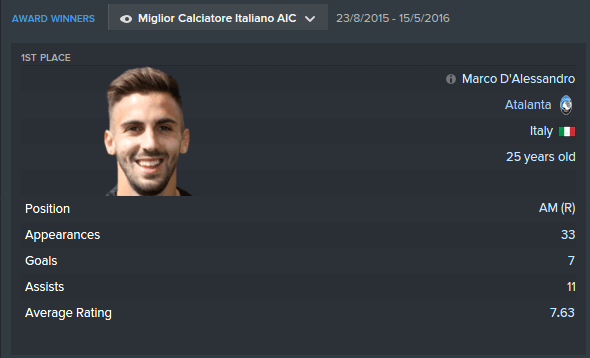 Ludwig Augustinsson completed an Atalanta hat-trick of player awards when he picked up the Miglior Calciatore Giovane per AIC (Players' Young Player of the Year).  He added this individual trinket to his UEFA Golden Boy award and, in doing so, became Atalanta's first winner of the award since Pippo Inzaghi almost 20 years previously.
There were awards for the players of champions Juventus with Dani Alves picking up Miglior Calciatore Assoluto per AIC  (Players' Overall Player of the Year).  Alex Sandro picked up the Players' Foreign Player of the Year (Miglior Calciatore Straniero per AIC).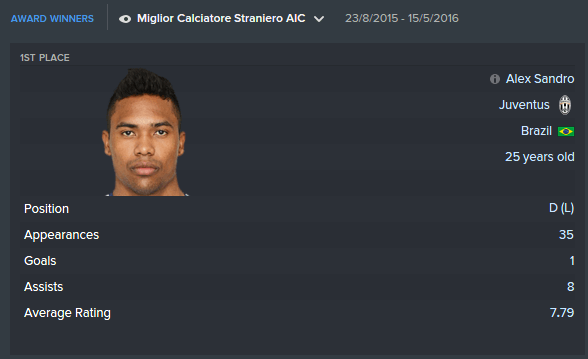 Positionally, Gianluigi Buffon picked up (and, naturally, didn't drop) Miglior Portiere per AIC (Players' Goalkeeper 0f the Year) – pipping our own Marco Sportiello to first place.

Miglior Centrocampista per AIC also headed to Turin with Kwado Asamoah named as Players' Midfielder of the Year.

There were awards for the city of Milan with AC's Ignazio Abate picking up Miglior Difensore per AIC (Players' Defender of the Year) and Inter's Mauro Icardi winning Miglior Attaccante per AIC (Players' Striker of the Year).
Regarding team awards, Atalanta picked up Club of the Year after our remarkable second place finish.  This broke Juve's three year stranglehold on this award, underlining Dea's achievements during the 2015/16 season.

Lazio, rather surprisingly, picked up Fair Play Club of the Year.  Thankfully, Paolo di Canio wasn't there to pick up the award on behalf of the Biancocelesti and proceed to undermine it by "waving" to anyone in the audience…

For anyone that's interested, Nicola Rizzoli won Miglior Arbitro AIC for the fifth year running.  Yes, Referee of the Year.  No one interested?  OK, moving on then.
We eventually come to the biggy.  Manager's Manager of the Year.  The votes had been cast with interested onlookers dubbing it a two horse race between Empoli's Christian Brocchi and yours truly, Atalanta's SeenThem GivenFM.

Empoli had had a storming season, defying a pre-season prediction of 18th and relegation, to finish 6th and just outside the European places.  Despite this, surely a club record league finish and guiding Dea to Champions League football would help me over the line with ease.
Gah.  I just hope Marco Borriello didn't see me cry.
The Squadra dell'Anno lined up like this, scandalously only including one Atalanta player (who wasn't even our best player!).
That particular award went to Marco D'Alessandro as voted for by 34% of the Atalanta fan base.  Jasmin Kurtic collected the club's Goal of the Season Award for his effort against Bologna to break the five game goalless streak.  (Incidentally, that probably could have gone in off his arse from a yard out and would have won the award due to how much of a relief it was to score).
Augustinsson picked up Signing of the Season while his Scandinavian compatriot Jonas Svensson picked up Young Player of the Year.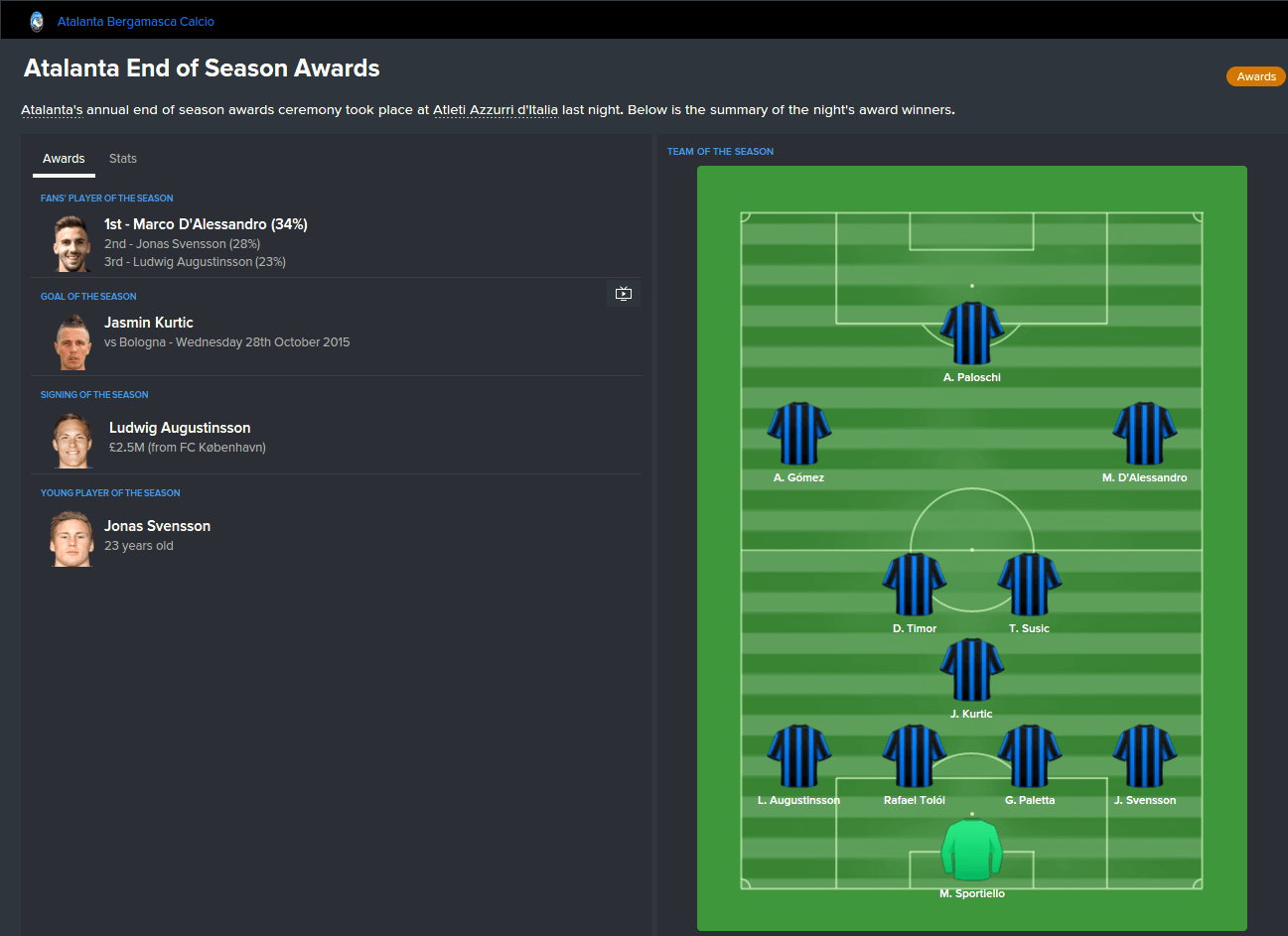 With Italy done and dusted, I will give a brief overview of what else happened round Europe.
Champions League
The below will give a spoiler into what happened with La Liga, World Club Cup and the European Super Cup.  Real Madrid completed a quadruple with an extra time 3-2 win over Tottenham Hotspur at San Siro.  Alvaro Morata broke Spurs' hearts, hitting the winning goal in the 119th minute.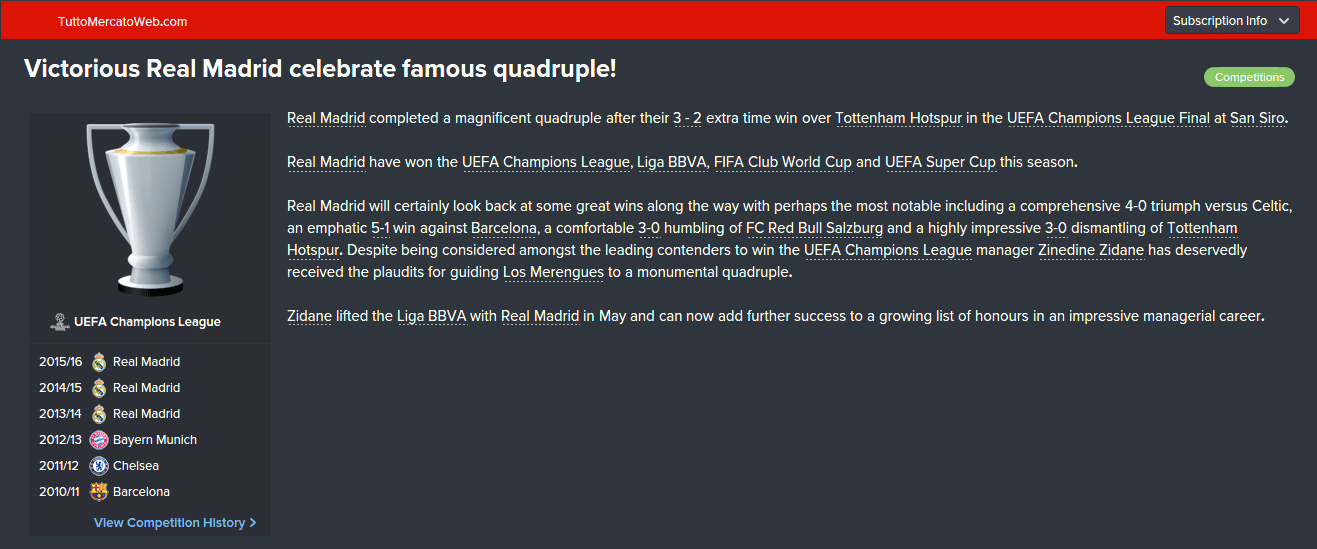 Europa League
A Juan Mata goal was enough for Manchester United to lift the Europa League in a glamour final against Bayern Munich.  Arturo Vidal missed a penalty for the Germans as they went down to their 1999 Champions League conquerors in Basel.
European Super Cup
Real Madrid lifted the Super Cup with a 2-1 over fellow Spaniards Sevilla in Tbilisi, Georgia.
FIFA World Club Cup
In another 3-2 final win, Real Madrid defeated Argentina's River Plate in Yokohama, Japan.
Bundesliga
Few surprises in Germany as Bayern Munich picked up another Bundesliga title.  Dortmund, Monchengladbach and Leverkusen make up the rest of Germany's Champions League entries; Wolfsburg, Schalke and RB Leipzig (boo!) will play in the Europa League.
Darmstadt, Hertha Berlin and Augsburg will be playing Bundesliga 2 football next season and are replaced by Stuttgart, Hannover and Karlsruhe.
Eredivisie
PSV successfully defended their Eredivisie title with Feyenoord and Ajax coming second and third respectively.  sc Heerenveen and PEC Zwolle came through the European places play offs to secure passage to next season's Europa League.
Excelsior dropped out of the Netherland's top flight with FC Twente securing promotion at the first attempt after relegation the previous season due to financial irregularities.
La Liga
As mentioned, Real Madrid picked up the La Liga title in Zizou's first full season in charge.  Spain will also be represented in the Champions League by Barcelona, Atlético Madrid and Sevilla while Valencia, Real Sociedad and Villarreal make up their Europa League entrants.
Sporting, Alavés and Leganés slip into Liga Adelante for next season.  In turn, Zaragoza, Getafe and Levante will be playing La Liga football in 2016/17.
Liga NOS
The usual three horse race in Portugal went the way of Benfica.  Sporting and Porto came trailing in their wake and sealed Champions League football while Braga took their obligatory fourth place finish.  Belenenses came fifth and, like Braga, will be playing in the Europa League.
Estoril and Tondela dropped out of Liga NOS, replaced by Academica and Gil Vicente, who came third to Benfica B.

Ligue Un
No raised eyebrows "en France" as PSG won Ligue Un at a canter.  Monaco and Lyon make up France's Champions League contingency while Saint Etienne, courtesy of their league finish, Rennes, due to their Coupe de France win, and Nice, thanks to their Coupe de la Ligue success, all go into the Europa League.
Guingamp, Caen and Nancy bid adieu to Ligue Un, to which Lens, Stade Reims and Gazalec Ajaccio say bonjour following their promotion.

European Championships
If Ludwig Augstinsson came to me and said he was retiring after the season he had had, I wouldn't have blamed him.  UEFA's Golden Boy helped Sweden come from absolutely nowhere to win the European Championships in France beating Spain 1-0 in the final.
They qualified for the knock out rounds after finishing as a best placed third team in a group containing Slovakia, Germany and Albania before going onto knock out Wales, England, Germany before facing Spain in Paris.
Italy, meanwhile, were knocked out by hosts France in the second round.  Former Roma and Milan forward Jérémy Ménez grabbed the goal twelve minutes from time that sunk the Azzurri.
That's all for the end of season reviews and awards – it's the longest blog I have posted word count wise so I appreciate you sticking with it.  There was plenty of pictures so I hope this helped break up the waffle.
In the next blog I aim delve into the tactics, player roles and team instructions from last season with Atalanta in order to attempt to explain the statistics from what was an incredible season.
Following that we will head into my second pre-season with Dea, identify who is to be brought in, who is to be sold and what youngsters will be round the first team.
Be sure to look out for more Atalanta updates, and my plans for FM17, on my personal page SeenThemGivenFM and on Twitter @SeenThemGivenFM.
STGFM
=====
Never miss another post! Sign up for the newsletter here
Want to write for Tempo?  Then contact us today!