These are heady days in Palu, Indonesia. The local heroes of Celebest Villa 2000 FC have chosen a no-mark, no-Bahasi speaking Englishman as their manager, in what was widely agreed as a logical and sensible choice. But what would he do with the team, the fervent local press and social media warriors wondered?
Transfers
As someone who likes to scout players as thoroughly as possible before signing, my options were reasonably limited. I sent my scouts out to see who they could find, and mostly they sent me the CVs of unemployed teenagers. So I gave those unemployed teenagers trials and hired them to make them employed teenagers.
Despite having a reasonable number of goalkeepers (three), the quality in general was poor. I liked the cut of young Agus Rahman's jib, or more specifically his reflexes, and decided to bring him in with an eye to him succeeding Amin Syarifudin in the future (developing youth with our coaches though, oh boy. Even with the comparatively not terrible training facilities of 'Average', I can't hold out much hope for anything but match experience doing the job.)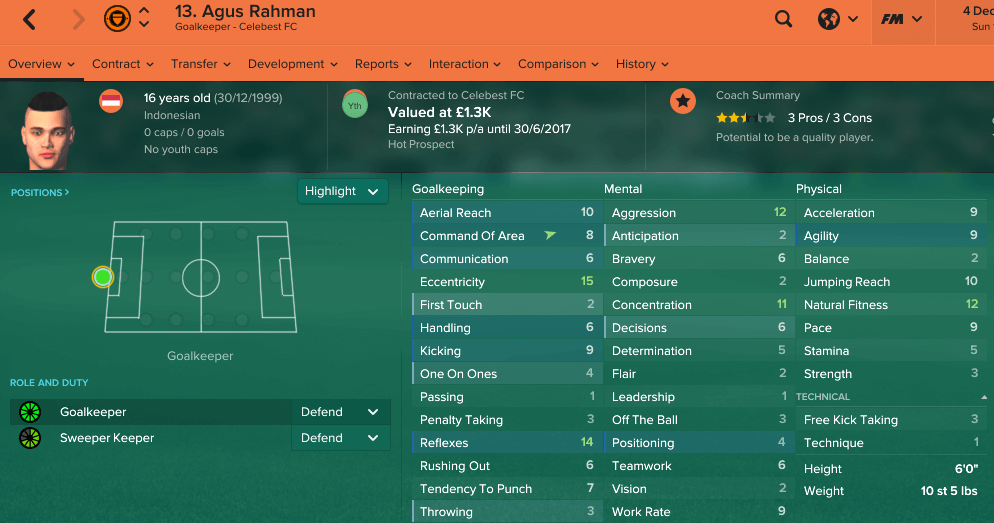 Also making the grade, almost solely due to the horrifying lack of bodies in their positions, were defensive midfielder Choirun Iswahyudi and midfielder Hendra Adnyana (who the fans were furious at me for signing, screaming that giving a then 16-year old they didn't rate a chance was the lowest of the low.)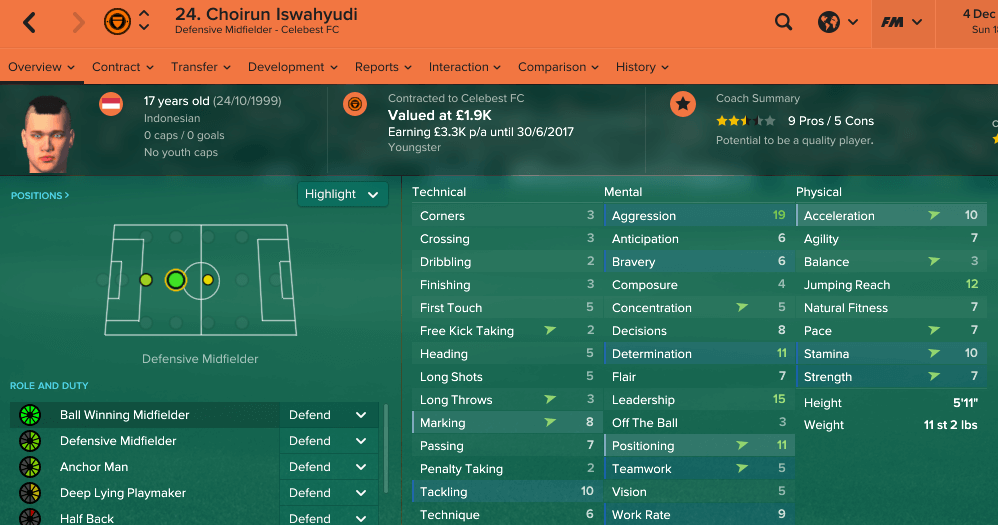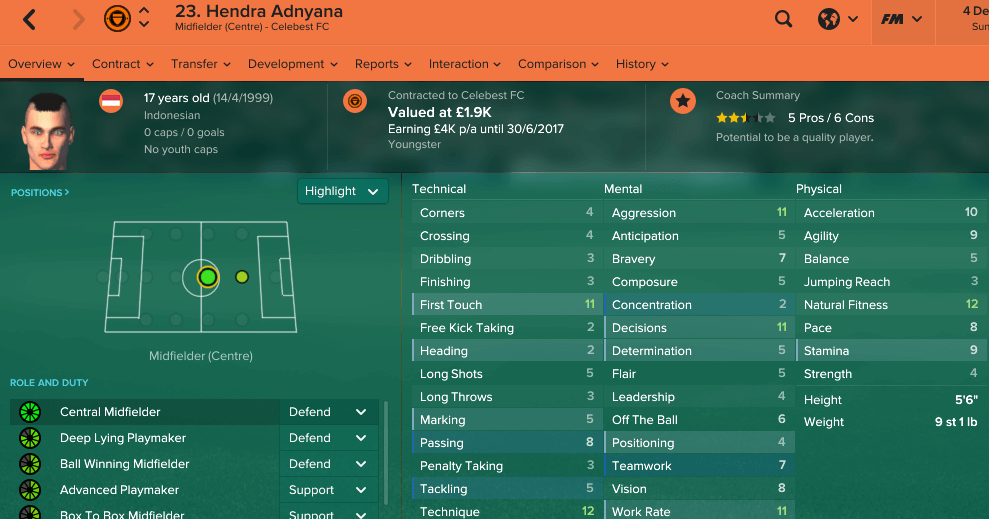 Friendlies

Firstly let it be noted that I do not like playing friendlies against the under-21 team, especially when that team has zero players in it. Specifically I don't like it because sometimes you draw 0-0 with them in a very deflating exercise. Persido and Persipal, it turns out, are the only two teams I can play friendlies with, so I just have to make the most of it. The clean sheets were nice, mind.
Indonesian Cup

Both rounds saw us taking on teams in a different league group at our level. After a comfortable win in the first leg against Persipur with young forward Andrean getting a brace, enough was done to get through. I was particularly impressed, given the calibre of players the opposition could count on.

Then a poor performance against Persika was followed up by a frustrating one, the Persika posts taking a battering but, crucially, no goal meaning we were dumped out on away goals when we really should have been progressing further.
League – First Half

The first half of the season went, well, a lot better than expected. After a thumping couple of early wins, with forward Ardiansyah Ardi and central midfielder Sonia Adriansyah in particular impressing, the form became a little more normal, if still quite good. One lapse at Cilegon aside, it was fairly impeccable, with a draw against second placed Persebo helping us to remain top of the league at the halfway point.
Particularly impressive for me was the defence, a side of the game I've never been much good at organising. My cautious mentality was working for something, with the draw in Martapura being the only time we conceded more than once – but then what can you expect when the opposition have Gugum Gumilar on form?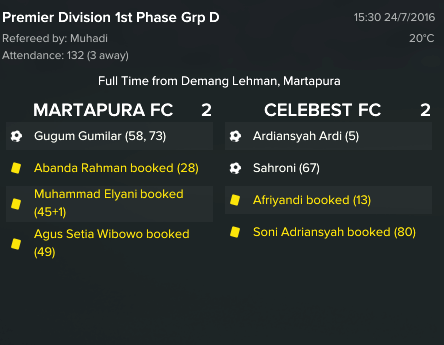 League – Second Half

If the first half of the league campaign was a pleasant surprise, the second half was positively joyous. More defeats, sure – the PSGC game was an aberration and Persepam took full advantage of a complacent team who had already guaranteed first place to sneak into second at the last – but five goals conceded (three before the final fixture) was an utter delight. As stated, I've never had much in the way of defensive success, and I like it. It feels good. I want more. I have no philosophy or plan for this team, but I'm beginning to think a miserly defence is something I want to prioritise.
So we won the league. But slow down there, amigo. No trophy for Celebest just yet. See, there are four groups in the Indonesian premier league. The top two in each of those groups can feel pride, and then get their heads straight, because they've achieved naught yet, save for qualifying for the second stage – two groups of four, with the top two in each gaining promotion.
We were drawn with fellow group D team Persepam (confident after the schooling they gave us on the last day) and both group B teams, PSIR and Persibal Bantul. We outpointed and outdefended all these teams in the regular season, but Persibal Bantul were the highest scorers across all four groups, so our mean defence would have to be at its meanest if we were to make sure all our hard work wasn't ultimately pointless.
=====
Never miss another post! Sign up for the newsletter here
Want to write for Tempo?  Then contact us today!